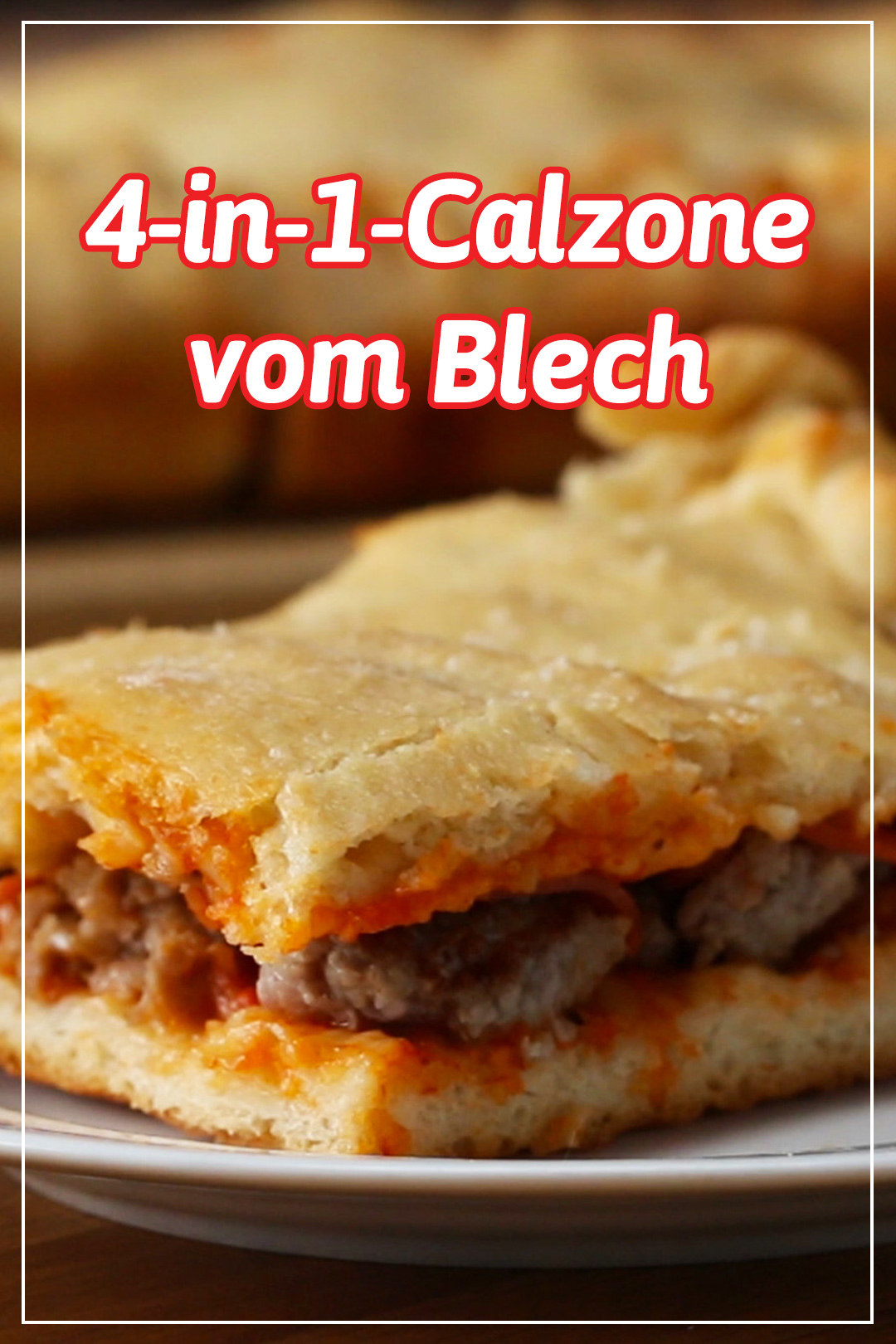 Zutaten:
für 8 Portionen
Antihaftspray für Backformen
905 g ausgerollter Pizzateig, in zwei Teilen
1 Tasse (260 g) Marinarasauce
2 Tassen (200 g) geriebener Mozzarella
BELÄGE
geriebener Cheddar
geriebener Parmesan
Pfeffersalami
Würstchen, gekocht
Paprikaschoten, in Scheiben
Pilze, in Scheiben
schwarze Oliven, in Scheiben
Schinken, gehackt
Ananas, in Scheiben
Olivenöl zum Bepinseln
1 Teelöffel Salz
Zubereitung:
1. Ein Backblech mit dem Antihaftspray einfetten und eine Hälfte des Pizzateigs ausbreiten, sodass der Teig bis zum Rand reicht.
2. Die Marinarasauce über den Teig gießen und sie mit einem Löffel gleichmäßig verteilen, am Rand etwa 2 cm frei lassen.
3. Gleichmäßig mit dem Mozzarella belegen.
4. Das erste senkrechte Viertel des Backblechs mit dem Cheddar und Parmesan bestreuen.
5. Auf das zweite Viertel die Pfeffersalami und Würstchen geben.
6. Auf das dritte Viertel die Paprikaschoten, Pilze und Oliven geben.
7. Der Schinken und die Ananas sind für das letzte Viertel.
8. Den Backofen auf 180 °C vor vorheizen.
9. Den übrigen Teig oben über die belegte Pizza legen. Den unteren Teigrand auf den oberen Teigrand falten und beide zusammendrücken, um die Ränder zu verschließen.
10. Die Oberseite mit Olivenöl bestreichen und das Salz darauf streuen.
11. Mit einem Gemüsemesser zwei Belüftungsschlitze oben auf die Pizza schneiden.
12. 40 Minuten backen, oder bis sie goldbraun ist.
13. Zerteilen und servieren.
14. Guten Appetit!
Du willst mehr Rezepte? Das Tasty-Kochbuch gibt es jetzt auch auf Deutsch. Hol es dir hier!
Dieser Artikel erschien zuerst auf Englisch.
Looks like there are no comments yet.
Be the first to comment!