Schoko-Minze-Happen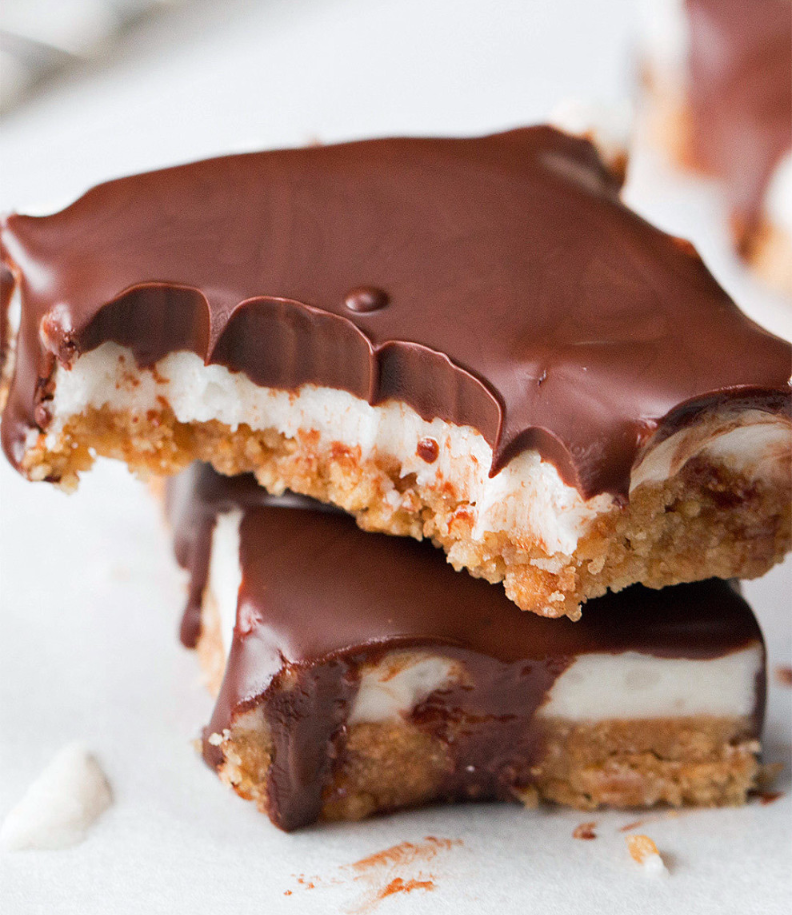 ZUTATEN
36 Stück
Für den Boden:
10 Butterkekse
6 EL Butter, geschmolzen
Für die Pfefferminzcreme:
120 ml Kokosöl
120 ml Schlagsahne
1 TL Vanilleextrat
3 TL Pfefferminzextrakt
2 EL Puderzucker
Für die Schokoglasur:
110 g dunkle Schokolade
2 EL Kokosöl
ZUBEREITUNG
1. Die Butterkekse in einem Ziplock-Beutel zerkleinern und danach in einer Schüssel mit der geschmolzenen Butter vermengen.
2. Die Keks-Masse in eine mit Backpapier ausgelegte Backform geben und zu einem Biskuitboden formen. Dann kalt stellen.
3. Die Zutaten für die Pfefferminzcreme zu einer gleichmäßigen Masse rühren.
4. Die Pfefferminzcreme gleichmäßig auf dem Biskuitboden verteilen und das Ganze für mindestens 1 Stunde einfrieren.
5. Die Schokolade zerkleinern und in eine kleine Schüssel geben. Das Kokosöl hinzufügen (die genaue Menge kann variieren). Die Glasur in 20-Sekunden-Intervallen in der Mikrowelle erhitzen und zwischen jedem Intervall umrühren, bis die Schokalde komplett geschmolzen ist.
6. Die Backform aus dem Gefrierfach nehmen und die Masse in 36 Happen (z. B. 6 Schnitte längs und 6 Schnitte quer) schneiden.
7. Die Happen auf ein Blech legen und mit der Glasur überziehen.
8. Die Happen bis zum Verzehr kalt stellen.
Looks like there are no comments yet.
Be the first to comment!