Get the full recipe below!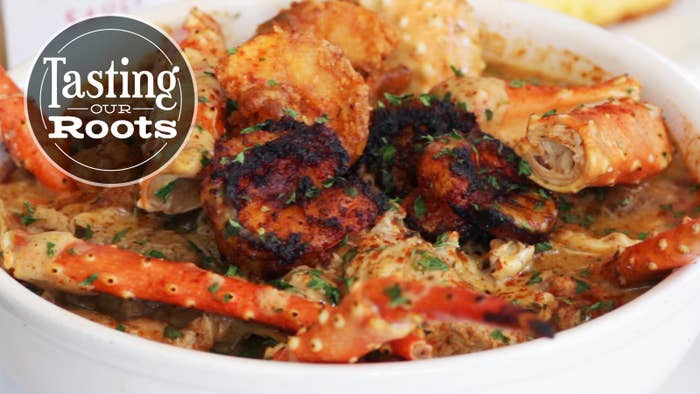 INGREDIENTS
¾ cup vegetable oil
1 cup flour
¾ cup mixed bell peppers, chopped
¾ cup celery, chopped
2 tablespoons garlic, minced
6 cups chicken stock
¼ teaspoon dried thyme
½ teaspoon cayenne pepper
2 bay leaves
2 teaspoons Worcestershire sauce
1 pound gumbo crab
1 pound king crab
1 tablespoon Simply D' Seafood Blend
1 pound shrimp, peeled and deveined
1 pound chicken sausage
1 pound boneless, skinless chicken thighs
1 pound boneless, skinless chicken breast
¼ cup parsley, chopped, to serve
Rice, cooked, to serve
PREPARATION
1. In a large pot or Dutch oven, heat the oil over medium heat.
2. Add the flour and stir until a roux forms. Lower the heat to medium low, and stir for 15 to 20 minutes until the flour is the color of milk chocolate.
3. Add the bell peppers and celery and stir for 5 minutes.
4. Add the garlic, stirring for 30 seconds until aromatic.
5. Add the chicken stock, thyme, bay leaves, Worcestershire sauce, and cayenne, and bring to a boil.
6. Lower the heat to simmer and add the gumbo and king crab. Cook for 1 hour, skimming the foam off the top occasionally.
7. Season the shrimp and chicken with the seafood blend, and add to the pot.
8. Add the chicken sausage and stir to combine.
9. Simmer for 10 minutes, stirring often.
10. Serve over rice and sprinkle with parsley.
11. Enjoy!