These Spicy Brown Sugar Pineapple-Glazed Ribs Are Finger-Lickin' Good
Make these this Labor Day Weekend!
Spicy Brown Sugar Pineapple-Glazed Ribs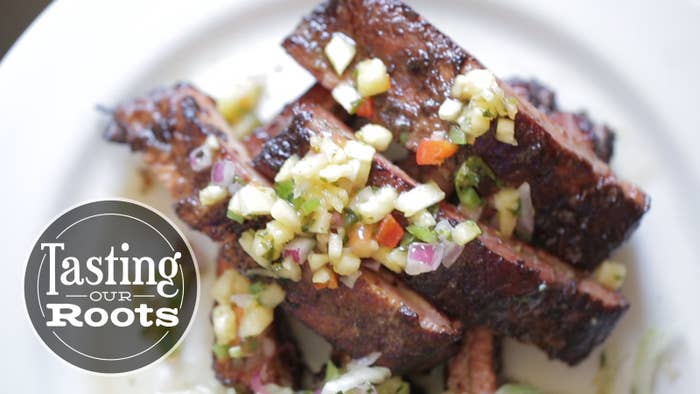 INGREDIENTS
2-pound racks of baby back ribs
JERK SPICE
2 tablespoons garlic powder
2 tablespoons onion powder
1 tablespoon ground allspice
1 tablespoon kosher salt
2 teaspoons ground nutmeg
2 teaspoons cascabel or ancho chili powder
2 teaspoons ground cinnamon
2 teaspoons ground cayenne pepper
1 teaspoon freshly ground pepper
Combine all spices in a bowl.
WET JERK MARINADE
½ cup cider vinegar
½ cup water
¾ cup soy sauce
¾ cup canola oil
1 cup sliced red onions
¼ cup sliced jalapeño peppers or 1 tablespoon diced Scotch bonnet peppers, stems and seeds removed
Combine all ingredients in a medium bowl.
HABANERO VINEGAR
1 habanero chile, stems and seeds removed
1 cup white wine vinegar
Puree habanero chile with white wine vinegar in a food processor. Pour into a bowl.
PINEAPPLE GLAZE
2 6-ounce cans pineapple juice
¼ cup brown sugar
Combine pineapple juice and brown sugar in a small saucepan. Bring to a boil and cook over medium heat until sauce is thick and reduced to about one third.
PINEAPPLE SALSA
½ pineapple, core included, chopped (about 2½ cups)
1/3 cup red onion, diced
1/3 cup jalapeño peppers, diced
1/3 cup red pepper, diced
1/3 cup cilantro, chopped
2 tablespoons canola oil
Juice of 1 lime
Salt to taste
PREPARATION
1. Combine all ingredients in a medium bowl. Refrigerate until use. Wash ribs and remove thin membrane covering the back. Coat ribs evenly with Jerk Spice. 2.Arrange in a 17-by-12-by-1-inch baking pan. Pour Wet Jerk Marinade over ribs. 3. Cover baking pan with foil and refrigerate overnight. Remove racks of ribs from marinade, and bring to room temperature, about 30 minutes. Brush ribs with 4.Habanero Vinegar. Prepare grill for cooking over indirect heat with medium-hot charcoals (moderate heat for gas grill). Lightly oil grill rack, then transfer ribs to area of rack with no coals underneath or with shutoff burner if using gas grill. 5.Cook, covered with lid, until tender, 1½ to 2 hours. If using charcoal grill, add coals as needed to maintain medium heat. After 45 minutes, brush ribs with 6.Pineapple Glaze. Brush two or three more times before serving. Ribs are done when meat is well-browned and has shrunk back from the ends of the bones. 7.Transfer to a cutting board and let stand for 5 minutes before cutting into individual ribs. Garnish with Pineapple Salsa.
Grab a copy of Chef Tanya's cookbook Brown Sugar Kitchen: New-Style, Down-Home Recipes from Sweet West Oakland in bookstores and here.