Men Wore Thongs For A Day And Finally Felt Our Pain
"I think it's going to feel like my genitals are getting a hug."
by
,
Whether you love 'em or hate 'em, wearing a thong (or going commando) is sometimes your only option with certain clothing. But we wanted a few men to experience this life luxury for the day. They gained a little bit more than a wedgie.
Are you ready for this, ladies and gentlemen?
So, before the whole ordeal began, the guys had some suspicions about what their experience would be like. Kenny was ready for the...comfort of a thong.
But both Will and Nick feared for their butts.
The guys were assigned their own personal thongs and slipped them on for the day.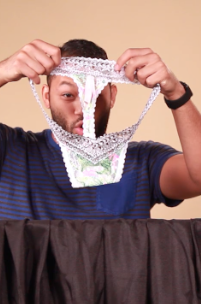 It wasn't too long before the guys felt the power of a lacy atomic wedgie.
On the plus side, Will felt more aerodynamic.
But in the end, the guys couldn't get over the feeling of a thong.
And they had a whole new respect for the brave souls who wear them.