36 Things You Should Know Before Binge-Watching The Series "3%"
BuzzFeed Brazil interviewed the directors and cast members of the series and this is what they told us.
1. "3%" is Netflix's first completely Brazilian production. The series takes place in a universe where the planet has been devastated and is divided into "Inland" and "Offshore."
2. Only 3% of the population live Offshore, where everything is abundant and a good life is to be had by all. And only those who, at 20 years of age, pass the selective test known as the Process can live there.
3. The series can be watched in 190 countries; it's been dubbed in English and Spanish, and has subtitles in 20 languages.
4. There are 8 episodes in this season, with the titles "Cubes," "Coins," "Corridor," "Gateway," "Water," "Glass," "Capsule," and "Button."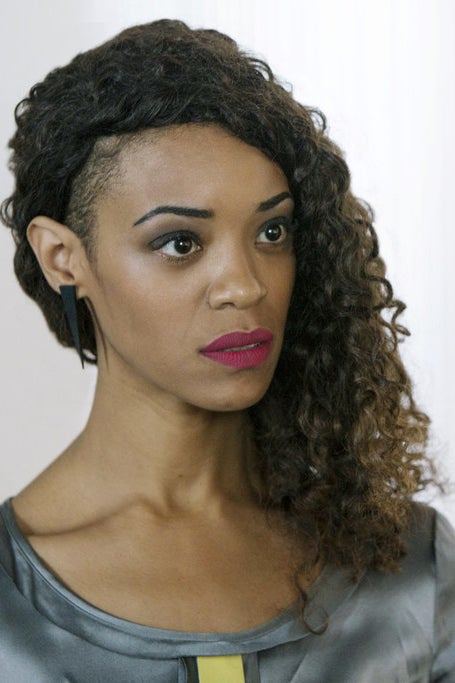 Viviane Porto (Aline) and Mel Fronckowiack (Julia).
5. According to actress Viviane Porto, who plays the part of Aline, one of her favorite things about the show is its inclusion of diversity on the screen. "It's very cool that the series has a physically disabled character and a considerable number of black actors, which you rarely see in Brazilian audiovisual media. Except in stories about slavery or the world of Samba, the inevitable, let's put it like this, they aren't included."
6. Viviane believes that a character like hers has never existed in any other series or soap opera. "I'm a black woman that plays a boss, motherfucker of a character. When has that ever happened? It's truly gratifying to be in this role."
7. To play Julia, Mel Fronckowiak shut herself away backstage to listen to music, very tense and gloomy, while everyone else hung out and chatted. "That's how I managed to find Julia, because I can't make myself simply transform."
8. The character who is responsible for the Process is Ezequiel, played by João Miguel. He's also known for movies like "Estômago," "Cinema, Aspirinas e Urubus," and "Xingu."
9. Despite being a series, João Miguel explained that the filming was quite similar to that of a movie.
10. Rodolfo Valente, who plays Rafael, and who has already done a number of soap operas, compared the time dedicated to the filming in "3%" to that of traditional television: "You rehearse once and do it in just one take. While in "3%" some scenes had up to four takes. There were days when I filmed just one scene. That doesn't exist in television."
11. In productions like this, the actors often wait for long periods of time before actually entering the scene. Viviane Porto gives some advice for the hours of waiting: "Have a book and have patience."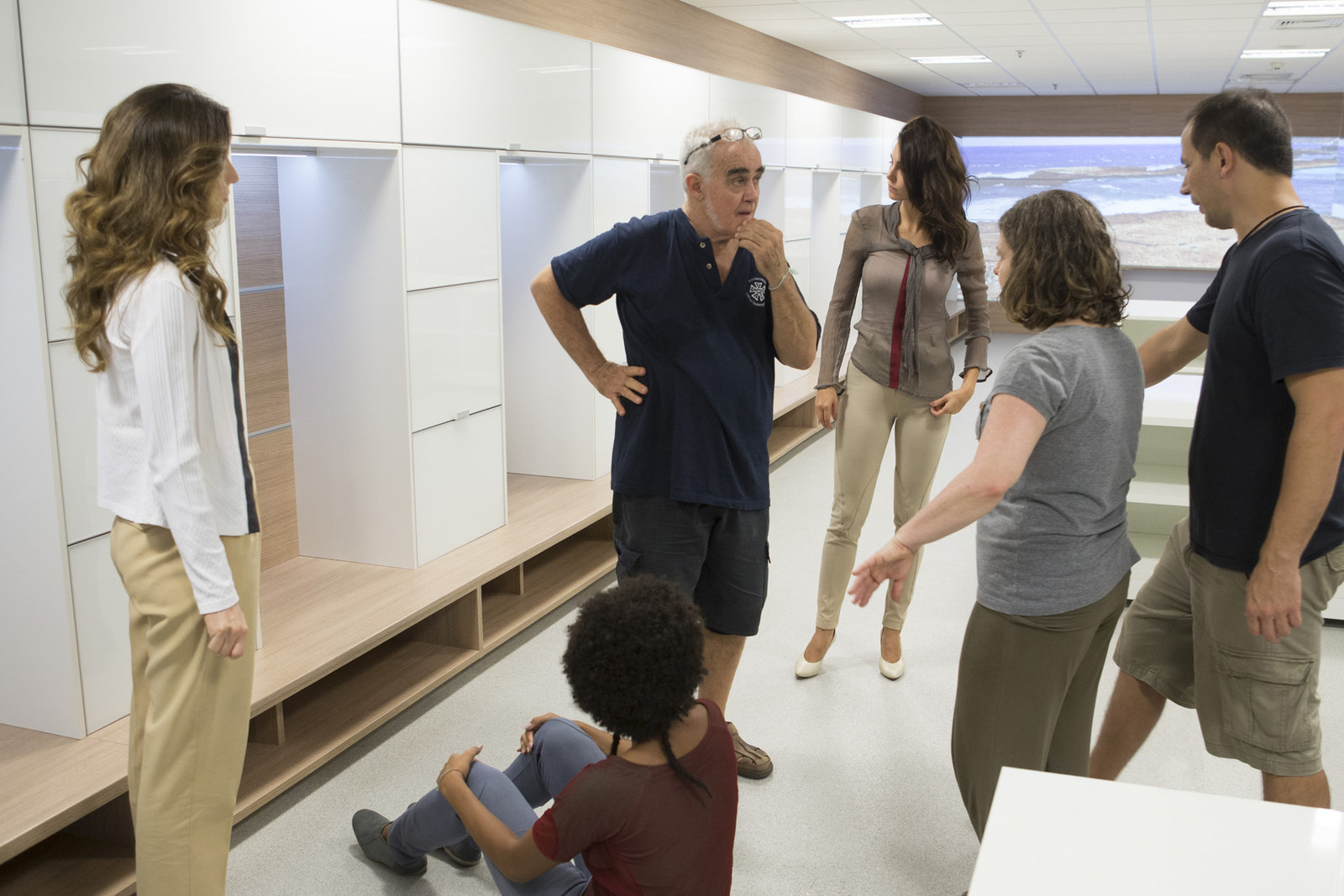 12. The creators of "3%" were studying together at the University of São Paulo when they came up with the story.
13. At the time, the scriptwriter for the series, Pedro Aguilera, was 20 years old.
14. In 2009, the creators put a pilot episode on YouTube. Split into three parts, it has collected 1.3 million views.
15. A lot of people wanted to see the whole series and they wanted a TV network to pay for the production. A fan even went so far as to create an Avaaz campaign.
16. In spite all of this, at least 10 TV networks turned down the project (they didn't want to tell BuzzFeed Brazil which channels those were).
17. Talking about this phase, the executive producer, Tiago Melo emphasized to BuzzFeed Brazil that the important thing is to never give up. "If you have an idea that you *believe* in, you can't give up because you've heard a no. You have to get a hold of yourself for five minutes and them continue moving ahead."
18. To direct, they called upon César Charlone, one of the members of the Academy which awards the Oscars, and who had been nominated for the award two times (Best Photography for "Cidade de Deus" and Best Foreign Film for "O Banheiro do Papa").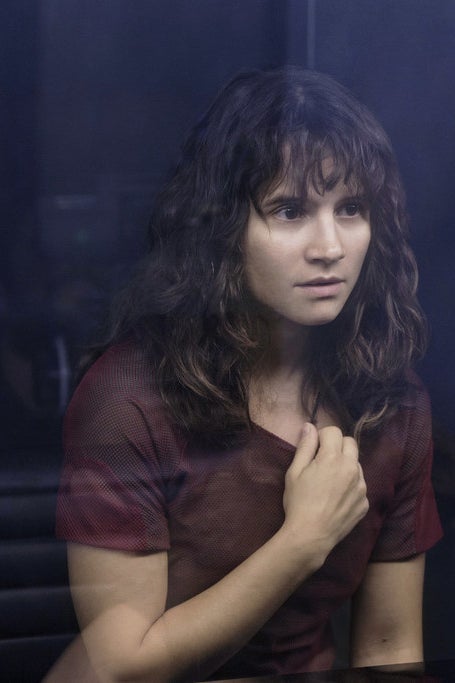 Bianca Comparato (Michele) and Michel Gomes (Fernando).
19. Two of the prime candidates to get into Offshore are Michele and Fernando, played by actors Bianca Comparato and Miguel Gomes. They play 20-year-old characters, but they are a little older.
20. Bianca used memories of her life at 20 in order to create her character, who is full of doubts. "They're not my crises anymore. I've already gone through them."
21. Michel is already used to playing younger characters. "They always give me exactly this age range, seriously. I'd like to have a little more beard, give an older impression."
22. In order to play the character, who is in a wheelchair, Michel kept a wheelchair at home for one month and spent 15 minutes everyday parked in front of his building. He felt bad, because he saw the pity in the expressions of the people that passed by on the street.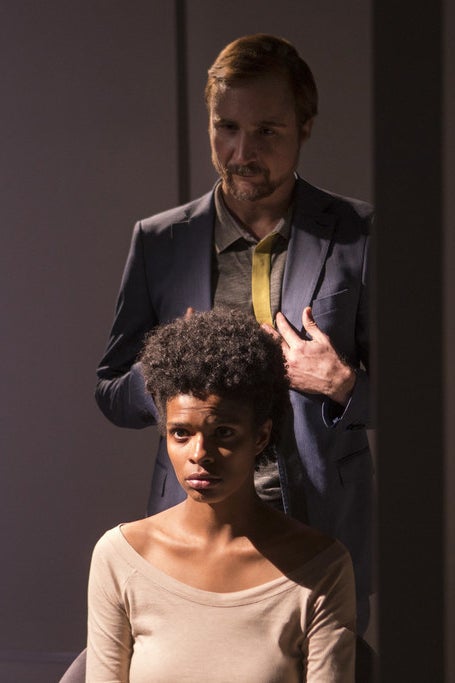 On the left, Vaneza Oliveira (Joana) and João Miguel (Ezequiel), and on the right, Rodolfo Valente (Rafael).
23. "3%" is Vaneza Oliveira's debut as an actress on TV. She told us that she still can't believe what's happening. "It's a little surreal. To be honest, I'm still trying to figure out how I ended up there."
24. As incredible as it might seem, she was called to participate in the series by a Facebook contact.
25. Curiously, for her and Rodolfo Valente, the most difficult scenes are the ones that look easy, like opening a door or handing over a glass of water. As they are shorter, it's easy to lose your concentration and "fall out of character."
26. When the actors weren't filming, they horsed around a lot. It was one way they relieved themselves from the heavy scenes that they had to film.
27. In one of the scenes, Vaneza's character is sleeping, then wakes up. After repeating the scene a number of times, she fell asleep for real. The director of the episode kept yelling "action" again and again until she woke up.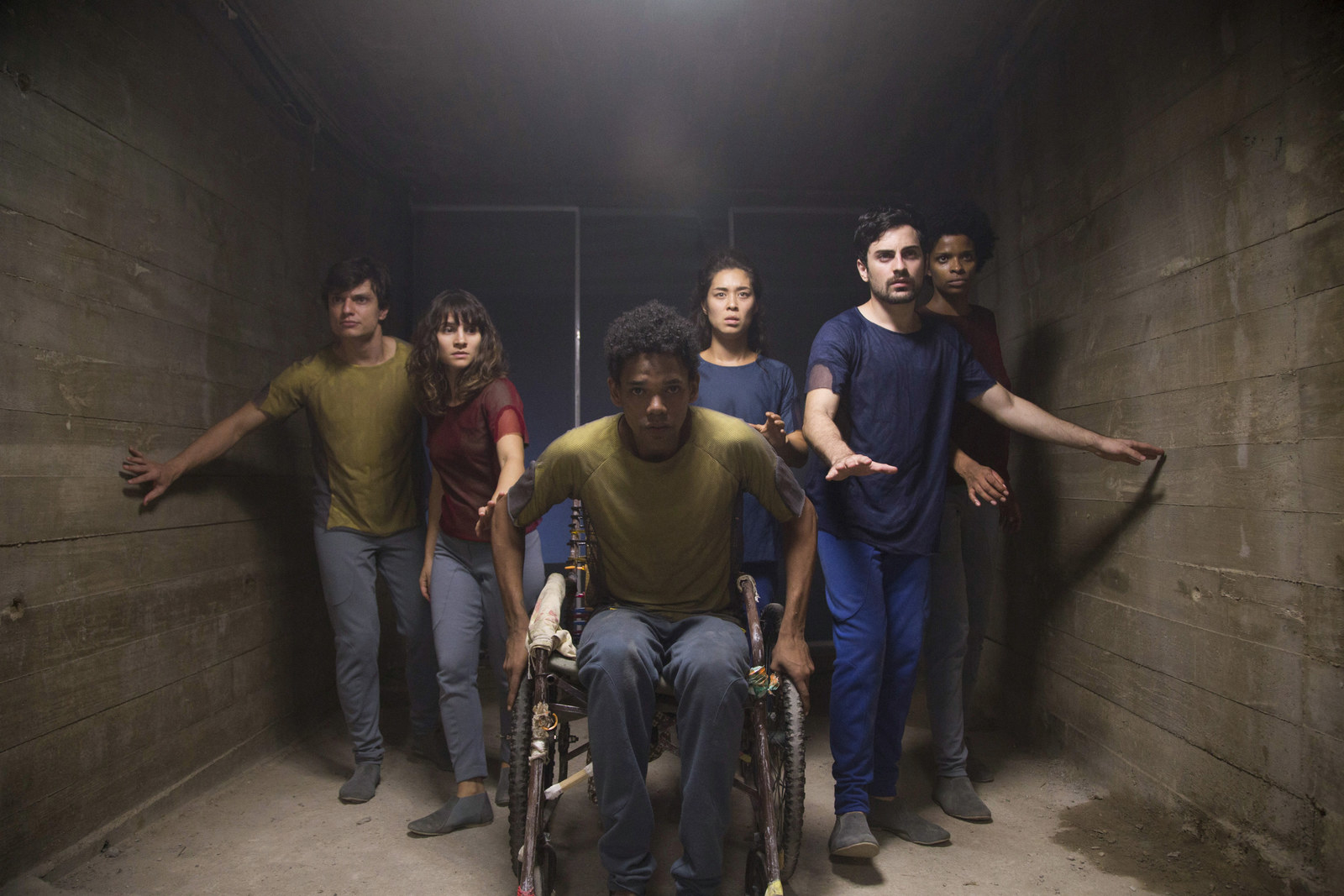 28. The series was filmed in the city of São Paulo, downtown, in the neighborhoods of Heliópolis and Vila Madalena, in Juventude park and in the squatters' community at the Cine Marrocos building. There are some images of the beach taken at Guarujá, on the São Paulo coast.
29. The directors explain the choice of the city: "São Paulo supplied us with the visual richness that is characteristic of the series. We have Offshore and the mainland at the same time in São Paulo. And, many times, all you have to do is cross the street."
30. The Inland scenes were filmed in downtown São Paulo and the actors Bianca Comparato and Miguel Gomes were mistaken for beggars by the locals.
31. Actress Bianca Comparato spoke about how she felt in this situation: "I always felt uncomfortable when we filmed outdoors, because it's so real, the poverty; that always made me feel bad. That was dealing with it on a daily basis."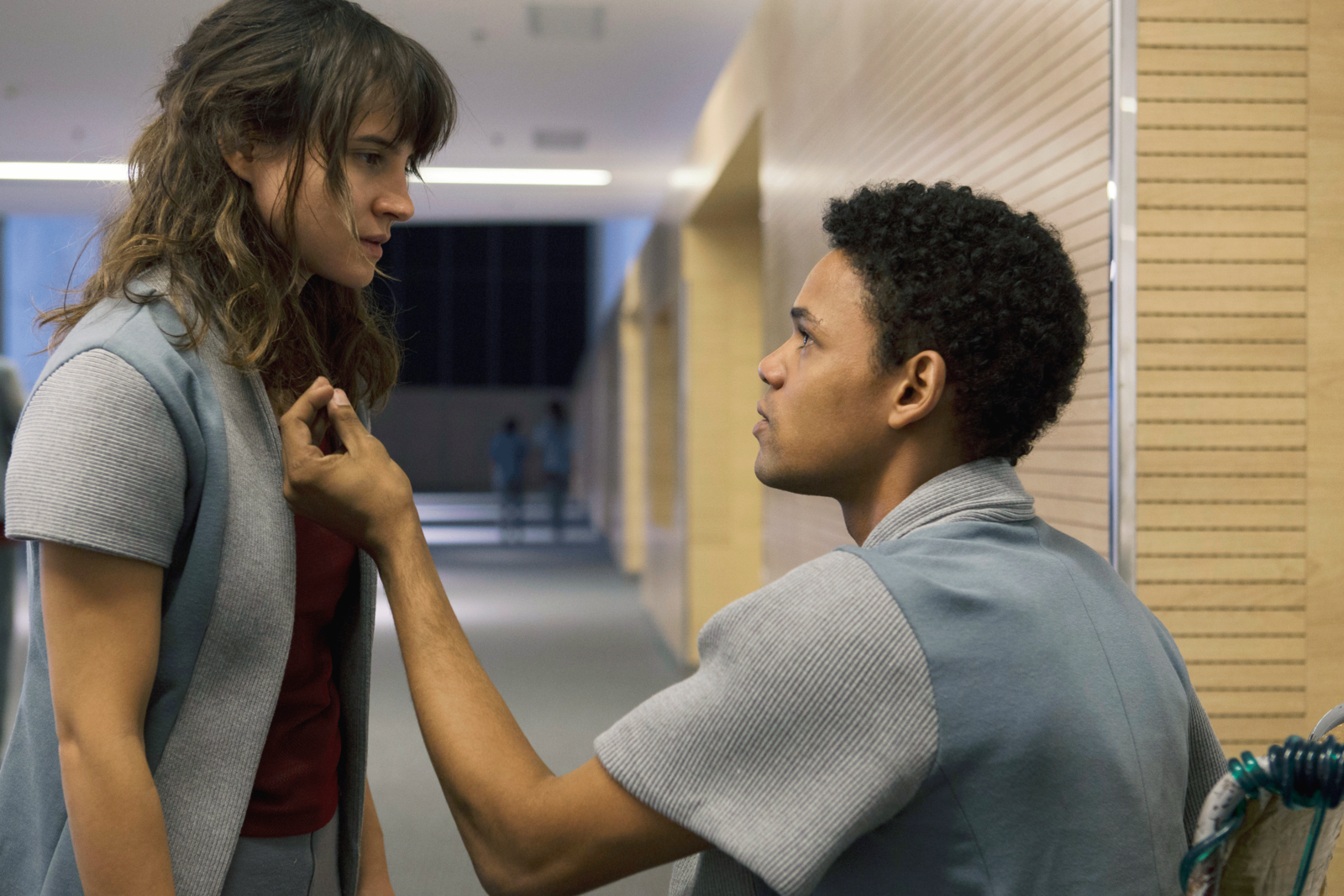 32. The futuristic scenes in Offshore were shot in the Corinthians Arena. Director Dani Libardi explained that the location was a true find: "There is a lot of glass, lots of white glass and it has everything to do with the atmosphere that we wanted to portray for Offshore."
33. On one of the days while filming at the location, Miguel appeared dressed in green from head to toe, which is, let's say, not looked upon too favorably in the areas around the stadium. He had forgotten this rule, even though he's a fan of the Bahia team and not the Palmeiras team. Things got a little weird, but it all turned out okay.
34. The first season is focused on Process number 104. Which means that the story takes place 104 years after something happened to the planet.
35. We asked the directors in what year the story takes place, but they didn't want to reveal everything.
36. The series has been renewed for a second season.