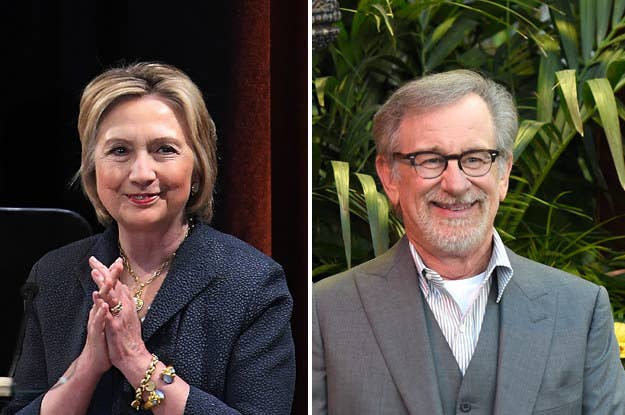 Hillary Clinton is getting into the television business.
The former secretary of state and 2016 presidential candidate is teaming up with Steven Spielberg's Amblin Television group to produce an adaptation of The Woman's Hour, Elaine Weiss's book about the women's suffrage movement.
Clinton's lawyer, Robert Barnett, confirmed her role in the project to BuzzFeed News.
Clinton said in a press release from Penguin Random House, the book's publisher, that she was "thrilled" to be working to bring "this important project to audiences everywhere."
"At the heart of democracy lies the ballot box, and Elaine Weiss' unforgettable book tells the story of the female leaders who — in the face of towering economic, racial and political opposition — fought for and won American women's right to vote," she said.
Published in March, The Woman's Hour follows suffragettes in 1920 Tennessee as they work to ratify the 19th Amendment, which granted women the right to vote.
Clinton called it "both a page-turning drama and an inspiration for everyone, young and old, male and female, in these perilous times."
Weiss, who has worked extensively as a reporter for multiple publications and will also serve as an executive producer on this adaptation, told BuzzFeed News she was excited to work with Clinton.
"We're both excited about bringing this story, which isn't very well known, to the screen," she said. "We thought it was important, especially at this moment, that Americans understand what it took and that it was so hard fought."
"I think it teaches us lessons about how change happens in a democracy, how our democracy has never been perfect and needs constant perfection. That's certainly the case today when voting rights are threatened again," she said.
It's not yet clear if the book will be adapted into a TV movie or a limited series. "I'll leave that to the experts," said Weiss, but added that the hope is the project will be out by 2020 — the 100th anniversary of the 19th Amendment (and right before the next presidential election).

"When I was writing I thought it would be President Clinton who would be reading it," Weiss said.
According to the Hollywood Reporter, which first reported the news, Clinton is expected to be heavily involved in the casting and in the search for a writer to adapt the book to television.
The news comes after Barack and Michelle Obama signed a deal with Netflix in May to produce their own original content, including scripted and nonscripted films, documentaries, and other types of series.