Draven Rodriguez, a 17-year-old high school student who found online fame when his unique yearbook photo went viral last year, committed suicide Thursday at his home in Schenectady, New York, according to multiple reports.
The Schenectady High School senior posed with his cat in Sept. 2014 for a laser-streaked photo, before starting an online petition to allow the unique portrait to be his official yearbook photo.
"I don't want to go in the yearbook with the generic 'I-look-like-everyone-else' photo," Rodriguez told the Daily Gazette at the time. "I wanted a 'He looks great. Only he would try that' photo."
Although school officials ultimately rejected the photo, the school principal went on to pose with Rodriguez and his cat for a similar photo in which she held her dog.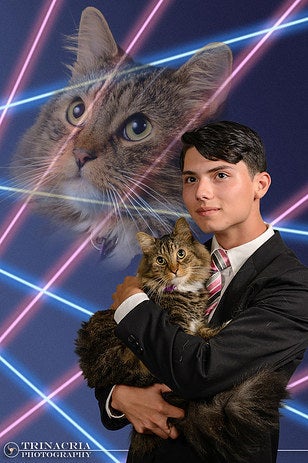 "He wasn't trying to stir things up with it," Rodriguez's father, Jonathan Stewart told the Times Union. "He honestly just wanted a silly photo because he had a great sense of humor."
In addition to being featured on BuzzFeed, Rodriguez's photo found its way to a number of media outlets, including the Huffington Post, USA Today, and the Tonight Show With Jimmy Fallon.
"He made friends wherever he went," Stewart said. "He had friends all over the country — people he'd met at youth-leadership conferences, online, just around town."
Rodriguez was an avid guitar player, gamer, and rower, and was also involved in the How to UnMake a Bully program.
"He had an empathy for the world and for other people that I think is rare in kids his age," said Stewart. "It was wonderful to see."
On his Facebook page, friends remembered Rodriguez as an intelligent, sensitive, and unique young man.
"We have all lost a smile in the hallway, a great friend, and an incredible mind," one friend wrote.