Have you ever considered living in a super-small house or apartment? If not, you may be missing out on a great investment opportunity. Micro housing offers various advantages, like lower costs and easy maintenance. In addition, this kind or residential property is incredibly trendy at the moment. Even famous architects have showed interest in the field. But will micro dwellings find a place in people's future or will they become a thing of the past, like cave houses, for example?
Defining micro housing So how small should a house or flat be in order for it to be called "micro"? Well, that really tends to depend from country to country. Still, in most of the cases a house that offers less than 90 square meters of space per person is generally considered to fall into the category of micro housing. That may sound like too little, but compared to most city dwellings constructed about half a century ago, it is quite spacious.
Another characteristic of this type of homes is that they are always residential and need to offer all the basic facilities and utilities. That means that if a small-sized property does not feature a bed, bath, storage and kitchen areas and it has no sewage, electricity or water supply it cannot be called micro housing… or housing for that matter. It should also be noted that micro homes do not need to have foundation, as they can be also be on wheels. Most popular types of micro housing •Micro apartments – usually found in buildings that are made up of other micro units •Micro houses – tend to be detached from other structures or serve as an accessory to larger housing properties •Micro homes on wheels – range from trailers on wheels and motorhomes to campers, PMRVs and traveling modular houses •Tiny housing – any type of housing that has a floorage of less than 23 square meters
The reasons behind this rising trend The factors that have boosted the popularity of micro dwellings are surprisingly many. One of the most important of them seems to be the rising cost of living all over the world. No matter whether we are talking about a city in Europe or in North America, making ends meet in the big metropolises is a challenging task for most people these days. Tiny homes are much cheaper to buy and maintain and they offer a lot of convenience for retirees and people who have just received their university diploma.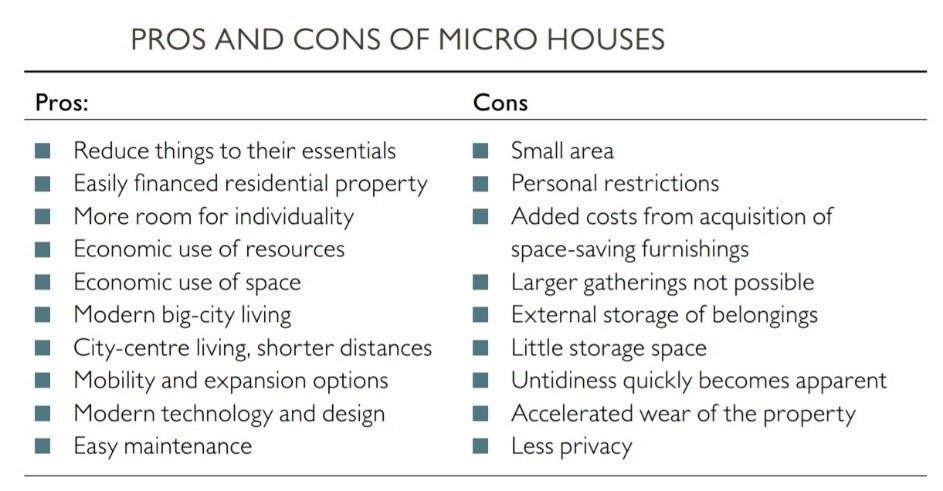 Technology also plays a key role in the rise of micro housing. Just think about how much of your life is actually stored on your computer and smartphone. Your entire music collection, all of your books and photos follow you wherever you go thanks to the gadget in your pocket. You don't even need to worry about things like transportation, shopping and cooking, since they are countless apps which you can use to order a ride or dinner. If you are a passionate environmentalist, you will also be able to see the beauty in this kind of housing. Smaller living space means lower carbon and greenhouse gas emissions and reduced use of building materials like lumber. Maintaining a moderate room temperature in a micro house is much easier than in any other type of housing and it will help you to greatly reduce your electricity bills.
But even if you are not particularly concerned with things like climate change and nature preservation, you may find tiny apartments and houses more suitable for your way of life. That will be particularly true, if you are living on your own. The percentage of one-person households in cities is bigger than ever before. For instance, it is estimated that 32% of all households in New York City consist of only one individual. That percentage jumps to 45 in Washington D.C. This tendency is possibly due to the fact the marriage rate in most parts of the western world has dropped significantly over the last decade.
In addition, there is a large number of elderly people who live all by themselves. In fact, even if you are not single, you can still dwell in a tiny home. Two people can easily fit into most micro flats in New York, especially if they enjoy simplicity and practicality.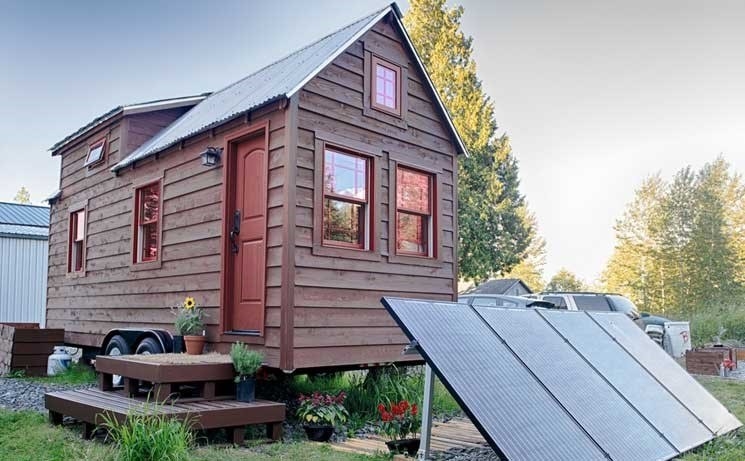 Does it have a future The future of micro dwellings seems bright. As a start, technology is constantly developing and it will continue to do so for many years to come, allowing us to carry more and more information on our devices and complete more chores with a click of a button. The popularity of tiny homes is slowly but surely increasing in large cities like London, New York and Hong Kong and in some Asian countries like Japan, the trend has already reached explosive levels. Given that more and more people pick urban over rural living, the growth of micro housing will not stop here.
Plus, governments are seeking new ways to reduce cities' environmental footprint, which is something that tiny houses and flats can successfully achieve. That can potentially mean attractive incentives for micro housing investors.
Another sign that super-small dwellings are here to stay is that they have become a rapidly developing market. Luxury micro apartments are the latest craze in New York, with average rent prices amounting to nearly $2,700. That means that the per-square-meter rent price of these tiny homes is nearly twice that of apartments in the city. Nevertheless, NYC's expensive micro flats do offer comfort and a long list of features. The apartments are designed to use space in the smartest and most efficient possible way.
All the furniture you will find in them are custom-made and the housing even includes extras like a large flat-screen TV, super-fast internet connection and a dishwasher. New York's luxury micro flats are also located in buildings that offer access to amenities like swimming pools, ping pong tables, work space and lounge area and many more. Examples like this one show that micro housing is no longer limited to the poor. Its future may include people from all walks of life.
This post was created by a member of BuzzFeed Community, where anyone can post awesome lists and creations.
Learn more
or
post your buzz!