Since its founding, BuzzFeed has been obsessed with how digital content is consumed, how it is shared across the web, and how it impacts our readers and viewers. But the answers to these questions are constantly evolving with the industry. We've been able to foresee some of these shifts in the industry by examining our video business.
In September 2012, when digital video at media companies was still in its infancy, BuzzFeed bought a small video startup led by Ze Frank. This scrappy team became the powerhouse of BuzzFeed Motion Pictures where Ze is now President, and over the last two and a half years it has gone from zero to over 1 billion monthly video views. The distribution of this growth has been as noteworthy as its magnitude: for the most part, our videos are watched not on BuzzFeed's site, but on other digital platforms. Today, less than 5% of our video views happen on BuzzFeed.com.
So how do you build a media business when users view your content all over the web, not just on your own site? Our experience with BuzzFeed Motion Pictures led us to develop a new model: the network-integrated media company. If we can derive insights from the data we get back from platforms, we can get better at making content that delivers a bigger impact to our audience.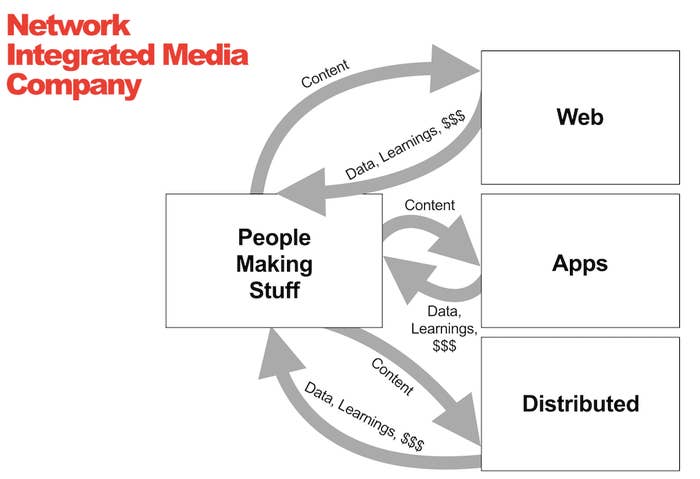 1. Good experience for the user
Facebook saw an opportunity: average app users wait eight seconds between clicking a link in their newsfeed and seeing the mobile web page loaded from a publisher. Facebook aimed to fix this problem by rendering stories natively within the app, thereby reducing load time by 10x. This is particularly important for content that contains images, GIFs, and videos, and the Instant Articles product speeds everything up for the reader.
As you'll be able to see in the showcase post below by Jack Shepherd, "13 Steps to Instantly Improve Your Day" (goes live Wednesday morning!), we were able to incorporate some new interactive formats like GIFs that automatically load, embedded native video, and a feature that allows you to explore a wide image by moving your phone back and forth. Day made.
2. Data and insights
You can have all the data science you want, but if you can't make it real to an editor or advertiser, it doesn't matter. We were able to work with Facebook to incorporate ComScore, Google Analytics, and our internal tracking tools into the Instant Article template. Eventually, if you're a BuzzFeed editor, you'll be able to see how your post is performing on the BuzzFeed site and natively on Facebook, and be able to optimize your work with those insights. The data feedback loop that is so important to our company will be equally seamless for content on and off our own website.
3. A great business
It is also important to us to be able to build and grow our native advertising business on Instant Articles. We worked closely with Facebook to develop an ad unit most similar to what we call the "big story unit" on our homepage, which looks and feels like an ad unit you're accustomed to on BuzzFeed.com. The unit links out to sponsored content we create with our advertising partners and is served through DFP, just like on our site. From design to implementation, Facebook makes it easy for us to monetize Instant Articles and explain to our advertisers how their ads are distributed across our site and Facebook. Universal Pictures' Pitch Perfect 2 sponsored post, along with sponsored posts from other alpha partners, will be running through our first story. Our distributed model works particularly well for content marketers — brands who tell their stories with great content rather than with banner ads. We are excited for the value this product can bring to our advertisers who get the full benefit of our platform and technology.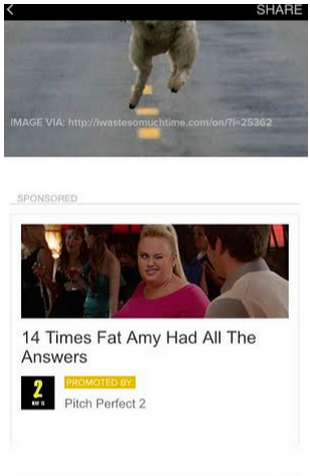 So what does this mean for the larger publishing ecosystem? First, Facebook made it clear to us that they support the open web and value cross-network sharing. That means you'll be able to share an instant article you see in Facebook's app to other social networks, and when you do, the address that gets shared is the article's URL on BuzzFeed.com.
Second, BuzzFeed editors won't have to worry about an additional step of uploading content to another CMS. This will happen seamlessly on our platform. We will continue to publish to our site as usual, and our content will be enhanced and native in the Facebook app.
As our experience with BuzzFeed Motion Pictures has taught us, there is a massive opportunity here: for editorial, for video, and for sponsored content. If we can push our content to the edges, more people will be able to see our news reporting from all over the world, our lifestyle hacks and original recipes, and our most entertaining and inspiring lists and videos.