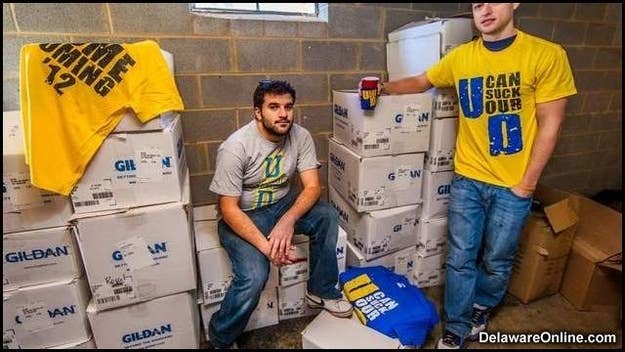 Two University of Delaware students are charging in a federal lawsuit that the school violated their right to free speech because officials would not let them sell T-shirts at homecoming imprinted with a slang phrase commonly used to heckle opposing teams.
"This is a civil rights case. My clients' freedom of expression under the First Amendment is being repressed by the threat of academic disciplinary proceedings," said attorney David Finger.
The university issued a brief written response to the suit Thursday, saying the case "has nothing to do with censorship and everything to do with trademark infringement."
"It is about the university's ongoing efforts to protect its trademarks, copyrights and intellectual property," it contends.
The lawsuit was filed by 21-year-old students Benjamin Goodman and Adam Bloom in U.S. District Court this week. It seeks $35,000 in damages for lost sales of T-shirts bearing the slogan, "U can suck our D," and other costs and fees.
In September, a month before UD's 2012 homecoming, Goodman and Bloom sent a mass email to their Facebook followers announcing they would begin selling their shirts the next day. The message apparently was forwarded to a UD official, and the school immediately sent the pair a cease-and-desist email.