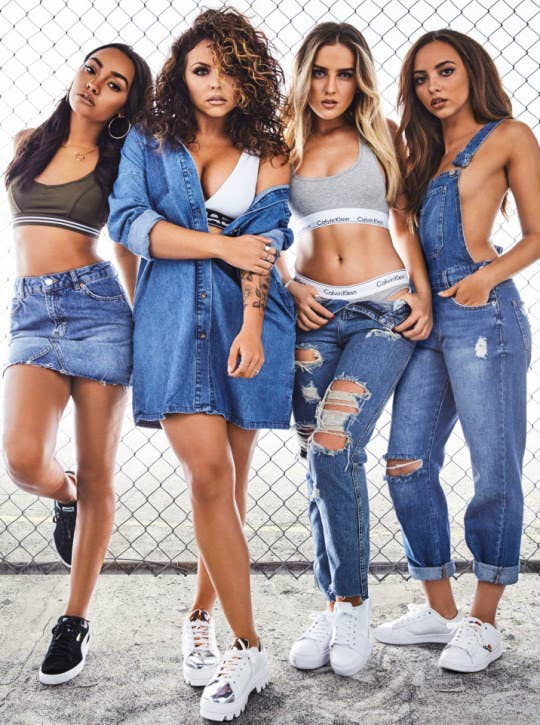 Filled with an explosive start, 'Shout Out To My Ex', the folk-pop driven tune, sets the stage for Glory Days. Fairy reminiscent of the Mumford & Sons track 'I Will Wait', the songs ukulele and guitar instrumentals makes the song a repetitive abuser.
'Touch' is an Ariana Grande and Sia number all rolled into one that's destined for pop radio but also very suited for a night out or night in.
'F.U.' is a prime soulful ballad that echoes the early girl group sound of the 60's (The Supremes if you will) and showcases Little Mix's powerful and extensive range as a unit. From the low, contralto notes of member Jesy Nelson to the piercing, soulful highs of Perrie Edwards, the showcase of individual voice strength is there for each member.
'Oops', featuring the multi-platinum and doo-wop inspired artist Charlie Puth, shows a different side to Little Mix and you're most likely to catch it on your next Christmas playlist. It's breezy and like 'You Gotta Not' another swimmingly co-penned Meghan Trainor hit, follows suit with a jazzy retro beat. These songs once again showcase the genre appreciation that the album contains overall.
Songs like 'Down & Dirty' and 'Freak' are perfectly embedded for their urban audience and demographic. 'Power' is an album highlight as well as 'Private Show' due to its signature Little Mix sound - the bright, bombastic beats are what separates the girl group from other past and current girl groups. In fact, not releasing 'Private Show' as a single would be probable devastation. In addition, 'Power' sounds like a two in one song, similar to the critical acclaim of 'Biology' by Girls Aloud which was praised for its multi-genre influence.
'Your Love' isn't necessarily a filler track, but continues the electro-pop and slight reggae sound that 'Touch' led off on.
'Nobody Like You' is a soaring ballad that quite like F.U., shows how vocally strong the group is while 'No More Sad Songs' is an electro-extravaganza and a perfect follow up to the passionately held sorrow in 'Nobody Like You.'
'Nothing Else Matters' makes the group return to their Get Weird roots and an 80's synth mood - a tad eerie of Charlie XCX's 'Boom Clap', but more catchier than the latter.
'Beep Beep' is a country and rock n' roll smash that's filled with cheeky lyrics and works well with the groups' sly vocals.
Little Mix have succeeded in creating an album and combines feisty personality and impressionable vocals. Glory Days is a bombastically loud album that's shows no fear and hides nothing back. It's upright, confident and quite literally one of the most exciting pop albums of 2016 and perhaps the most exciting girl group record in over a decade.
Glory Days is now available on iTunes and Spotify.
iTunes: https://itunes.apple.com/us/album/glory-days/id1163805314
Spotify: https://open.spotify.com/album/2GJLzxAajkFeyDPVH7X4Cs