Equal Marriage Passes Crucial Vote In Scotland
Members of the Scottish Parliament voted overwhelmingly for the legislation "in principle". Two further votes remain.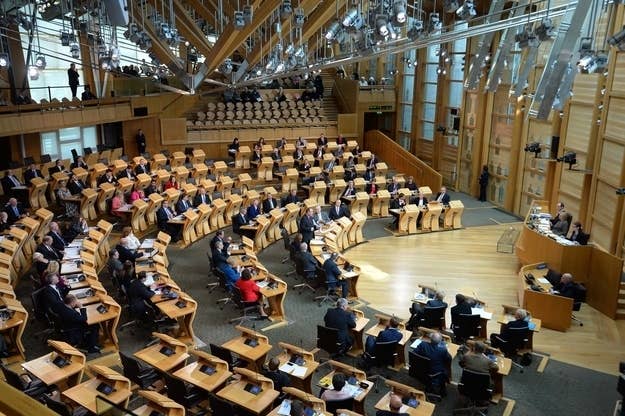 Scotland is one step closer to equal marriage after it passed a crucial vote in Parliament.
The Marriage And Civil Partnership Bill made it through the first of three hurdles on Wednesday, when members of the Scottish parliament (MSPs) agreed to the proposals in principle by 98 votes to 15, with five abstentions. The development had been widely anticipated, with ministers saying the move was the right thing do. Scotland's Equality Network had predicted that 98 MSPs were likely to vote in favour of the Bill, 14 to vote against, with 16 undeclared. MSPs were allowed a free vote, rather than along party lines.
The Church Of Scotland and the Catholic Church remain opposed. Religious bodies would have to "opt in" under the proposed legislation, and would not be forced to hold ceremonies. Opponents of the bill argued that such safeguards did not go far enough.
The SNP's John Mason argued: "Parliament is not reflecting public opinion on this issue. It can be argued whether those supporting or opposing the bill have the greater numbers on their side, but there is certainly not the overwhelming support outside this place that there seems to be inside."
However, Stonewall Scotland's research claimed that 65% of Scottish people were in favour of the legislation.
Members debated at Holyrood at 5 p.m. Wednesday evening, with the vote taking place at 8 p.m. Before the vote Tom French, policy coordinator for Equality Network said, "Today, the Scottish parliament has the historic opportunity to stand up for a fairer and more equal Scotland by voting for this milestone legislation. We urge MSPs to get behind this bill, which will remove discrimination from the law and send out an important message about the kind if country we are."
England and Wales legalised marriage equality in July this year, but Scotland has lagged behind. Passing stage one means that a majority of MSPs have agreed to the legislation in principle, which makes it overwhelmingly likely it will become law. The Bill will now go back to Holyrood's equal opportunities commission for stage two scrutiny, where any amendments will be considered. Assuming it passes stage two, a final stage three vote is expected in early 2014, paving the way for the first same-sex weddings to take place in early 2015.
Campaigning groups immediately praised the decision.
The next stage in the process will be working on amendments, specifically regarding transgender people.
But this was the general mood of the evening.