We hope you love the products we recommend! All of them were independently selected by our editors. Some may have been sent as samples, but all opinions and reviews are our own. Just so you know, BuzzFeed may collect a share of sales or other compensation from the links on this page if you decide to shop from them. Oh, and FYI — prices are accurate and items in stock as of time of publication.
Unless otherwise specified, all sizes in this post are listed in women's.
1.
A set of adjustable clip holders for instantly turning any regular bra into one you can wear with a racerback top without the straps showing. 
Promising review: "Genius!! Why did it take me so long to find these? I was looking for a solution to hide straps in a racerback tank but these straps do so much more than just that. Unlike the round clips that pull straps tightly to the center of your back, these straps lie flat and they have just enough give to allow the bra to still fit right and feel comfortable. Moreover, they can be used to keep bra straps from falling down all day!!! Such a great product." —MsChris
Get a set of three from Amazon for $6.97+ (available in five colors).
2.
A set of silicone bra strap holders because no one likes too-tight straps that dig in or too-loose straps that fall down constantly. These little protector pads fight against both and are 100% washable and reusable. 

The set comes with a black, white, and tan-colored pair. 
Promising review: "This little item is WONDERFUL. For 50+ years I have had to pull up my bra strap multiple times a day. The first time I utilized this product I caught myself checking my strap and, TA-DA, the strap never slipped. It did not even try to slip. This are a miracle product for me personally. HIGHLY recommend and especially for people with scoliosis where one shoulder might be lower than the other." —Elliedog
Get three pairs from Amazon for $7.99. 
3.
A padded longline workout tank with a built-in bra so you can ditch the painful underwires and hot layers altogether in favor or something lighter, cooler, and oh so stylish. 

Promising review: "I ordered this bra/tank top to compare to the Lululemon Align tank. It is amazing! For reference I wear a size 8/10 in the Align tank and I ordered a size medium in this one. The similarities are endless with the only difference being the material. The material of this tank seems to be more sturdy than the Align tank, so I definitely love that the material will hold up better and likely longer than my Align tanks! If you're looking for a cheaper option this one is it! I cannot wait to purchase it in more colors :)" —Z

Get it from Amazon for $21.99+ (available in sizes XS–XXL and in 14 colors). 
4.
Or a versatile racerback crop top if you want to go braless with a bit more coverage. This wear-everywhere style is soft, breathable, and supportive enough to work out in, but the sleek silhouette is totally going-out-approved. 
FYI — this is included in Prime Try Before You Buy so you can give them a trial run if you're a member!

Promising review: "I am in love with this top! It's thick enough to not need a bra but not so thick that it's hot and uncomfortable. Doesn't ride up or roll around the seams and edges. You could wear it to work out, be casual, or dress it up. Definitely snagging this in every color." —Shelbie Johnson
Get it from Amazon for $17.99+ (available in women's sizes S–XXL and in 16 colors). 
5.
A pack of bra extenders to give you and your collection of shrunken, too-tight bras some extra breathing room.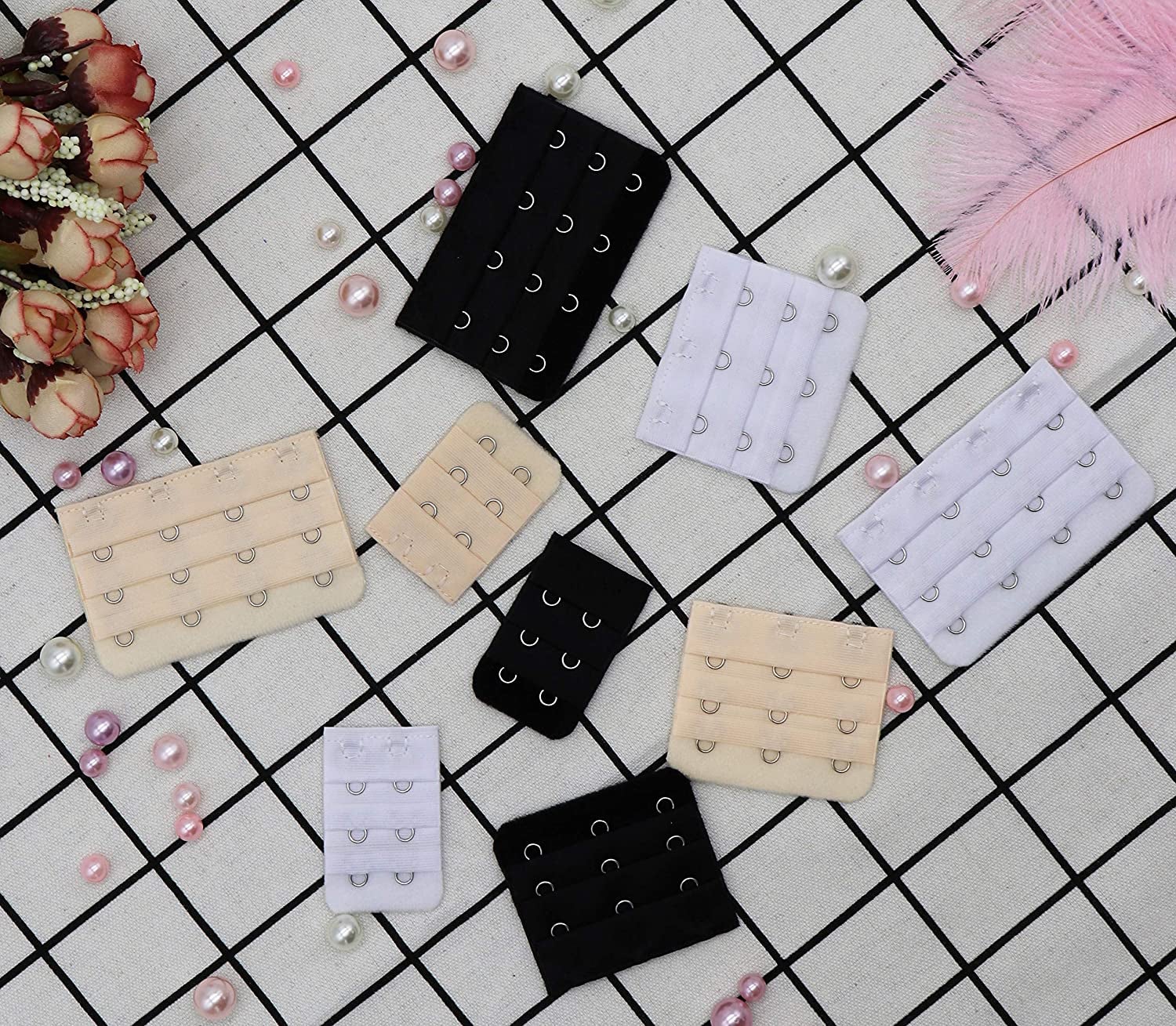 Promising review: "This comes with a variety of sizes and colors and comes in very handy whenever my bras 'shrink' in the laundry. Having a selection allows me to wear the bras for a longer time, before they wear out. It's not necessary to have multiples of each because you can always trade them, but it's nice to not have to keep swapping them to a different bra." —catherine devine
Get a nine-pack from Amazon for $12.95. 
6.
A moisture-wicking sleeveless workout dress that's equipped with a built-in bra, adjustable straps, and pocketed shorts for a versatile style that's as fashionable as it is functional. 

Promising review: "This dress is so comfy and such an easy outfit to put together. I'd been looking for a tennis dress with shorts and a pocket underneath for a while that wasn't super expensive since they've become so popular. I ordered this one and I am so happy with it!! I could've sized down for a more fitted look but I am very happy with this dress and ordered another in the dark blue." —Abbie 

Get it from Amazon for $37.99+ (available in sizes XS–XXL and in eight styles). 
7.
A pair of reusable silicone nipple covers for ultra discreet coverage that's totally waterproof, so they'll stay in place even if you're on the dance floor busting moves and sweating up a storm. 

Promising review: "I hate wearing a bra, especially in the summer. I am small enough where I don't really need the support of a bra but I am really self conscious about my nipples. I always sought out sleeveless tops with pockets on the chest to hide them but with this product I can wear some of my tanks braless in public! Yay! These nipple covers are super comfortable and adhere well repeatedly. I have forgotten I was wearing them. I feel so free!" —KG

Get a pair from Amazon for $25.82+ (available two sizes and in shades Creme, Caramel, Coco, Hazelnut, and Espresso). 
8.
A microfiber Calvin Klein T-shirt bra because if you have to wear a bra, opt for one that's lightly padded for everyday shape and support, but not so padded that you'll get those annoying cup lines under your favorite ultra-thin T-shirt.
FYI — this is included in Prime Try Before You Buy so you can give them a trial run if you're a member!

Promising review: "This bra is everything I wanted: It's not too expensive, fits like a glove, is comfortable, is almost invisible, and it passes the white T-shirt test. I was worried about the Fresh Taupe color because I'm very pale and it's a bit gray, but it works for me. I've already washed it (cold, hang dry) and the cups maintained their shape. I ordered my normal EU size, and there is a tiny bit of gapping in the front, but it's only very slight. I normally wear bras that are double or triple the price, but I'll be buying this in a few more colors." —Julia
Get it from Amazon for $19.99+ (available in band sizes 30–44, cup sizes B–DDD, and in 15 colors).
9.
Or a comfy Warner's wire-free bra if you consider over 24,000 5-star ratings compelling enough evidence to try a bra lauded as both incredibly comfortable and supportive!
FYI, this is included in Prime Wardrobe so you can give it a trial run if you're a member!
Promising review: "Perfect T-shirt bra. True to size, follow the size chart. So comfortable. At first I thought the straps would dig but I adjusted and they fit great. No digging, no gaping, completely smooth under clothes and perfect stretch. It's so supportive and has a little lift. Love this bra for everyday wear. Will be getting more in other colors." —RW
And here are some more wireless bras, if you're looking for similar styles!

Get it from Amazon for $14.89+ (available in sizes XS–2X and in 13 colors).
10.
These seamless bra liners made from an ultra-soft blend of cotton and bamboo to prevent under-boob sweat stains and all the chafing and discomfort that comes with it. 

Promising review: "This is one of those things that I wish I'd found years earlier. I've suffered from mortifying stress-induced under-boob sweat for most of my adult life. Also, I'm a lifelong Seattle girl who gets upset when it's warmer than 65° outside. So when I stumbled upon this product, I was curious enough to buy a small pack. And yes, I've come back for MORE! For real, I won't put on a bra without one of these liners now. It absorbs all the moisture from heat and stress. And because it's a really soft bamboo/cotton mix, my skin is finally not feeling tortured under there! To the makers of this ingenious life-changing product: thank you thank you thank you! Sincerely, all the grateful ta-tas you've helped to care for" —Niko

Get a three-pack from Amazon for $13.99+ (available in sizes M–XXL). 
11.
A cropped tie-front top with a built-in bra that makes it possible to rock a plunging top without spending all day making sure your bra stays in place. A modern day miracle.
Klassy Network is a woman-owned small business that sells stylish blouses, swimwear, eyewear, and their well-known Brami top, aka a top that provides amazing support and doesn't require a bra underneath!
Get it from Klassy Network for $45 (available in sizes XXS–3XL and in five colors).
You saying goodbye to your old bras: