1.
A set of two adhesive shower shelves so you can replace your college caddy with a renter-friendly solution that has enough space to handle every body wash, hair mask, and bubble bath in your arsenal. 
Promising review: "I saw these shelves on TikTok and really wanted to try them out, as I have no shelves in my shower. The adhesion is impressive — they've stayed sticking for the past two weeks with no sign of letting up, and are holding about four bottles of products on each of the two racks I have hanging. I thought for sure they would fall after showering or something, but they have stayed strong and held up. I'm so impressed! I'm sure I will purchase more in the future. Super duper easy to install, they look beautiful and modern, and give my bathroom a totally different vibe. It's so nice to have a product like this available!! Thank you!" —Sara B
Get it from Amazon for $38.99 (available in two colors). 
2.
A minimalist flip-down hanger for a sleek storage solution that cleverly doubles as modern art when not in use.
Promising review: "These hooks are functional and fun. There are five hooks for hanging your items. It's plastic, not wood — the description states this. It's easy to install and came with a paper ruler to use as a guide when installing. I have rain coats, umbrellas, sweaters, and dog leashes hanging on it and it's holding well." —M String
Get it from Amazon for $23.70+ (available in five colors).
3.
A bamboo tub caddy to make your bathroom feel a little more like a spa with a solid place to rest whatever would make bath time better for you — candles, a glass of wine, a good book, you name it!
Promising review: "Love this bathtub caddy so much! It's exactly what I wanted. The sides extend, allowing you to adjust the length, and it even works with a tub that is built against a wall. I was worried the ledge nearest the wall wouldn't be wide enough but this caddy works great! And the little iPhone slot is a nice touch. Definitely recommend! Buy it! You won't regret it." —Bailey
Get it from Amazon for $26.72+ (available in four colors).
4.
A battery-operated motion-sensor toilet light that'll make your potty feel like a piece of modern art, and end the searing pain of turning on the bathroom lights when you need to pee at two in the morning.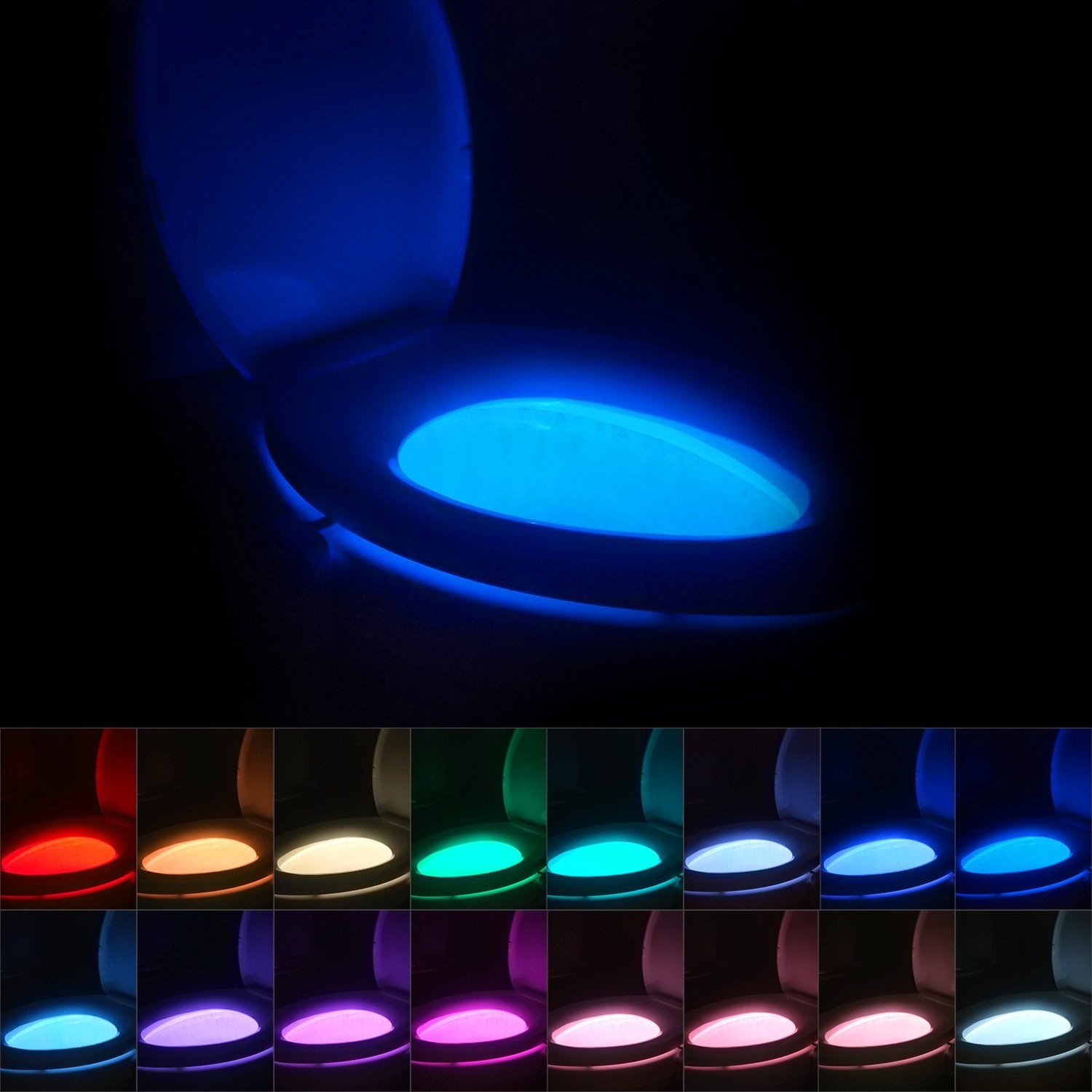 This LED toilet light has 16 colors that can work on a rotation or as a solid color, and run on AA batteries (not included).
Promising review: "This seemingly silly little gadget has turned out to be great! The light level (brightness) can be dimmed down if desired, and the color can be set to whatever you want, but the bottom line is that you don't need to turn on a bright overhead light (which wakes me up and makes me angry, not a good combination) when you need to go into the bathroom at night. Cleaning it is a breeze, too; what seems like it's going to be a problem...isn't. I can't recommend this toilet night light highly enough, and I'm not ashamed to admit it. Could be on the gift list this December." —Wandergurrlee
Get it from Amazon for $9.99.
5.
Or an LED red mushroom night-light because it'll add a whimsical, cottage-core touch and casts a red glow in the dark that won't be irritating to your eyes when you sleepily stumble through a mid-night bathroom break. 
Promising review: "These little lights are so cute! And they adjust their brightness based on how much light they sense." —Ericka Johnson
Get a pair from Amazon for $8.99+ (also available in other colors).
6.
A nonslip slatted bath mat if your fluffy bath mat is looking (and smelling) a little worse for wear. This one gives your bathroom an instant spa-like feel with easy-to-clean, renewable bamboo, which naturally repels water.
Promising review: "The material is great. It's soft but flexible, so it feels comfortable to step on but also sturdy beneath your feet. I got a bigger size, and it actually pulls the room together, making my tiny bathroom look rather chic. Honestly, I think it's great and better for the environment because I don't have to launder it every week." —JamieJo
Get it from Amazon for $31.99+ (available in three sizes and in black).
7.
A toothbrush station so you can clear counter clutter and prevent goopy messes with a wall-mounted unit that stores and dispenses the perfect amount of toothpaste on your brushes every time. It's much more sanitary than leaving out uncovered brushes *AND* it conveniently holds four rinse cups.
It holds five toothbrushes and the two toothpaste dispensers use vacuum tech to get every last drop out of the tube. 
Promising review: "You need one! I love this! So easy to install and holds nice and tight to the wall. The toothbrushes sit nicely in the holder and are easy for my kids to grab. The two gargle cups are nice but we added little Dixie cups to ours instead. The toothpaste function works really well and isn't messy for our kids. I highly recommend this!" —Sarah C. 
Get it from Amazon for $20.79+ (available in three colors). 
8.
Or a multifunctional toothbrush organizing caddy for tidying up your counter and putting an end to scooting past precariously placed toothbrushes on your way to the hand soap. 
Promising review: "Two adults and two kids in our family. I like the size. There is a space for all our toothbrushes, and it keeps them from touching each other. My kids use a different toothpaste than ours and there is space for both of them as well. The color is nice goes with my bathroom decor." —Sully
Get it from Amazon for $8.47+ (available in two styles and in two finishes).  
Check out some of the best bathroom accessories on Amazon if you like the look of this!
9.
A large capacity rotating makeup organizer to turn that sprawling mess of lip balms and makeup brushes into a space-saving display fit for any department store. 
10.
A bundle of palm leaves because every room, even your windowless loo, can benefit from a quick hit of Instaworthy greenery that won't wilt and die on ya. 
11.
A pair of vanity storage jars that serve as a cute hiding place for those less-cute bathroom essentials like cotton swabs and dental picks.
12.
These water-resistant adhesive floor tiles if your building's pre-war charm does not extend to those pre-war tile floors. No messy grout here! 
Each tile is 12" x 12" in size!
Promising review: "For under $100, I redid my entire bathroom! We moved into our home two years ago, and our small main floor bathroom had hideous orange mosaic tiles. We want to eventually gut and rehab our bathroom but wanted to give it a cheap facelift. Floorpops made that possible and a very inexpensive option! We used caulk to seal some of the tiny gaps and caulked around the tub and underneath the baseboards for a good seal. The tiles are not moving at all and have adhered okay. All in all, I am very pleased with the end result!" —Agnieszka
Get a 10-pack from Amazon for $12.47+ (available in two colors).
Or take a look at the best peel-and-stick wallpaper on amazon if you're looking to update your walls, instead.
13.
A towel holder so you can put that empty wall space to good use and make your bathroom look a bit more luxurious at the same time.
Promising review: "Absolutely love these! We have extra large towels and these racks hold them perfectly when rolled up! It's such a great modern style and gives the bathroom a great look. They are sturdy and come with wall anchors as well. Will be buying another set of these for our other bathroom, and perhaps another for the dining room for some wine bottles! Don't even have to think twice before buying these!" —Erin Cech
Get it from Amazon for $36.99 (available in five finishes).