1.
A pack of shockingly absorbent Swedish dishcloths for a reusable alternative to paper towels. Unlike regular dishcloths, these can easily be sanitized in the dishwasher or microwave between uses so you know it's not harboring any unwanted germs. 
Use these again and again, and compost them when you're done since they're made of natural cellulose and cotton.
I genuinely enjoy using Swedish dishcloths way more than I even did paper towels. They're perfect for managing day-to-day messes in the kitchen and they're shockingly absorbent, durable, and long-lasting. The biggest annoyance I had with them is never knowing where to put it when it was drying, but recently I mounted a Command hook behind my sink and used a hole punch to create a little hanging hole. Now my dishcloths stay out of the way when not in use and dry quicker! It was one of the easiest swaps to make that resulted in WAY less trash. 
Get a three-pack from Amazon for $11.99+ (available in 31 styles).
2.
A Swiffer Sweeper-compatible microfiber mop pad that's a one-time purchase you can use again and again for dry or wet cleaning. Sparkling floors and a permanently shorter shopping list? Yes, please!
Buying disposable Swiffer pads just doesn't make sense when these beauties exist. It's wildly more cost-effective, it's more absorbent, and it washes up well in the laundry. I also have (and love) the Swiffer WetJet mop pad, and can't come up with a single complaint for either one of them other than that they should be the default option when you buy a Swiffer. 
Get a two-pack from Amazon for $13.97.
3.
Some plastic-free laundry detergent sheets so you can get the same stain-fighting clean you've come to expect from your detergent without the bulky plastic jugs and messy blue goo.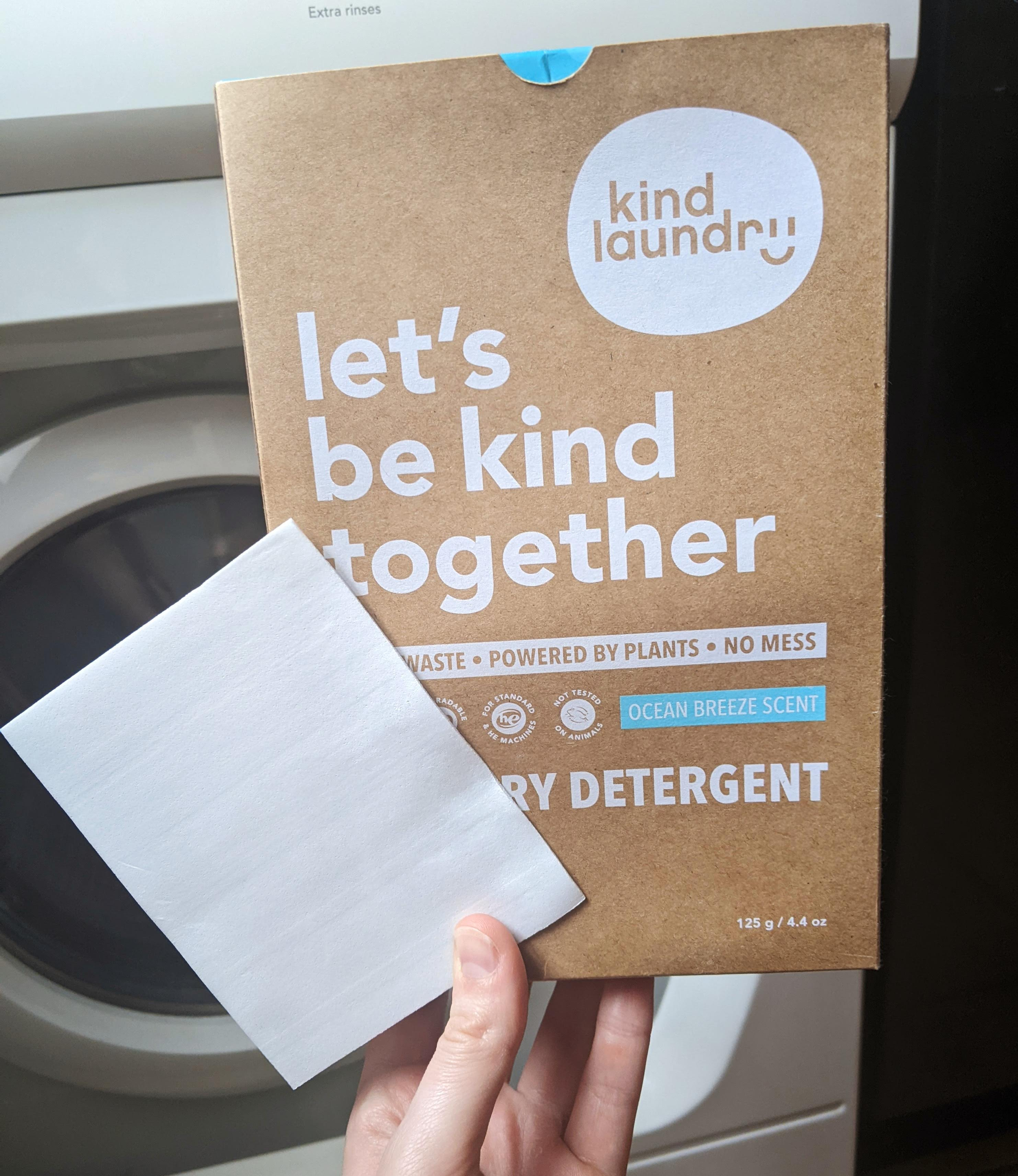 Danielle Healy / BuzzFeed
Kind Laundry launched in the midst of the pandemic on a mission to reduce global plastic waste with their planet-friendly alternative to bulky, traditional laundry detergents. 
Why did we ever invent liquid laundry detergent when sheet detergent is just so much better? It feels ridiculous that it's taken so long to make this switch. These squishy sheets are so easy to use, mess-free, and are MUCH easier to store than big ole jugs. Plus, the packaging is 100% recyclable cardboard and I still get the same clean I've come to expect from regular grocery store brands. 
Get a 60-pack from Amazon for $16.95+ (available in unscented and ocean breeze). 
4.
A makeup-erasing cloth to gently — but effectively — remove your makeup with just a little bit of water. Plus, it's endlessly reusable! Once it gets dirty, just toss it in the wash.
I bought one of these cloths after including it in previous posts, subsequently selling myself on it (hazard of the job). It honestly works better than I could've imagined! You really do just need to dampen it with water to have your makeup melting off in seconds. I think this is a great zero-waste option for people (like me) who don't wear a ton of makeup on the day-to-day, because you can get a lot of uses from this cloth without needing to wash it constantly. It also washes up shockingly well. I've had it for close to two years and every time it comes out of the washing machine almost entirely stain-free I'm equally shocked.  
Get it from Amazon for $11.99+ (available in 11 colors).
5.
Some all-natural toothpaste tablets if you want to ditch those plastic tubes, and finally put an end to any fights over who forgot to replace the cap and dried out the toothpaste yet again.
Huppy is an Asian-owned small biz creating plastic-free toothpaste tablets out of sustainably and ethically sourced ingredients. Everything is vegan, GMO- and cruelty-free. Best of all? Huppy donates 2% of revenue to fund sustainability initiatives!
I love how zero-waste the process is with Huppy. You get a forever tin and then buy refills that come in compostable pouches. The whole chewing thing can be weird at first but both my partner and I got used to it quickly. With water, the tabs foam up pretty instantly, and after that it's just a normal teeth-brushing experience. In fact, I'm finding that not dealing with drippy toothpaste and tiny screw-on caps is actually pretty delightful. A cleaner process both in and out of my mouth.
Get a 62-pack from Huppy for $12+ (available in two sizes, two tin colors, and four flavors; subscribe and save 33%).
6.
A three-blade all metal razor with a pivoting head because it's summer and, if you shave a lot, you're going to go through LOADS of plastic razors. This one is designed to last you LITERALLY FOREVER, uses recyclable blades, and delivers a silky smooth shave. 

Leaf Shave is a eco-minded small biz founded by two Adams who set out to create a better razor that is also better for the environment. Their packaging is 100% plastic-free, and through financing initiatives to offset 100% of the company's CO2e emissions they've become Climate Neutral certified. 
I know, I know — $80 for a razor feels pretty steep, but plastic razors really add up over time and this thing is STURDY. When first trying to eco-swap my shave routine I tried a regular safety razor because it was a lot cheaper and I basically bled to death (kidding, but I did cut myself a lot). It works really well for some people, but I had really come to rely on the pivoting head of the plastic razors I learned on. So imagine my pure delight when I finally snagged one of these beauties and could return to shaving without all the cuts and blood. It's really easy to change the blades, and I find myself getting a better shave because I'm not putting off buying another razor like I would before. It really is a great investment that not only keeps plastic razors out of landfills, but all the plastic packaging they come in, too! 
Get it from Amazon for $84 (available in six colors). 
7.
A beginner-friendly menstrual cup for a one-and-done purchase you'll keep for years that won't fill up your trash or empty your wallet like other period products. Just imagine — no more emergency runs to pick up tampons because your period came early.
The menstrual cup factor that freaked me out the most was the thought of having to get up there and break the seal to take it out. So when I saw the Flex Cup, which is specifically designed to make that process easier, I figured why not give it a try. This is a purchase I would definitely file under the 'life-changing' category. Yes, there is a learning curve, but by my second cycle with the cup I felt like a pro. Even with the pull tab, taking it out can be a little messy (I tend to just do it in the shower), but it's definitely a more controlled experience than if it wasn't there at all. With my flow, I can leave my cup in for 12 straight hours without fear (can't say the same about tampons...), meaning The Flex Cup has made my period less awful. A true feat!
Get it from Amazon for $34.92+ (available in two sizes).
8.
Plus, a pair of period underwear that'll make managing your flow as easy (and comfortable) as putting on underwear. These briefs have the ~absorbency powers~ of up to three regular tampons!
I use these in conjunction with my period cup at the very beginning and very end of my cycle, when my flow isn't necessarily heavy enough to constitute messing with the cup. They're comfy, I've had no leakages (even when I've worn them on heavier days), they wick moisture relatively well, and wash up like a dream. I have two pairs and they've become holy grail staples in my period routine. Conversely, if you have a really heavy flow, these can also be great backup protection if worn jointly with a tampon or cup! 
Between each wear, just toss your Thinx in the wash on cold (skip the bleach and softener) then line dry!
Get it from Target for $17 (available in women's sizes XS–4X and in three colors).
9.
A packable cutlery set so you never have to say "Oh, I forgot my reusable straw at home" ever again! That (and a whole lot more) fits in the included storage case for convenient carrying.
I keep this cutlery set in my work tote so that when I go to the office (and inevitably grab a takeout lunch or free snack) I don't have to use the provided plastic cutlery. Plus, I always have a straw on me when I grab a coffee or smoothie! What I love most about this set is that the carrying case is lined, so even if you have to put your fork away before cleaning it properly, the case won't get all icky — it just wipes clean. 
This set includes: a knife, fork, spoon, chopsticks, straw cleaning brush, straight straw, bent straw, and a carrying case.
Get an eight-piece set from Amazon for $8.99+ (available in four colors).
10.
A wild sage and vetiver shampoo bar to cut single-use plastics from your haircare routine without sacrificing on the color-safe, nourishing quality you've come to know and love from salon brands.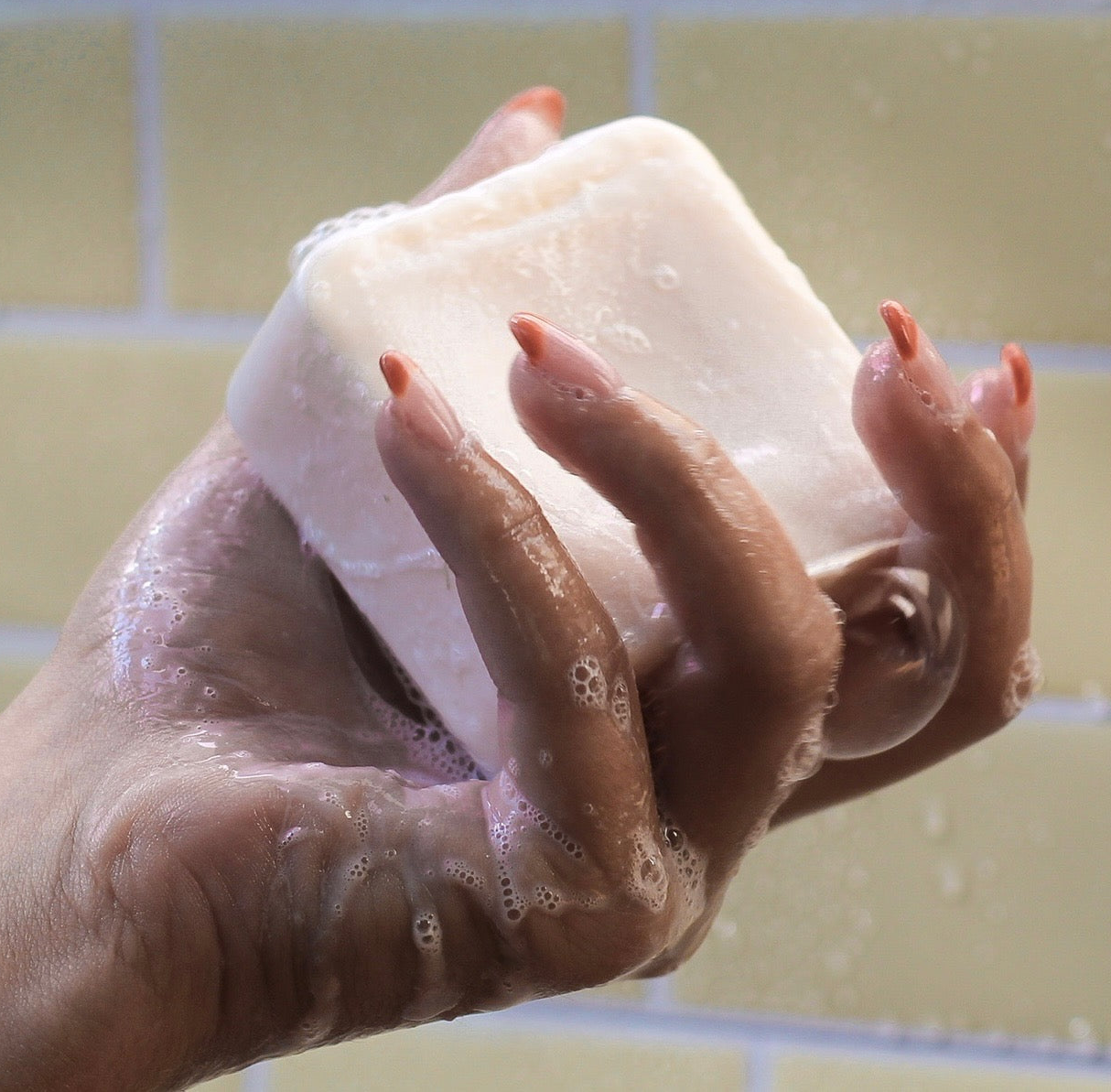 Dip is a woman-owned environmental awareness brand creating top-notch hair care that's so good, being plastic-free is just a fun bonus. Products are made locally in the USA and are suitable for ALL hair types. 
This is not only my favorite shampoo bar, but my favorite shampoo — period. I am not fussy with my hair, so I tend not to notice subtle differences between shampoo formulas, but even I noticed how much better my hair felt and looked after using this shampoo bar and the corresponding plastic-free conditioner. So soft and SO much less frizzy, even when I let it air dry. Don't be deterred by the price. My partner and I are three months into our first bar and there is still PLENTY of life left, so do yourself a favor and try it yourself! 
Get it from Dip for $24 (also available in a travel size and in additional scents). 
11.
A real grass pee pad if you're an apartment-dwelling pet parent (or just have a rain-averse dog) tired of the inconvenience and waste of disposable pee pads. This customizable subscription service sends a fresh patch of real grass to your door so your dog always has access to the bathroom. And because it's real grass, it neutralizes odors better than any pad or fake lawn ever could.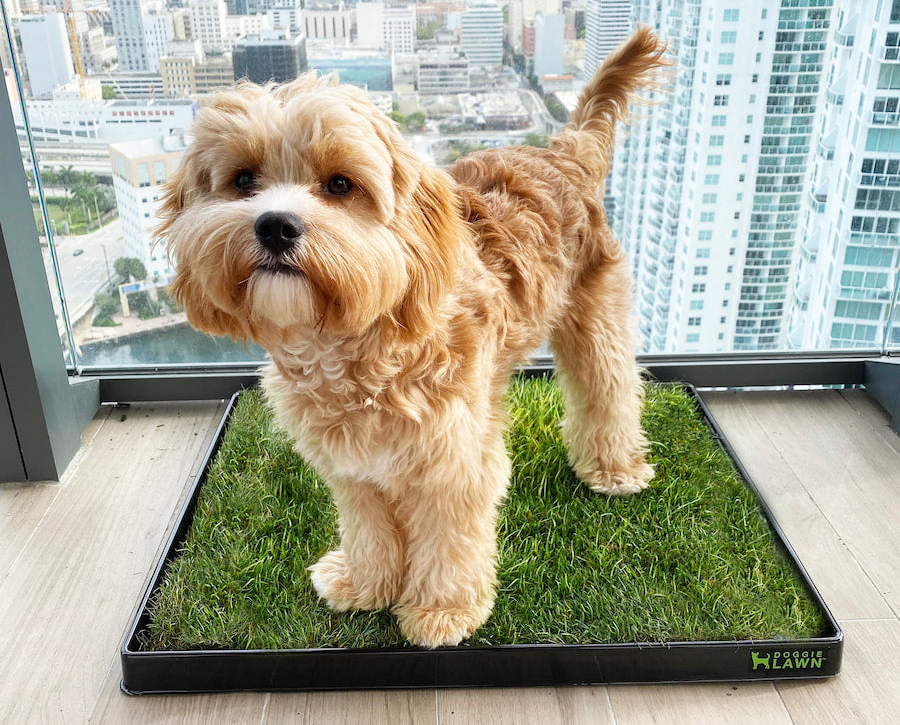 Doggie Lawn is a small biz founded by dog lovers looking for a convenient and eco-friendly alternative to other indoor potties. 

I live on the sixth floor of an NYC walk-up, so when my partner and I made the decision to get a dog we knew the bathroom situation was something we had to consider carefully. We settled on Doggie Lawn as the best balance of convenience and price, without the environmental concerns I had with relying on disposable pee pads. Our dog took to it immediately, but you can purchase a training spray to help attract more skeptical dogs. It is a live plant, so by the time our next shipment is due to arrive the grass is matted and browning (surprise, surprise, it doesn't stay cute forever), but we've had zero issues with bugs or weird smells. I have asked every human who walks into my apartment if I've gone nose blind to the scent, and they assure me they don't smell a thing. And when we're done, we take the grass to our nearest compost drop-off — something you could never do with the synthetic lawns. Doggie Lawn has been such a lifesaver for us and we'll be regular customers for the foreseeable future. 

Get it from Doggie Lawn for $33.95+ (available in four sizes). 
12.
A solid serum bar because it's the ultimate blend of Earth-friendly ingredients and packaging. This multitasking product can wipe your medicine cabinet clean, replacing EIGHT products in your skincare routine without compromising on results. 

Dew Mighty is a WOC-owned small biz founded by Tiffany who, after 15 years in the beauty industry, set out on a mission to create un-bottled slow beauty using undiluted ingredients effective for all skin types. The brand is a member for the Plastic Pollution Coalition, and offsets 100% of their carbon output.  
I'm fully obsessed with this solid serum bar. No plastic is always a big win for me, but beyond that it's just a darn good product. It's the only change I've made to my skincare routine as of late, and this has single-handedly taken care of stubborn texture on my jawline that has been there since…forever? I love the mess-free application of swiping it along my cheeks, and I highly recommend snagging the little reusable tin to store it. And if you're a bit sticker shocked by the price — don't worry — one bar is a full two-month supply, and mine is on track to probably last three.

Get it from Dew Mighty for $45. 
13.
A pack of plant-based sponges for making it easy to break up with your regular plastic-based sponge. This biodegradable alternative arrives compressed (for more efficient shipping) and suddenly pops up when exposed to water. Then it's all ready for some zero-waste cleaning action! 
Sqwishful is an Asian-American, woman-owned small biz that launched in 2018 with a mission to create useful, effective cleaning products that don't make the world less clean in the process.
Do you remember those washcloths that came all balled up and expanded when you ran them under water? These sponges work largely the same. I was audibly excited when I ran one of the super-thin cardboard-like sheets under water and watched it almost instantly puff up into a plush sponge. It was genuinely fun. But more importantly, the sponges themselves are larger than average and beefy, meaning they stand up super well to lots of cleaning action. And because they aren't made with any plastic or dyes, they are better for the planet when it's time to say goodbye! There's nothing to not like.

Get a three-pack from Sqwishful for $7.
14.
And a shipment of jumbo recycled toilet paper rolls with no inks, dyes, or scents that help build toilets for those in need (they donate 50% of profits). Each roll is wrapped in recyclable paper, not plastic, and it's sent straight to your home without a trip to the grocery store. 
Subscribe to have jumbo rolls of recycled toilet paper delivered straight to your door every 8, 12, or 16 weeks!
Buying toilet paper as an apartment-dweller without a car is the actual worst. It's awkward to carry when you've already got arms loaded up with other groceries, and buying the tiny four-pack of TP is not particularly cost-effective. We just got our second shipment of Who Gives A Crap and it's been nothing but delightful. It's high-quality TP without any plastic packaging that helps those in need. I doubt your current TP brand can say the same! Plus, the rolls are wrapped in paper with fun prints that are cute enough to display on the back of my toilet. An unnecessary (but appreciated) bonus! 
Get 24 rolls from Who Gives a Crap for $38 (save $10 on your first order).
How excited I am to be sharing these products with you!