1.
Taco Cat Goat Cheese Pizza beats boredom because it's simple to learn, great for all ages, and anything but boring. Play this fast-paced, slap-tastic party game once and your friends will be begging to bring it out at every future game night.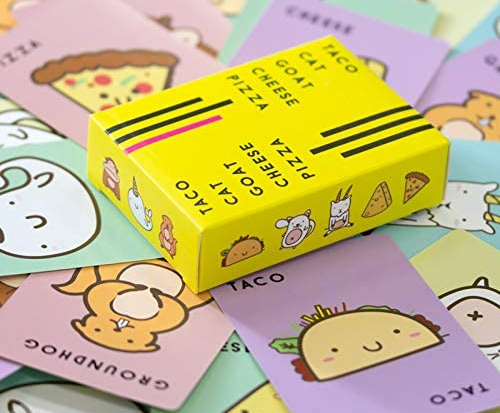 The basics: Deal the deck to all players. Everyone keeps their mini deck face down and goes around the table flipping a card face up and saying one of the five key words (taco, cat, goat, cheese, and pizza — in that order). Once the card played matches the word said, it's a race to slap that center card. Whoever taps in last has to take the center stack and the round starts over. Whoever gets rid of all their cards first wins! 
Number of players: 3–8
Recommended age: 8+
Promising review: "My son is obsessed with this game. He got this game as a birthday gift and he absolutely loves it. He's 11. Our 14-year-old daughter loves it as well. We have played with younger kids as well as adult friends and everybody ends up laughing and having a great time. It is easy to teach, fast moving, and a LOT of fun." —Surge
Get it from Amazon for $9.84
2.
Azul taps into your creative side, guiding you through the creation of gorgeous (and point-scoring) tile mosaics featuring Moorish art-inspired designs. 
The basics: In Azul, players become artisans, drafting tiles from a central market and placing them in rows on their board. The objective — tile a wall and score the most points — is straightforward, but there's plenty of room for strategy as any unplaced tiles = negative points. Once players really get the hang of things, they can begin to manipulate who gets stuck with what. 
Number of players: 2–4
Recommended age: 8+
Promising review: "This is such a great game for both board game fanatics and non gamers. It's easy to teach, simple to set up, plays in under an hour, and it's FUN! Azul is an abstract tile placement game that features drafting, set collecting, and pattern building. It's pleasing to look at and the components are well made. The tiles feel especially nice. This is one of those games that everyone we've introduced it to loves and wants to play again right away. It hits the table quite a bit." —Shelly 
Get it from Amazon for $31.99.
3.
Wavelength puts that friendship-fueled, telepathic connection to good use. Plus, this game gets bonus points for actually being really fun to play on a video call (I can attest). 
The basics: Wavelength is a social guessing game where individuals take turns guiding their teammates to guess where a hidden target is located on the dial, but they can only give a clue that exists on the spectrum between two opposing concepts — like "Hot–Cold." The closer the guess is to the target's center, the more points the team wins! 
Number of players: 2–12+
Recommended age: 14+
Promising review: "We pull this game out at every family gathering and have an awesome time teaming up and trying to give a hint that our teammates will guess right on target. This game is easy to learn, easy to teach, and fun in groups of four to eight! Even people who don't normally like board games will love this party game." —Katya
Get it from Amazon for $34.99.

4.
Codenames makes you and your crew feel like James Bond, creating and decoding covert clues while avoiding enemy spies. 

The basics: Two players act as their team's "spymaster" who knows the locations of all the secret agents. Their teammates only know the agents by their "codenames" — cards on the board with random words. Spymasters give one word clues trying to tie as many codenames together as possible, and get their teammates to locate all their agents before the other team. 

Number of players: 2–8+ (in two teams)
Recommended age: 10+
Promising review: "It almost feel redundant to leave a review for this since everyone and their mother has done so already, but my gaming group loves Codenames. We tend to play more involved Euro-strategy games, but we decided to test Codenames after seeing so many positive reviews. It's a great game to throw into the mix, and usually gets us talking and joking around a bit more than our other games. It is easy to teach and set up, which is nice when we have newcomers to our gaming group. It would be great for kids, families, and adults. All around a great game to add to your collection." —DivaChalice
Get it from Amazon for $15.97. 
5.
Dutch Blitz plays like a fast-paced, less solitary version of solitaire. Fun fact — the game was created circa 1937 by Werner Ernst George Muller, a German immigrant who settled in Pennsylvania. The game is still popular among the Pennsylvania Amish and Dutch communities today! 

The basics: Each player has a stack of 40 cards containing cards 1–10 in four colors. Each player starts the game by dealing themselves a 10-card "Blitz" pile and the primary goal is to get rid of that pile as quickly as possible. Players compete simultaneously to create Dutch piles in the center, laying down cards of the same color in sequence while using as many cards from their Blitz Pile as possible. Whoever clears their pile first yells "Blitz" and the round is over. Unused Blitz pile cards count for negative two points, while every card played in the center Dutch piles count for one point each. 
Number of players: 2–4 (an expansion pack is available for more players). 
Recommended age: 8+
I ADORE this game. My partner and I teach it to everyone who will let us, and we've yet to encounter someone who hasn't also fallen in love with this super engaging, fast-paced, and competitive game. It's really easy to teach; newbies usually have a handle on things after the first round, and rounds go by quick. And since it's just a deck of cards, it's so easy to travel with — I even have the carrying case! 
Get it from Amazon for $11.99. 
6.
Ticket to Ride rivals Catan for the classic game worthy of the title "Best Intro Board Game," thanks to its flexible player count, family-friendly nature, and great replay value. 
The basics: In this strategy game, players collect train cards that enable them to claim railway routes connecting cities throughout North America. The longer the routes, the more points they earn. Additional points can be earned by fulfilling their Destination Tickets and connecting two distant cities, and to the player who builds the longest continuous railway.

Number of players: 2–5
Recommended age: 8+
Promising review: "How can I even begin to express how much I love this game?! My family plays this nearly every week. It brings out some fun competition and each game is different depending on what destination cards you draw. Our game has survived through many vacations and it is so easy to teach and catch on to. I am hoping to expand and purchase more versions of Ticket to Ride or 'Trains' as my family affectionately calls this game. 10/10 would recommend." —S.A.K.

Get it from Amazon for $28.41. 
7.
Sushi Go! features the most ADORABLE game art and an under-15-minute playtime that's great for those nights when you want to play something strategic, but don't have the energy to dive into a more complex title. 
The basics: In this fast-playing card game, the goal is to grab the best combination of sushi dishes as they are passed around the table. Score the most points by strategically selecting winning sushi combos. Just be wary of your competitors who can block you from scoring more points by snatching up the sushi you need! 

Number of players: 2–5
Recommended age: 8+
Promising review: "I love this game! This is an easy to learn, easy to teach game that you can explain to nearly anyone. So much fun to play! With a group of less people, it is a cutthroat game in which you intentionally play cards to block others. With more people, you are just desperately trying to collect as many points for yourself! Fun both ways, in fact, my husband and I love to play just the two of us as much as we like to play with five!" —RW

Get it from Amazon for $6.29. 
8.
Carcassonne delights history geeks, tabletop nerds, and board game noobs alike with an intuitive strategy game inspired by the real fortified French city of the same name.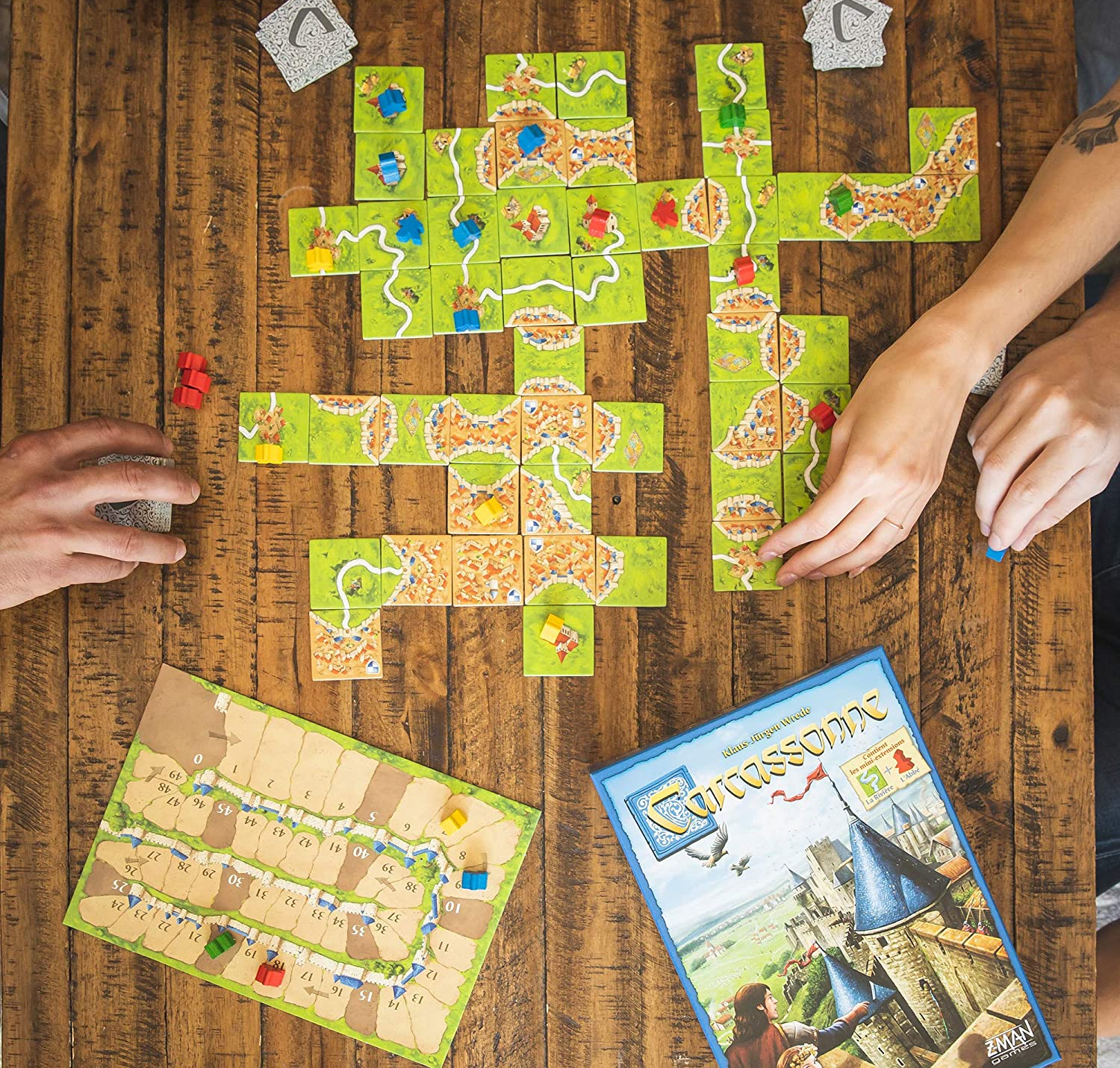 The basics: In this tile-laying game, players develop the landscape of a medieval fortress city. Players take on the roles of founders, placing terrain tiles and deploying followers that help the player develop the surrounding lands and score points. Each turn can be broken down into three easy steps: 1. Place a tile, 2. Deploy a follower (optional), 3. Score completed roads, cities, or cloisters.  
Number of players: 2–5
Recommended age: 7+ 
Promising review: "Wow I didn't expect to like this game as much as I do. My family loves to play this. It's super easy to teach to guests too! It's nice to have a quick game that we can all play. Even my 5-year-old plays with us. But fun enough for my husband and me to enjoy it." —Keely
Get it from Amazon for $33.99. 
9.
Exploding Kittens captures all the wild, cat-themed hilarity only a fueled-by-the-internet Kickstarter title could deliver. And when your friend groans at the suggestion of a board game, you can assure them this one can be learned in under two minutes!

If you don't plan on inviting any kids to your game table, there's also an explicit NSFW version of the game. 
The basics: Players go around drawing cards until someone draws an exploding kitten, at which point they explode and are booted from the game. All of the other cards in the deck are used to move, mitigate, avoid, and even defuse the exploding kittens. So you and your friends can create clever (and devious) strategies to stay in the game. 

Number of players: 2–5
Recommended age: 7+
Promising review: "Fantastic card game. It's a great game for any gathering of just any group of good friends. The rules are simple so it's easy to teach anyone unfamiliar with it in just a few moments, or for hardcore tabletop gaming nerds. Despite easy-to-teach rules, no game of Exploding Kittens is boring. There's strategy, fantastically done hilarious card artwork, lots of laughs with every hand as well as competition to win." —BhanJawn
Get it from Amazon for $19.99. 
10.
Splendor shows your friends who stopped playing board games in the Candy Land and Sorry! era just how fun a modern day board game experience can be. 

The basics: Play as a wealthy merchant and collect gem tokens to invest in your business, allowing you to buy increasingly prestigious mines and transportation. Collect just the right assortment of gems to create the most stunning jewelry, and appeal to the nobles to gain the prestige you need to win. 

Number of players: 2–4
Recommended age: 10+
Promising review: "Splendor is one of a handful of games that I grab when I have someone over who doesn't play board games very often, or when I feel like playing a game but don't want to commit too much time. This is a fun, relatively quick game that is easy to teach newcomers. At the same time, it's challenging enough to keep you on your toes. You really have to pay attention to what others are doing so they don't buy the card you were thinking about for your next turn. Though it's a fine two-player game, three players seems to be the sweet spot (personally, I find four a little overwhelming)." —Lemmy
Get it from Amazon for $35.99. 
11.
One Night Ultimate Werewolf skips the explanations and get right to the game. In this social deduction game you can, thanks to a free app that walks players step by step through each round and sets the stage for all your lies and deceit with some spooky background music.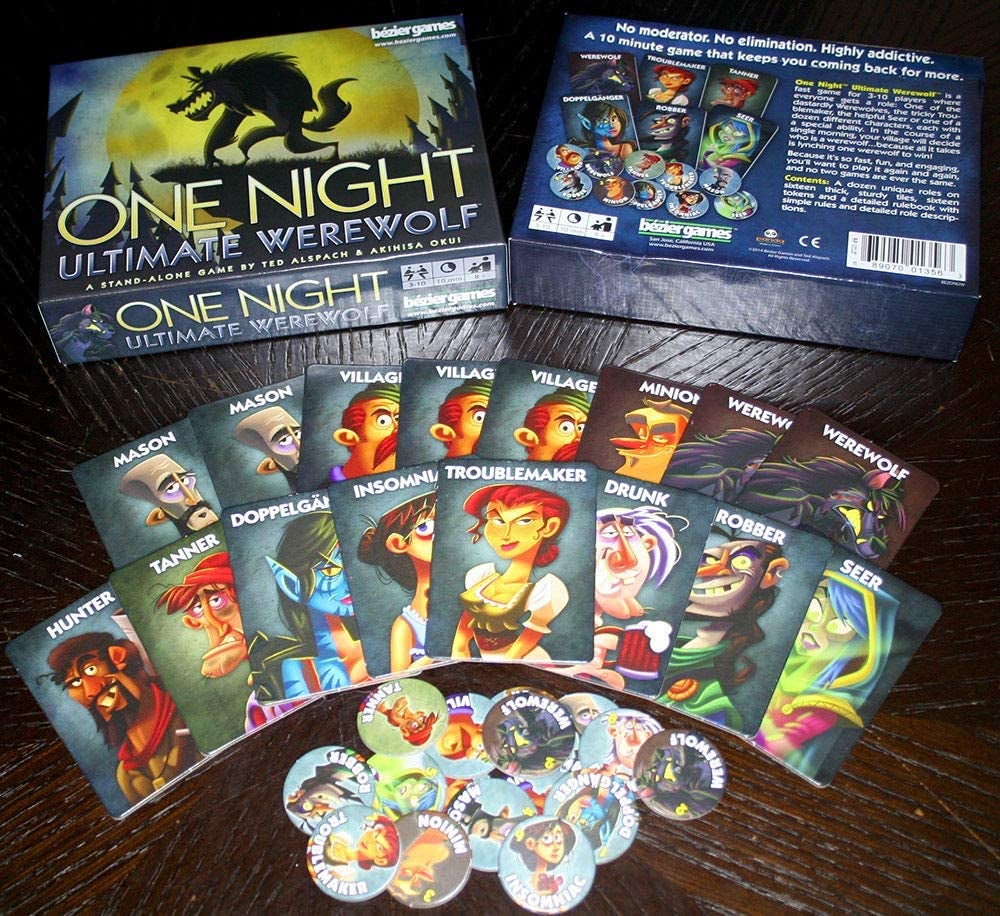 The basics: In this fast-paced social deduction game players are assigned different roles (with corresponding tasks) that are carried out over the course of one night (each player completes their action while all the other plays have their eyes closed). From there, players discuss and debate who among them is the werewolf. If the werewolf makes it out without being guessed, they win. If they are found out, everyone else wins. 

Number of players: 3–10
Recommended age: 8+
Promising review: "We received this gift at a white elephant exchange and were pleasantly surprised! Having lots of board games, this has quickly become a favorite! Great party game and the phone app is a must have if you get this game. Always leads to lots of laughs, which is a good sign for any game. I bring this to family gatherings and everyone enjoys it, even non gamers. It's easy to learn and to teach. There aren't many components but they are good. Fun for all ages." —krnko11
Get it from Amazon for $11.09. 
12.
Pandemic has players working together to beat the virus, which is perfect if the thing your group hates about board games is all that cutthroat competition. 

The basics: In this cooperative game, players are tasked with saving humanity from, you guessed it, a pandemic! Each player is assigned a different role with individual strengths and must collaborate on a strategy to stem the tide of infection in diseased areas while also working towards cures. 

Number of players: 2–4
Recommended age: 8+
Promising review: "Pandemic is the golden standard in cooperative strategy games. As an avid tabletop gamer, there are other, more strategy-intensive co-op games I prefer, but I probably play Pandemic the most because it is easy to teach and everyone enjoys it. I would highly recommend Pandemic." —Herbert Weisburgh

Get it from Amazon for $35.99. 
13.
Red Flags makes a game out of the thing you spend all your time talking about anyway — dating! Pitch your perfect date to the "Single" and sabotage your competitors with deal-breaking red flag cards.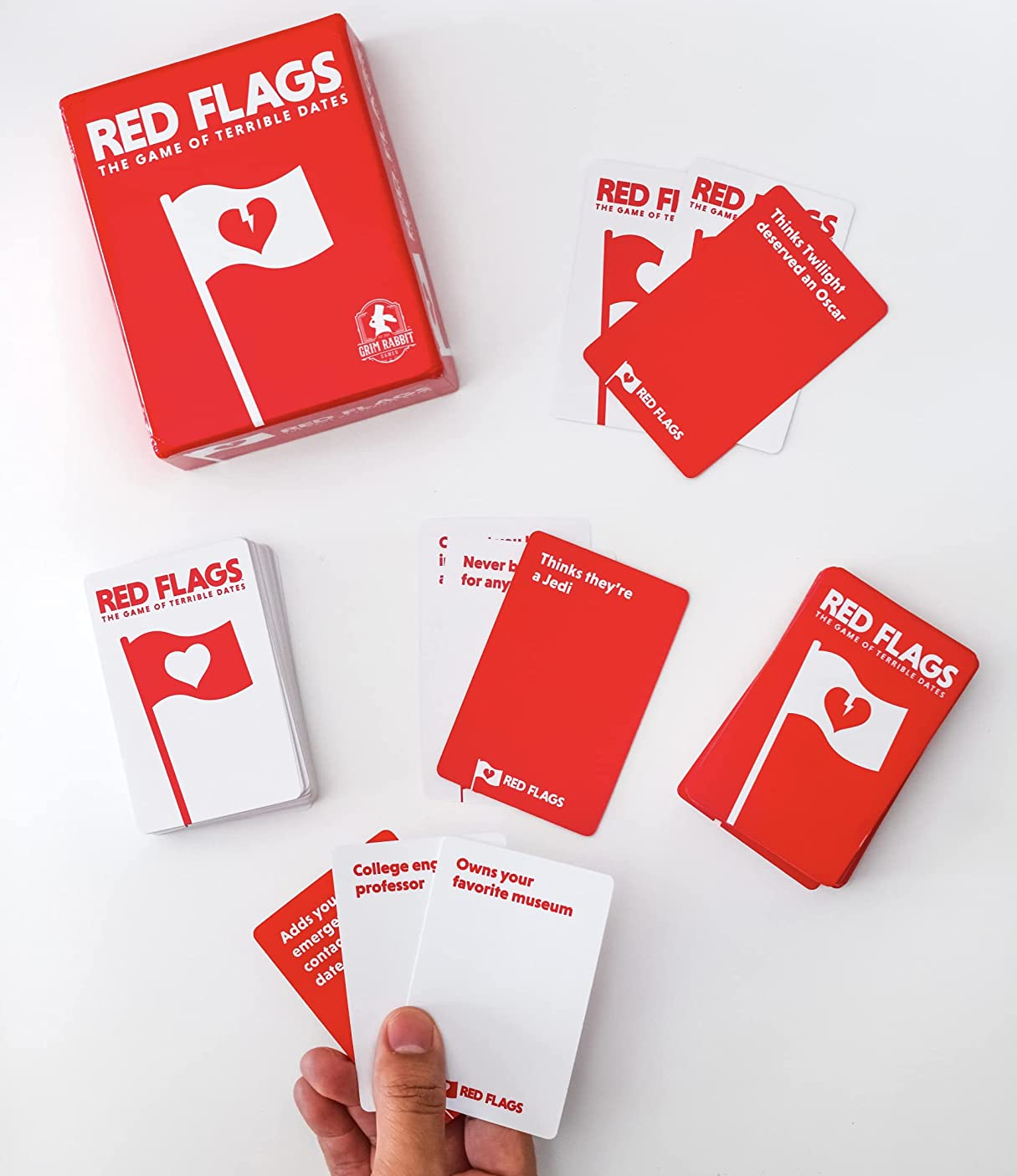 The basics: This party game has players competing to set up the "Single" on a hot date. Each player lays down two white cards, featuring positive traits they think the "Single" will find attractive. Then players can sabotage one another with red flags (red cards) that might make the "Single" second-guess their initial choice. Argue your case and whoever made the date picked by the "Single" wins the round! 

Number of players: 3–10
Recommended age: 17+
This is an under-the-radar party game that is usually a hit when I bring it out. It's super easy to teach, especially since it's fundamentally the same "Judge's Choice" mechanic as other popular party games like What Do You Meme? and Cards Against Humanity, but with a unique twist that makes it feel fresh. In this game, you don't submit picks anonymously, so players can really sell their date to the "Single," which tends to make things extra fun and entertaining. 
Get it from Amazon for $25. 
14.
King of Tokyo combines traditional Yahtzee-style dice rolls with flashy monsters and power cards for a game that's intuitive to learn, but feels anything but boring. 

The basics: Each player assumes the role of a monster trying to invade Tokyo. At the start of each turn you roll six dice, which show the following six symbols: 1, 2, or 3 Victory Points, Energy, Heal, and Attack. Over three successive throws, choose whether to keep or discard each die in order to win victory points, gain energy, restore health, or attack other players until Tokyo is yours! 

Number of players: 2–6
Recommended age: 8+
Promising review: "King of Tokyo is a ton of fun and is easy to teach. I have a few board game–challenged people in my life and if I can get them to understand and be able to play within one game you should be able to do it too. The game is fun, easy, light strategy, luck with dice, and a whole lot of Godzilla and King Kong." —Phenom13
Get it from Amazon for $35.99. 
15.
The Crew: The Quest for Planet Nine walks players through 50 different space missions in a trick-taking format (like Spades) that scale in difficulty, so you can keep your friends on the hook and finally establish the weekly game night you've always dreamed of. 
The basics: This is a cooperative trick-taking card game where players work with one another to complete space missions in order to discover a mysterious ninth planet on the edge of the solar system. The thing is, communication and resources are limited so you must choose what cards you reveal to the other players wisely in order to complete the mission objective as a team. 

Number of players: 3–5
Recommended age: 10+
Promising review: "This is a cooperative trick-taking card game. We have really enjoyed playing The Crew and working together to try and get our missions going. Components are very well done, and rules are clear and easy to teach. It is a great game for 3–4 players." —Anton Tolman
Get it from Amazon for $9.99.