When 27-year-old Kassidy Pierson was around 18, she started to notice some changes to a mole on her inner thigh that she'd had her entire life. Its shape, size, and color were shifting around. The mole was extremely dry, itchy, and would even bleed at times. But Kassidy was unaware that these symptoms were all key indicators of melanoma. She also didn't have health insurance and was pregnant with her son at the time, so getting her skin checked did not feel like a major priority.
"I waited until I was 21 — when I finally got insurance — to get it checked out, and that's when they took the biopsy," Kassidy told BuzzFeed. "After two weeks, the dermatologist called me on the phone and told me it was unfortunately skin cancer, and it was melanoma. I then asked him what that meant, as I did not know. He told me that there were a few different types of skin cancer. Melanoma was the deadly one, and I had it."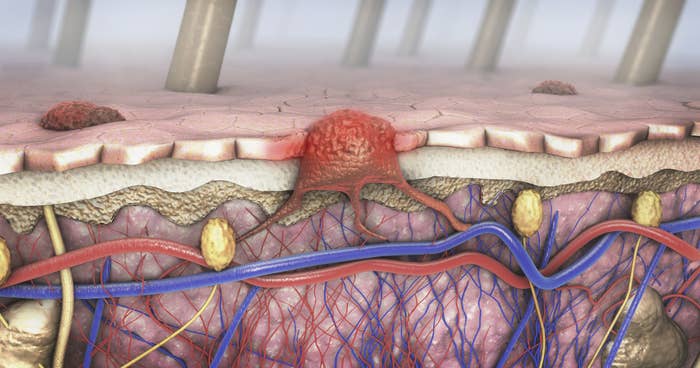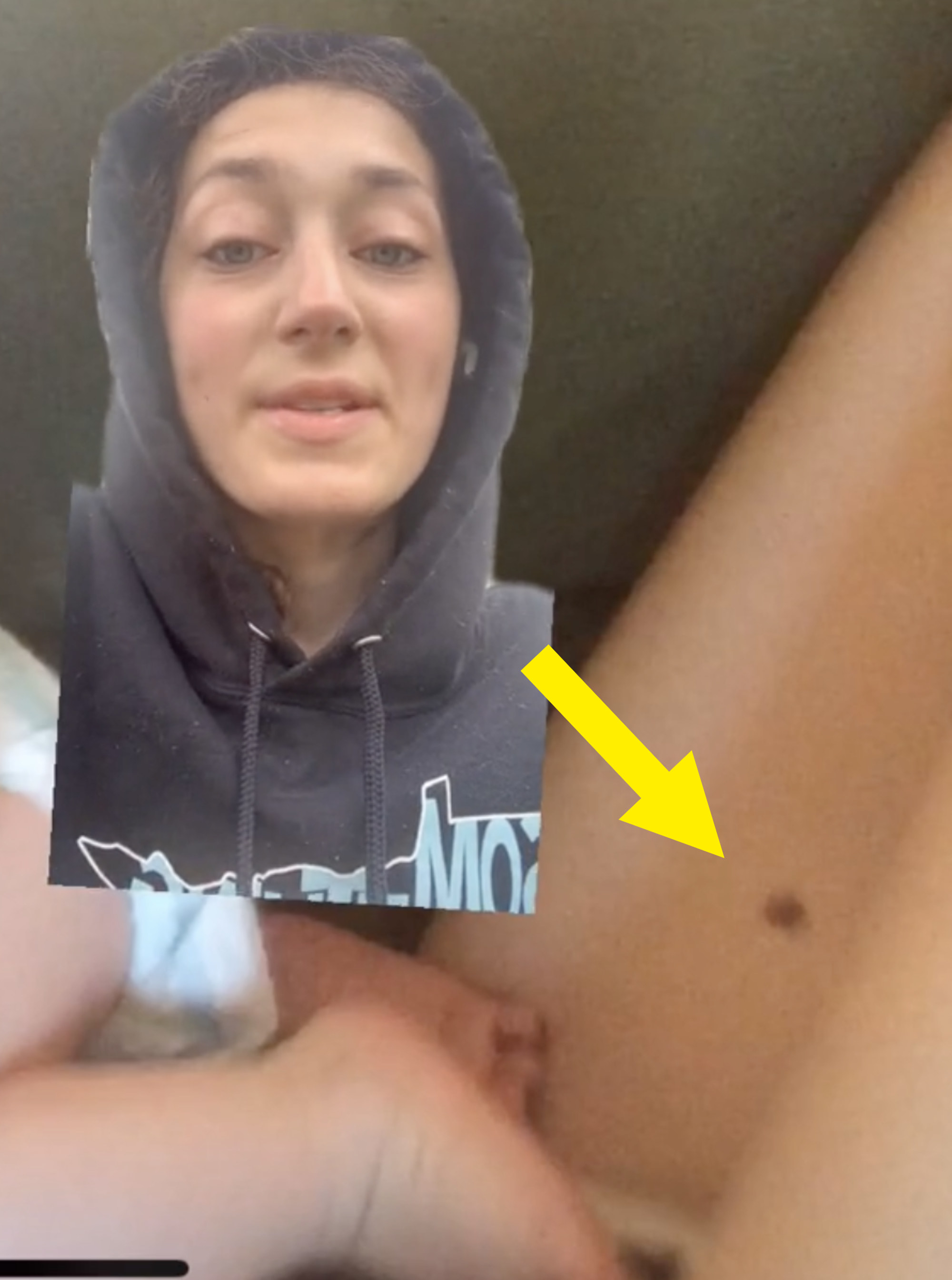 Since the image is slightly blurry, here's a clear photo of what a melanoma looks like (but keep in mind, they can come in many shapes, colors, and sizes):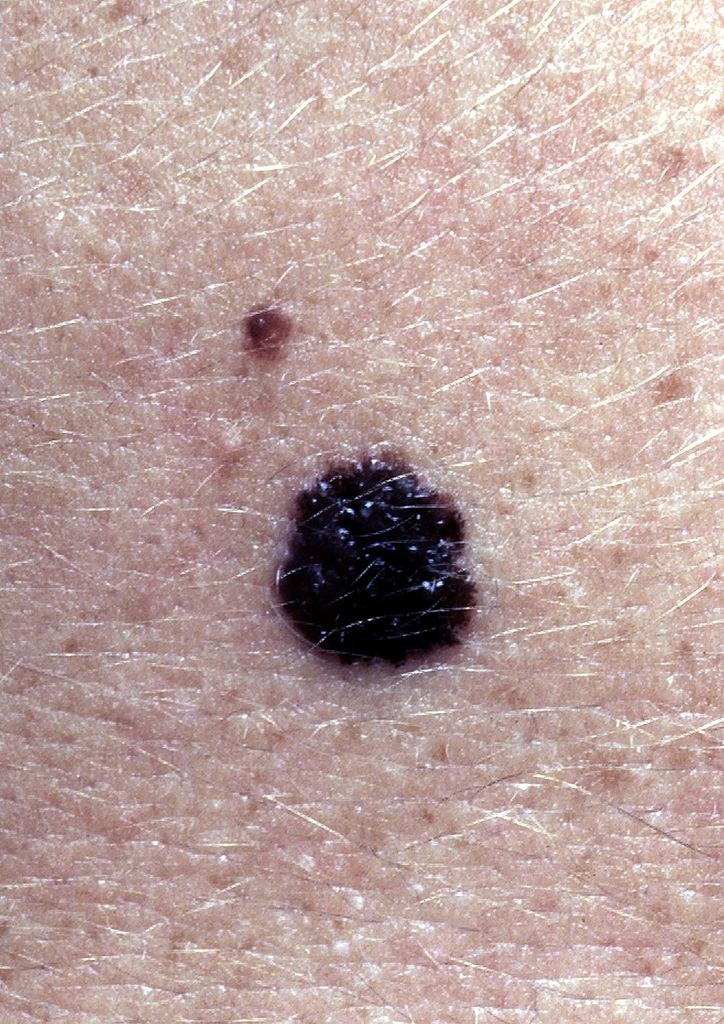 Kassidy's first diagnosis was stage 3 melanoma, meaning the cancer had metastasized (spread) to her lymph nodes. The oncologist she had the first year of her diagnosis was a major disappointment — they decided not to do any treatments on Kassidy, and a year later a scan showed that the melanoma had officially spread to everywhere in her body, changing her diagnosis to stage 4.
Her new oncologist was better informed and equipped, but at this point, it was an aggressive battle that needed to be fought. "I was having surgery for a partial hip replacement at the age of 22, only one month after having part of my lung removed. I've done many different kinds of treatments, including immunotherapy, chemo, targeted therapies, studies that were available at the time, clinical trials, radiation, and multiple surgeries," Kassidy said.
Kassidy told BuzzFeed that, so far, hospice has been wonderful. They visit her once a week at home, but will show up if she's ever having a rough time or needs last-minute assistance. "I've been staying busy visiting with as many friends and family as possible," she said. "My days are booked full, as we don't know how long it'll take me to die. It could be a couple days, weeks, months, or even years! It just depends on the cancer and how fast or slow it moves throughout my body. But I feel good now, and so spending as much time with the ones I love is what I've been doing with my days."
She's also been planning her own funeral. "I find it fun," she said. "I've been planning things I like with my sisters for the past couple years; just ideas here and there that we liked and thought would be appropriate for who I am as a person."
One thing that's extremely important to Kassidy during this time is making sure her son, Hunter, will be as prepared as possible for life without her. "I am writing letters, making videos, and getting gifts for my child to prepare for the moments I won't be around for him," she said. "I want him to know how much he means to me. I know they won't replace who I am or me being in his life. But it will help him know who I am and give him a reminder on those special moments that his mommy is always with him."
When asked how having a terminal illness has influenced her perspective on life, Kassidy said, "It's made me appreciate everything. All the emotions that come with it. I take them as they come — let them happen when they are meant to, whether I'm happy, angry, sad, or whatever it may be. There's beauty in all of them, it's all a part of life. It also, of course, makes me take each day and every moment in as much as I can. Hugging a little longer, or staying out a little later to spend time with those I love. Just the appreciation of others around me and soaking in all those moments, as life should be like that."
She decided to share her story on social media to both educate people on the silent dangers of melanoma — which can go undetected for years while spreading through your body — and to help make the subject of death less taboo. "I think it should be talked about more openly," she said. "We all die some day. I have an opportunity to share my death, which many don't get a chance to do. I am blessed I get to say goodbye to my family, and I want to showcase all the ins and outs. The good and the bad of it all. This isn't pretty and this isn't easy. But there are good moments in the bad."
"I'm hoping my journey will help others and save people from making the mistake in waiting to go to the dermatologist to get their skin checked because they'll have to pay. I hope they learn from me. The earlier you get checked, the better. It could save your life," she said.