Everyone Is Thirsting Over This Sexy Willy Wonka Who Is Winding And Grinding All Over TikTok
Which way to the chocolate factory?
I was perusing TikTok the other day, minding my own business, when I stumbled upon what I now consider to be the video equivalent of Pandora's box.
The TikTok had nearly 2 million likes, but it was just a girl staring at the camera with the caption, "Are you even on TikTok if you don't secretly want this man to rail you?"
This of course begged the crucial question — who does everyone on TikTok want to bone? I sprinted to the comments, where I saw multiple sexually charged references to Willy Wonka. There was also a comment from a verified account named "willywonkatiktok."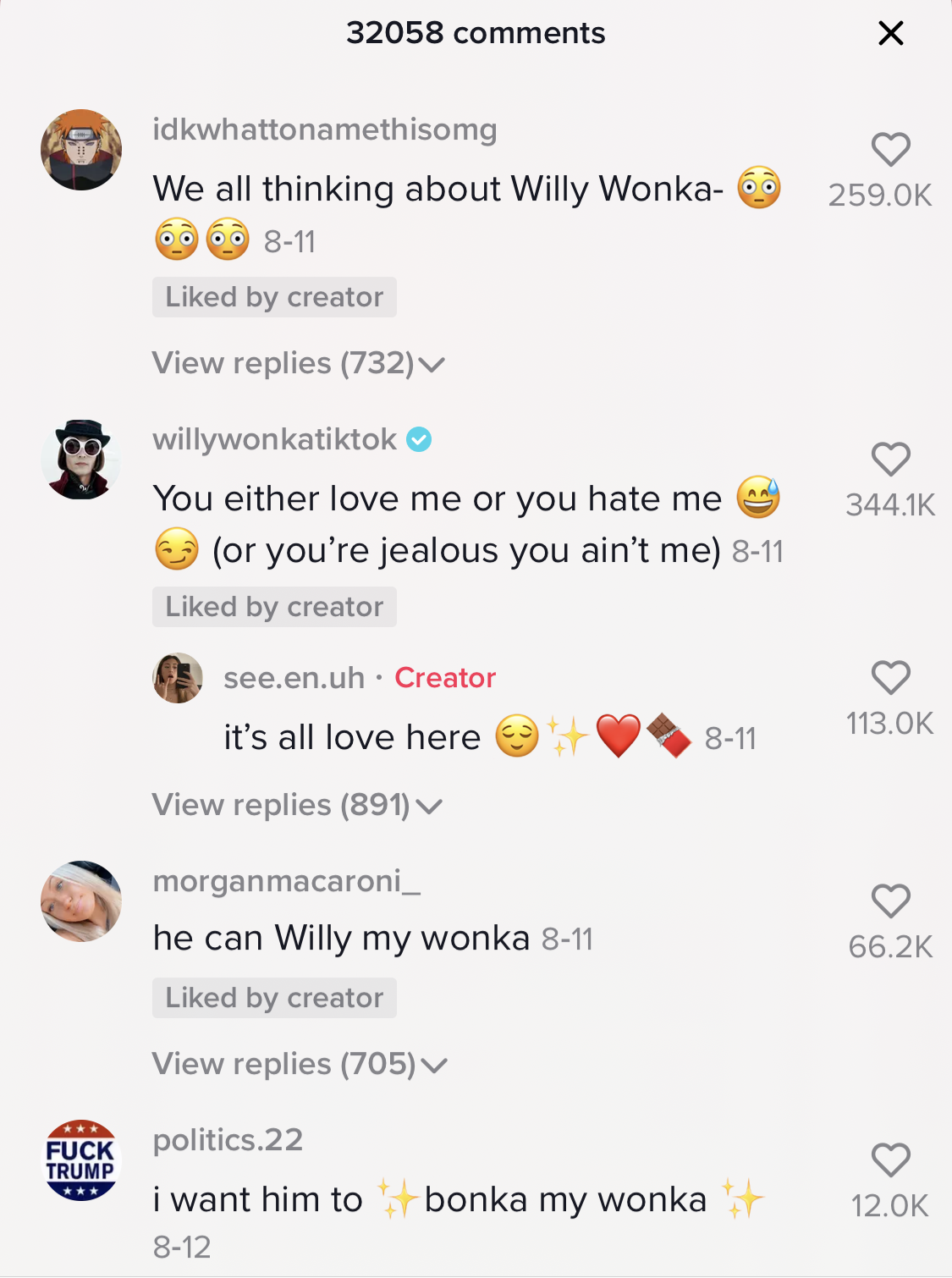 I clicked on the account, and suddenly found myself in a whirlwind of maroon jackets, top hats, abs, and crotch grabs. The subject of each video was a man dressed as Willy Wonka from the 2005 film, Charlie and the Chocolate Factory.
After some scrolling, I realized the specific video that the girl was referring to was the one where a very horny Wonka danced to "I Wanna Love You" by Akon ft. Snoop Dogg.
It has nearly 80 million views, 7.7 million likes, and over 500,000 comments. I think it's fair to say that people are obsessed. Very, very obsessed.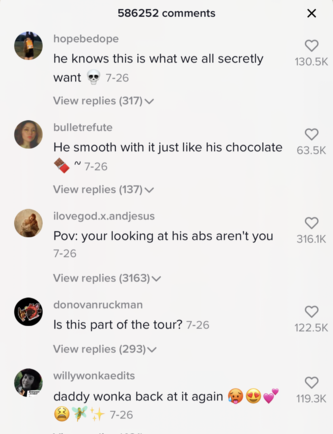 And that isn't even his most popular video. This one of him doing only part of the WAP dance has over 90 million views.
After some internet sleuthing, I found out that promiscuous Willy Wonka is actually 19-year-old Duke Depp. I'm not 100% positive that's his real last name, but...I WANT TO BELIEVE.
But his biggest platform is TikTok, where he's amassed over 10 million followers thanks to...well...you get the picture.
So what do you make of this whole "sexy" Willy Wonka shtick? Let us know in the comments!
BuzzFeed has reached out to Duke Depp for comment.