Warning: The following post contains graphic content and includes discussions of gun violence, domestic violence, suicide, and loss.
We recently asked members of the BuzzFeed Community to tell us how their lives have been affected by gun violence. It's a devastating issue in the United States that shows no signs of going away.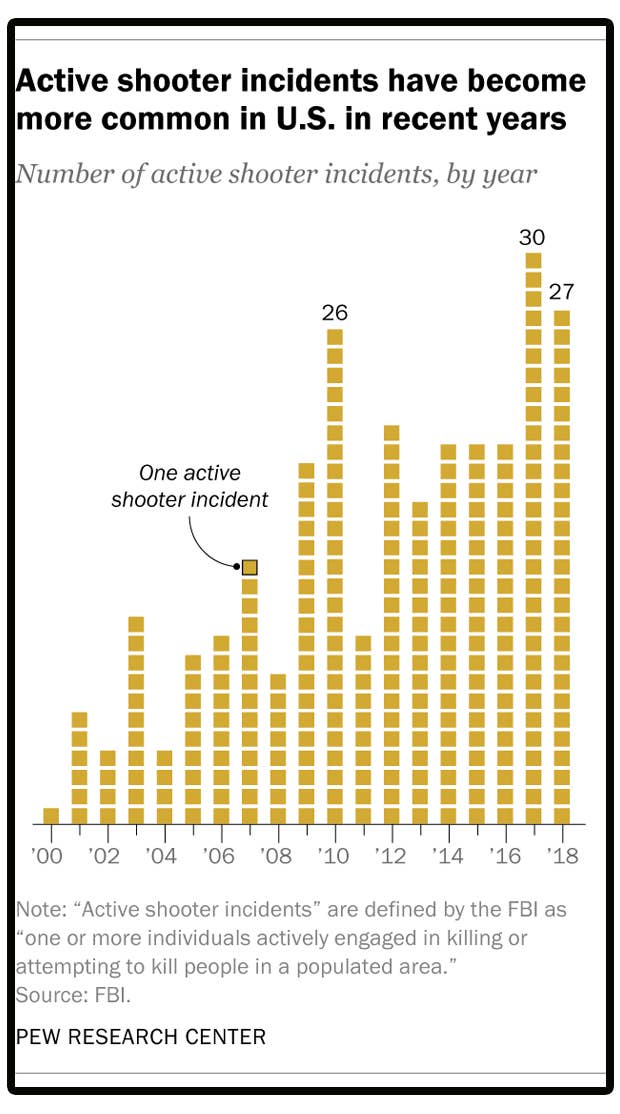 We hear about these incidents so often, it's not surprising that many people are beginning to feel desensitized to gun violence–related news.

This post is a reminder that behind all the statistics, headlines, and Twitter arguments about gun violence, there are human beings whose lives are being taken or forever changed. Here are their anonymous stories:
1.
"I was finishing my senior year at the University of California, Santa Barbara, when a mass shooting occurred. The shooter specifically targeted my sorority and an event that I'd planned.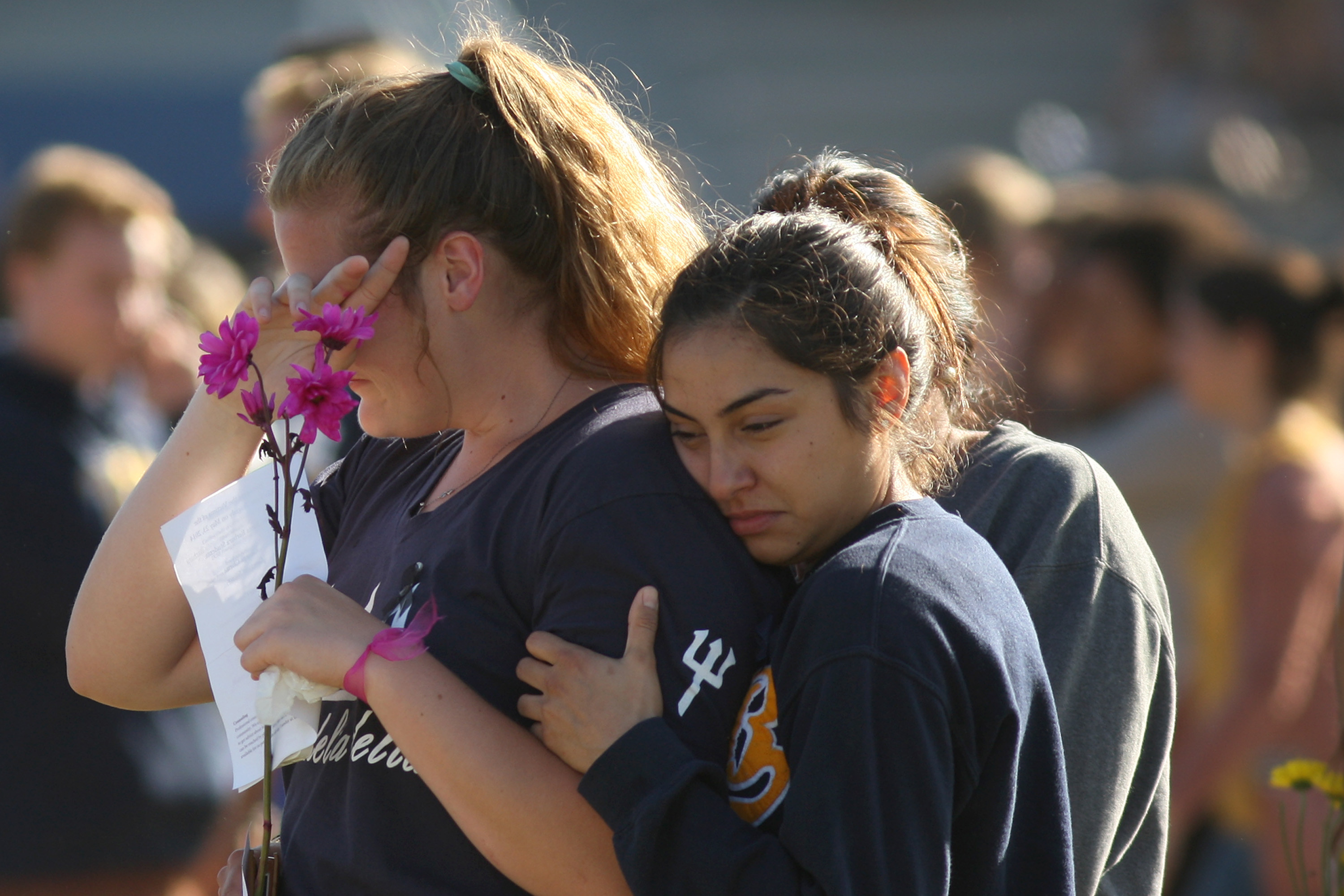 2.
"My 12-year-old nephew and his friend were playing with a gun. The other child accidentally shot my nephew directly in the face and he died instantly. Parents should lock up their guns. Kids should not be able to find them or touch them."
3.
"I was at student at Virginia Tech when the shooting happened in 2007. Not a day goes by when I don't think about the lives lost. Now I am a teacher and have to participate in active shooter drills and trainings. It seems to be something I can't escape."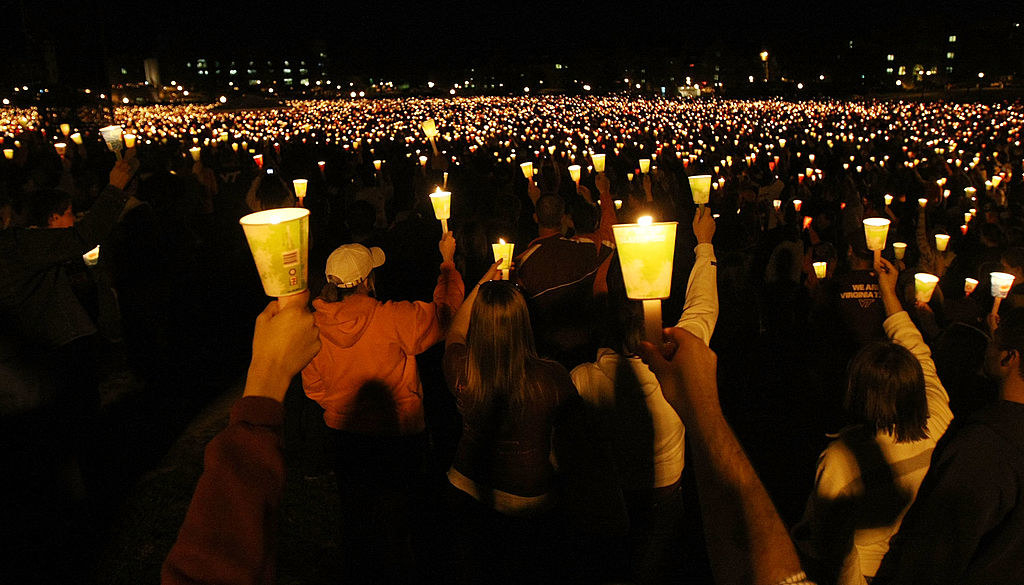 4.
"A friend of mine killed himself with a gun readily available in his house. He was 15. I miss him, and I wish the gun hadn't been there, for the simple reason that maybe he'd still be alive."
5.
"My little cousin was in second grade at Sandy Hook Elementary School when the massacre occurred. Another one was in fourth grade. It was the worst day of my life.
6.
"My brother was taking a friend home back in 2013 when they were kidnapped at gunpoint and robbed. The friend managed to escape, but my brother wasn't so lucky. He was 18. I'm 21 and now older than my older brother. That's not how it should be."
7.
"I'm in middle school, and all of the school shootings happening are so scary for me. I used to feel comfortable in class, but now the sound of someone loudly closing a door or dropping something will scare me. I want to be prepared in case there's a shooting. Entering a classroom, the first thing I always do is see where I can hide."
8.
"I thought my dad was going to kill me that night as I lay in bed paralyzed.
"My dad was a Vietnam veteran. He had mental issues, and one day he flew off the handle. He left the house after a day of rage that my brother and I had to endure. When our mom got home, we told her what happened. Late that night when we were all in bed, my dad stormed in the house wasted and angry. He called up his dad and threatened to kill himself. During the call, he shot a gun off in our house."
9.
"I was working at a hospital where I later found out that one of the patients being treated for a brain injury was involved in the Las Vegas shooting. She was an adult woman with a 1-year-old child, but her behavior was like a little kid's after she was shot in the head. I couldn't stop thinking about her for a long time."
10.
"My son, Michael, was shot and killed in Chicago the night of July 18, 2017.
"My wife and I are different people now. They did make an arrest, which is amazing. The arrest rate for homicide in Chicago is incredibly low. It's been over two years since the arrest, and we are looking at one to two more years before the trial starts. When your child is born, you discover a whole new level of love that you never knew existed. When your child is killed, you discover a whole new level of pain you never knew existed. For other parents who have had a child murdered, find a local chapter of Parents of Murdered Children. The people there get it. They understand what you are going through."
11.
"A classmate brought a gun to school and took it out in the classroom I was in. He was yelling and screaming and threatening everyone. All I could think to grab was a pair of scissors. I just stood there, holding the scissors and shaking until the teacher managed to calm him down enough to grab the gun. That happened two years ago, and I still have scars from where I grabbed the scissors too hard in fear. I thought I was going to die that day."
12.
"I grew up around gun violence all my life. I lost my older brother when he was 30 years old, on Dec. 4, 2009, and I lost my younger brother (my best friend) when he was 21, on April 21, 2011. Ten days later I lost my boyfriend of two years.
"I could not find a therapist who understood my pain. They all just looked at me like this should be normal for a black woman living in the inner city. When black men are murdered, it's almost always their fault. That's how the world sees their deaths. Gun violence plagued the inner city for years, and now that there are school shootings, it's a conversation. It is not fair. I have PSTD to this day because when I hear about another murder, I go back to getting every phone call I received about my deceased brothers. It hurts writing this. I cry just saying their names. They deserve to be here."
13.
"My Jewish community lost 11 innocent lives to gun violence and white supremacy in Pittsburgh at the Tree of Life synagogue."
14.
"One of my sweet but misguided high school students ended up accidentally firing a handgun while showing it off to a friend. The gun discharged and the other teenager died at the scene. A relative legally owned the gun. Now one 16-year-old is dead and another's life is ruined because of how easy it was to find a gun to act tough with."
15.
"I was at a bar with a group of friends when all of a sudden, people burst through the doors from outside, yelling 'Get down! Shooter!'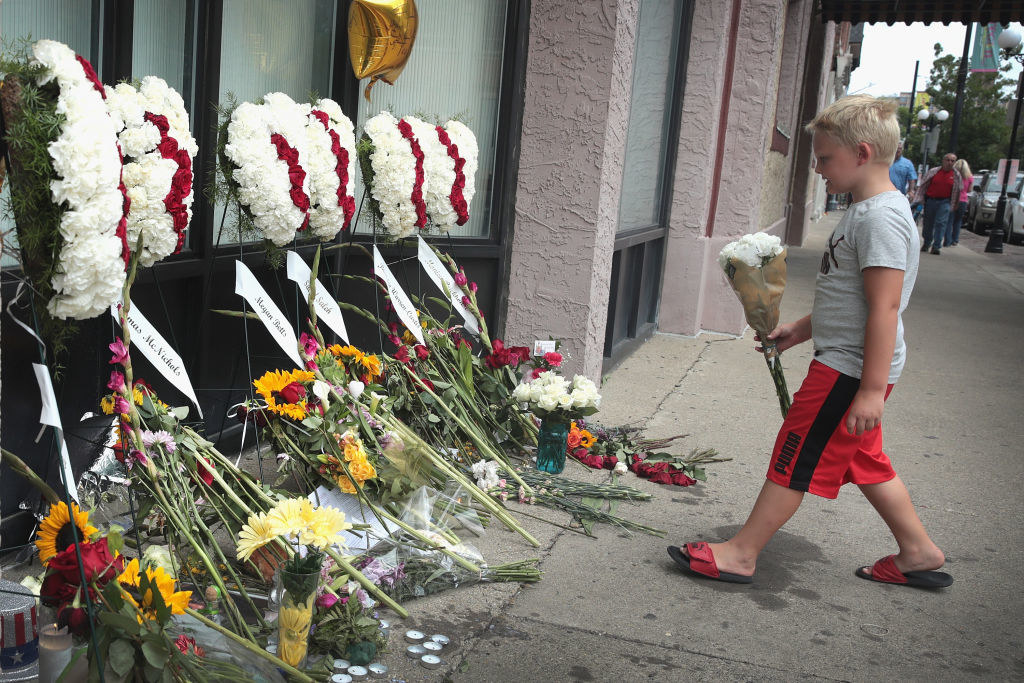 16.
"I had to sit by and watch one of my best friends mourn her sister and her sister's unborn child after her sister was hit by a stray bullet while sitting outside her own home. How crazy is that? Sitting outside talking to your friend one minute, and the next minute you're dead because someone wanted to play Wild West in the streets of a major city."
17.
"My dad and seven other men were killed in a workplace shooting.
"The shooter was caught stealing from the company, and they offered to let him resign instead of being fired. He accepted, but on his way out he grabbed a bag he'd placed in a small kitchen that had guns in it. He killed some men who were in the meeting and then ran through the warehouse. My dad yelled out to warn others, which caught the shooter's attention. He was shot in the back of the neck and was dead before he hit the ground. The men he warned got out safely. The shooter killed himself as the cops arrived. It's been nine years and I am still traumatized by it."
18.
"On the night of the Pulse shooting in Orlando, I was out with friends at a neighboring bar.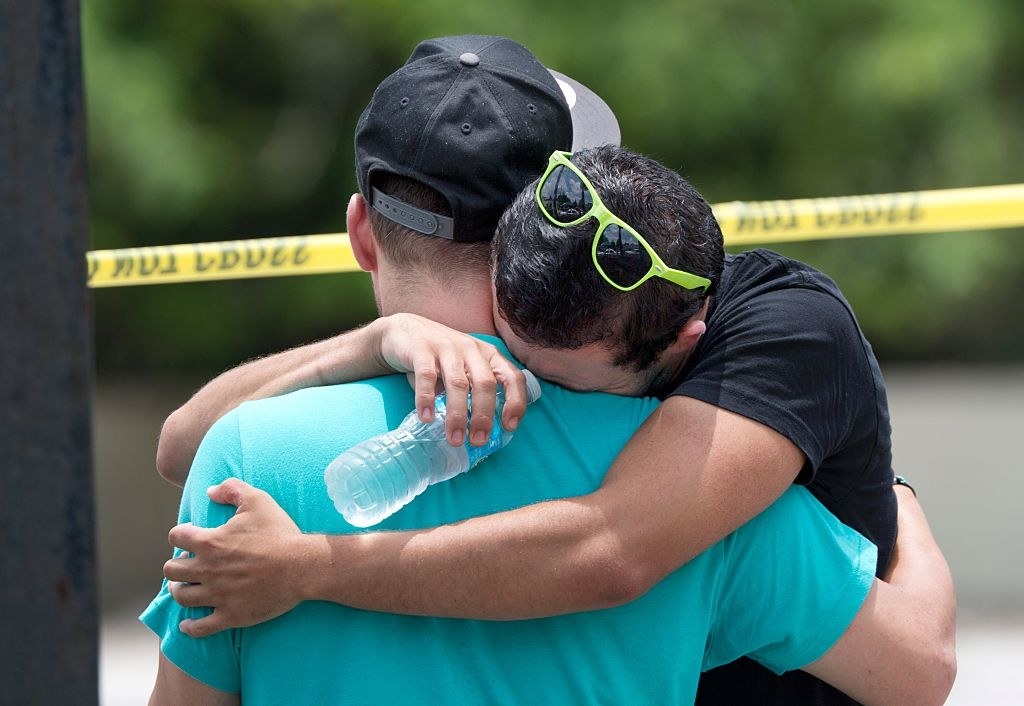 19.
"I came out right before the Orlando shooting. I was terrified because I was young and it hadn't really hit me that someone could kill me because of who I am. I remember watching the names of the victims on the news and feeling helpless. I still feel a bit helpless."
20.
"I was one of the thousands of people at the Route 91 Harvest Festival in Las Vegas in October 2017. My friends and I spent the entire time hiding in a pool of water, not knowing if standing up to look around was safe or not.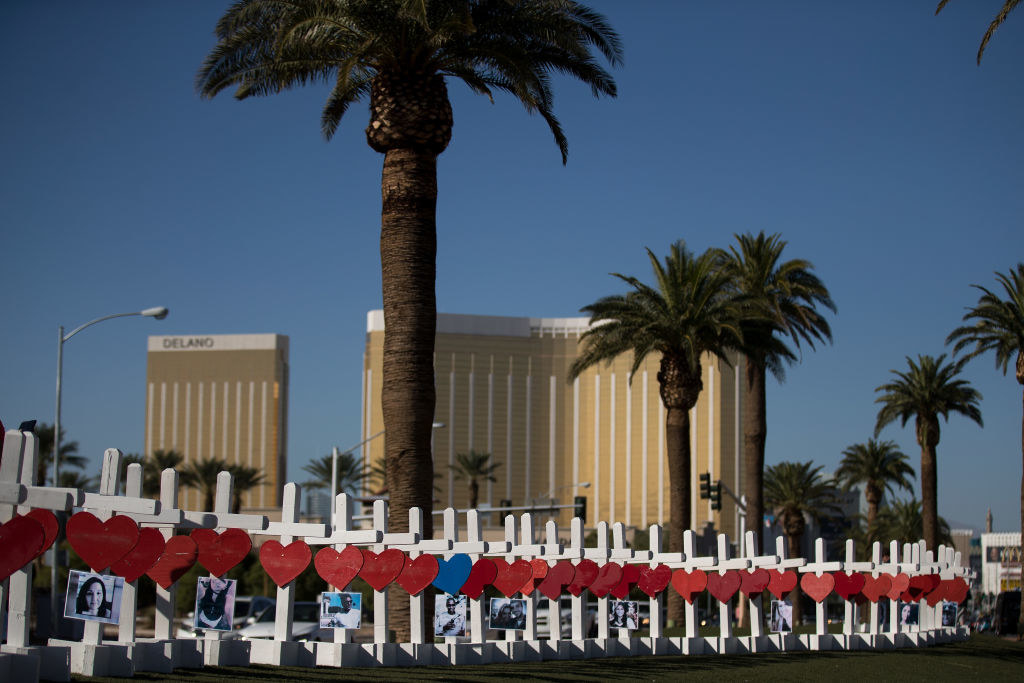 21.
"I'm an elementary school teacher, and every day I live in fear that there will be another Sandy Hook–like shooting at my school. I can't be a human shield from bullets for 20-plus kids, and our lockdown procedures do not guarantee that we'll all be kept safe while hiding behind desks and shelves. I'd give up my life for all of my students. It's scary and pathetic that I have to live in fear in a place that's supposed to be safe."
22.
"I feel numb. I remember crying at every single shooting at the beginning, but now it's become sort of normal. I think that's the scariest thing for me. How is it possible that people dying is normal? How did that happen? How have I become so used to death? I really don't want to feel numb anymore."
Note: Some responses have been edited for length and/or clarity.
If you or someone you know have been struggling, here are some really helpful resources:
National Domestic Violence Hotline: 1-800-799-7233
National Suicide Prevention Lifeline: 1-800-273-8255
Disaster Distress Helpline: 1-800-985-5990