Art Everywhere is the UK's biggest art exhibition, with over 30,000 billboards across the country displaying works until 31 August 2014. The works displayed during the exhibition were chosen by the public via the Art Everywhere Facebook page. The works will appear on bus shelters, roadside billboards, motorway services, national rail networks, shopping centres, and airports across the UK. The size of the project will mean up to 90% of the population will have an opportunity to see the exhibition. Antony Gormley said: "Works in public collections form an important part of our collective visual memory, marking a particular place, time and person. It is great that these works are being celebrated and shared in this way." People are already sharing their local Art Everywhere billboards using the #arteverywhere hashtag.
Petersburn, Airdrie.
Coventry.
Bradford.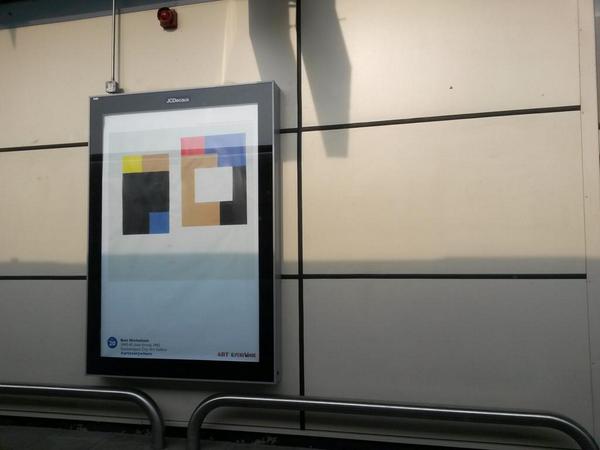 Ben Nicholson, "1940–42 (two forms)", 1942, Southampton City Art Gallery.
Leeds.
Grayson Perry, "The Annunciation of the Virgin Deal", 2012, Arts Council Collection, Southbank Centre London and British Council.
London.
Truro, Cornwall.
Ivon Hitchens, "A River Pool", 1951, Nottingham City Museums and Galleries.
London.
Augustus Leopold Egg, "The Travelling Companions", 1862, Birmingham Museum & Art Gallery.
Basingstoke.
London.