Here's The Longlist For The International Prize For Arabic Fiction 2015
Arabic language equivalent of the Man Booker Prize names record 5 women on 16 book list.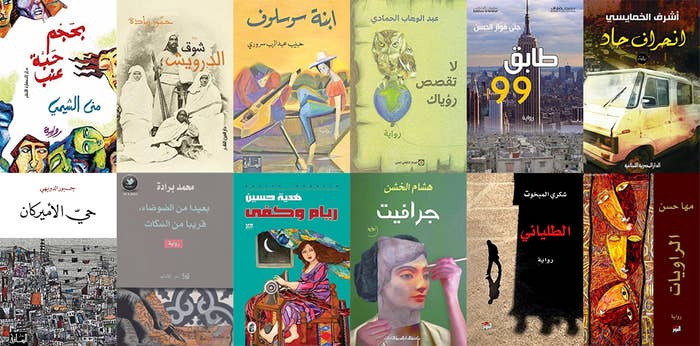 The International Prize for Arabic Fiction was set up in 2007 to help address limited international availability of Arabic literature.
Today they've announced a diverse longlist of 16 books for the 2015 prize. 12 different countries are listed, along with include 5 women authors, the highest number in any prize shortlist so far. The longlist is as follows:
A Suspended Life by Atef Abu Saif (Palestine, Al-Ahlia)
Far from Clamour, Close to Silence by Mohammed Berrada (Morocco, Le Fennec)
Drowning in Lake Morez by Antoine Douaihy (Lebanon, Dar al-Mourad)
The American Neighbourhood by Jabbour Douaihy (Lebanon, Saqi Books)
Floor 99 by Jana Elhassan (Lebanon, Difaf Publications)
Diamonds and Women by Lina Huyan Elhassan (Syria, Dar al-Adab)
Don't Tell Your Nightmare! by Abdel Wahab al-Hamadi (Kuwait, Al-Markez al-Thaqafi al-Arabi)
Female Voices by Maha Hassan (Syria, Dar Tanweer, Lebanon)
Riyam and Kafa by Hadia Hussein (Iraq, Arab Institute for Research and Publishing)
Sharp Turning by Ashraf al-Khamaisi (Egypt, Al-Dar al-Masriya al-Lubnaniya)
Graphite by Hisham al-Khashin (Egypt, Maktabat al-Dar al-Arabiyya lil Kitab)
The Italian by Shukri al-Mabkhout (Tunisia, Dar Tanweer, Lebanon)
Willow Alley by Ahmed al-Madeeni (Morocco, Al-Markez al-Thaqafi al-Arabi)
The Daughter of Suslov by Habib Abdulrab Sarori (Yemen, Saqi Books)
The Size of a Grape by Muna al-Sheemi (Egypt, Al-Hadara)
The Longing of the Dervish by Hamour Ziada (Sudan, Dar al-Ain)
The prize awards $50,000 to the overall winner, and $10,000 to each shortlisted author.
The prize also guarantees English translation for the winner.
Commenting on the longlist, the 2015 Chair of Judges for the prize said:
This year, the number of novels submitted for the prize was the highest in its history. With 180 books to consider, it was certainly a challenge to decide on just 16 books, but this varied list showcases writers from a range of artistic schools and generations. Some titles are first novels, others are by more established writers. However, our focus in choosing this longlist was the books themselves rather than their authors.
The Prize also announced 2014 winner Frankenstein in Baghdad by Iraqi novelist Ahmed Saadawi, will be published in English in Autumn 2016.