We hope you love the products we recommend! All of them were independently selected by our editors. Just so you know, BuzzFeed may collect a share of sales or other compensation from the links on this page if you decide to shop from them. Oh, and FYI — prices are accurate and items in stock as of time of publication.
1.
An exfoliating glove with immediate results you can actually see — seriously, the dead skin just clumps up and rolls right off of your body. It's somehow satisfying and gross at the same time.
Promising review: "You might think you're exfoliating your skin but TRUST ME, you haven't been. You'll be SHOCKED and maybe even a little disgusted when you see how much skin comes off on these gloves the first time you use them.
Take a long, warm shower, then, with no soap, use these mitts after you're all rinsed off. Scrub your body well in a circular motion. Then look at the mitts! They'll look like they've been sprinkled with flour! You'll never get that much skin off your body again with subsequent uses, so don't forget to look because it's incredible. And get ready to be bowled over when you dry off. Hello softness!!!" —isaidso
Get it from Amazon for $7.99 (also available in a two-pack).
2.
A bathroom cleaner made with natural ingredients to leave your tiles shining and your tub as sparkly as a fancy hotel's. Plus, it's free of fumes and synthetic dyes, so you won't have to worry about any mid-chore headaches.
Promising review: "I have an old shower/bathtub. I tried name-brand shower cleaners and bleach to try to clean the soap scum off the tiles and tub. I had no luck, and I would cough and get sick because of how strong the smell was. I thought I would try this to save my lungs. I sprayed my entire shower and left it for about 15 minutes. Came back and rinsed off the walls, and they were shiny! I've never had such a clean shower. The smell is amazing and subtle. All I smell is tea tree, and it didn't affect me at all. The price is also a good deal since the bottle is pretty large." —Amber Erwin
Get a two-pack from Amazon for $13.04 (available in two sizes).
3.
A "Bread Buddy" dispenser with an airtight design that not only keeps your bread fresh for way longer, but also makes it SO easy to grab a slice. No more fumbling around with those annoying twist ties!

Check it out on TikTok here!
Promising review: "The Buddeez Sandwich Bread Dispenser is great! It does exactly what it was intended for. I live alone and I don't quite go through bread often enough before the last quarter section of the loaf starts to go stale. I was originally looking for something to put a loaf of bread in as a shell for my vacuum sealer, that would keep the bread from getting crushed from the pressure. This dispenser solved all of my problems. Thank you!" —DRMcQuaig

Get it from Amazon for $12.92. 
4.
A two-pack of reusable mop pads because it's time to say goodbye to the wasteful disposable ones you've been spending way too much money on. These even have helpful Velcro straps so the pad won't go flying off when you're in the middle of a good scrub session.
They're compatible with both the original Swiffer and the Swiffer Wet Jet!
Promising review: "The velcro closure alone is worth the purchase. It was really easy to put on (no more pinched fingers) and the hold is very strong. No more having to handle the dirty, drippy sheets to try to reattach them in the middle of cleaning the floor. I noticed that my floors are cleaner because the microfiber absorbs more and doesn't just push the grime around the floor. Also, these can be washed in the washing machine for the next use." —Rosemary Patterson
Get a pack of two from Amazon for $12.99.
5.
A nifty strainer you can attach to the side of your pot so you'll never burn yourself while awkwardly straining into a colander ever again!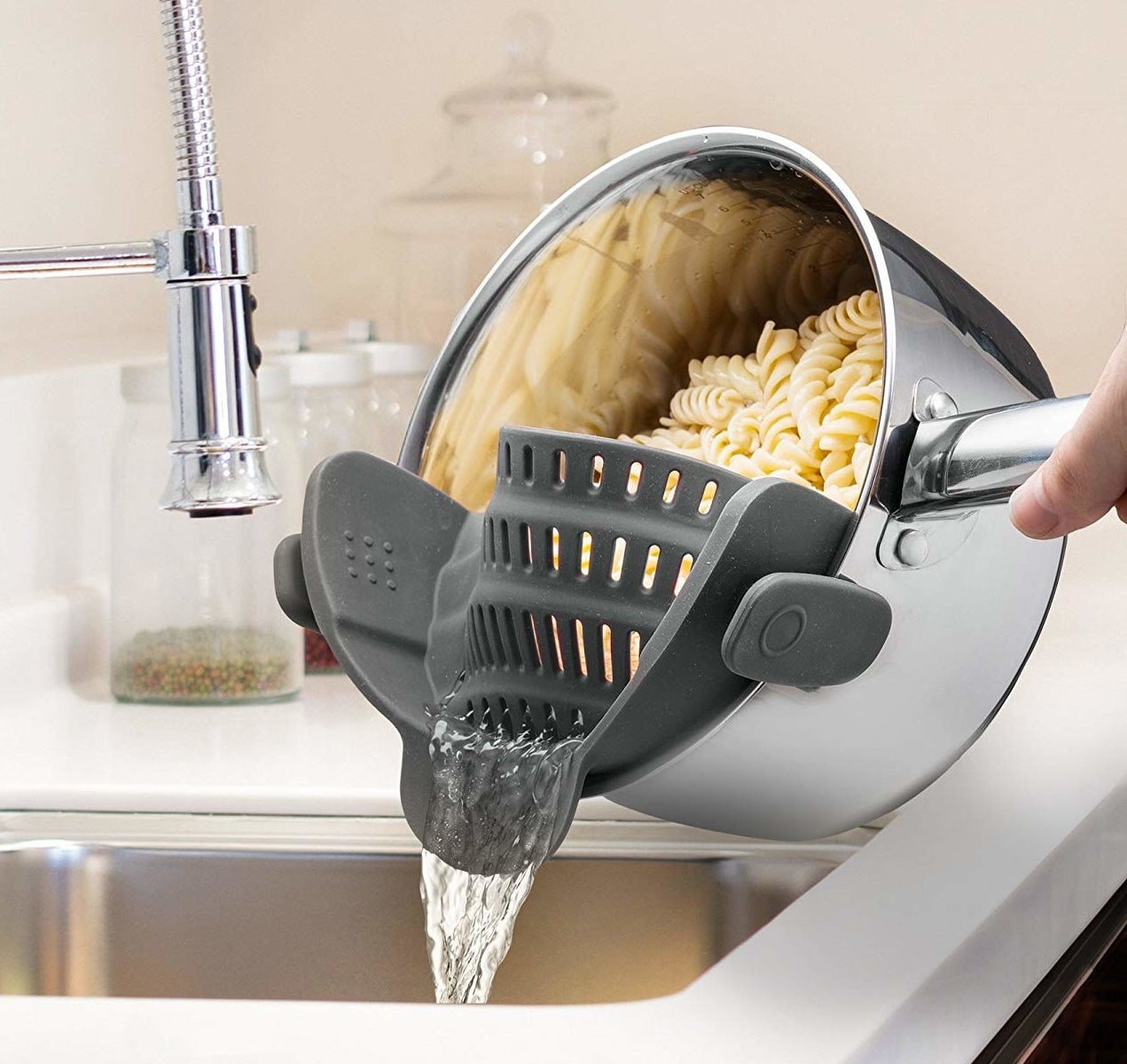 It's made of flexible silicone and designed to fit most pots and pans.
Promising review: "Gone are the days of pouring into a separate strainer and then having to clean two different things for a simple bowl of cooked pasta. I'm not typically a raving fan of seemingly simple kitchen gadgets, but this handy little helper works exactly as advertised. Made of hearty silicon material, it's flexible enough to snap onto all of my pots, from my small 8" to my largest Dutch oven. Even better, the material doesn't conduct heat so I don't have to worry about burning my hands when pulling it off the pot after it's finished draining boiling hot water. I've even left it clipped onto a pot for a little while before draining the water off, and it shows no sign of melting or marring. This is a fantastic way to shave off a few precious seconds from the process and I'd highly recommend it." —J. Im
Get it from Amazon for $13.99+ (available in five colors).
6.
A disposable cleaning wand to make scrubbing the toilet less of a chore. The kit comes with 16 refill heads to get you started, so you can immediately say goodbye to that dirty toilet wand in your bathroom!
Promising review: "So, we have a toilet that belongs to the cats. We don't use it, we don't look at it, we like to pretend it does not exist. Even with semi-regular flushing, cat waste is pretty nasty stuff and built up quickly in the bowl. One of these wands cleaned it up in a single session! Before-and-after pic attached (above)." —Whitney
Get it from Amazon for $13.84.
7.
A bottle of Elizavecca hair treatment that's very famous on TikTok. Its blend of ceramides and collagen will add smoothness and shine to your hair in just five minutes, making it perfect for those of us who care about our hair but not enough to devote extra time to it.
This is designed to work on all hair types, with reviewers with 2b to 4c curls mentioning it worked for them! 
See it on TikTok here.
Promising review: "I saw this on TikTok, and in between other comparable products that were four times the price, I decided to bite the bullet and buy this — let me tell you, best decision ever! I shampooed my hair, then heavily massaged this in, from ends to scalp. The carton says 5-20 minutes... But I ended up leaving it in for two days! And after washing it out, my hair was so shiny, bouncy and CURLY! My curl recovery journey has been long, but this has helped restore so much vibrance and shape to my hair. My mom has been stealing it from my bathroom every couple of days, after having similar results on her hair. Going to need to buy a few more to ward her off." —curlyhead3
Check out BuzzFeed's full review of the Elizavecca hair treatment for more deets!
Get a bottle from Amazon for $7.50.
8.
A genius brush and squeegee combo so you can swipe all your countertop messes directly into the sink. It even has a built-in ledge so you can hang it when not in use.
Promising review: "LOVE THIS PRODUCT! Saves me so many paper towels, easily washed in the dishwasher, and the small size saves space! Will always have one of these on hand for sure!" —Prime Time Review
Get it from Amazon for $9.52.
9.
A wrinkle releaser and fabric-freshening spray to get rid of all those creases and crinkles so you'll look just as crisp and clean as a $100 bill.
Promising review: "This is literally like an iron in a bottle. It's fantastic. This morning my shirt had a crease from being folded but I didn't have time to change, so I misted just one spray on the shirt, shook it out while I was wearing it, and the crease was gone. I cannot express how much I love this! I spray it over my shirts and shake them out a couple of times then hang them up and they are completely wrinkle-free, and it smells like everything just came right out of the laundry, which is also a plus." —Kayla
Get a pack of two from Amazon for $15.14.
10.
A weekly shower cleaner that lets you wet it and forget it — which is the only type of cleaning I'm interested in. Simply give your entire shower a quick spray, then walk away and give it a rinse the next day — no scrubbing required.
Promising review: "I had a horrible gray ring in the bottom of my shower that was impossible to remove. I had tried the Dawn Dish Soap method (with a lot of scrubbing) and had even used toilet bowl cleaner to try to remove the soap scum. My next step was to tear out and replace the shower pan and tile. I figured this was my last chance. I ordered the Wet and Forget Shower Spray and really coated the shower walls and floor pan and walked away. I CANNOT begin to tell you how happy I was to rinse down the walls sometime later and watch all that crud roll right down the drain!! This is the best product I have ever used in my life!! Works great and no toxic fumes!!" —Amazon Customer
Get a 64 oz. bottle from Amazon for $19.74 (also available in various bundles).
11.
A set of sheet detanglers to stop your bedding from becoming a tangled mess in your washer and dryer — because there's nothing more annoying than realizing your pillowcases are still wet after getting caught in your fitted sheet during the dryer cycle.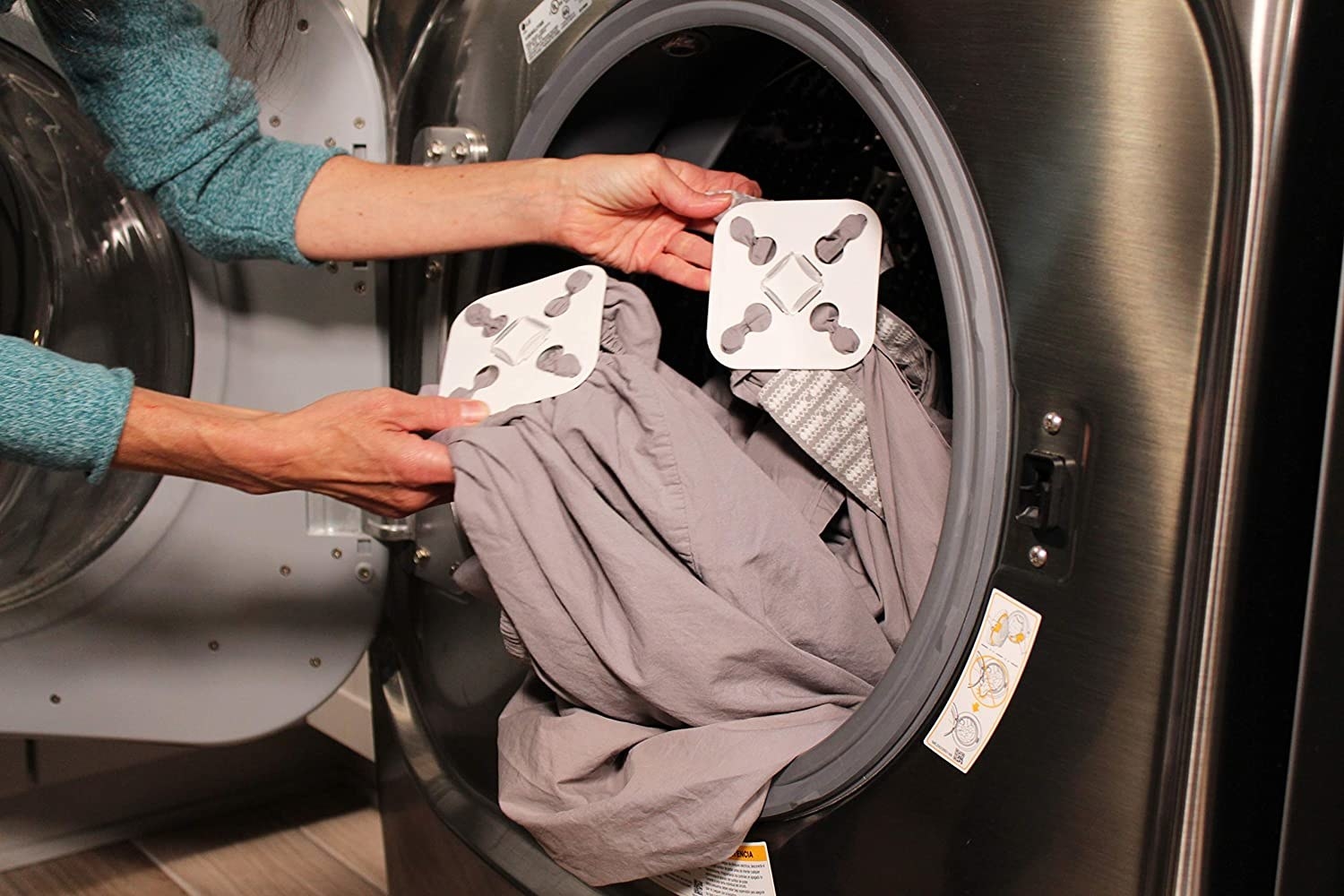 Promising review: "I saw Wad-Free featured on a local TV segment. I was mildly skeptical. However, it works exactly as promoted! I've used it five times and each time there's been no twisting of the sheets and no pillowcases or other items balled up and still wet when the dryer timer goes off. Super helpful that it comes with two units, one for the top sheet and one for the bottom so I don't have to split them into separate loads. I no longer dread washing sheets and plan to buy some of these for gifts. LOVE this item!" —Amazon Customer
Get a pack of two from Amazon for $18.99.
12.
And an over-the-drain hair catcher you simply position down on your shower floor and let it collect all your loose strands in a tidy pile that's super easy to clean up.
Promising review: "I've been very impressed! It's tall enough to fit easily over my pop-up drain and (even without suction cups) the weighted top keeps it in place. I have medium-length hair and seem to shed almost as much as my cat, but the drain protector catches it all and the hair is easily removed and tossed away. Best of all, the silicone doesn't hold onto mildew or mold. I have been able to spray and wipe away any grime with very little effort. It looks like this drain protector will last a very long time. This has been a very worthy purchase!" —Suneimi
Get it from Amazon for $11.99 (also available in two bundles).
Me betting you'll use these every month: