1.
A tub of cooktop wipes so you can easily swipe up any mess before it has time to become caked-on grime. It also works on microwaves if that's the only kind of oven you use on a regular basis.
Promising review: "This product is amazing. I can't stand when after I am cooking how I always have oil stains and grease on my cooktop! But with one wipe I am able to now get everything off the stove. It is very convenient to be able to just use one wipe for everything!" —Debra E.
Get a pack of 30 wipes and a large microfiber cloth from Amazon for $9.97.
2.
A 20-pack of cleaning erasers — they're more affordable than name brands but still...um...magic, if you catch my drift. These little sponges use just water to lift away tough stains — and the results are downright soothing.
Promising review: "These babies have transformed and reformed my slobby life. My dog sitter thought I got a new sink and fridge. I have never had more fun cleaning in my life — wait, I have never had any fun cleaning. But these magical creatures make it so freaking satisfying. No toxic stuff. No fumes. Just heavenly cleanliness." —Jimmy Jim Ereeno
Get a pack of 20 from Amazon for $13.95.
3.
A gas range cleaning spray that takes just seconds to cut through grime and grease and eliminate any evidence that your roommates are total slobs. Now I'm just projecting.

This stuff is THE TRUTH. My roommate is the best, but let's just say wiping down the stove after cooking is not one of her favorite activities. I'm not particular fond of doing the dishes, so I guess we're even. Anyways, I spray this on a few times a week, let it sit for about five minutes, then wipe with a cloth and it removes EVERYTHING. Like, every little spot of caked-on grease and burnt crumbs come off with just one wipe.
Get a two pack from Amazon for $15.50.
4.
A powerful spray to break down stubborn mold and mildew stains almost instantly. Just leave it on for about 15 seconds, then wipe away to reveal what your shower is actually supposed to look like.
Promising review: "I bought this RMR spray with low expectations, even with the good reviews. I sprayed a small patch in the evening and let it sit overnight. The next morning, the grout where I had sprayed was as white as if it were brand new. I decided to spray the entire wall and part of the roof. The next day everything I sprayed had no visible mold. By the third night, I was pretty much spraying everything left in the shower. This stuff is amazing." —John Werner
Get it from Amazon for $16.99+ (available in three sizes and various pack sizes).
5.
A reusable and machine-washable duster that fits onto the Swiffer duster handle so you can stop wasting money on the flimsy disposable refills. These will quickly get rid of the layer of dust that's been accumulating since you moved in. No judgment.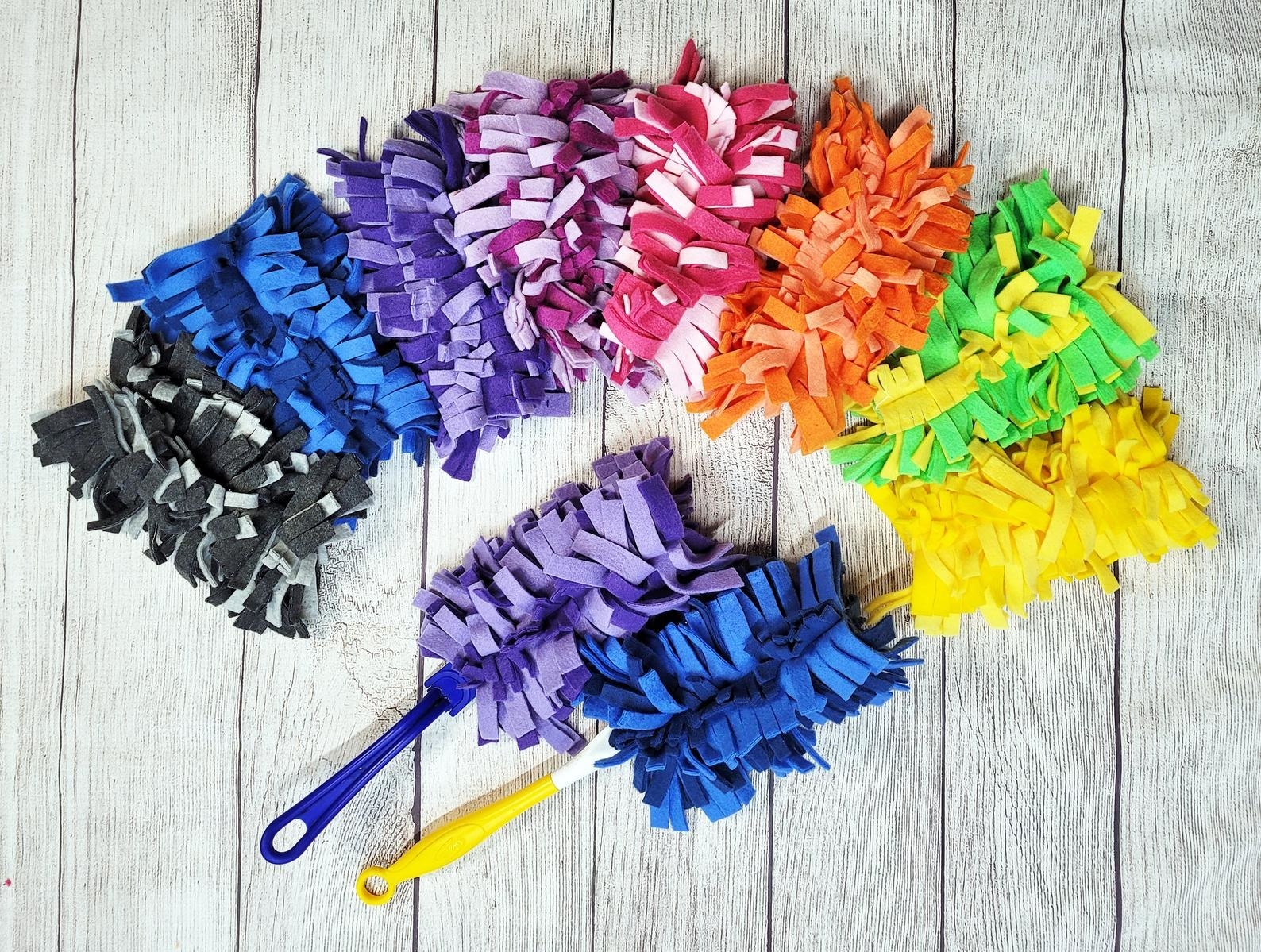 Promising review: "LOVE the washable duster attachments. These are SO soft and such great quality. The stitching is strong and I don't worry about anything coming apart. We use ours with our swifter duster wand and it fits perfectly. If you're looking for a more sustainable item, this is one for you." —Cassie Couch
TS Designs US is a small Etsy shop based in West Leroy, Michigan.
Get it from TS Designs US on Etsy for $4.94 (originally $5.49; available in 10 colors).
6.
A disposable cleaning wand to make scrubbing the toilet less of a chore. The kit comes with 16 refill heads to get you started, so you can immediately say goodbye to that dirty toilet wand in your bathroom!
Promising review: "So, we have a toilet that belongs to the cats. We don't use it, we don't look at it, we like to pretend it does not exist. Even with semiregular flushing, cat waste is pretty nasty stuff and built up quickly in the bowl. One of these wands cleaned it up in a single session! Before-and-after pic attached (above)." —Whitney
Get it from Amazon for $15.45.
7.
Or a jar of toilet fizzies — which are basically like bath bombs for your toilet. Simply plop one in the bowl and let the blend of sodium bicarbonate and citric acid break down stains and kill any lingering bacteria. Oh, and it's also loaded with eucalyptus essential oil to make your porcelain throne smell like a fancy spa.
Promising review: "The eucalyptus is strong and it fizzes nicely. I drop one in once or twice a week and scrub the toilet a bit, and the scent lingers after flushing. Perfect for keeping my bathroom fresh!" —kd Bromley

Happy Earth Boutique is a woman-owned small business making healthier alternatives for your health and home.
Get it from Happy Earth Boutique on Etsy for $12.99+ (available with or without a refillable jar).

8.
OR! Some classic Clorox tabs — they go directly into the commode and will leave the toilet disinfected just five minutes after flushing. It also turns the water blue, and that's just plain fun.
Promising review: "I wasn't impressed at first. This doesn't take the place of cleaning the bowl manually, but it does cut down on how often you need to clean your bowl. I had old stains from the previous tenants inside my bowl, but after about four weeks the stains have disappeared. Love this product!" —Dorine Buse
Get a pack of four from Amazon for $11.99.
9.
A carpet cleaner to clean up everything from spaghetti mishaps to red wine oopsies. Oh, and did I mention it works INSTANTLY?! Just spray it, agitate the stain with your fingertips, then use a cloth to blot away the mess in mere seconds.
Promising review: "It's a miracle in a bottle. My German shepherd mix decided to pull a black fountain pen out of my purse and chew it to pieces on my beige carpet while I was sleeping — this cleaner lifted the stain and now it's like the devastation my dog caused never happened! As soon as I saw it lifting the ink, I got back on Amazon and bought more bottles. I will never let myself run out of this. I use it in my Bissell carpet cleaner for some crazy-good cleaning power. I've become that weird lady who goes around singing the praises of a cleaning product. No regrets." —L. Logan
Get it from Amazon for $11.78+ (available in two sizes a various packs).
10.
A super-lightweight stick vacuum you can quickly whip out when your friends tell you they need a place to crash at the very last minute. It has swivel steering so you can easily maneuver around furniture and an extra-large dust cup so you can vacuum the whole room in one go.
Promising review: "Great little vacuum! Needed a small little vacuum to clean my studio apartment and this did the job! Once you turn it on you will be surprised about the suction this little guy has! Cord was plenty long enough and the accessories worked perfectly." —Jonathan G.
Get it from Amazon for $50.66.
11.
A set of six over-the-door shelves perfect for quickly storing random accessories that are currently scattered all over your room — because if you can't actually clean your mess, you can at least conceal it! Actually, you might want one of these for every door in your home.
Promising review: "I am so happy I found this little gem of a product. I got one for myself and one for a friend who I was helping get organized. The little pockets are great and hold more than you think they will. I love that the front of the pockets is a clear view so you can see everything that is in the pocket. The product is very sturdy and really super easy to put together and hang up on the doors." —MM1986
Get it from Amazon for $20.97 (available in seven colors and a four-pocket option).
12.
A giant lint roller on a stick, which will quickly become any pet owner's new best friend. The handle makes it possible to reach under furniture without bending down — though you'll probably be grossed out by all the hair it picks up.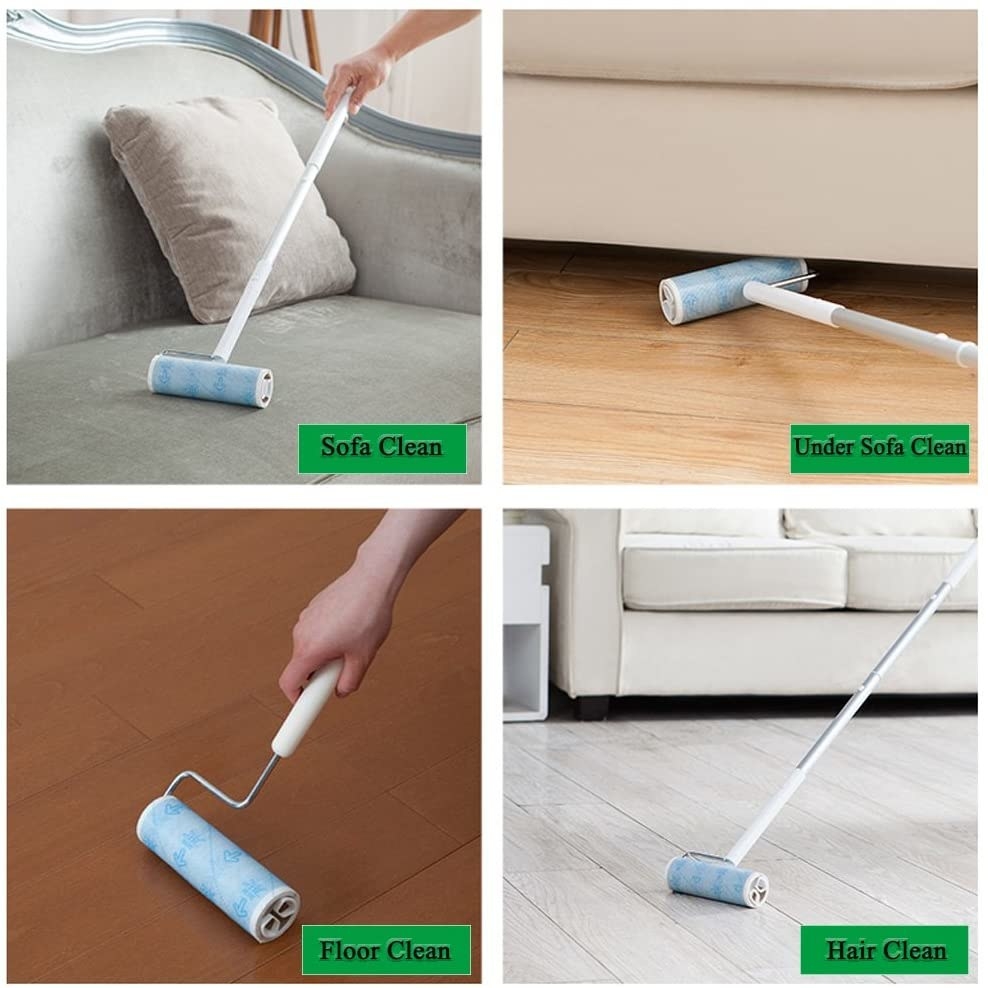 Promising review: "These work great for pet hair on beds, furniture, pet beds, dog kennels, area rugs, cars, pretty much anything you can think of! My black Lab sleeps in my bed that has a white quilt comforter and this makes it super easy to just roll across every morning when making the bed. The sheets are easy to tear off and don't unravel when rolling." —Ashley D.
Get it from Amazon for $23.85.
13.
Or a pet hair remover that will quickly pick up each and every stray hair your fur baby leaves in its wake with just a few swipes. It's perfect for restoring your couch back to its former glory.
Promising review: "I was cautiously optimistic, but this tool is as effective as everyone is saying. My couches, and especially my recliner, look brand new. It takes little to no effort to use. Just use it in a 'scrubbing' type motion and it catches and traps the fur (and other small debris, such as crumbs...) in the little compartment. Pop it open, empty it out. Done." —Ian K.
Get it from Amazon for $28.95.