1.
An anti-nail-biting pen so you can finally kick that nail biting habit that's ruining your expensive manicures. This will coat your nails with an unpleasantly bitter-tasting serum, so you'll be way less tempted to nibble on them throughout the day. 
This is perfect for anyone who needs something more travel-friendly than traditional polishes that may bang against other stuff in your bag and possibly break. Also, several reviewers with children noted that it works just as well for preventing thumb sucking!
Promising review: "I LOVE this product! My daughter and I both bite our nails. I usually purchase the no-bite nail polish because it's just what I'm used to. This is significantly better for several reasons. 1) It doesn't have that strong nail polish smell. 2) I can put on as we walk out the door because we don't need to wait for it to dry. 3) We both bite around our cuticles and we can apply this to our entire finger if needed because once it dries you can't see it or feel it, unlike the glossy polish. 4) If it spills or drips, then it's not a big deal because it doesn't stain or need to be removed from surfaces." —Meghan
Get it from Amazon for $16.95.
2.
A box of pore-tightening, skin-lifting face masks — it'll make you look like a terrifying zombie until you rinse it off, but it's worth it for the pore tightening and complexion brightening benefits! If you live with anyone, maybe just give them heads up before you apply.
Promising review: "I have never written a review before but I am compelled to do so now. Let's start with what my 41-year-old face looked like. I had bumps, tiny bumps all over my skin, especially my forehead. My skin NEVER felt smooth even with the prescriptions I was give to help with these tiny bumps. Rosacea = bad bad bad. So bad that it was actually causing my cheeks to have what appeared to be thickening skin. Wrinkles, some that were quite deep. My pores were friggin huge and getting bigger day by day it seemed like. I know that it says to use this product every three days. I chose to go with every single day for the first box of eight. The results were so amazing I decided on everyday for the second box. Even more amazing results. EVERY SINGLE ISSUE LISTED ABOVE NO LONGER EXISTS!!!! I moisturize deeply after rinsing and my face looks absolutely amazing. My face did not even look like this at 30. I am hooked and I will be buying no less than three packs every single payday so I can stock up on this stuff in case they ever decide to quit selling it. If I had 10 stars available to rate I would use them and more!" —Amazon Customer
Get a box of eight masks from Amazon for $23.95.
3.
A pair of teeth-whitening pens, which are SO much easier to use than traditional white strips. Just swipe it on and let the gel sit for 30 minutes — and eventually you'll see years and years of stains start to disappear. This is a must for all my fellow coffee connoisseurs.
Promising review: "I bought this on a whim when I saw someone review it on TikTok. After using it several times over the course of a week, I immediately noticed the difference in the color of my teeth. I'm a smoker and a heavy coffee drinker. I'm finding that this product will be a lifesaver in terms of what my smile looks like. I would definitely recommend!!" —Mully
Get a two-pack from Amazon for $19.98 (clip the $3 off coupon on the product page for this price; also available in a pack of four). 
4.
A L'Oréal repairing hair treatment that takes just eight seconds — yes, eight seconds! — to repair damage and restore shine. Apply it after shampoo but before conditioner and let the amino acids and "lamellar water technology" work their magic to smooth your hair without weighing it down.
Promising review: "I don't usually do reviews on products, but for this one I absolutely have to. I have 3c type hair and struggle with a lot a breakage, unmanageability, and moisture. When my mom mentioned this product to me, I didn't take her seriously because of the simple fact that we have two completely different hair textures. I never would have thought this brand would work on my hair ... I have never in my 22 years felt my hair like this. I feel like I have a completely different head of hair. This product is so amazing and I will FOREVER be using this product in my hair regimen." —Theressa Hailey
Get it from Amazon for $8.99.
5.
A tub of TikTok-famous The Pink Stuff — which will completely revitalize your sink, bathtub, and tiles with the help of a little elbow grease. It also works wonders on neglected stoves, so you might want a jar for the kitchen as well.
Promising review: "Oh my gosh — this stuff is a life changer! Used it to get my fiberglass shower totally clean. Nothing else would get it done and this stuff brought my shower back to near new in one use. We've since cleaned a weird chalky film off our garage door, removed wall markings, and cleaned my storm door. We'll never be without a jar (or three) of this stuff." —Nancy F.
Get it from Amazon for $5.97 (also available in packs of two and three).
Check out this TikTok of the Folex Carpet Spot Remover to see it in action! 
Promising review: "There are products that you love and buy again. And then there are products that you love and can't live without. And then above that, are a few select products that you revere and hold with the highest honor. Folex is that product. I have used Folex for years and it works wonders on everything from spilt coffee, wine, and dog messes, without any chemical smells or residue. But my love for Folex grew so much deeper when I dropped a 32-ounce jar of salsa down the stairs. My husband took one look and declared that the stairs were ruined and would need to be replaced. I took a look, grabbed the Folex and said, 'We've got this.' If you have children, pets or are very clumsy with your canned goods, you need this bulk-size jug in your arsenal of cleaning supplies." —Carobnty
Get it from Amazon for $11.78+ (available in two sizes and in multi-packs).

7.
A skin-clearing salicylic acid treatment that'll show those pesky blackheads on your nose who's boss. Just dab some on a cotton pad and wipe over your skin to get rid of acne, uneven texture, and even stubborn dark spots.
Check out this TikToker's review here. 
Promising review: "I have always struggled with blackheads on my nose. It was something I was super self conscious about, always. I tried pore strips, masks, scrubs, etc., and nothing ever worked for me. But after using this product, I saw results after 10 days! I have been using it for about a month-and-a-half, and now I can barely see the pores on my nose. The redness around my nose also went away." —Taylor
Get it from Amazon for $11+ (available in two sizes and a two-piece set).
8.
Or a super easy-to-use octopus-shaped blackhead remover — just scrub it over your nose and watch as it lifts all the clogged dirt and oil out of your pores.
Check it out on TikTok here!
Promising review: "After just two days of use, this adorable little octopus has done wonders for me, smells great too. Here's how I used it: I wore down the stick just a little to where the texture from the salt is visible, scrubbed around on my face so there was plenty of product, then I used my fingers to gently massage all the gunk away. Rinse, pat dry, and enjoy the softness. Highly recommended for people with sensitive skin like myself." —LuckLocust

Get it from Amazon for $12.50. 
9.
A no-scrub weekly shower cleaner to stop mold and mildew from forming before they have a chance to take over your entire bathroom. Just spray and walk away — your future self will be SO grateful.

Promising review: "I have well water. Something in my well water reacts with copper plumbing and turns my shower tiles blue. Since my bathroom color scheme isn't on the blue spectrum, this is problematic. The well water also causes the shower glass to film up quickly. I've tried dozens and dozens of cleaners and scrubbed till my arms ached trying to get ahead of the blue and scumminess. My ambition in life is NOT to be a full time bathroom scrubber! I saw this stuff on a professional house cleaner's TikTok (sorry, don't remember which one) and thought 'what the heck, might as well give it a try.' Oh my goodness, the first day after my shower I sprayed this stuff all over and walked away. The next morning there was a NOTICEABLE reduction in the blue and the glass looked clearer too. Day two, sprayed again and walked away. The next morning the blue was gone except for a few spots on the floor tile and the glass looked amazing. Day three I sprayed the remaining spots and the next morning the shower practically looked new. NO SCRUBBING AT ALL!!!! This is my new favorite shower cleaner. The ONLY con I have is that it makes me sneeze while I'm spraying from inside the shower, but I can live with that." —L. J. Petillo
Get it from Amazon for $19.98 (also available in a refill size).

10.
A bottle of the TikTok-approved Elizavecca Hair Treatment with an impressive ingredient list for such a low price. Its blend of ceramides and collagen will add smoothness and shine to your hair in just five minutes.
This is designed to work on all hair types, with reviewers with 2b to 4c curls mentioning it worked for them! 
See it on TikTok here.
Promising review: "I saw this on TikTok, and in between other comparable products that were four times the price, I decided to bite the bullet and buy this — let me tell you, best decision ever! I shampooed my hair, then heavily massaged this in, from ends to scalp. The carton says 5–20 minutes... But I ended up leaving it in for two days! And after washing it out, my hair was so shiny, bouncy and CURLY! My curl recovery journey has been long, but this has helped restore so much vibrance and shape to my hair. My mom has been stealing it from my bathroom every couple of days, after having similar results on her hair. Going to need to buy a few more to ward her off." —curlyhead3
Check out BuzzFeed's full review of the Elizavecca hair treatment for more deets!
Get a bottle from Amazon for $7.84.
11.
An adorable insect catcher that'll help trap any annoying bugs that are as obsessed with your plants as you are.
Reviewers note that these work best if you put them somewhere the flies are already attracted to — these will definitely trap them, but they won't attract them on their own. 
Promising review: "A must for your plants. Great for all those fungus gnats near my plants! Saw this shown on a TikTok used in a vivarium enclosure and just had to try it. Works great and is very attractive looking." —Mac
Get a pack of 12 from Amazon for $7.99 (also available in larger quantities).
12.
An exfoliating glove with immediate results you can actually see — seriously, the dead skin just clumps up and rolls right off of your body. It's somehow satisfying and gross at the same time.
Promising review: "I have very thin and light body hair so any form of removal (shaving, waxing, etc) usually leaves me with a lot of ingrown hairs. I've tried body scrubs and washcloths and neither really do a great job. I saw this product recommended by a dermatologist on TikTok and thought I'd try it, it's amazing! I also have very sensitive skin and this mitt doesn't leave my skin irritated at all." —Kat

Get it from Amazon for $7.99 (also available in a two-pack).
13.
Or an absolutely magical peeling gel by Skin Food you can use to slough away the dead skin on your entire face. The unique gel texture latches on to all of your dead skin to give you super smooth results once you rinse it off.
Promising review: "This product works really well, and it is so much fun to use! I even got my boyfriend to try it with me. I apply it after cleansing and toning by taking some of the product on my finger tips and massage it all over my face and chin for a few minutes, avoiding the skin around my eyes. It lifts up all of the dead skin which you can easily wash off once you're done. I followed it up with the rest of my normal nightly regimen and a hydrating mask. When I wake up, my face feels incredibly smooth — really noticed a difference! I'll be using this twice a week to reap the benefits of the exfoliating but not overdo it." —J
Get it from Amazon for $9.80.

14.
An all-natural oven scrub made with gritty pumice stone so you can really go to town on that pizza that exploded and left a mess everywhere. It'll even clean all the hard-to-reach spots on your racks and oven door that you usually overlook.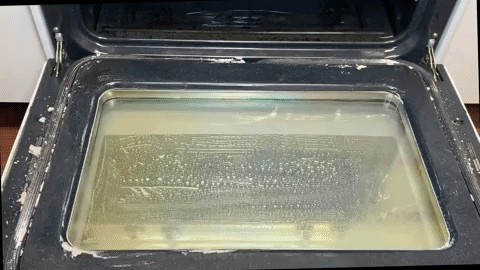 Promising review: "Finally tackled the rings on our stove top with this scrub and a reusable paper towel (as I was worried about using a scourer on an easily scratched surface) and the rings came right off! These are those 'oh, crap, the pot boiled over' rings that I ignored that lead to my stove top looking a bit crusty. The oven scrub ate them right off and left my oven and stove top looking great." —Jessie Bono
Everneat is a small Etsy shop based in Fairfield, Connecticut, that specializes in cleaning products.
Get it from Everneat on Etsy for $19.99 (available in three scents).
15.
A spray bottle of SoCozy Curl Spray Leave-In Conditioner filled with keratin and olive oil to keep your little one's hair free of tangles and easy to manage. It's technically designed for kids, but many adults say it works perfect for restyling their own hair on busy mornings!

Check out a TikTok of the SoCozy Curl Spray in action. This is designed to work on all hair types, with reviewers with 2a–4c curls swearing by it! 
Promising review: "Amazing!! I had NO idea that my frizzy-haired little girl had beautiful curls. I went down an Instagram rabbit hole and saw a similar girl show how her frizz was curls. I ordered this!! My mind has been blown!! This has changed our lives. It smells so good! It is easy to use and air dry. Before my daughter woke up with terrible bed head that looked like this! Now it is gorgeous soft curls. We will definitely buy again and tell everyone about this product!!" —Amazon Customer
Get it from Amazon for $7.99.