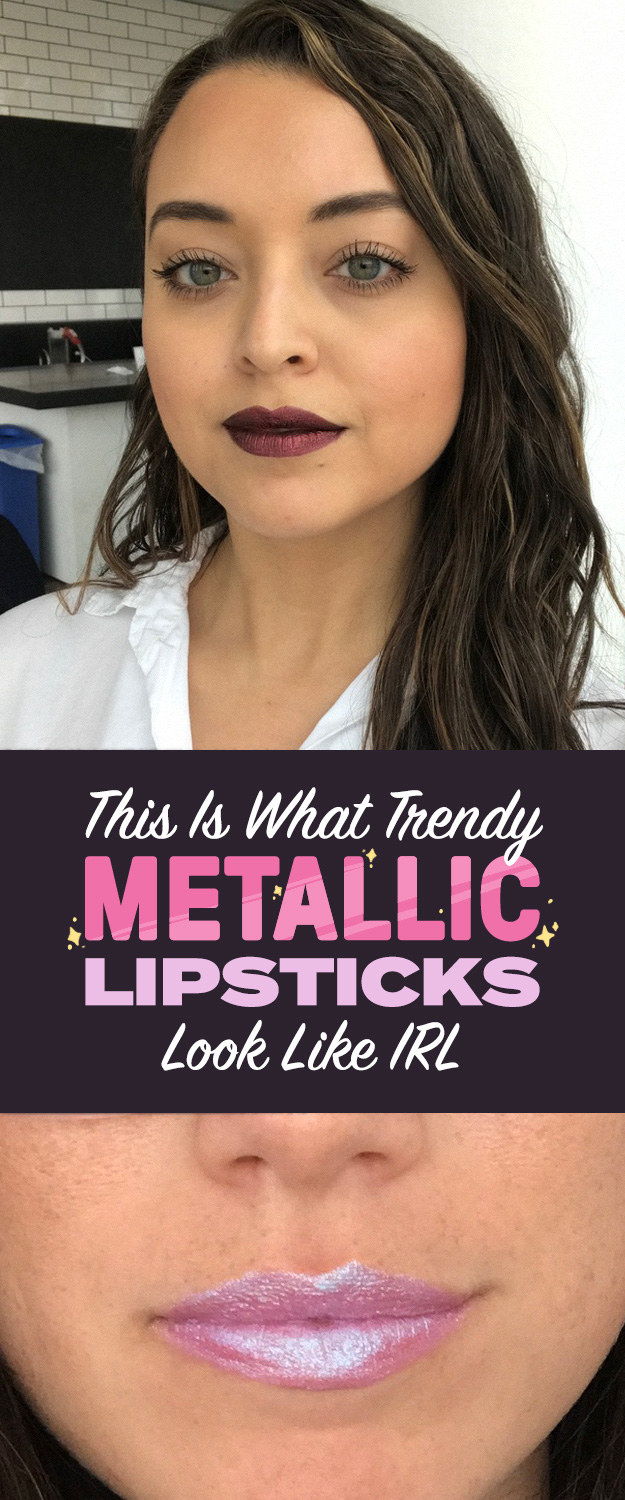 Since metallic lipsticks are a HOT trend for spring/summer, I wanted to give Black Moon's metallic shades a try. To be honest, I am NOT super into the metallic look, unless I am going to a funky party, or want to stand out at a festival, but I decided to try these lipsticks with an open mind and heart. *Says a silent prayer in Spanish.*
First thing's first, the shades were all on the darker side, which didn't seem like a good fit for summer because I associate summer with bright colors. I tried four different shades, (Armageddon, Sorrow, Eternal and Immortal), and my favorite by far was Armageddon, because I felt it went well with my skin tone and it wasn't too ~dramatic~. As soon as I opened it, my nose was filled with a sweet scent that made me feel like I was at a candy store, which was a nice surprise! The thing I loved most about these lipsticks was that they're so easy to apply. They don't leave a sticky or dry feel, and they are SUPER pigmented, so you're good to go with only one coat. This is super important to me because I put my makeup on my commute to work or at my desk. I wore the lipstick throughout the day to see if it would stand the test of time, and let me tell you, IT DID! I drank iced tea with a straw and there was no residue left on it. I had a salad for lunch and there was no trace of lipstick on my fork! I was honestly so shocked at how well it stayed on all day that I am definitely going to be purchasing other (non-metallic) colors off the site.
Final verdict: I think these colors are better suited for fall or winter so I don't think I'll wear them in the summer, but I was definitely feeling my look and got lots of compliments. 10/10 would recommend for everyone to try them, especially because they're not as pricey as the Kylie Lip Kits and look just as good.
You can get them from the Black Moon website for $18 each.
I freaking love lipstick. I love it so much that I have one makeup bag dedicated to all my usual pencils and things, and then a whole 'nother one dedicated to dozens of lipstick shades that Instagram, my mom's "gift with purchase" loot, or the hypnotizing light of my local drugstore, have scammed me into buying at one point or another. Sadly enough (mostly for my wallet) — whether it's because I'm constantly snacking, or because my lips are perpetually chapped — I'm hardly ever inspired or motivated to wear them. I mean, they have to have pretty radically beautifying, face-changing powers for me to put some on in the morning.
All of this to say: Kylie's Heir Metal Matte Lipstick is one I'll be adding to that special stash of Lipsticks I Actually Use. I like that the color I tried (Heir) is a little pink, slightly shimmery (and not actually that metallic), and basically a sunkissed-summer-afternoon in a tube. I'm not that into bright red lipsticks — because I have this weird fear of looking like a geisha and conforming to Asian stereotypes which I know is silly because it's my life and I (should) DO WHAT I WANT — and I like that this is a nice statement shade that's different enough from my own lip color. The only caveat that would deter me from dropping dough on this is that it wears off quickly. It's a pretty sheer product that isn't super pigmented like Kylie's other lipsticks, so I can understand why this would happen. On the morning that I tried this, the lipstick had pretty much vanished after my first coffee of the day. The cool part though is that since the lipstick is so sheer, your lips don't get streaky as the color vanishes.
Final verdict: It's honestly so PRETTY that I think it's worth the multiple applications throughout the day.
Get it from the Kylie Cosmetics website for $18.
I have a confession to make to y'all — I am lazy. I wear lipstick on weekends if I remember to throw it in my purse before I leave the house. I have worn the same red lipstick for years, and occasionally try other shades of red and pink, sometimes even the off-pink purples if I'm feeling adventurous. Basically, I needed to try something different, and metallic lipsticks, a hot fashion statement this spring/summer, was the perfect place to start.
Kat Von D's metallic lipsticks have a subtle shimmer and a dark, sharp, full color. The matte-but-metallic look of these babies are unique and powerful. These shades made me feel like I should be whisked off into the night by a horse-drawn carriage while wearing a beautiful, dark, puffy ball gown. I feel like these are the colors a princess or a famous model would wear. I bet the Kardashians would wear them. It's hard to add lip balm on top of KVD, so if you tend to have drier lips, apply some before smothering it on.
Final verdict: This lipstick is perfect for my independent ladies who put on a pair of heels and slip into a fancy little black dress before hitting the club, but they can also be discreet enough for elegant attire and a quiet night of cocktails over a candlelit dinner.
Get it from Sephora for $21.
4.
Aileen tried Jouer's Lip Crème in Rose Gold, and even though she wasn't sold on the metallic trend, she loved its long-lasting formula.
TBH, I'm the worst person to review lipsticks. Frankly, I like to snack too much and I find the reapplication process kind of tedious and awkward. I had heard a lot about the Jouer Lip Crèmes because of their staying power, so I thought I would give it a shot. I wanted to fully lean into the metallic trend and embrace disco queendom by highlighting my entire face with about a quarter of a pot of RMS Magic Mixer and slathering on the lip creme in Rose Gold.
It goes on silky smooth, it has a nice donut-y smell, dries really quickly, and my lips were poppin' in full metallic glory in about 30 seconds — shiny but matte at the same time? After my morning coffee, tacos for lunch, afternoon grazing, and drinking water all day, I was full on SHOOK that my lipstick had stayed on all damn day. In fact, I needed to use an oil cleanser to take it off when I got home.
Final verdict: I'm not sure I'm into the '90s vibes of metallic lips, but I'm def into the long lasting formula and coverage and would be open to trying their other colors.
Get it from Amazon for $18.
5.
Conz wasn't crazy about Beauty Bakerie's Metallic Lip Whip in Waffle Cone, until she layered it on top of her favorite matte lippie.
I went for the full-on metallic look and let me tell you, it wasn't pretty. I feel like the color was too similar to my skin, so I looked almost like I was sick with yellow fever. The next day, I decided to use a darker tone under the metallic lipstick and it really made my lips pop. I really, really, really liked how the colors blended together. The metallic lipstick is liquid, and my brown lipstick is matte, so applying the metallic over the brown also made it easier to fix mistakes.
I was able to eat, drink, take a million calls, and it lasted through the morning until about 4pm without reapplying. The texture was interesting. When I wore it by itself, it was SO sticky. Like, I had to make an extra effort to open my mouth, kinda like when a cartoon has its mouth shut with glue (did I just make this up or does it exists somewhere? I swear i saw it somewhere). Anyway, not pleasant at all. However, when I added the other color because I was applying less of the metallic lipstick, it wasn't sticky at all. Yay!
Final verdict: Now that I know I can blend it in with other colors, I would buy 100%. I don't generally believe in trends, you should be able to wear whatever you like and makes you happy. This made me happy so I plan to continue having shiny lips!
Get it from the Beauty Bakerie website for $20.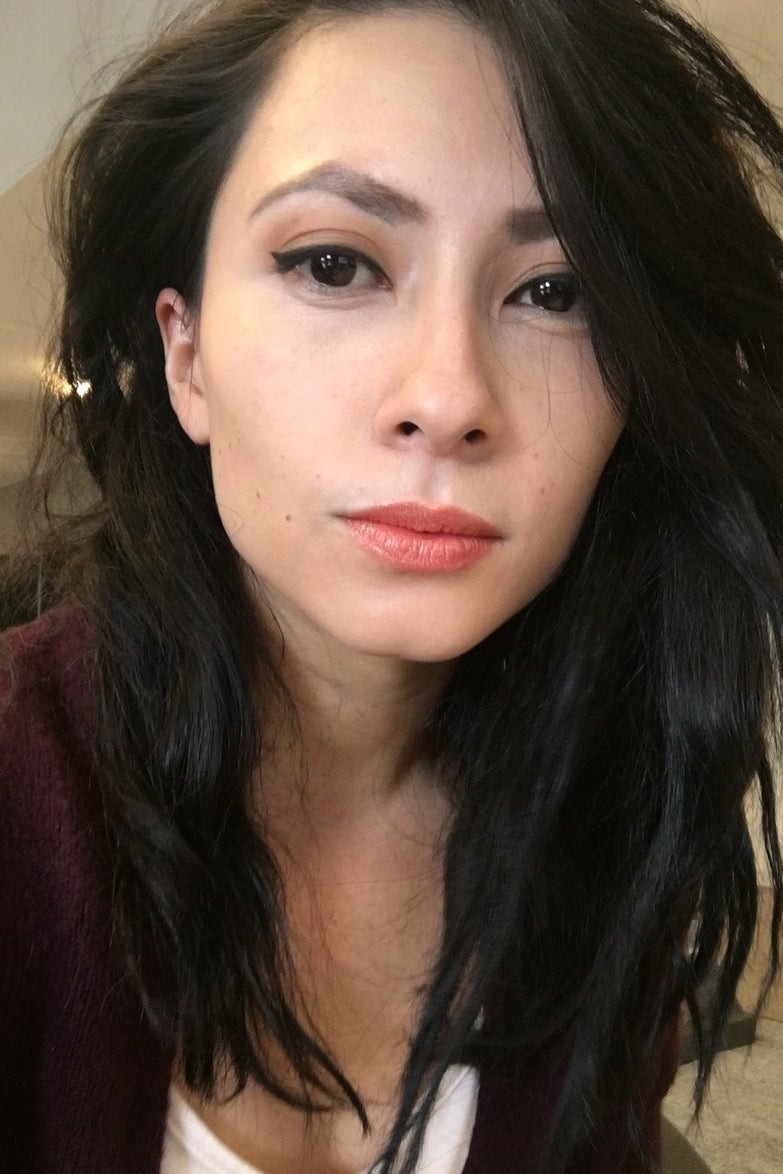 I tried Urban Decay, which caught my attention since they released their waterproof foundation. Unfortunately, my two lipsticks, 'Flame' (kind of rose gold) and Trap Queen' (vampy red), were a lil' disappointing.
Flame: It has gorgeous pigmentation. One layer gives you sufficient cover to rock it, but it feels a little too heavy. It reminded me of the texture of old matte lipsticks. Once it's on, it does miracles. It can give life and glam to a tired, stressed face like mine. It truly deserves to be called Flame. The day I wore it, lots of people said: 'you look beautiful TODAY.' Meaning, not any other day, but that one day. And the only thing I've done differently was using this lipstick. An hour later, the little metallic particles that give this lipstick its golden look, had spread all over the edges of my lips and my chin was covered in lovely, yet uninvited sparkles. I looked like a rosé sun. My lips also got super dry, almost burned, even though I used a moisturizing lip balm. I guess that's also why it's called Flame.
Trap Queen: I thought this was better than Flame, for sure. The texture is creamier, and it felt smoother on the lips. Even better, one layer is enough.It's versatile. It looks like the red a 50-year-old mom would wear, but also like the red cool vampires wear on a low-budget film. So, if like me you're cheerful on the outside, dark on the inside, and have a Zumba squad composed of 60-something-year-old woman, you'll love it! This freaking lipstick was still in place two hours later. Of course I had to re-apply to keep a ~perfect~ look, but it was fairly easy to maintain. However, this also dried my lips and it wasn't pretty, and, trust me, I drink plenty of water! So I had to constantly apply my lip balm in an attempt to look better.
Final verdict: Metallic lipsticks are awesome, but it's definitely hard to find one that's nice on your lips. These are bold, fuck-everybody, it's-all-about-me kind of lipsticks. You can wear them to blend in, or to stand out, but I didn't really like the formula because it dried out my lips, a lot.
Get them from Urban Decay for $18 each.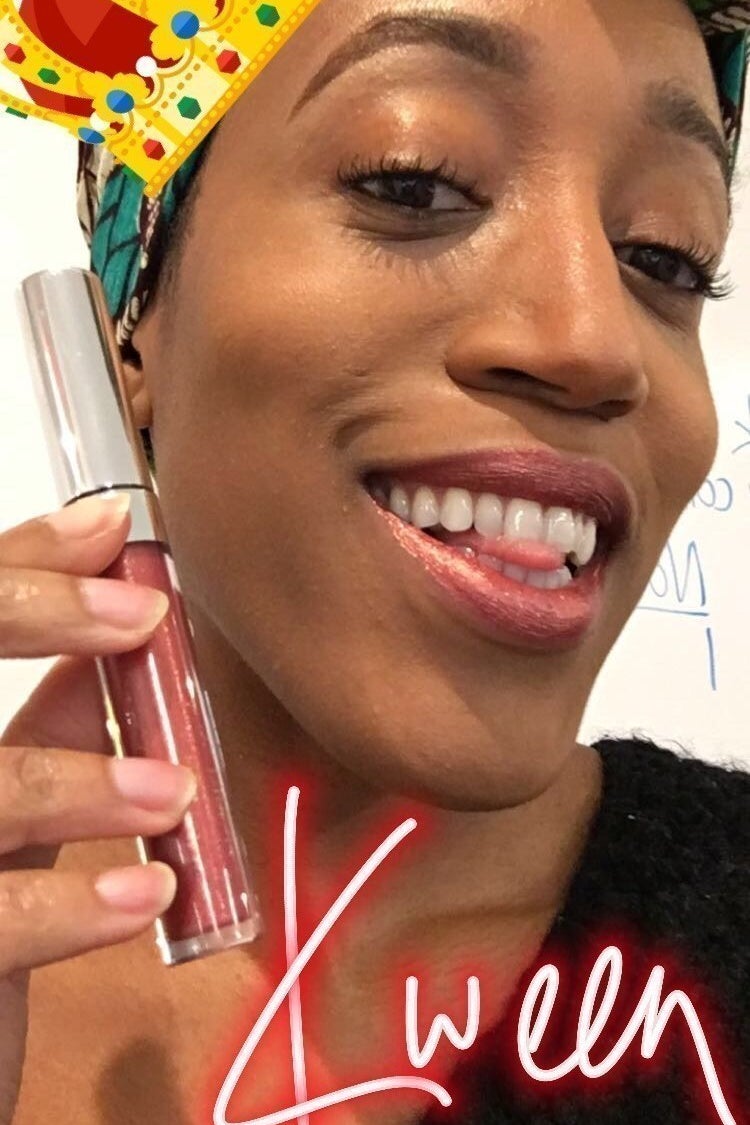 I consider myself to be a pretty adventurous person, beauty-wise. However, most of these bold looks usually take place on my head in the form of a fly AF wig or protective style. But as far as cosmetics go, I'm relatively low-maintenance and stick to my everyday makeup routine. Test driving a few of ColourPop's metallic lip glosses was my way of stepping onto the wild side.
FYI this was my first time trying on ColourPop anything, so I was hype! So, how did these lippies do? Let's go through each shade first, in order from least to most adventurous.
Kween: You had me at KWEEN, ColourPop!!! Once I got over the name, I noticed that this shade closely matches my own natural lip color, which has a deep pink on the bottom lip, and a sort of brown-into-pink ombre on the top lip. Kween definitely was the most natural looking of the four glosses, with an effect that was more shimmery than metallic. It's a great option if you want some of that reflected light action without drawing too many stares. Basically, a great pick for those interested in trying out metallics, but looking for a non-intimidating result. TBH, these would work out just fine at places like the office, church, and PTA meetings.
3-Way: This purple was the second boldest of the group and I loved it! What seemed to be a warm deep purple turned out to be a frosty eggplant, but I wasn't mad at all. This color brought to mind Erykah Badu, Kelis, my Auntie Tonya, and all the other grown and sexy brown skin ladies that can be found under "Style Icon" in my mental filing cabinet. Living in NYC for the past couple of years has given me the courage to rock loud and bold lip colors like this whenever I want to make a statement, which is pretty often...my subway commute from Brooklyn to Manhattan is basically a daily fashion show!"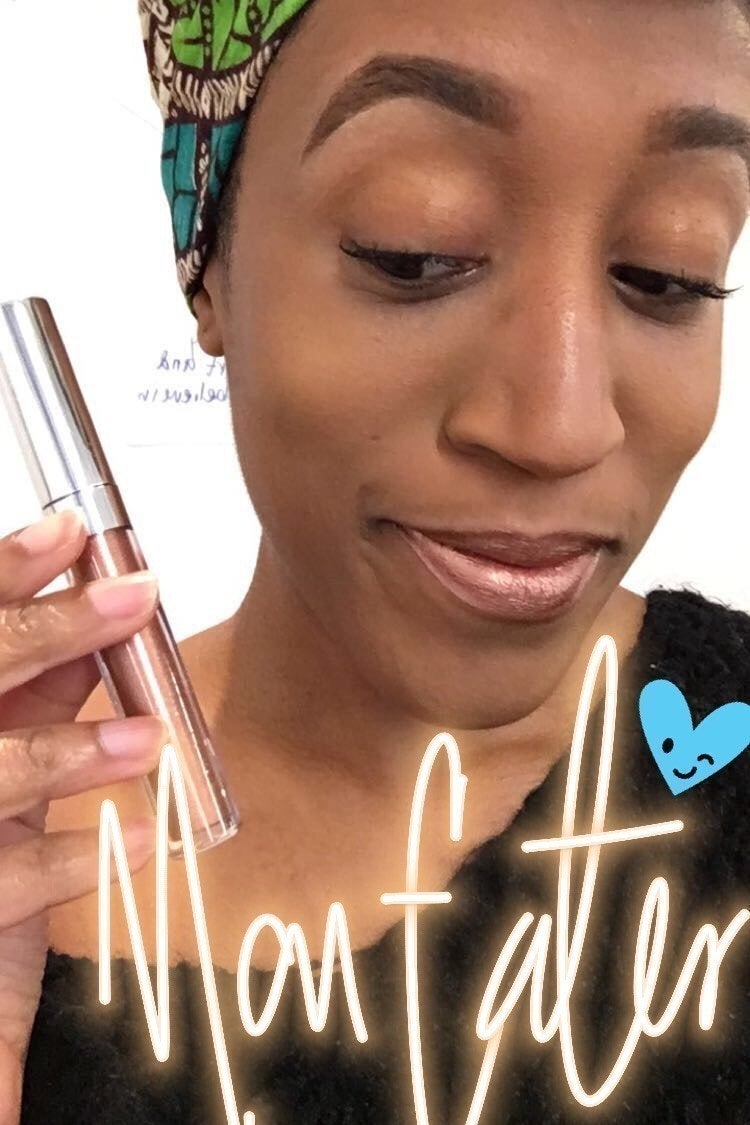 Man Eater: Loving the name of this shade too! *body rolls to the Nelly Furtado classic*. Anyway, back to the important things. Man Eater is my favorite shade of the bunch, hands down. It gave me all sorts of '90s 'We are livingggg, Singleeee' kinda vibes! What first appeared to be a light copper in the tube, actually turned out to be more like a frosty cocoa brown once applied. The gloss looked more like a nude shade than anything, given my brown complexion. I plan on wearing it out to dinner with my partner and his parents this week.
Flitter: Can you tell I was channeling Rih Rih in this shade? What tipped you off? The bad gal pose? The Lil Kim-inspired sunnies? The utter lack of fucks to be found? Well, that's how this shade made me feel. I did feel more than a bit crazy when I first applied this super pale peach shade. The shade remained pretty true to its shimmering rose gold appearance in the tube. But, for some reason, I didn't think the brightness of this shade-shimmer combo would be as intense as it turned out to be. So, my first thought was, "Wow! My lips look SUPER 👏DUPER👏 ASHY👏 ". However, as time passed, I began to reconsider my initial reaction. Was I skeptical because I'd never seen such a bright, pale lip color against my warm, brown skin? Yep, I think that's it. Because, the more selfies I took with FLITTER, the more smitten I became with this wild shade. Which brings me to my final thoughts on all four glosses...
Final verdict: All of these shades looked different on camera than they did in real life. Mind you, I'm very nit picky when it comes to my hair and makeup. But, the little tiny flaws I noticed in the mirror (like WOW are my lip creases really that noticeable???) were non-existent in my selfies! All I saw were shimmering, fun lip colors that really packed an extra punch to my overall OOTD. Finally, it's important to remember that these shades look pretty different at the application stage, the drying stage and the fully dried stage. So, be patient and fight the urge to grab your makeup remover. Whether you're just curious or on the hunt for a bold new gloss, these ColourPop metallics are certainly worth checking out!
P.S. All of my fellow brown skin beauties, don't be afraid to try out these metallics, especially bright and/or pale ones like FLITTER. If you're not sure whether you're loving the final result, I'd suggest pairing the lip with comparably bold hair and outfit looks, if possible. I absolutely loved how FLITTER looked with my regal headwrap.
Get them from ColourPop for $6 each.
Oyster Pearl: This gloss made me feel all of the things. I felt like a character from Zenon: Girl Of The 21st Century! I felt like I should be in a Missy Elliott video doing backflips and blowing kisses at the camera. I felt like Diana Ross was going to come out of nowhere and scold me for stealing her look (love you, Diana!). I felt like I should be a disco ball part-time and really take my career to the next level. Besides the sticky and thick consistently of the gloss, I'd honestly wear this on a regular basis. This color is so versatile and kept changing with different angles. Some might reserve this look for special occasions, but not me! Find me in your local bodega buying fruit snacks while serving you futuristic looks with my popping lips. Love this gloss!
Rose Petal: It took two applications for the color to really show and pop. I love the way it shimmers on my lips and I love the color. I probably wouldn't wear this on a regular basis because the consistency of the gloss is kind of thick & sticky. This is great for when you're going out or just want to wear on a nice Spring day.
Final verdict: I'd definitely wear both of these lipsticks again.
Get them from Sephora for $22 each.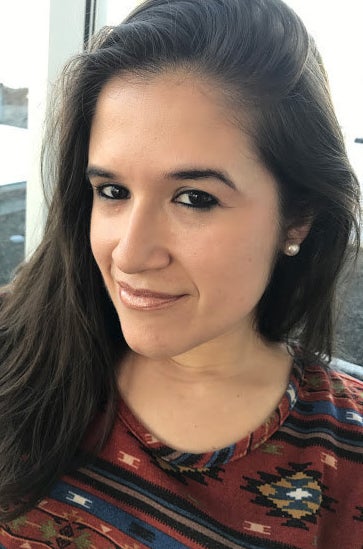 If you're into maximum shimmer, and love the feel of a good lip gloss, this is the metallic lipstick for you. They transform your lips from zero to 60 in a couple of seconds. The glosses come with a brush applicator, wide enough to cover the width of your lip in one stroke, so you don't have to go over the same area more than twice. I sometimes hate how lipsticks can be hard to keep within the lip area, and sometimes look blotchy; these guys don't have that problem. They cover the lips well, but aren't too overwhelming. You could definitely wear all of these shades during the day or on a night out.
The only downside is that these glosses come off easily if you drink out of a cup, while you eat, and after a smooch from your hubby/parter (they will end up with a metallic mouth!). Also, the moisturizing effect of the gloss will go away after an hour or so. I recommend applying chapstick or lip balm on top every couple of hours, especially if it's cold outside. Or, re-apply that sucker to your dry lips, and watch them become plump and full again.
Final verdict: All in all, I'd probably wear some of the lighter shades of this lip cream and use them instead of my normal, boring, colorless lip balm. I would not wear them if I knew I wouldn't be able to re-apply every couple of hours. NYX 's Cosmic Metals collection is perfect for all you gals out there who like convenience and choose quick, easy make-up, or for anyone looking to add some shimmer and extra spice to their regular lipstick/lip stain. Wear it to a music festival, or to Burning Man, to the beach, to a girl's night — I bet you'll get compliment soon.
Get them from Ulta for $7.49 each.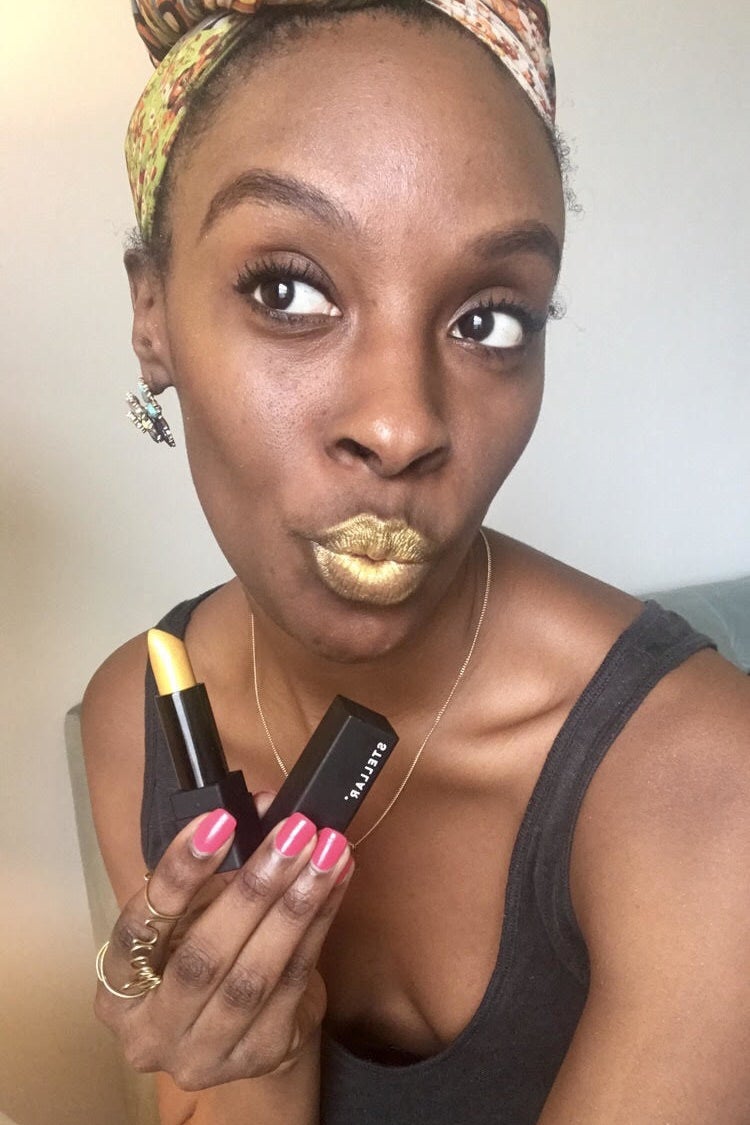 I was NOT expecting to like this, but I am really feeling it!!! It straight up looks like real gold foil on my lips. I was pleasantly surprised at how smooth it went on and how creamy it felt. Metallics can be so drying, especially the super pigmented ones like this, but it was actually moisturizing. Obviously, what I love most tho is the color. I feel like a goddess with this stuff on. Gold is my favorite metallic on my skin tone, and I feel like this worked super well with my complexion. It just looks so rich! I really wish I had given my face a full beat, because I think it would have been EVERYTHING with foundation, shadow, and the whole nine. But even with a more bare look, it still looked pretty good.
Final verdict: I can't wait to wear it again with my 'fro and a full face! It's giving me some major '70s/Nefertiti vibes and I'm here for it.
Get it from Sephora for $22.
11.
And I, Daniela, tried Unicorn Tears by Too Faced. I'm super into how cool and different it is, but I felt like it made my teeth look yellow.
I was super psyched to try the uber ~trendy~ Unicorn Tears lipstick, since I've trying to take more risks when it comes to makeup. So, here's the deal: It's such a pretty lipstick but it's also very weird. The color is interesting, but cool. Depending on what kind of light hits your face, it can look purple, blue or silver. It also changes depending on how many layers you apply (see hand swatches for reference). I feel like this is the kind of lipstick Lady Gaga would wear casually and she'd be able to pull it off, because she's Lady Gaga. As for me, I'd probably wear it to complete a festival look. I think wearing this day-to-day is unrealistic for most people. I have no complaints about the texture, even though it has a metallic finish, it's actually super moisturizing. Your lips will never feel dry wearing, no matter how many times you reapply, which will probably be many since it comes off easily. Also,when it fades, it actually leaves a really pretty, sparkly, pink stain which I liked more than the actual blue-ish shade.
So, besides the color being a lot to take in, the only other negative thing about it was that I felt like it made my teeth look yellow, when in reality they aren't. I brush my teeth with Carbon Coco to make sure they always look sparkly white, so it was weird to feel self-conscious about something I usually don't even pay attention to.
Final verdict: It's a really pretty lipstick and very different to what I am used to wearing. If you're looking to make a statement or simply try something new, then this is perfect for that. I think I'd wear it as part of a costume or festival outfit, but I doubt I'd rock this on the reg.
You can get it from Ulta for $22.