Here Are The Top 20 Best Cities For Coffee In The US
If you reaaaaaaally love coffee, Seattle is the place for you.
For most people, coffee is a necessity in their daily lives. Days start with coffee, gossip happens over coffee, business deals are closed with a cup in hand.
So, it's no surprise that the coffee industry is currently valued at $48 billion in the United States. WE LOVE THIS STUFF.
WalletHub, a personal-finance website, released a report which determined a bunch of interesting things about how we consume coffee in the country, starting with the best cities to get your caffeine fix.
Here it is!*
Wallethub
*Roll over the dots and the name and ranking of the city will appear.
In case you can't tell which state is which, here's a list of the top 20 cities for coffee:
1. Seattle, WA
2. Portland, OR
3. San Francisco, CA
4. New York, NY
5. Los Angeles, CA
6. San Diego, CA
7. Chicago, IL
8. Denver, CO
9. Boston, MA
10. Washington, DC
11. Philadelphia, PA
12. Minneapolis, MN
13. Oakland, CA
14. Honolulu, HI
15. Miami, FL
16. Atlanta, GA
17. Long Beach, CA
18. Austin, TX
19. Las Vegas, NV
20. Jersey City, NJ
They also shared data about the cost of cappuccinos, cities with the most coffee shops (per square root of population), the number of coffee drinkers per city, and more.
A pack of coffee in Miami is 2.3 times lower than in Honolulu, the city where on average you'll spend $7.87 for coffee.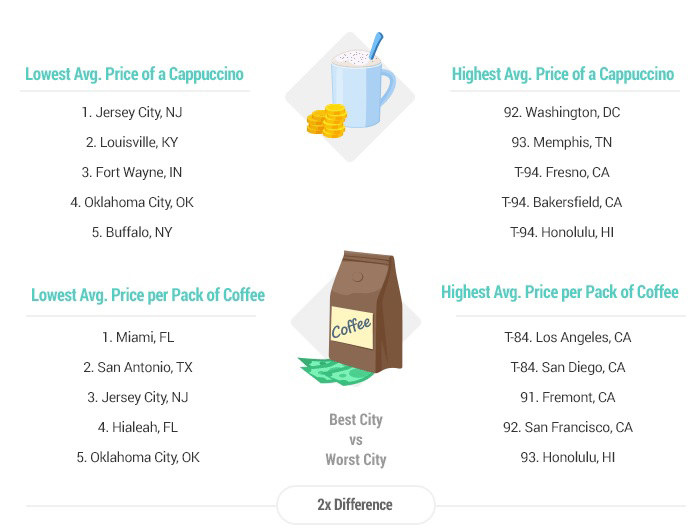 San Diego, San Francisco, Seattle, and Portland all tied for having the most affordable coffee shops around, while Garland, Texas, has the fewest. New York has the most coffee shops, coffee houses, and cafés, which is 45.5 times more than in Laredo, Texas, the city with the fewest.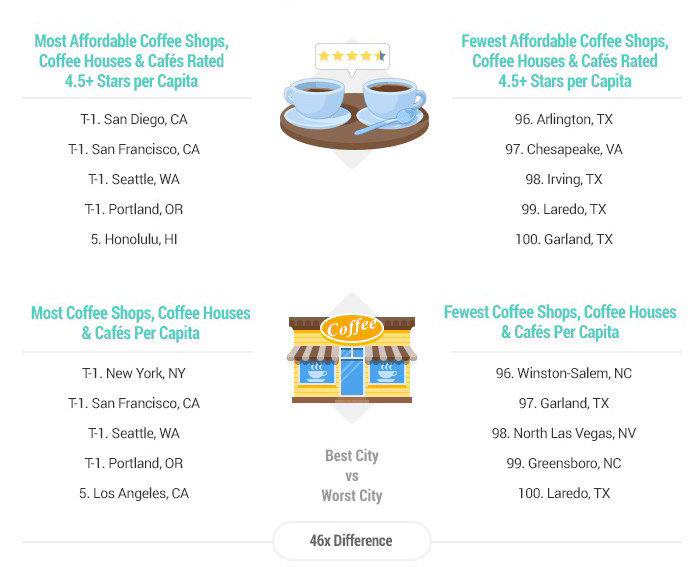 Portland, Oregon, has the most coffee and tea manufacturers (per square root of population), which is 36 times more than in Riverside and San Bernardino, California, the cities with the fewest.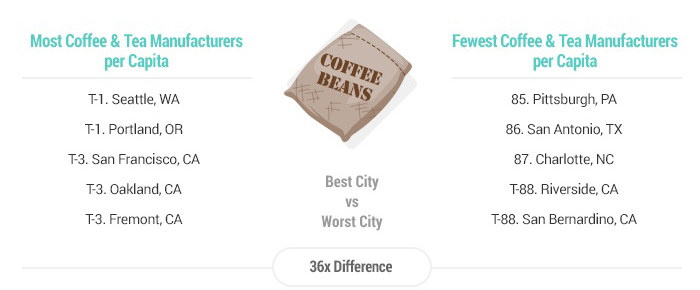 Fremont, California, spends the most money per household on coffee ($185 a year) while Detroit, MI, spends the least. ($61.29 a year)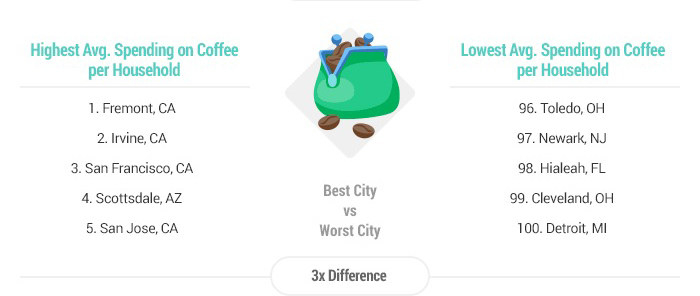 Newark, New Jersey, has the highest percentage of adult coffee drinkers, while Lincoln, Nebraska, has the lowest percentage. Gilbert, Arizona, has the highest share of households that own a single-cup/pod-brewing coffee maker, (21.1% percent) while Hialeah, Florida, has the fewest (7.3% percent).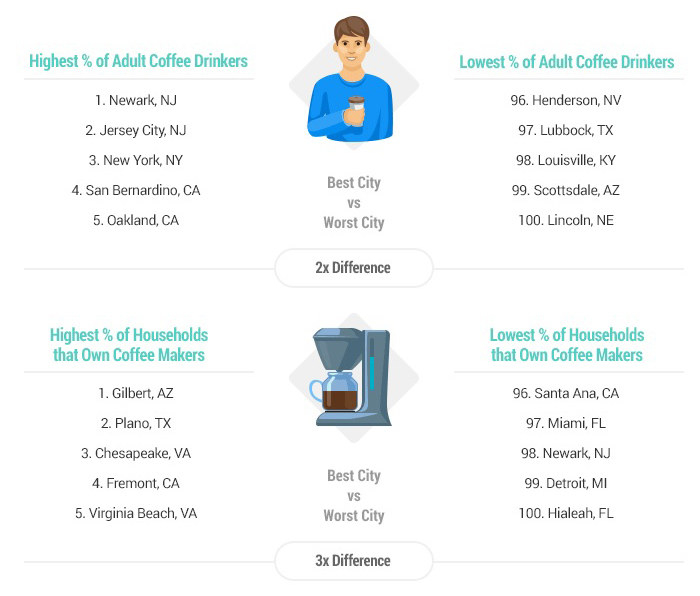 Great, now I'm craving coffee.