Nigeria's Super Stylish World Cup Jersey Might Win A Fashion Award
Rihanna's Fenty Beauty is also a nominee.
Though Nigeria's World Cup jersey didn't get a star in Russia, the team's kit is everyone's fave.
It looks like something straight out of a runway, not a football field.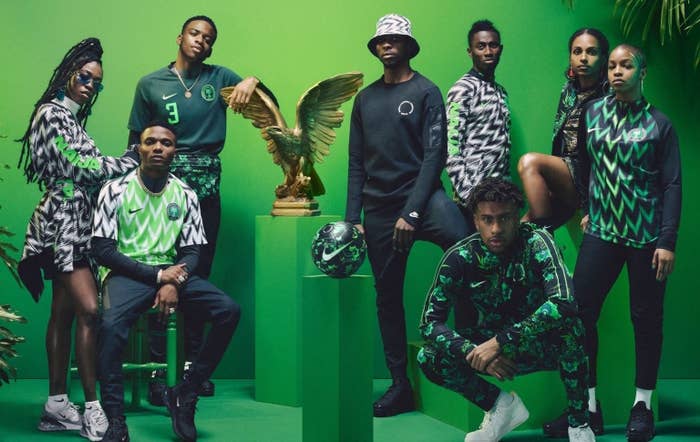 You don't have to be into footbal (or soccer, depending on who's reading this), to appreciate the swagger that this jersey exudes.
The stylish jersey, which got three million pre-orders and sold out in minutes on Nike's website, has one more impressive feat to add to the list: it's up for the ~prestigious~ Beazley Design of the Year Award.
This year, Nigeria's kit has some stiff competition. In the fashion category, they're going up against the costumes from Black Panther, Telfar Clemens' Winter 2018 collection (winner of the CFDA/Vogue Fashion Fund award), the Burberry Rainbow check, Palomo Spain's gender-bending, Beyoncé-approved fashion line, and many others.
Winners will be announced November 15th, and they will be on display at London's Design Museum until next year.