I think we can all agree that just like its creator, Fenty Beauty is pretty amazing.
And most importantly, she has created makeup for EVERYONE. Her foundation range, which includes 40 shades, is one of the most inclusive ones in the market.
Now, Rih can add something else to the list: An adorable review a husband left on the PRO FILT'R foundation. A man named Darryl thanked Rihanna for creating a product which helped his wife, who suffers from the autoimmune disease cutaneous lupus erythematosus, to regain her confidence.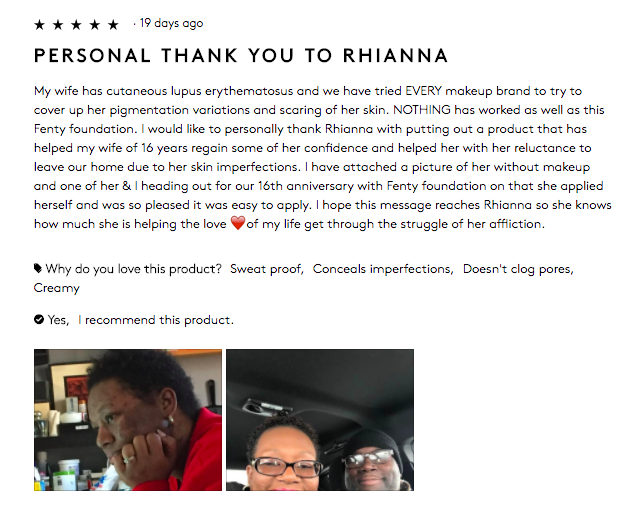 "My wife has cutaneous lupus erythematosus and we have tried EVERY makeup brand to try to cover up her pigmentation variations and scaring of her skin. NOTHING has worked as well as this Fenty foundation," Darryl wrote in his review.
He wanted to make sure his message of gratitude got to RiRi herself. "I would like to personally thank Rhianna with putting out a product that has helped my wife of 16 years regain some of her confidence and helped her with her reluctance to leave our home due to her skin imperfections."
"I hope this message reaches Rhianna so she knows how much she is helping the love of my life get through the struggle of her affliction," Darryl concluded.
He also included photos of his wife, Jeannelle, with and without foundation. She looks amazing in both, obviously, the only difference is the big smile wearing Fenty gives her.
So Rih, if you're listening: THANK YOU!