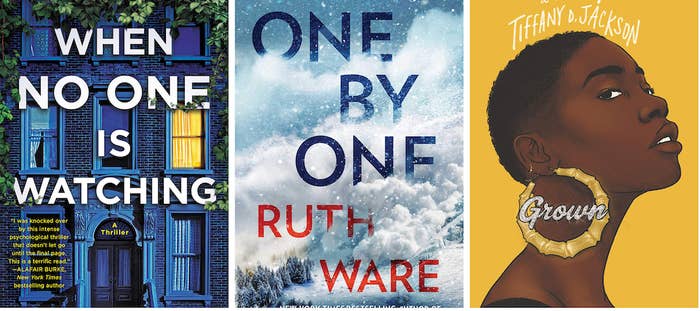 When Sydney Green returns to the historically Black Brooklyn neighborhood she grew up in, she's dismayed by what she finds: It's overrun with high-rise condos, the demographics are changing, and a major pharmaceutical company has received permission to open a research facility. After taking a whitewashed historic walking tour, she decides to start a rival tour to tell the real history of the neighborhood. As Sydney and Theo — her new neighbor who offers to help with research — delve into the history of the area, they realize their rapidly departing neighbors might not be leaving by choice. Are their disappearances a coincidence or part of a sinister conspiracy?
[Read the first chapter from When No One Is Watching]
Described as "Rear Window meets Get Out," When No One is Watching is a creepy psychological thriller in which systemic racism is the root of the unfolding horror. As the story goes on, paranoia builds slowly and then comes to a head with a fast-paced and shocking conclusion. It's one of the most relevant thrillers of 2020, taking on subjects like performative allyship, redlining, and racist policing — and seamlessly blends those heavy themes with mystery, romance, and a hint of humor for a thought-provoking, unputdownable read.
Get it from Bookshop, Target, or your local independent bookstore.
One by One By Ruth Ware (Gallery/Scout Press; Sept. 8)
Tensions are high when the employees of Snoop — a hip London-based music streaming startup — arrive in the French Alps for a weekend of skiing and team-building. Snoop has just received a lucrative buyout offer and the shareholders — each of whom has something to gain, something to lose, and something to hide — are divided on whether to accept the deal. Things only get worse when an avalanche leaves the group to stranded in their luxurious chalet, possibly trapped with a murderer.
One by One is a classic whodunit that solidifies Ware's reputation as the contemporary Agatha Christie. As suspects are eliminated and the Snoop employees are picked off one by one — an homage to And Then There Were None — the novel's suspense builds until it culminates in a terrifying game of cat-and-mouse that will keep you racing through the remaining pages.
Get it from Bookshop, Target, or your local independent bookstore.

Grown by Tiffany D. Jackson (Katherine Tegen Books; Sept. 15)
Grown follows Enchanted Jones, a 17-year-old high school student and aspiring R&B singer who meets superstar Korey Fields at an audition. While Enchanted tours with Korey, he grooms her for a sexual relationship. And when Enchanted wakes up in Korey's penthouse covered in his blood with no memory of the previous night, she becomes the number one suspect in his murder investigation.
Like Jackson's previous novels, Grown is a ripped-from-the-headlines YA mystery that will appeal to readers well beyond their teenage years. While the page-turning mystery at the heart of the novel is enough to capture your attention, the book goes deeper to expose rape culture and the vulnerability of Black girls in a society too willing to turn a blind away when they're abused by men in positions of power. Ultimately, though, it's a testament to the power of young women's voices.
Get it from Bookshop, Target, or your local independent bookstore.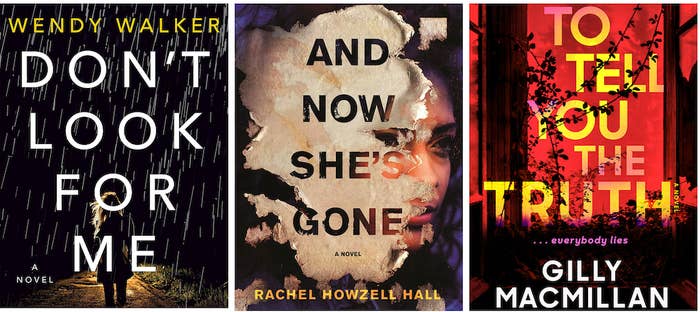 Don't Look For Me by Wendy Walker (St. Martin's Press; Sept. 15)
Don't Look For Me starts on the fifth anniversary of Molly Clarke's daughter's death. Molly blames herself for the accident that killed her youngest child and shattered her family. So when her car is discovered abandoned on the side of the road and the police find a note at a local hotel asking her family not to look for her, they classify the case a "walk away." But Molly's eldest daughter becomes suspicious when she receives a tip from a woman who claims she saw Molly getting into a pickup truck the night of her disappearance, and then learns of another woman who disappeared in the same small town.
Don't Look For Me is a claustrophobic, anxiety-inducing psychological thriller that will keep you up past your bedtime. It explores the complex relationships between mothers and daughters through relatable, flawed characters, while keeping up a nail-biting pace right until the shocking ending.
Get it from Bookshop, Target, or your local independent bookstore.

And Now She's Gone by Rachel Howzell Hall (Forge; Sept. 22)
And Now She's Gone follows Grayson Sykes, a smart and relatable Black female private investigator, on her first solo case as she looks into the disappearance of a woman in Los Angeles. The woman's boyfriend — the big shot doctor who hired Grayson — is sure that she disappeared voluntarily and seems more concerned with finding his missing dog than his missing girlfriend. But as Grayson investigates, the case becomes less cut and dry. All the while, Grayson is grappling with her own past, which appears to parallel that of her target.
It's a fast-paced and expertly-plotted PI story, and Grayson Sykes is a protagonist you can't help but root for. This book examines serious themes like race, identity, and power — but has so many twists and turns that you'll be guessing until the very last page.
Get it from Bookshop, Target, or your local independent bookstore.

To Tell You the Truth by Gilly Macmillan (William Morrow; Sept. 22)
Lucy Harper — a bestselling author with fame, fortune, and a needy husband named Dan who is also a writer, albeit a less successful one — finds herself under intense public scrutiny when Dan goes missing. It's not the first time someone close to Lucy has vanished. When she was nine, her younger brother Teddy also disappeared, and her fabricated version of events that night became critical to the investigation. But Teddy was never found — and now, 30 years later, Lucy can't hide behind a fictional story any longer. Did she hurt Teddy? Did she kill Dan? Is she finally ready to tell the truth?
Macmillan's latest is an unsettling and atmospheric thriller that's almost impossible to put down. Told from the point of view of an unreliable narrator, it will keep you guessing right up until its satisfying but unexpected conclusion.
Get it from Bookshop, Target, or your local independent bookstore.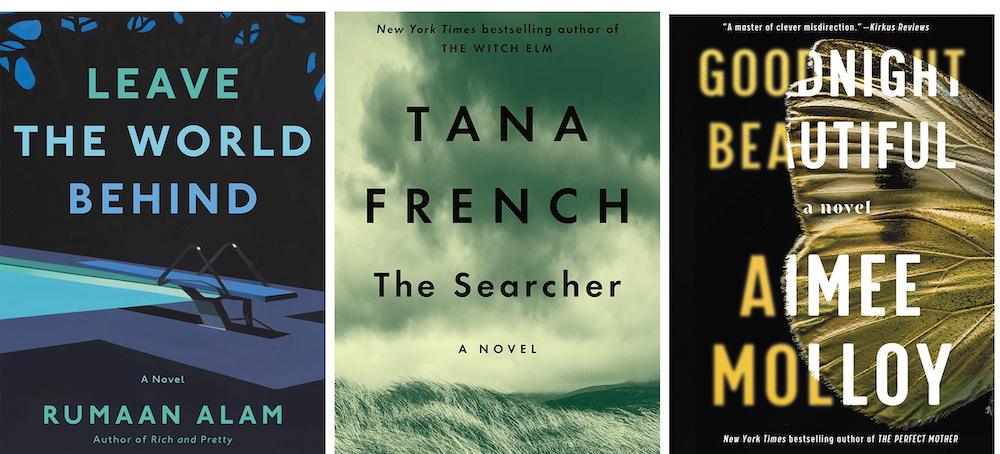 If there's one book that will haunt you in 2020, it's this one. A white, middle-class Brooklyn family's vacation at a Long Island country home is interrupted when the wealthy, older Black homeowners arrive late at night claiming they had to flee New York City. According to the couple, there's a citywide blackout and "something bad is happening" that they can't quite articulate. Initially, the vacationing family is wary of the couple's intentions, but it soon becomes clear that, while their fear was mislaid, something else is very, very wrong. Completely cut off from external communication, the families must learn to coexist while the reader gets terrifying glimpses of what's really going on beyond the families' purview.
Equal parts literary fiction and suspense, Leave the World Behind is an unsettling, thought-provoking, and disturbing look at both the precarious state of world affairs as well as class and race relations. In a year when anything — including the apocalypse — feels possible, this novel offers a realistic glimpse of how the world as we know it could end, and it will leave you reeling.
Get it from Bookshop, Target, or your local independent bookstore.

The Searcher by Tana French (Viking; Oct. 6)
Recently divorced Chicago detective Cal Hooper is ready to embrace a slower pace of life and retires to a bucolic village in western Ireland after over 25 years on the force. But when a local kid named Trey convinces Cal to investigate the disappearance of his 19-year-old brother, Cal finds himself back at the center of an investigation. And he soon discovers that even small towns can hide dangerous secrets.
The Searcher is the latest standalone novel from the creator of the Dublin Murder Squad. It's a creepy slow burn that focuses just as much on the central characters' inner lives as on the mystery at the heart of the story. But despite the slower pacing, The Searcher is still packed full of twists, turns, and shocking reveals.
Get it from Bookshop, Target, or your local independent bookstore.

Molloy's latest is best enjoyed if you don't know too much about it going in. That said, the novel follows newlyweds Sam and Annie, who have just moved out of New York City to a small upstate town to care for Sam's mother who has recently been diagnosed with dementia. When Sam, a psychologist, goes missing after his last appointment of the day, Annie realizes there's a lot she doesn't know about her new husband.
Goodnight Beautiful is a tense read that expertly employs misdirection and multiple points of view to create some truly surprising twists à la Gone Girl. The first of these twists is shocking enough to make you question everything you just read. At the same time, Goodnight Beautiful subverts gender norms and flips the trope of the unreliable female narrator on its head.
Get it from Bookshop, Target, or your local independent bookstore.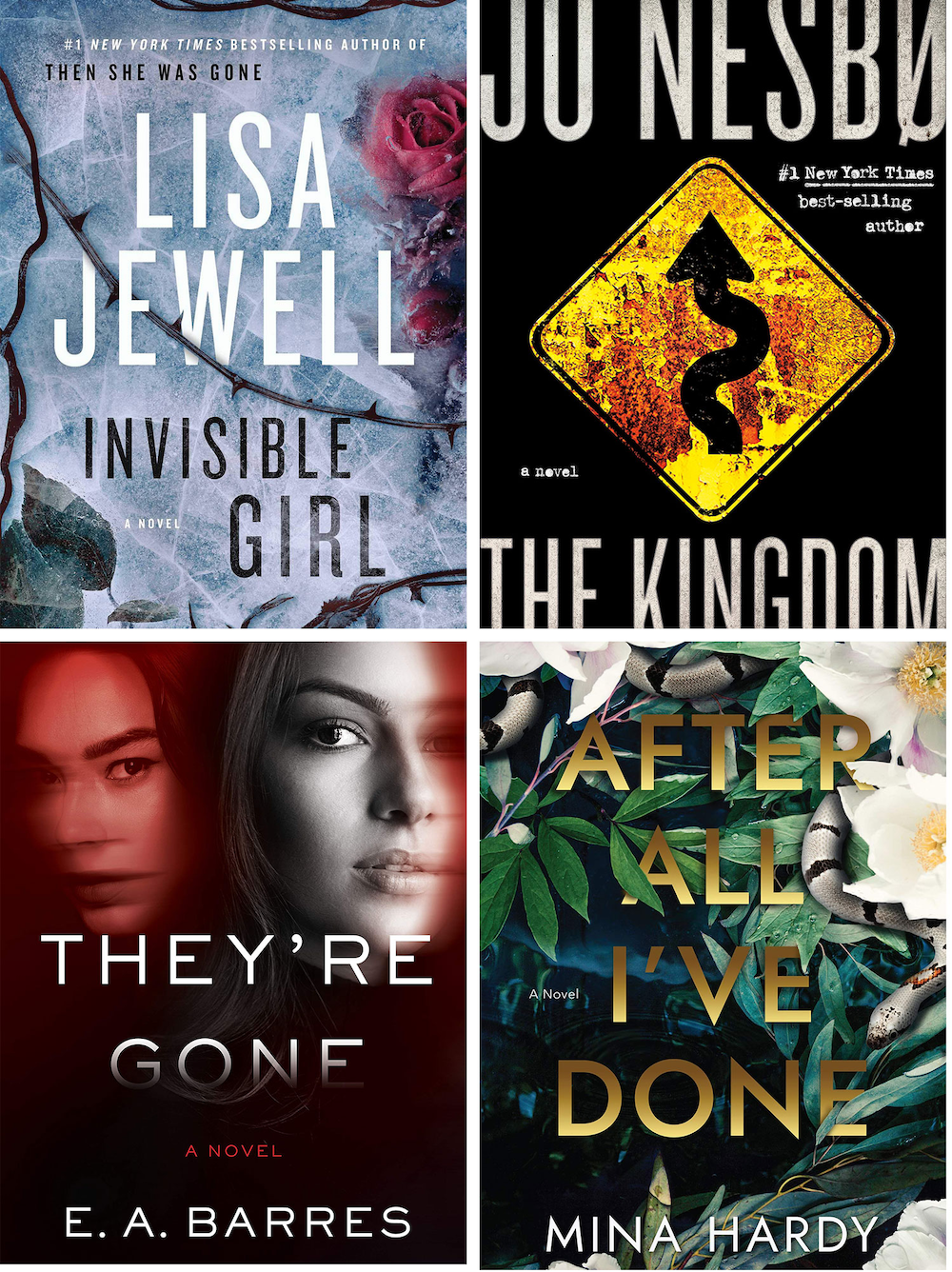 Invisible Girl by Lisa Jewell (Atria Books; Oct. 13)
Invisible Girl centers around Saffyre Maddox, a 17-year-old student and a survivor of childhood trauma who has been recently declared "cured" by her therapist Roan Fours. Meanwhile, Cate Fours — Roan's wife and a mother of two teenagers — is trying to hold onto her marriage despite suspecting her husband of an affair. And across the street from the Fours' home, 33-year-old Owen Picks lives with his aunt and spends most of his time on incel blogs, having been fired from his teaching job for sexual misconduct. When Saffyre disappears — last seen on the London street where the Fours family and Owen live, which happens to be the site of several recent sexual assaults — all of their lives collide, their secrets revealed.
It's a dark, carefully plotted domestic thriller filled with complex, lonely, and (mostly!) sympathetic characters. It takes on toxic masculinity and incel culture in a way that adds to but never overwhelms the central mystery of the novel, and ends with a satisfying conclusion and then one final, disturbing twist.
Get it from Bookshop, Target, or your local independent bookstore.

The Kingdom by Jo Nesbo (Knopf; Nov. 10)
Carl and Roy are brothers who couldn't lead more different lives: Roy stayed in the rural Norwegian village where he was born and enjoys a modest life, while the more impulsive Carl left for a new start as an entrepreneur in Canada. But when Carl returns to his hometown with his new wife and a plan to build a hotel and spa on their family's property, family secrets from the brothers' childhoods begin to resurface and threaten the life that Roy has built for himself.
The Kingdom is a complex and simmering standalone novel from the author of the popular Harry Hole detective series, and it dives deeply into the psyches of its characters. Twisty, violent, gripping, and very disturbing, it's Nordic noir at its best.
Get it from Bookshop, Target, or your local independent bookstore.

They're Gone by E. A. Barres (Crooked Lane; Nov. 10)
They're Gone starts with the murder of two men from different backgrounds who are killed in the same way on the same night, and follows on their widows' search for answers. Deb Linh Thomas, the wife of successful professional Grant Thomas, is devastated by his death and becomes more distraught when she learns her husband was under investigation by the FBI. Meanwhile, Cessy Castillo is relieved that her abusive ex-cop husband Hector Ramirez is gone — until she learns he was deeply in debt to some bad people and she's expected to pay up. So Deb and Cessy join forces to learn the dark truth about their husbands while trying to avoid a similar fate.
E.A. Barres — a pen name of seasoned thriller writer E.A. Aymar — has written a hard-boiled crime thriller in which the women fight back. It's expertly plotted and action-packed, but it also features a diverse cast of characters — including two strong women of color as protagonists — and offers biting social commentary.
Get it from Bookshop, Target, or your local independent bookstore.

Diana Sparrow wakes up in the hospital after a car accident with no memory and two broken collarbones. During her recovery, she's in the care of her mother-in-law Harriet — whom Diana hates although she can't remember why — and she discovers that her best childhood friend is sleeping with her husband. Diana also begins to have recurring nightmares about the accident in which she hits something — or someone. As her life unravels and she tries to piece together what happened the night of the crash, Diana can't help but wonder if she's losing her mind.
This domestic thriller is a modern day take on the classic film Gaslight that will make you question what's real and what's not. It's a dark, unpredictable, and twisty look at friendship and betrayal, and it will surprise you right up until the end.
Get it from Bookshop, Target, or your local independent bookstore.

Shop this list on Bookshop, and browse other BuzzFeed Books lists on our homepage.