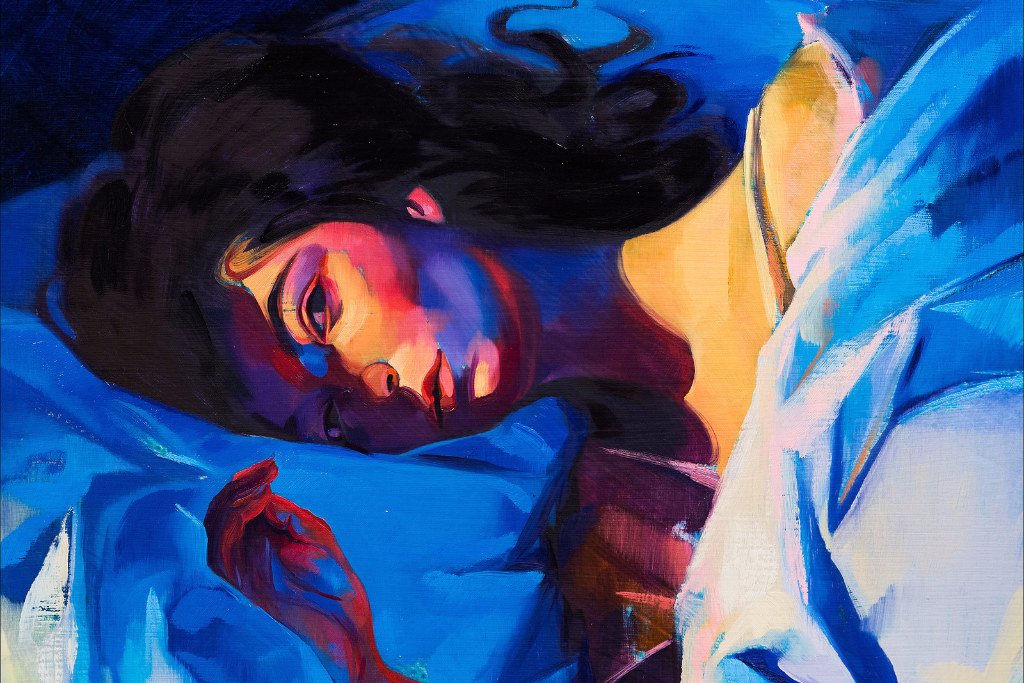 1.
'Green Light'
Lorde's sophomore album kicks off with a completely unapologetic anthem about needing to move on from something that's no longer good for you. The strange and seductive style she used on her debut 'Pure Heroine' still lingers, but the real moment of true joy on this track is Jack Antonoff's genius chord change during the pre-chorus moments. It's like the audio version of sticking your head out of a car window and screaming at the top of your lungs. The chorus is laced with Lorde's background vocals, and there's a mixture of sheer joy and desperation as she almost screams, 'I'm waiting for it, that green light, I want it.'
Favourite lyric: 'I wish I could get my things, and just let go.'
2.
'Sober'
A certified banger, 'Sober' begins with a sample of Lorde's vocals overlaying a gorgeously synth-like keyboard bassline, and it really only gets better from there. The verses are the epitome of utter cool and elegant restraint, but they build up, layer upon layer, until we're treated to trumpets (!) and a story of drunken lust, heady and wild attraction, and a feeling that time is running out for the two lovers in the song.
Favourite lyric: 'Oh god, I'm closing my teeth around this liquor-wet lime.'
3.
'Homemade Dynamite'
As Lorde explained in the interviews preceding the release of her album, 'Melodrama' loosely follows the narrative of a house party, and at this point, the metaphorical shindig is truly in full swing. Full of ironically cute quips ('know I think you're awesome, right?') the song has a super-catchy chorus, a laid-back and stretched-out, almost sexy vocal style, and a dreamy feel that encapsulates exactly how it feels when you reach that surreal stage of drunken giddiness.
Favourite lyric: 'We'll end up painted on the road, red and chrome, all the broken glass sparkling - I guess we're partying.'
4.
'The Louvre'
A clean, subtle, muted guitar introduces this iconic track, making us feel like we're almost inside a punk-pop throwback tune, but it isn't long before Antonoff brings his love for '80's synth right back to us - and it's truly an experience. The pre-chorus is pop perfection, sickly-sweet and candyfloss-like, as Lorde sings about the unbearable rush she feels when she's around her lover. She takes us up, and as the snare drums get louder, readies us for this huge high. Then she toys with us by bringing us straight back down to her oh-so-cool chorus - 'broadcast the boom boom boom boom, and make 'em all dance to it.' What a crafty fox. Can we also talk about those epic guitar notes that lead the song out?!
Favourite lyric: 'But we're the greatest - they'll hang us in the Louvre. Down the back. But who cares? Still the Louvre.'

5.
'Liability'
Uh-oh. The party's gotten out of hand. This song is the equivalent to that moment when you go to the bathroom, and you're not so drunk anymore, and you look in the mirror and you wonder who the heck that is staring at you with mascara and lipstick down her face, till you realise it's you. A simple yet sumptuous ballad where Lorde's vocals are accompanied by nothing but a stripped-back classic piano, this track is the turning point in the album. The fantasy is dying, and despite her efforts to cling on to it, she realises that she can't always be chasing that next high. Cue the emotions. In the song, Lorde describes the realisation that sometimes, all you have in this life is yourself, and she shows a vulnerability and openness that really diverges from her usually so put-together, poised exterior. When she sings, 'I'm a little much for a-n-n-n- every-one' it's almost as if she wanted to say 'anyone' but changed her mind halfway through, and it's a particularly gorgeous choice which exposes her indecision and her uncertainty. By this point, we've begun to realise that 'Melodrama' isn't about to polish and perfect every image it presents - it's raw, and rare, and real. And we love it.
Favourite lyric: 'I know it's exciting, running through the night, but every perfect summer's eating me alive, until you're gone.'
6.
'Hard Feelings/Loveless'
Okay, so just to get this off of my chest straight up, I'm gonna ask the question we're all thinking - WHY is 'Loveless' only a measly 2 minutes long? Why do you want us to feel this pain, Lorde? WHY?!
Okay, we can discuss this song now. This beautiful, soul-destroying, painful, perfect song, where Lorde moves even further into her more vulnerable, sensitive persona with grace, wisdom and gentleness. It's pretty well-known now that Lorde broke up with her (ex)-boyfriend James Lowe before penning her second album, and she also moved out of her home around the same time. This song seems to demonstrate the heartbreak, hurt and bittersweet loss she experienced during both of these life-changing events. Heavy, bass-filled drums sound like dull heartbeats as Lorde opens the song by saying, 'go back and tell it' as if she's finally getting the chance (or maybe plucking up the courage) to have her say about the things she's experienced. There's a sad acceptance to her voice - as if she was prepared for what was coming, but guess what - I wasn't. This is the most stunning break-up song I've EVER heard. And it segues into the COOLEST interlude on EARTH - featuring sassy princess lyrics such as 'bet you wanna skip my calls now, well guess what? I like that.' Plus that sample of Paul Simon's voice is beyond amazing.
Favourite lyric: 'I light all the candles. Cut flowers for all my rooms. I care for myself the way I used to care about you.'
7.
'Sober II (Melodrama)'
Okay, so the party is definitely over now. This track is the 4am clean up. The still-drunk, hazy, sick-feeling aftermath. You're not quite hungover, but you know it's coming, and you're doing your best to keep it together. The lights are on; the place is a mess; your friends have left. There's an epic, orchestral quality to this song, and it wouldn't be out of place on a Lana Del Rey album, or even as a cinematic accompaniment to an vividly artistic film. Lorde describes the almost violent nature of the party lifestyle, as she sings with a duality that seems to be both proud of the excess and disgusted by it. The bassline drops, buzzing through to the bone as the end of her lines become overproduced, crackly and cut-throat. The sound peaks, just like her depiction of these wild-child escapades, ending in a sweet yet sinister warning-whisper of 'we told you this was melodrama.' Roll credits.
Favourite lyric: 'Oh how fast the evening passes, cleaning up the champagne glasses.'
8.
'Writer in the Dark'
This incredible track shows off both Lorde's vivid songwriting prowess alongside her spine-tingling vocal acrobats in a song reminiscent of some of Kate Bush's earlier work. She has admitted that she actually wrote this song in the middle of the night, using the notes feature on her phone whilst 'someone' was sleeping right next to her, and it's a soft, sprawling love song in which she admits that the love she has for her significant other won't die, but will change over time as she finds herself able to move on. As unbearably sad as the track is, it's actually also an extraordinary display of strength and power. She asserts, 'I love it here since I stopped needing you' and sheds herself of the hold of a lover who 'stood on [her] chest and kept [her] down.'
Favourite lyric: 'I am my mother's child, I'll love you 'till my breathing stops, I'll love you 'till you call the cops on me.'
9.
'Supercut'
If 'Hard Feelings/Loveless' is the ultimate break-up song, this track is the ultimate 'moving on' response. Unlike other post break-up tracks, which so often try to present a life where the ex-lover is completely forgotten by the singer who is so much better off without them, Lorde's articulation is way more real. With this anthemic tune, she describes reminiscing on her past relationship, as she conjures up memories she has of her time with her ex-lover, and imagines what she might do differently now. However, she realises that these memories are really just fantasies, tainted by time and by nostalgia, and that's truly how this song sounds too - nostalgic and full of pure pop joy. It's both pleasurable and painful to hear a song with so much bounce, such an uplifting and upbeat rhythm and such a triumphant-sounding chorus decorating lyrics that are actually commentating upon the tragedy of a lost love. Magic moment: that LIFE-CHANGING scream. I actually had to pause and restart.
Favourite lyric: 'We keep trying to talk about us, I'm someone you maybe might love.'
10.
'Liability (Reprise)'
Usually in music, a reprise is a repeated passage or a repeat of some sort. However, though this track shares the same name as the earlier one from the album, that's just about where the similarities end. The original 'Liability' was full of pain and uncertainty, fragility and frailness, with Lorde questioning her own sense of self, but this version seems like a peaceful acceptance speech, like she's faced herself head-on, and decided that, actually, she's not a 'liability' after all, but a force of fierce, fiery femininity. We agree - you're not a liability Lorde - we love you!
Favourite lyric: 'Whatcha gonna do?'
11.
'Perfect Places'
The last song 'Melodrama' offers us seems to bring us full-circle. It's almost like the party has begun again, but this time, Lorde isn't the same innocent teenager she was to begin with. She's learnt a lot, and so have we - she no longer believes in the euphoric yet short-lived, glorious highs of the wild life; she knows that they're fake, and she's starting to seek out something more authentic to make her feel alive again. She describes the way that she 'can't stand to be alone' anymore, and reaches out to the listener to 'go to perfect places' with her, before admitting that these places are, in fact, unreachable. They're pure fantasy, and they won't last. Unlike my love for this album, which is undying. Obviously.
Favourite lyric: 'If they keep tellin' me where to go, I'll blow my brains out to the radio.'
What were your favourite 'Melodrama' moments? Share them in the comments below!
This post was created by a member of BuzzFeed Community, where anyone can post awesome lists and creations.
Learn more
or
post your buzz!
Looks like there are no comments yet.
Be the first to comment!