One of the best things about Halloween Horror Nights at Universal Studios — aside from trying to survive the mazes, of course — is all the wild and creative treats they release.
So, I put on my stretchy pants and taste-tested all the new Horror Nights menu items this year and let's just say I never knew I loved green nacho cheese...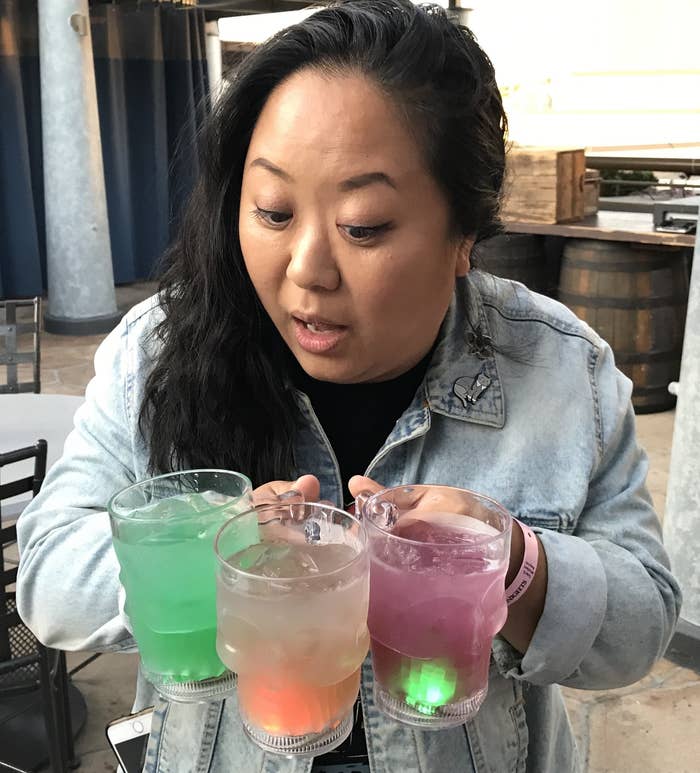 Keeping with the themes of the Horror Nights mazes, first up was the Ghostbusters-inspired Zuul's Egg Sandwich.
Next up was Slimer's Dog. And, YES, it's covered in green nacho sauce.
I tried out the Firehouse Hot Chicken Bites next and was pleasantly surprised.
A Monster Chili Cheese Dog that you almost certainly have to eat with someone else unless you want to injure yourself.
Rounding out the Ghostbusters-themed eats was, drumroll please, a Cola Battered Corn Dog...topped with POP ROCKS.
For the Stranger Things fans there are a few new dessert additions to this year's offerings like this Mind Flayer's Milkshake.
And, as if a milkshake wasn't enough sweet goodness for one night (HA!), I tried out the Eleven's Waffle Sundae.
There are also some returning Stranger Things favorites like the Demo-Dog, Benny's Burger, The Upside Down Burger, and my personal fav the Demogorgon's Totchos.
Continuing the '80s themed desserts was the Kotton Kandy Cocoon Donut inspired by the Killer Klowns from Outer Space maze, which was quite a site to behold.
And finally, I washed down all of this goodness with some very pretty cocktails that came in fun, light-up, skull-shaped glasses!