Loechler explained on his YouTube page that for the past six months, he'd been working with illustrator Kayla Coombs to animate his girlfriend Sthuthi and himself into her favorite movie.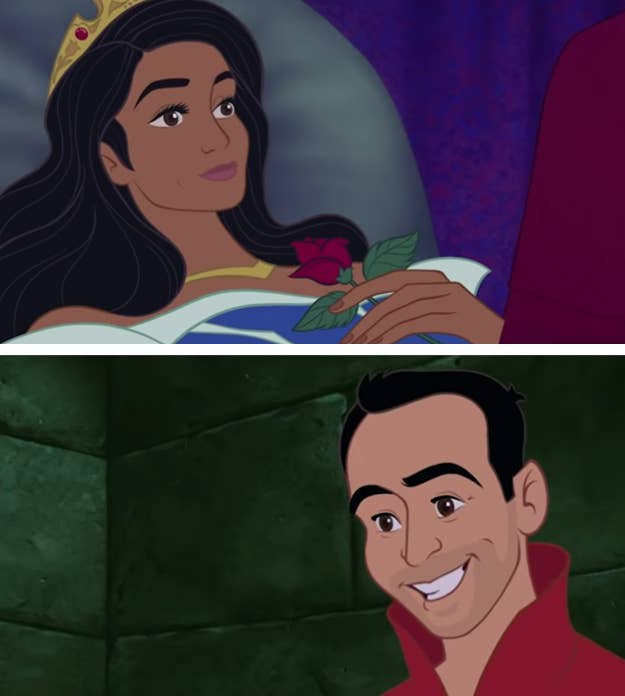 Loechler further explained the backstory to BuzzFeed:
A few years back, a friend of mine told me he was planning to propose to his then-girlfriend, and I suggested he should put himself into her favorite movie, and then have his on-screen character "toss" the ring to his real life self. He didn't think it was right for him, so I filed it away for later use. When things started getting serious with Sthuthi, I started thinking about how I might propose. I still thought that idea had potential, but her favorite movie was animated. And my experience was all in live action. I am not an animator, let alone capable of generating something that would hold up side-by-side with Disney. But, on a whim, I scrubbed through Sleeping Beauty, and noted that in the climactic scene there was very little movement. I thought maybe — if it's mostly static — I can still pull this off. I went on Instagram and started following various Disney art hashtags, hoping to find an illustrator who was up to the task. It wasn't until I stumbled on Kayla's work that the first inkling set in that "this might be possible after all..."
And Sthuthi's reaction was absolutely perfect.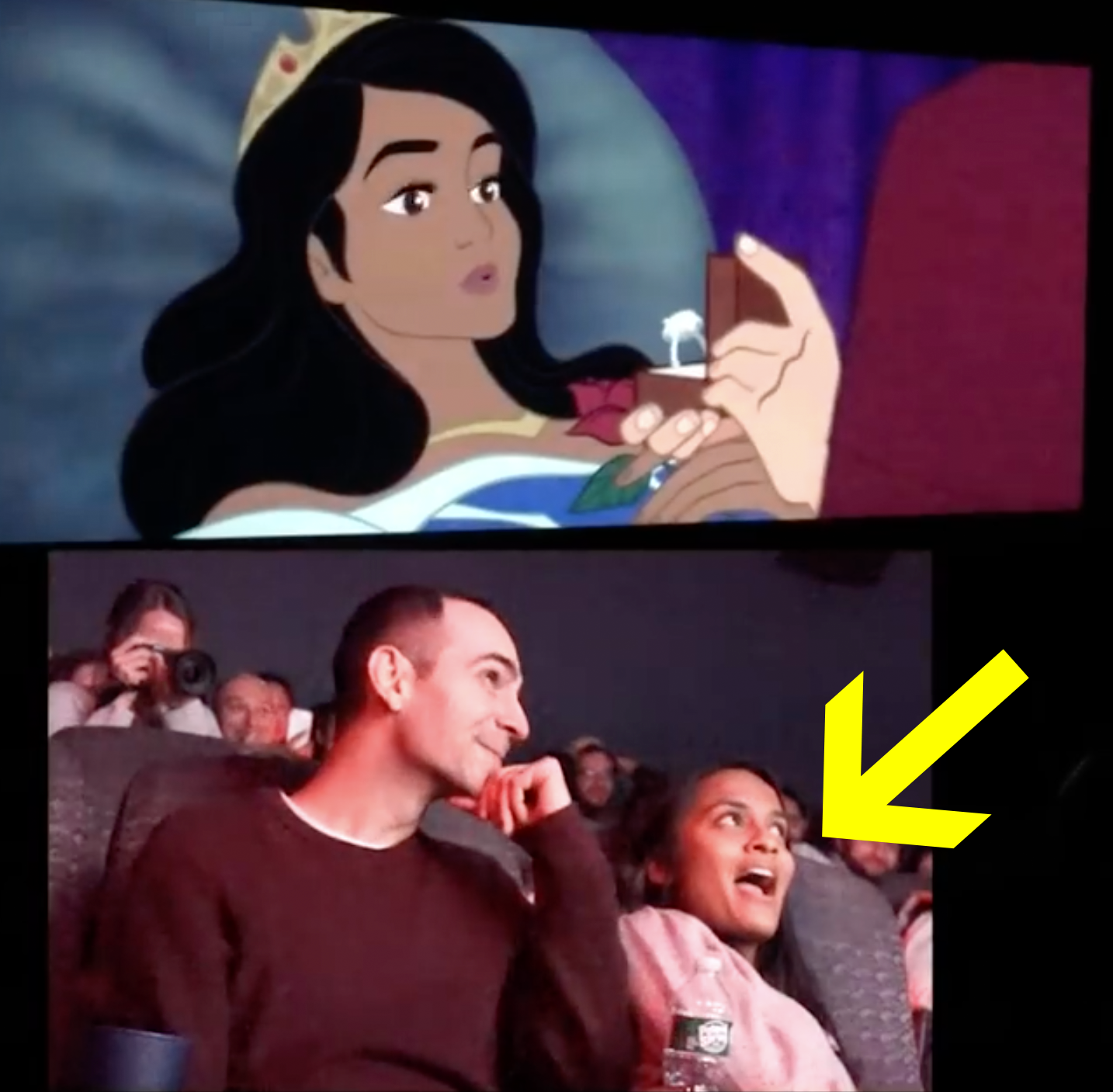 Other than the fact that the animation was beautiful, it was also perfectly timed so a ring could be magically "tossed" from the screen into Loechler's hands.
And even the animated characters turned to "watch" the proposal from the screen!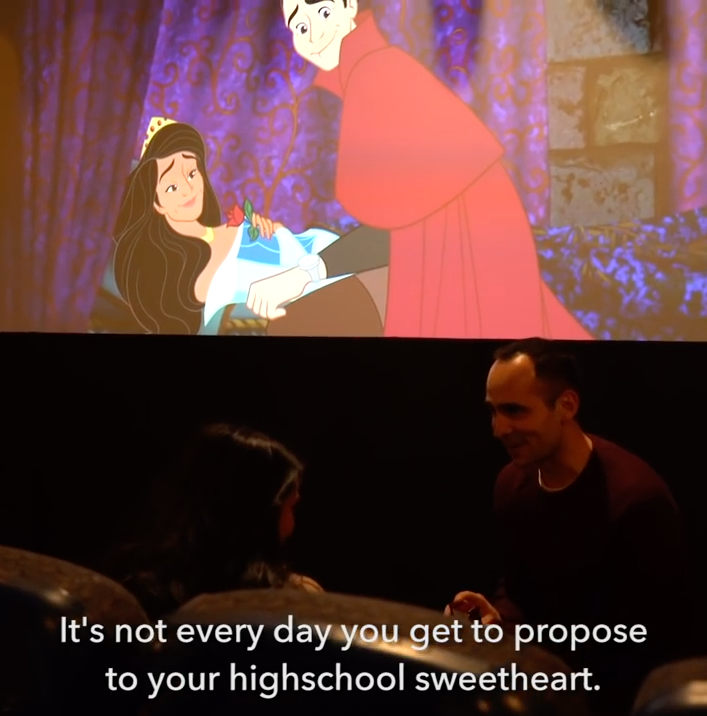 Loechler explained that working with Coombs was "one of those bingo moments." He said:
Our first Skype call was back in April. I had emailed Kayla, just a standard inquiry about doing a Disney-style portrait. I worried that if I wrote everything out in a cold email, she'd think I was batshit. On the Skype call, I unveiled the true extent of the vision. Not only was she undaunted, but I remember her loving the idea and encouraging me not to compromise on the vision. She was a true collaborator from the get go. And just an all-around warm and lovely person.
Of course, if things hadn't gone so well (who are we kidding???), there was also a funny "alternate ending" take.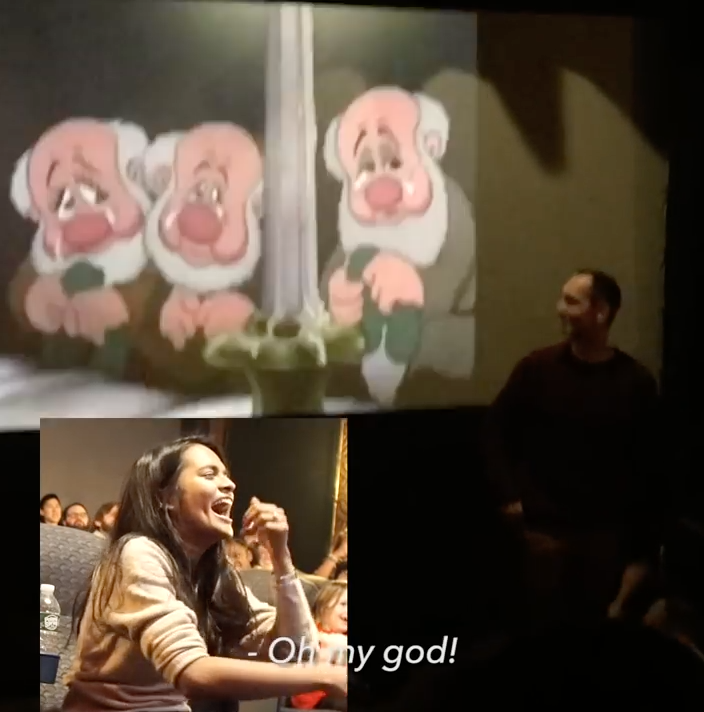 Loechler also shared the video on Reddit (where it first started to go viral), and the response from people online since then has OBVIOUSLY been amazing. Loechler told BuzzFeed, "The response has blown us away! We had no idea it would connect with so many people!"
Suffice to say, dreams can come true!
This post has been updated to include comments from Loechler.