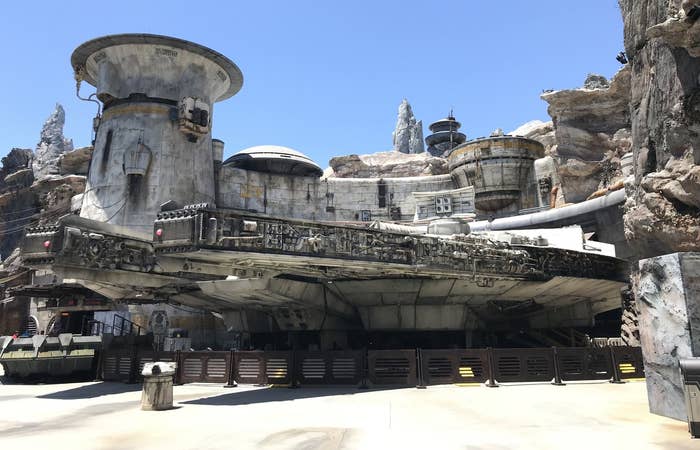 1. OK, first of all, I'm ugly crying.
2. The Millennium Falcon is even more amazing in real life than you could possibly imagine.
3. Time to go through the queue!
4. WOW. COOOOOOL! I was not expecting to see the back side of the Falcon! This is AMAZING?!?!
5. This is a LONG queue line to walk through.
6. Oooh, but at least we get to look at a cool docking bay!
7. It smells like...rubber...in...here? LOL, is that just because the ride is new or is this like an "authentic" smell they've created for the ~experience~?
8. If you love the smell of rubber, you will be into this.
9. What was that banging noise?! This place feels so alive!
10. Oh, cool, there's a giant Podracer engine (at least that's what I think it is) in the middle of this room!
11. UM, AND HERE'S A VIEW OF THE TOP SIDE OF THE FALCON!!!
12. Honestly, just walking around the ship could be a ride in and of itself.
13. Ooh, time to listen to Hondo Ohnaka.
14. I CANNOT BELIEVE THIS IS A ROBOT…
15. ...I know, I know technically it's called an Audio-Animatronic, but it's still going to rise up against the humans and take over the world.
16. Damn, Disney Imagineers truly are wizards, aren't they?
17. LOL, I'm so distracted by how amazing and lifelike Hondo looks that I'm not really listening to him.
18. Oh, hello Chewbacca!!!
19. He's landed...TIME FOR US TO GET ON BOARD.
20. Is it OK to run towards a ride? Is that...acceptable?
21. OMG. STOP.
22. It's the Millennium Falcon LOUNGE.
23. AND THERE'S THE SEATING AREA WHERE THEY PLAY DEJARIK (that chess-like hologram game)!!!
24. Can...can we sit in the booth?
25. OMG. They're letting us sit, no one is yelling at us, so I'm gonna assume this is fine.
26. Also, can I live here?
27. I want ALL the pictures. ALL. THE. PICTURES.
28. As much as I want to keep sitting here, I GUESS we have to move on to the actual RIDE portion of the attraction.
29. THE HALLWAY LOOKS SO PERFECT.
30. This legitimately feels like you're IN. THE. MOVIE.
31. Ooh, we get to pick our "jobs," PILOT PLEASE!
32. But also I want to try the engineer and gunner roles. CHOICES ARE HARD.
33. THE COCKPIT IS PERFECT. (What a phrase, LOL.)
34. Time to buckle in.
35. I know this is a ride where you have to, like, pay attention and pilot the ship, but part of me also just wants to take 100 photos in here.
36. Looks like I am in charge of steering the ship left and right.
37. The ride is starting...HERE. WE. GO.
38. Things are moving! Lights are flashing!
39. OK these controls are MUCH more sensitive than I thought they would be…
40. …aaaand here I go, crashing us into a beam. GOOD JOB CRYSTAL.
41. YES! TIME TO MAKE THE JUMP TO LIGHTSPEED!
42. So, apparently we need to safely bring back some cargo for Hondo.
43. Which is hilarious, because I'm just focused on making sure we don't crash the Falcon into a wall.
44. Whoops! Supposed to be following a train, and I am definitely not doing that.
45. There is a lot going on right now.
46. Do I focus on piloting...or focus on just enjoying what's happening outside the cockpit?
47. LOL, I think my fellow riders would prefer I focus on steering.
48. Goodness, there really is a lot going on. NEED. TO. FOCUS.
49. OK, I think we got the cargo? Time to make the jump again!
50. How cool is it to pilot the Millennium Falcon through Hyperspace!!!!
51. Success! We brought some cargo back...and Hondo isn't...TOO mad?!
52. Oh, our score! We got 5,574...which I'm being told is not very good. Whoops!
53. Lots of points taken off for collisions. Oh, this is 100% my fault. HAHAHA.
54. Aw, man, I don't want to leave the cockpit.
55. Again, can I just live here forever?
56. Oh, WOW. LOL, the hallways of the Falcon are actually DAMAGED!
57. Hondo is not happy LOOOOOOL. Sorry, Hondo.
58. Man, even leaving the ride is cool.
59. I wish I could go back through this ride 100 times more!!!
60. TBH, I JUST MIGHT.