44 Thoughts I Had At The "Game Of Thrones" Concert Including "MARGAERY DESERVED BETTER!!!"
"Wait. Ramin Djawadi is kind of a babe?!"
Hey Game of Thrones fans, just in case you didn't know, there's a Live Concert Experience on tour right now! And it features Thrones' very own Emmy-award winning composer Ramin Djawadi, a lot of fire, and looots of emotions.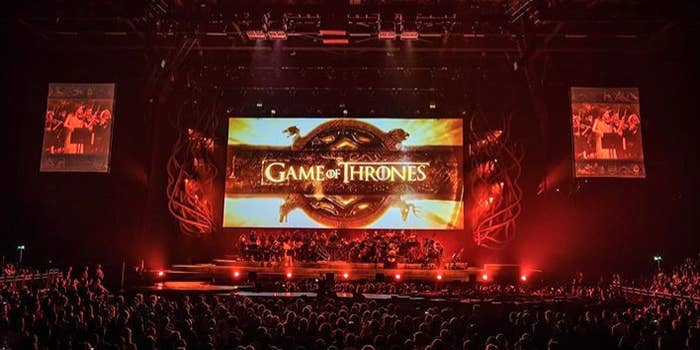 Because I can't help myself when it comes to all and anythingThrones-related, I went and checked it out — and here's what went through my head during the whole magical experience...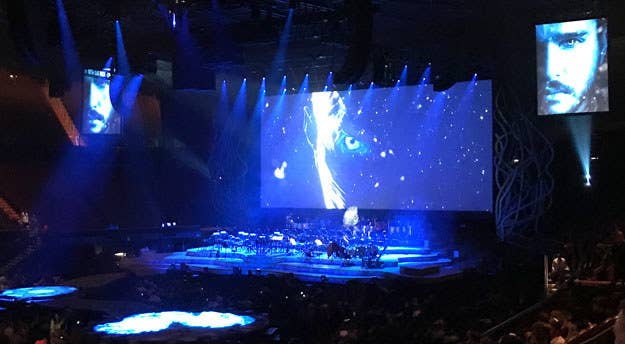 1. Welp, I'm already in love with the stage and the show hasn't even started.
2. Someone in the audience came dressed in full King-in-the-North Jon Snow attire! (TBH, surprised I'm not seeing more of this.)
3. Is that Cersei "I choose violence" Lannister's voice I hear over the speaker? Oh, it definitely is.
4. "Those who violate these rules will be boiled alive in the blood of their children." LOL, classic Cersei.
5. I legitimately want these animated backdrops for my own personal use — look how beautiful King's Landing is on that massive screen!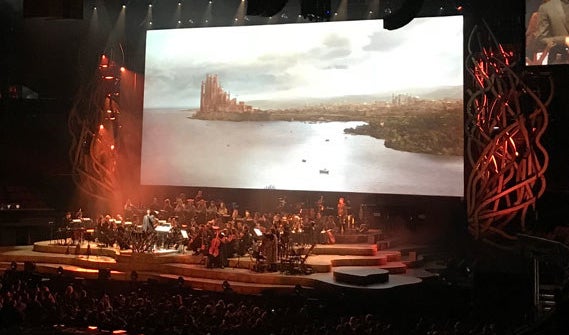 6. Ooh, lady singing the Game of Thrones theme... Except, the theme has no lyrics so she's basically doing what we all do (*dun-dun, dun-dun-dun, dun-dun*), but 100x better and prettier.
7. Ramin Djawadi just told the audience to cheer when they see their fav character. This is going to get VERY loud.
8. WOW there's a lot of love for Tyrion from this audience. (Yay!)
9. Oh, hello, lady playing a violin, flying up into the air like NBD.
10. This is some Cirque du Soleil-level shit right here!
11. Oh, I GET IT, she's supposed to be the Winterfell tree! (A Weirwood tree, for the record.)
12. There is a man playing a very large, very cool didgeridoo...and it is VERY impressive!
13. ARYA! My queeeen.
14. UGH, the Needle theme is a huge, sob-inducing walk down memory lane.
15. Look at baby Arya and baby Jon Snow!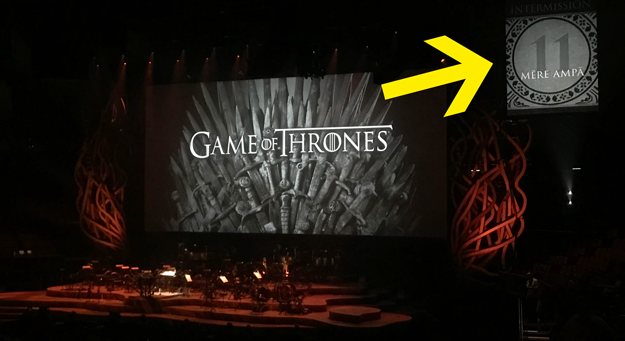 16. Okay, I know this is a random detail, but I love that the numbers in this intermission countdown are also written out in Valyrian.
17. 🚨 Ramin Djawadi is rockin' out on an electric guitar 🚨
18. He's REALLY livin' that rockstar life on stage!
19. I love that every time Ramsay's face comes on screen it's just BOOs all-around.
20. I think the only person who got more BOOs was Joffrey. (Appropriate, tbh.)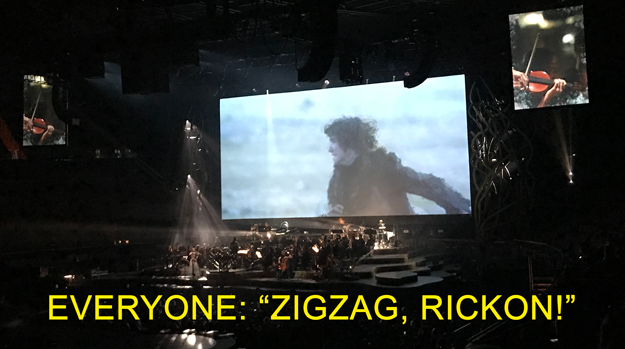 21. LOL, hearing everyone scream, "ZIG-ZAG RICKON!" I, just...I feel very seen.
22. Here it comes, y'all, Jon Snow's "Battle of the Bastards" hero shot — whipping out that, ahem, sword.
23. The "Light of the Seven" music is so perfect — also, this really reminds me of Westworld now? (Or, vice versa, really).
24. IDK what this magnificent keyboard/organ setup Ramin Djawadi has going on here is, but it is cool AF.
25. And now the stage he's on is RISING — Ramin is a keyboarding god!
26. Casual reminder: MARGAERY DESERVED BETTER!
27. I love this thematic/character-driven approach to the show.
28. I am never ready to see "The Door" and this music KILLS. ME. EVERY. TIME.
29. HODOR!!!
30. There were a lot of people talking in the audience through most of this show, but this scene shut EVERYONE up.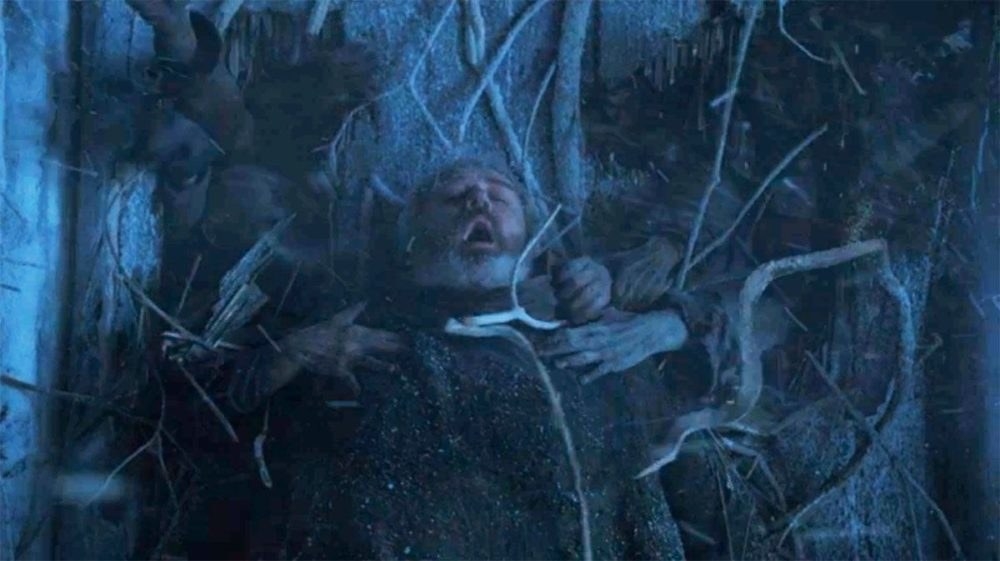 31. Finally, some Season 7 footage!
32. Lol, this is like a nice recap of everything we just watched...which apparently I've already forgotten a lot of?!
33. Although, I will never forget the Night King's epic Olympic-level spear throw.
34. FIELD OF FIRE.
35. There's quite a bit of fire happening on stage.
36. I'm a little worried about the performers?
37. Should I be worried about the stage catching on fire?
38. We're good, we're good (chill out, Crystal).
39. Ah, Jon and Daenerys's love-making music or, as I like to call it, the "Incest is best!" theme. (JK, I hate that scene, I do not ship Jon and Dany.)
40. Wait. Ramin Djawadi is kind of a babe?!
41. Encore tiiiiiiime.
42. LOL, and here's the part of the show where EVERYONE sings along and does their best dun-duns!
43. Look! An in memoriam — which is both sad AND funny.
44. SIGH, now I just want to rewatch THE WHOLE DAMN SHOW.