If you're a fan of the maximalist films of Baz Luhrmann, then I think it's fair to say you're in for a familiar, fun, and beautifully tragic tale with his latest work, Elvis.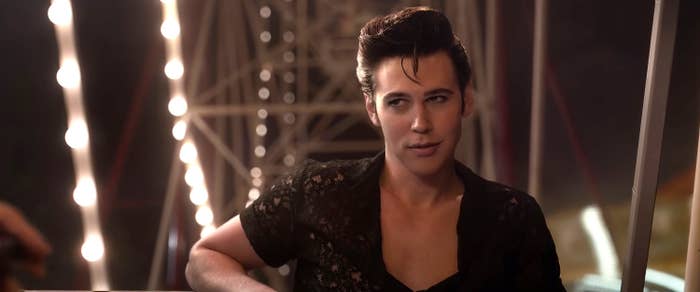 Elvis serves as a very broad-strokes* musical biopic about the life and times — and, of course, music — of Elvis Presley, played magnificently by Austin Butler.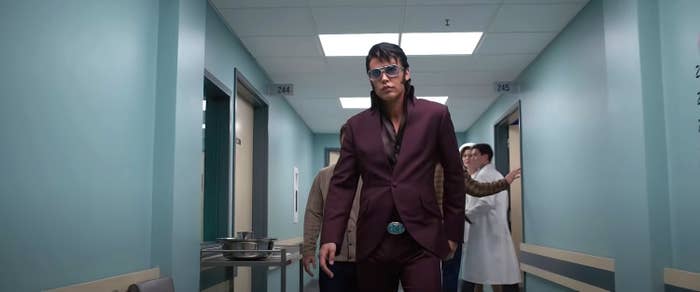 But because this IS Baz Luhrmann, this is far from your basic biopic. The movie is bedazzled with the kind of glitz, drama, and energy the "King of Rock and Roll" himself would've been proud of.
Note: There are some spoilers ahead, but given how well-known Elvis's life is, the plot shouldn't come as much of a surprise.

Before the movie itself gets going, Elvis opens with a thematically updated logo for Bazmark Films (Luhrmann's production company with wife Catherine Martin, who also serves as the costume, production, and set designer for this movie as well as many of their past films).
We see "Truth, Beauty, Fredom, Love" as made famous by Moulin Rouge!...
...as well as the line, "A life lived in fear is a life half lived" from Strictly Ballroom.
The Bazmark logo is constantly changing depending on the production, but the reason I want to note this is because — in case you forgot whose movie you were seeing — it serves as a casual reminder that what's about to unfold is an operatic-level tragedy.
In traditional Luhrmann fashion, Elvis opens with a barrage of imagery and cuts that feel like an intense sensory overload. You'll probably be concerned that you won't be able to keep up with the pace of the film, but don't worry, it eventually chills out (they always do in his movies).
We're introduced to our narrator, Colonel Tom Parker (Tom Hanks), who was Elvis's manager and, as the film presents it, a cheap showman who took advantage of Elvis and was basically responsible for his death.
At the end of his days, and dying in a Las Vegas hospital, the Colonel is inclined to directly address us, the audience/Elvis's fans, to not only tell Elvis's story, but also semi-defend himself. The Colonel says he didn't kill Elvis: "I made him."
We jump back in time to a younger Colonel in 1954, then the manager of country singer Hank Snow. The Colonel is a true businessman solely interested in making money. And when he gets wind of a young white boy making waves singing "Black music" (i.e. rock and roll), he decides to check him out.
That young man, of course, is a young Elvis Presley.
Through a series of intercut flashbacks, we learn that Elvis grew up poor and in a predominantly Black neighborhood in Mississippi. His father, Vernon, spent time in jail, his twin brother died at birth, and his mother, Gladys, was an alcoholic. We also learn that, despite a difficult upbringing, Elvis found solace and love in music, in particular the gospel music he discovered at his neighborhood church.
The Colonel watches Elvis at his first live performance and sees the (mainly) female audience completely lose their shit over him. "In that moment, I watched that skinny boy transform into a superhero," the Colonel says.
Elvis is whisked away to stardom and becomes an overnight sensation. The Colonel creates merch; Elvis buys his mama a new home (Graceland) and even a pink Cadillac. All seems well.
The rest of the film plays out like a CliffsNotes version of Elvis's life. That's not to say it's boring (it's actually quite fascinating), but it really glosses over a lot of the main bullet points of his career. Everything from threats of being arrested due to his "graphic" performances, to a stint in the army, to a messy Christmas special, to his infamous run of shows in Las Vegas is given its due time on the big screen.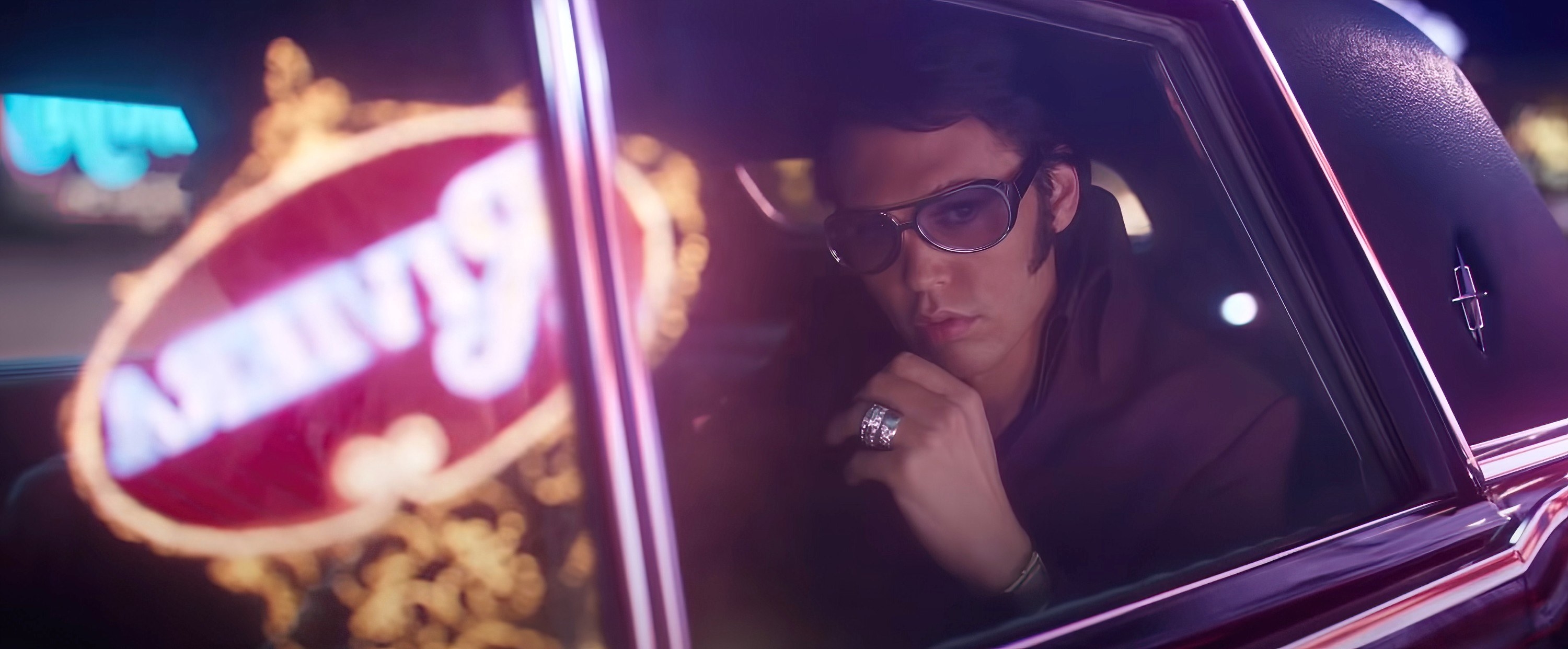 And many of the performances — in particular the "If I Can Dream" number and a highly entertaining montage of songs in Las Vegas — are so well done there were people literally clapping in the audience when I saw it.
However, it is worth noting that some of the more controversial and complicated aspects of Elvis's life are really not delved into or even brought up. Perhaps because, from the filmmakers' perspective, that would take away too much from the fun and mythic nature of the movie.
For starters, there's been a lot of debate over the years about whether Elvis was guilty of appropriating Black music.
In the film, real-life Elvis friend B.B. King (Kelvin Harrison Jr.) serves as something of a confidante and professional guide in the earlier parts of his career. King more or less states that, as a cute white boy, Elvis is going to be able to make more money than his Black counterparts singing their songs, so he may as well do it.
Elvis also spends a fair amount of time with King and other famous rock and roll pioneers like Little Richard (Alton Mason) and Willie Mae "Big Mama" Thornton (Shonka Dukureh), who originated the song "Hound Dog," at a club on the famous Beale Street in Memphis, Tennessee. Although, rather oddly, other than King, none of these musicians are ever named outright in the film.
The existence of these scenes feel like a surface-level nod to the fact that Elvis's musical roots were influenced by (and taken from, although not necessarily belligerently) Black musicians. But it never really dives deeper into the conversation than that.
Another famous controversy from Elvis's life is the fact that he met his future wife Priscilla when she was just 14 and he was 24. At the time, Elvis was serving in the army in Germany, and Priscilla was there with her family, her father being a US Navy officer stationed there as well.
Although they had started a romantic relationship at that time, according to Priscilla's autobiography, they hadn't done more than kiss until they were married in 1967 (when she was 21 years old).
The film never mentions their age gap. The two have a brief conversation in Priscilla's room in Germany, and then there's a quick montage to gloss over the rest of their early relationship and marriage. Make of that what you will.
Now, let's talk about the good stuff...
If you've seen the trailer, then you know Austin Butler not only looks the part of Elvis, but he 1,000% suits it.
He nails the persona, the voice, and even the iconic moves. And a lot should be said about the fact that he's able to seamlessly channel the different decades/phases of Elvis throughout the film, too.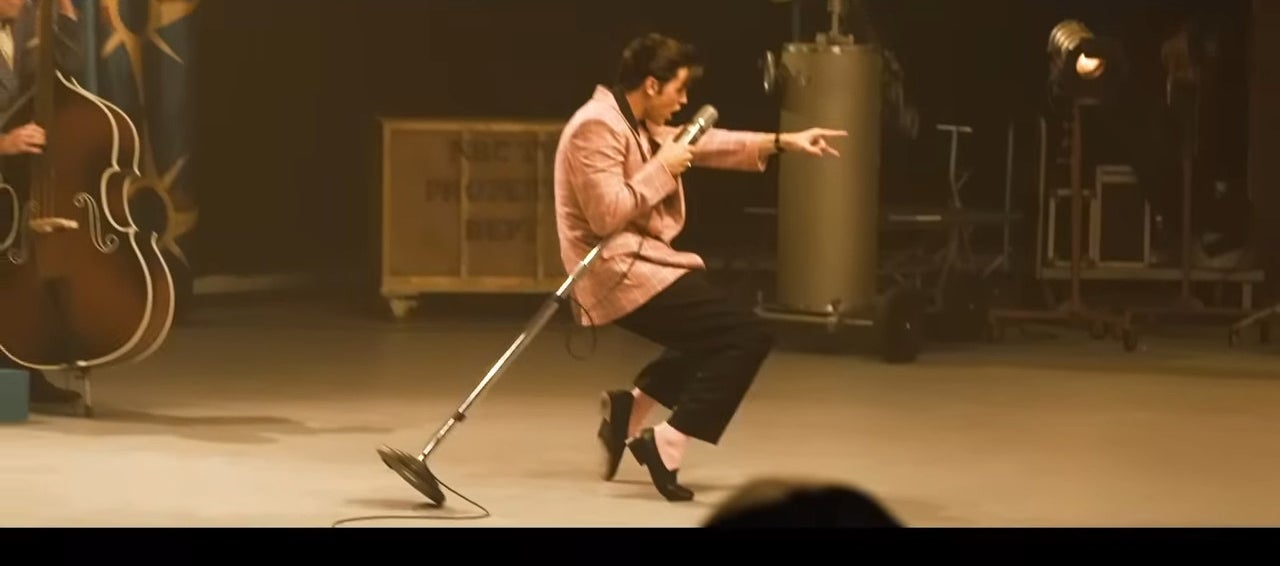 And in case you're wondering, Butler sings everything in the movie. And YEAH, he's REALLY GOOD. I legitimately believed he had been lip-synching to actual Elvis vocals the whole time, so I was floored when I saw him credited as the performer for all these songs during the end credits.
So, if Oscar comes knocking at Butler's door in 2023, I will 100% not be surprised.
Visually, the movie is stunning. It's beautifully shot, and the aesthetic of gold, red, and jewels is completely on point. It's loud, garish, fun...all the things you'd expect from a film about Elvis. And most of this can be attributed to the prowess of Catherine Martin's fine work.
And, of course, Luhrmann nails it with the mashup of "old" and "new" music. There's excellent use of the gospel and rhythm and blues that influenced Elvis and also the mashup of modern rock and rap to get us, the "modern" audience, into the mindset of what it was like to hear such groundbreaking, heart-racing music at that time.
Without getting into the nitty-gritty of some of the more controversial aspects of Elvis's life, Elvis is a highly entertaining, bohemian-style tragedy (much in the vein of Luhrmann's previous works like Moulin Rouge! and Romeo + Juliet) that seeks to create a fantastical myth rather than a straightforward, run-of-the-mill biopic.
Looking for more recommendations? Check out some of my other reviews from this year: