In case you haven't heard of it (yet), Bodies Bodies Bodies is a new horror film from the wild folks at A24, and it's basically a whodunnit tailor-made for Gen Z...that also kinda makes fun of Gen Z.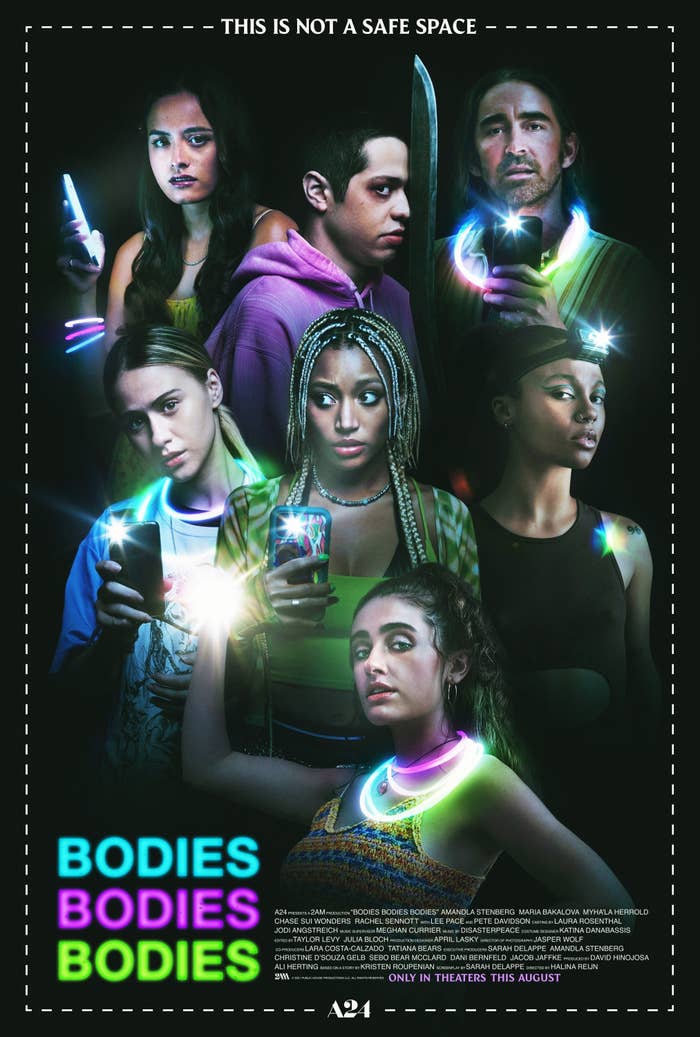 Directed by Halina Reijn, Bodies Bodies Bodies stars Amandla Stenberg (The Hunger Games), Maria Bakalova (Borat Subsequent Moviefilm), and a great supporting cast including stars like Lee Pace (The Hobbit trilogy), Pete Davidson (SNL), and up-and-comers Myha'la Herrold, Chase Sui Wonders, and Rachel Sennott.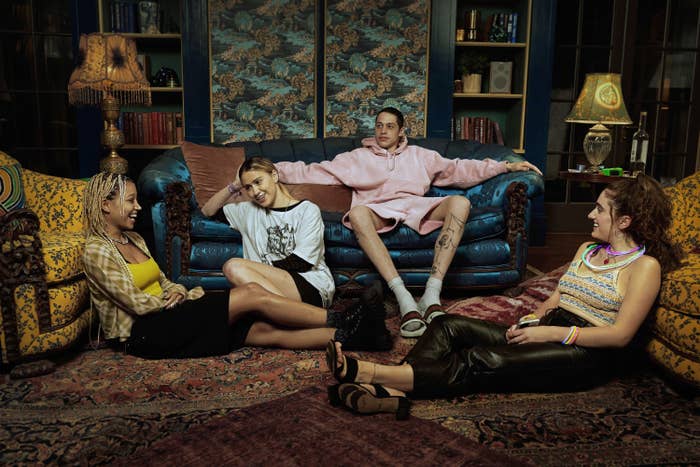 But before we get going here, be warned that there are some (mild) spoilers ahead!
So, the film opens with Sophie (Amandla Stenberg) and her new girlfriend, Bee (Maria Bakalova). They're young, cute, in love, and on their way to a party at Sophie's childhood friend's house.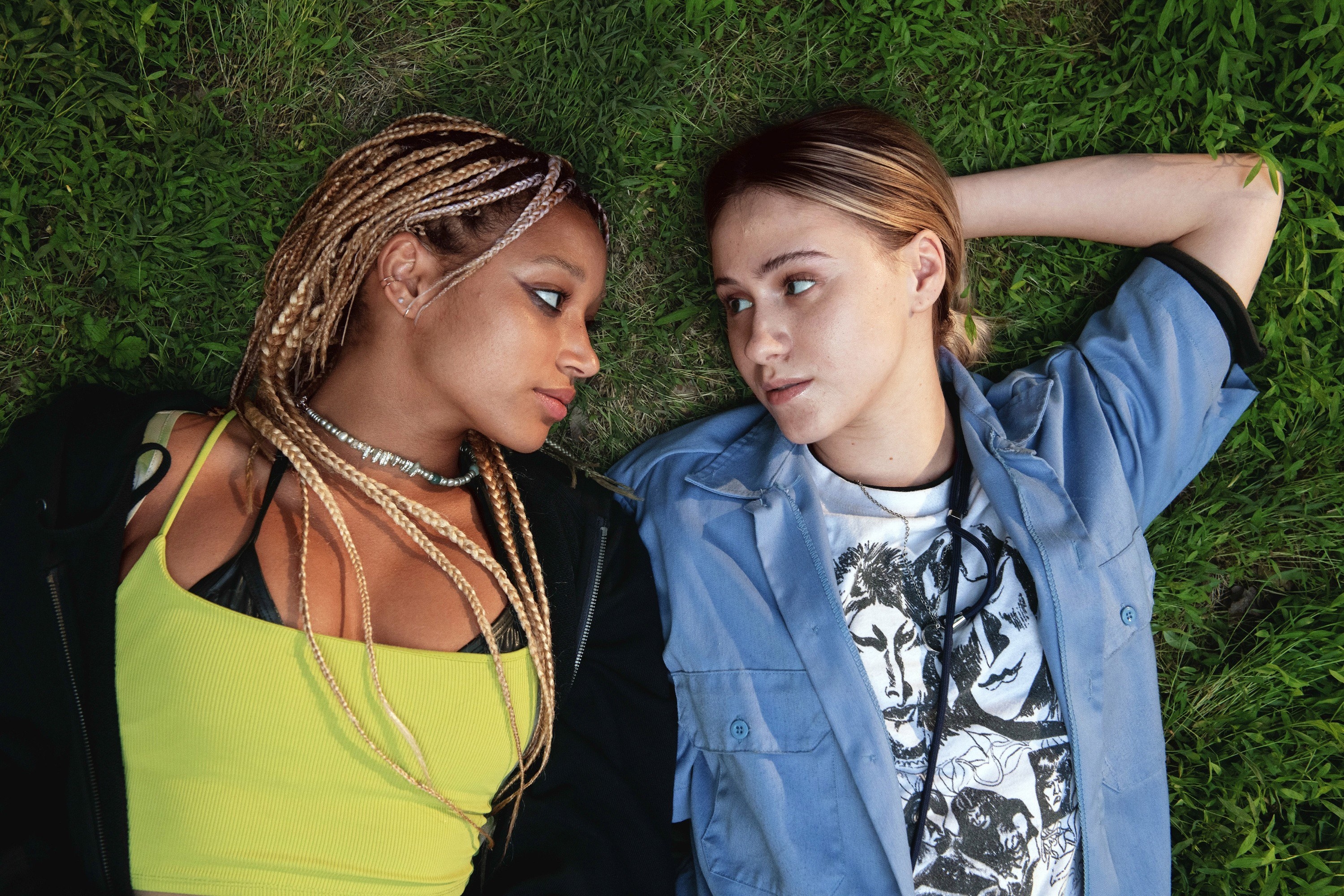 The thing is, this isn't your typical "fun weekend just chilling with friends" kind of party... It's a hurricane party. Yes, quite literally a party to ride out a hurricane.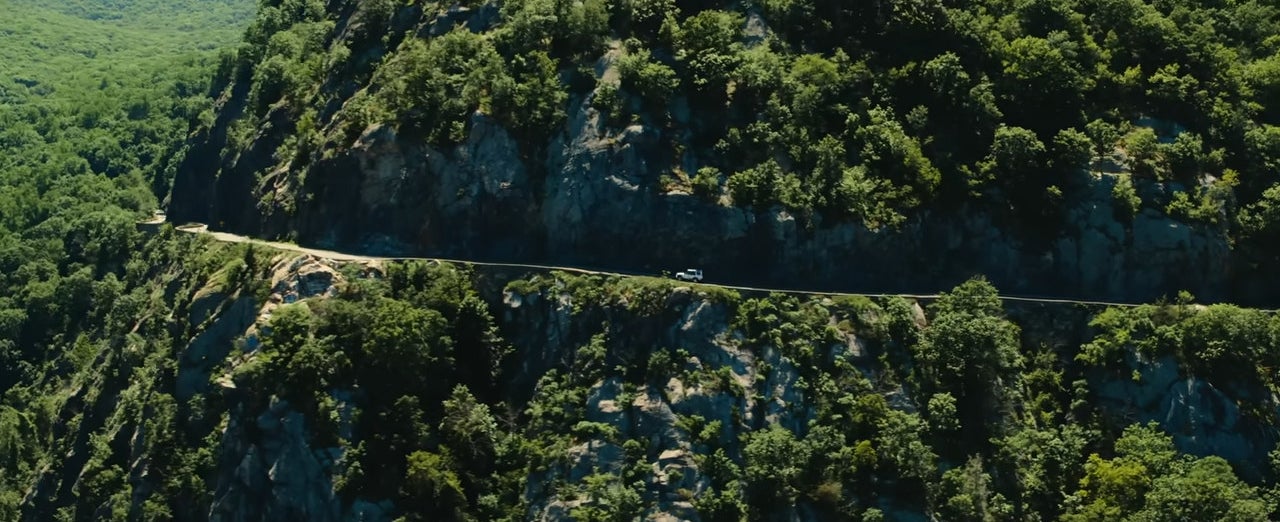 Sophie and Bee are the last to arrive at the party — which Sophie's friends low-key throw shade at her for (they didn't think she'd ~actually~ make it). And Sophie proceeds to introduce Bee to everyone...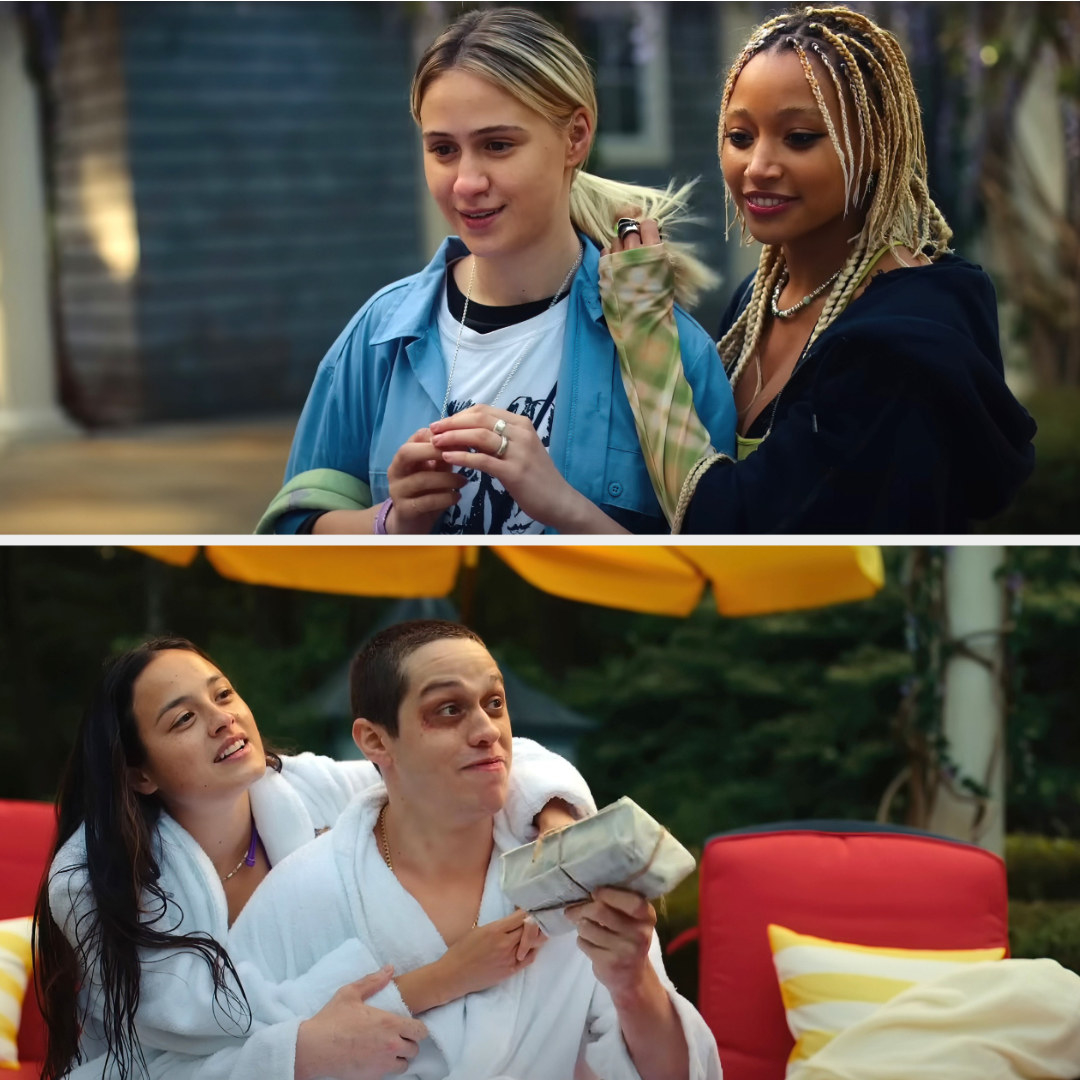 There's David (Pete Davidson), the rich friend whose parents own the house they're at: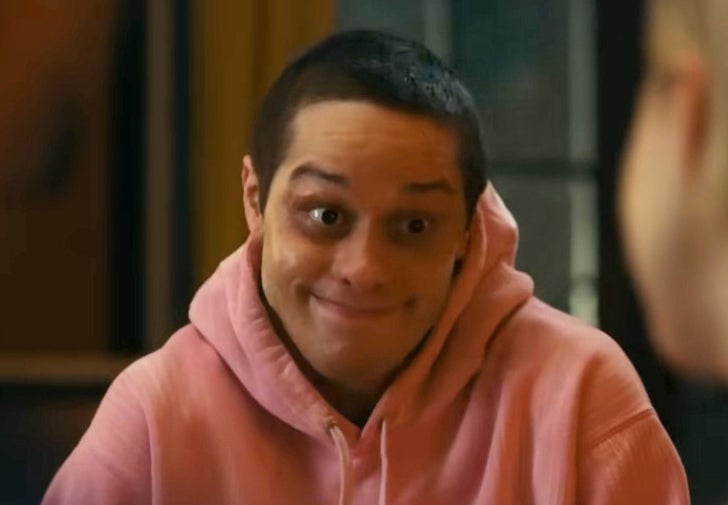 His girlfriend, Emma (Chase Sui Wonders), a fledgling actor who David has been dating for six years: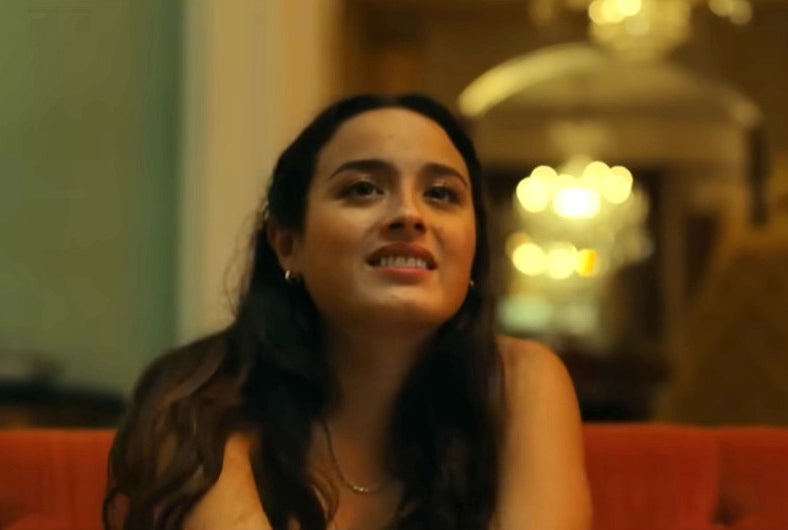 Alice (Rachel Sennott), a fun-loving party girl who hosts a podcast and "lacks self-awareness":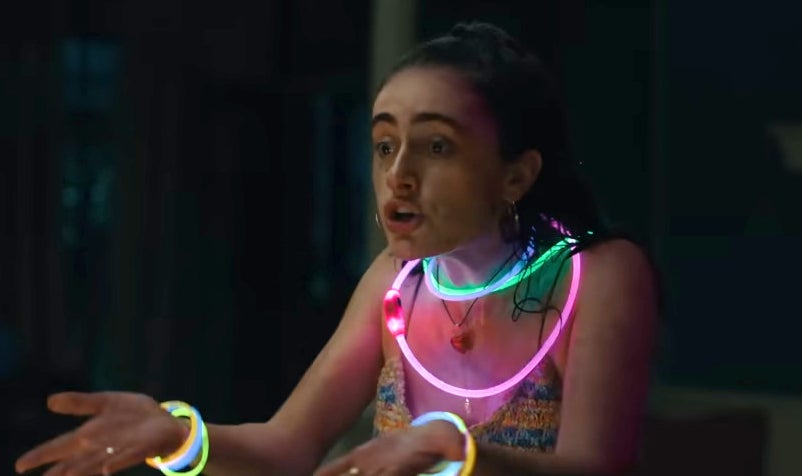 Alice's fortysomething outdoorsy boyfriend, Greg (Lee Pace), who she met on Tinder: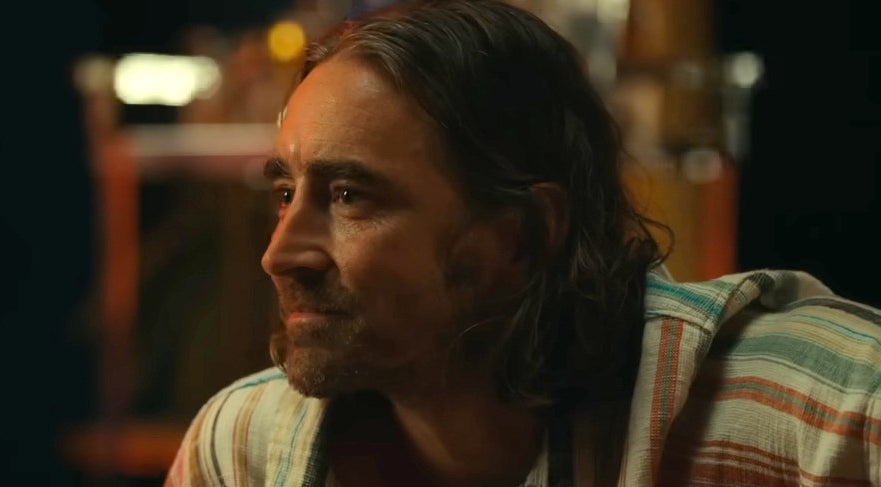 And Jordan (Myha'la Herrold), the lone "single person" of the friend group who still has a thing for Sophie: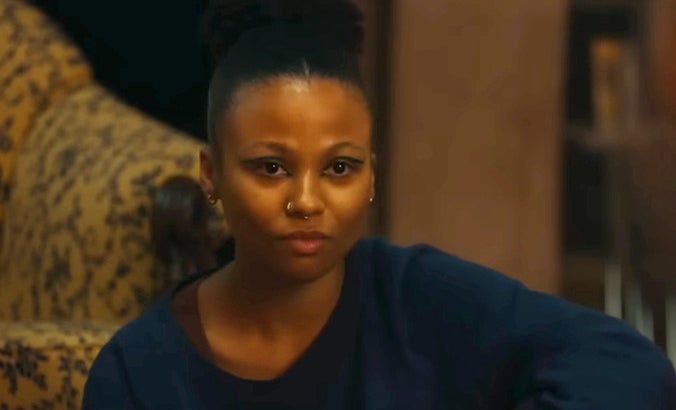 Most of the group isn't particularly welcoming to Bee, and after the awkward introduction, some old grudges are brought up.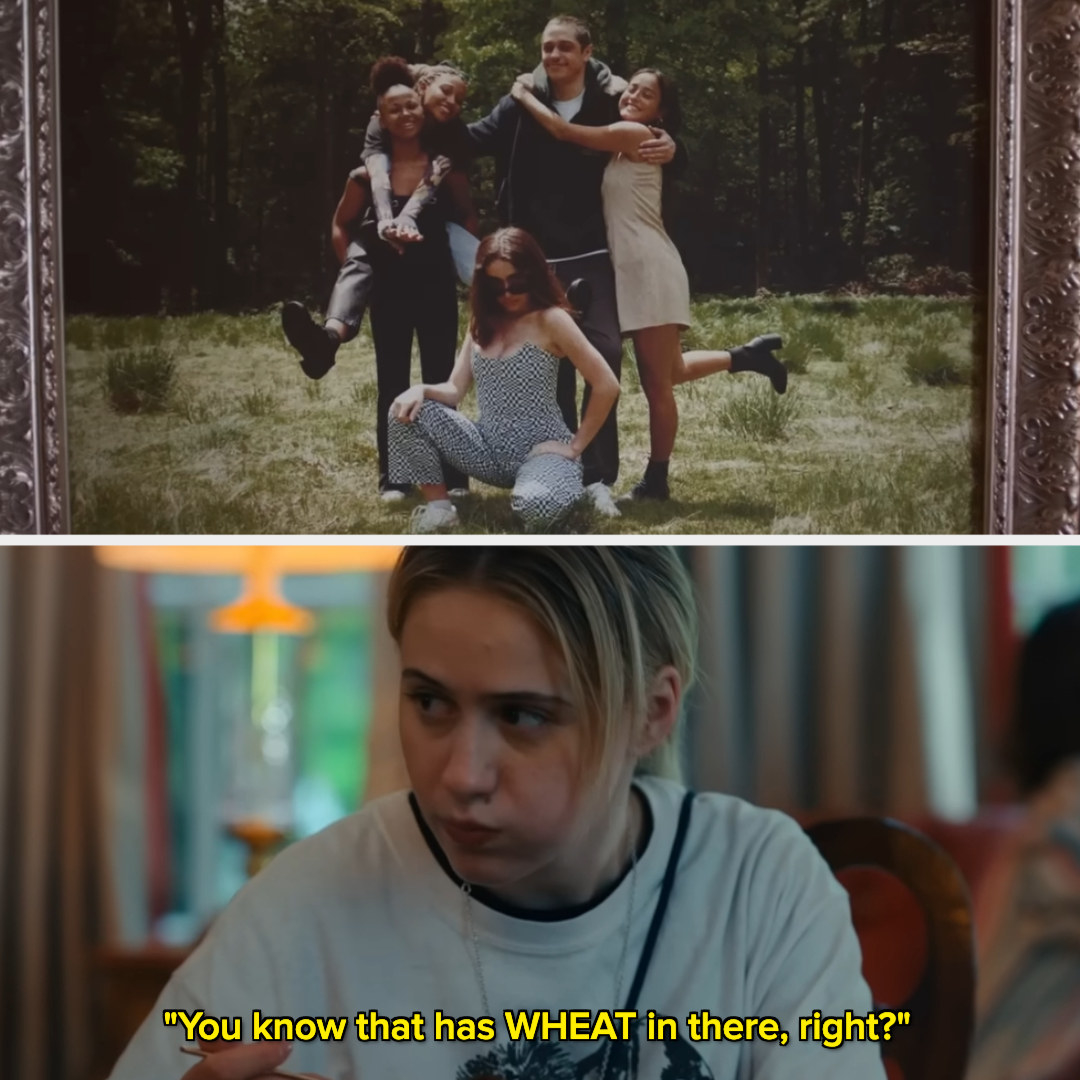 The mood takes a lighter, albeit brief, turn as our Gen Z'ers (and one old millennial) party it up with drinking, dancing, and a dabble of drugs.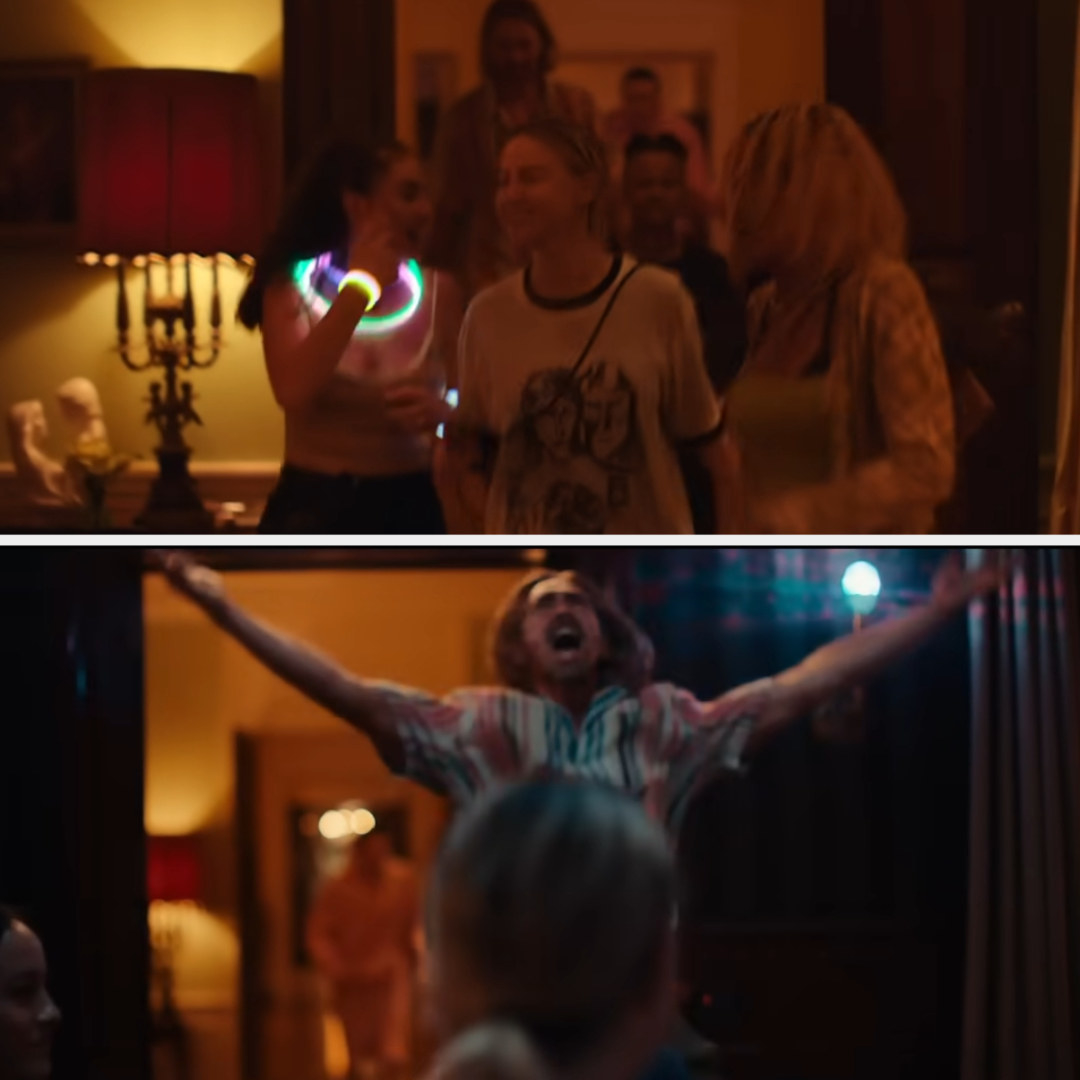 By the time night (and the storm) falls, the group decides to play one of their "old favorite" games: Bodies Bodies Bodies.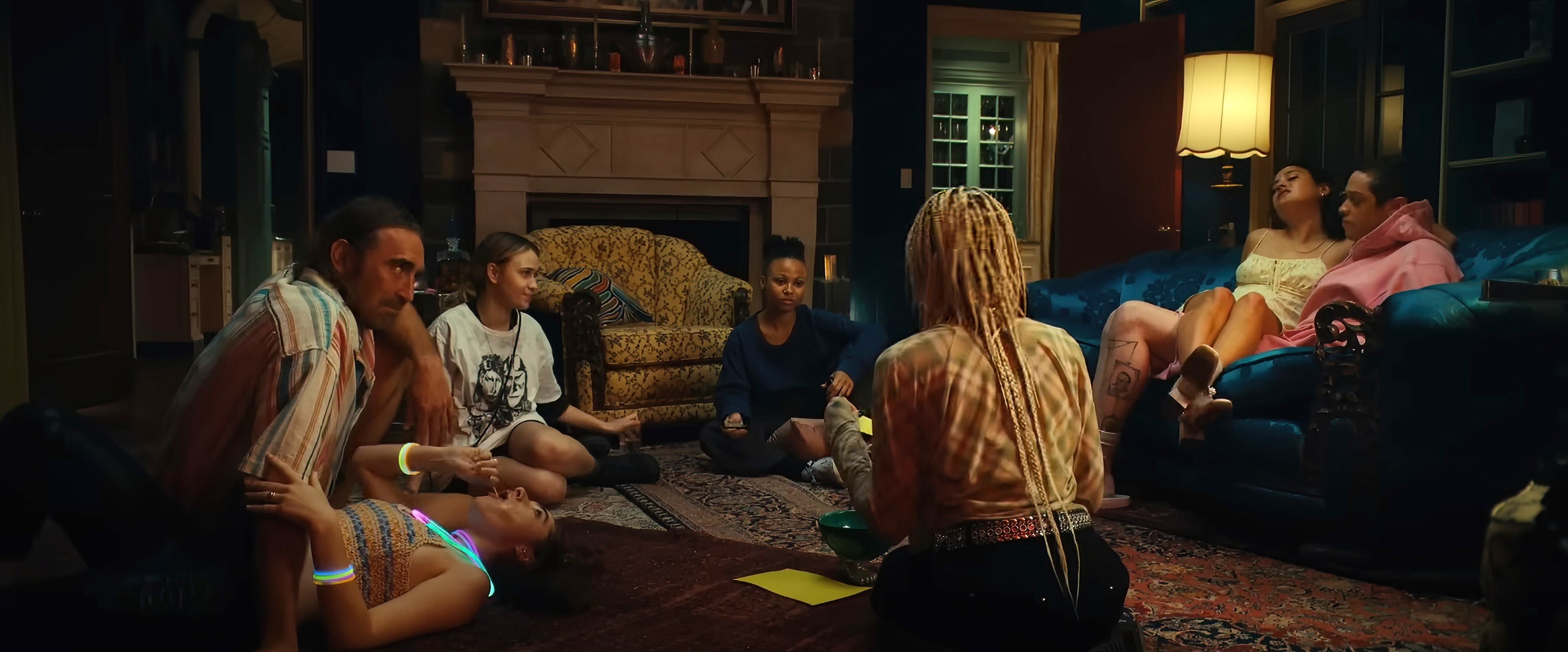 The game works like this: After drawing slips of paper, one player is designated the "murderer," and only they know who they are. The lights are turned off, and everyone runs off through the mansion. If someone is "killed" by the murderer, they have to play dead, and an "X" is drawn on them. If someone stumbles on the "dead" body, they shout, "Bodies, bodies, bodies," and the lights are turned back on. The remaining players have to try to figure out who the killer is.
Of course, you see where this is going...right?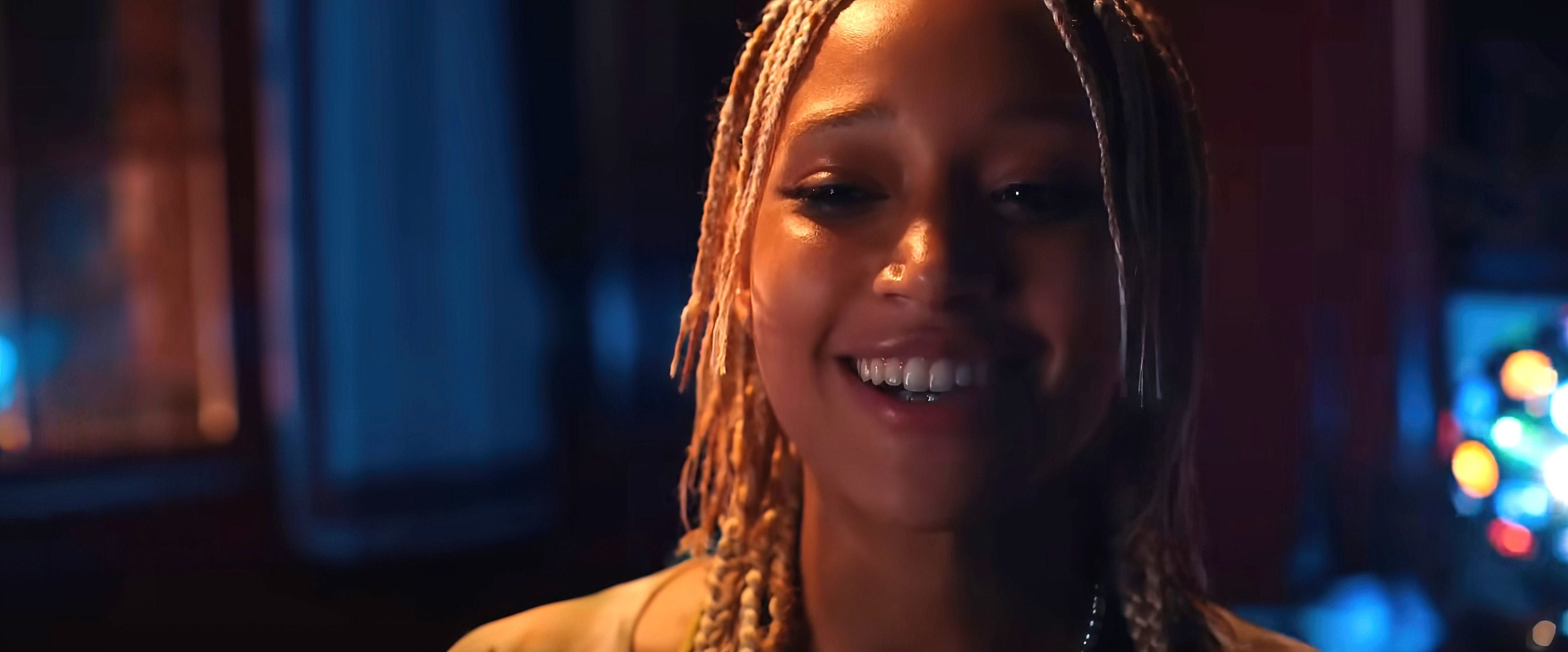 The first time they play the game it goes as planned, NBD. But as tensions grow, THE POWER GOES OUT (of course), and the group decides to separate (never do that in a horror movie, right?!) for a bit.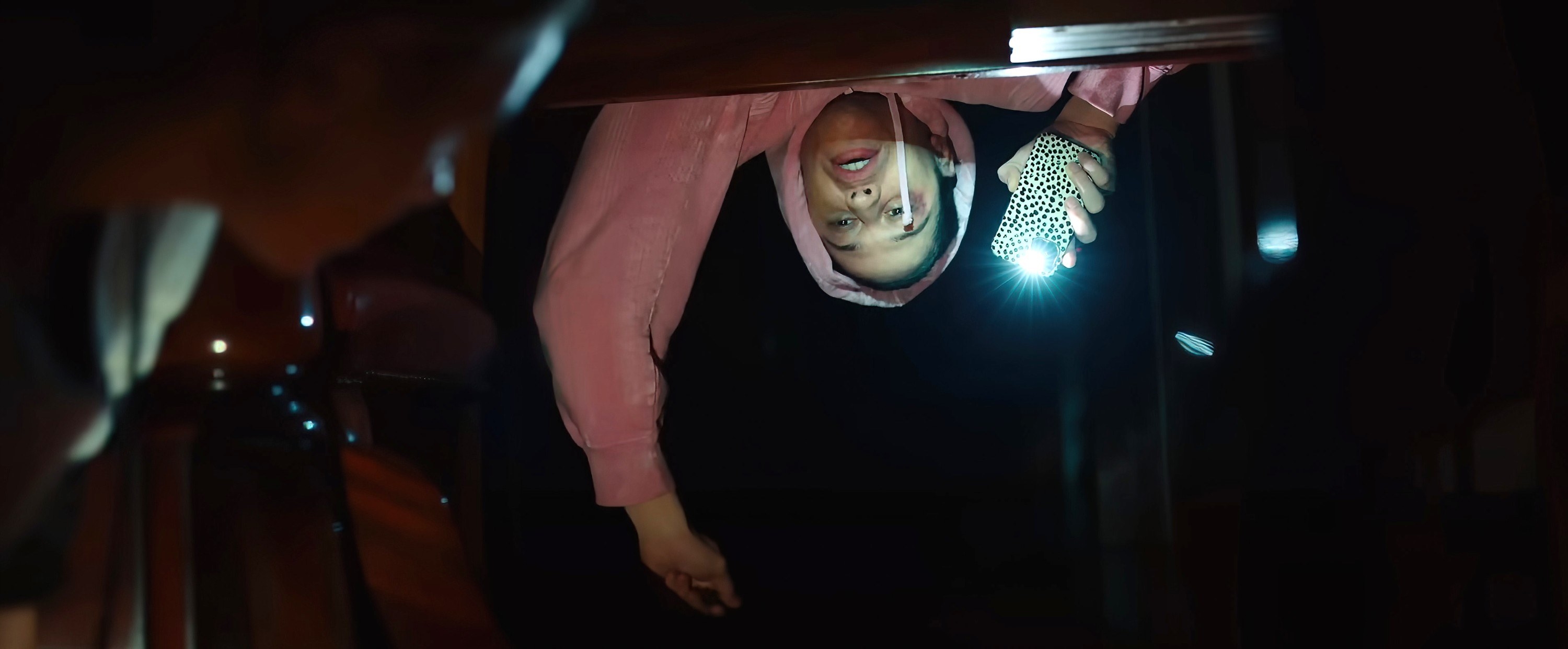 And that's when one of them ACTUALLY turns up dead. I won't say *who* shows up as the (first, yes, FIRST) dead body, but suffice to say it's enough to send everyone into a frenzy.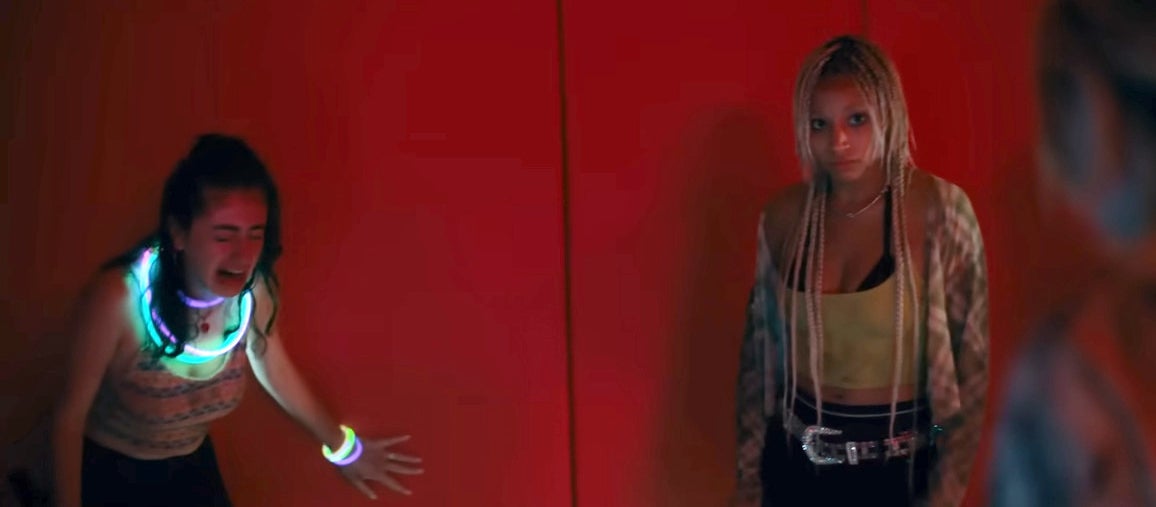 Now, I'm not going to spoil for you how the rest of the ~game~ plays out, but let's just say that as the murder mystery unfolds, so does the complicated history of this friend group's lives. Jealousy, lying, paranoia, manipulation, and so many other toxic traits slowly come to the surface as things get more intense (AND MESSY).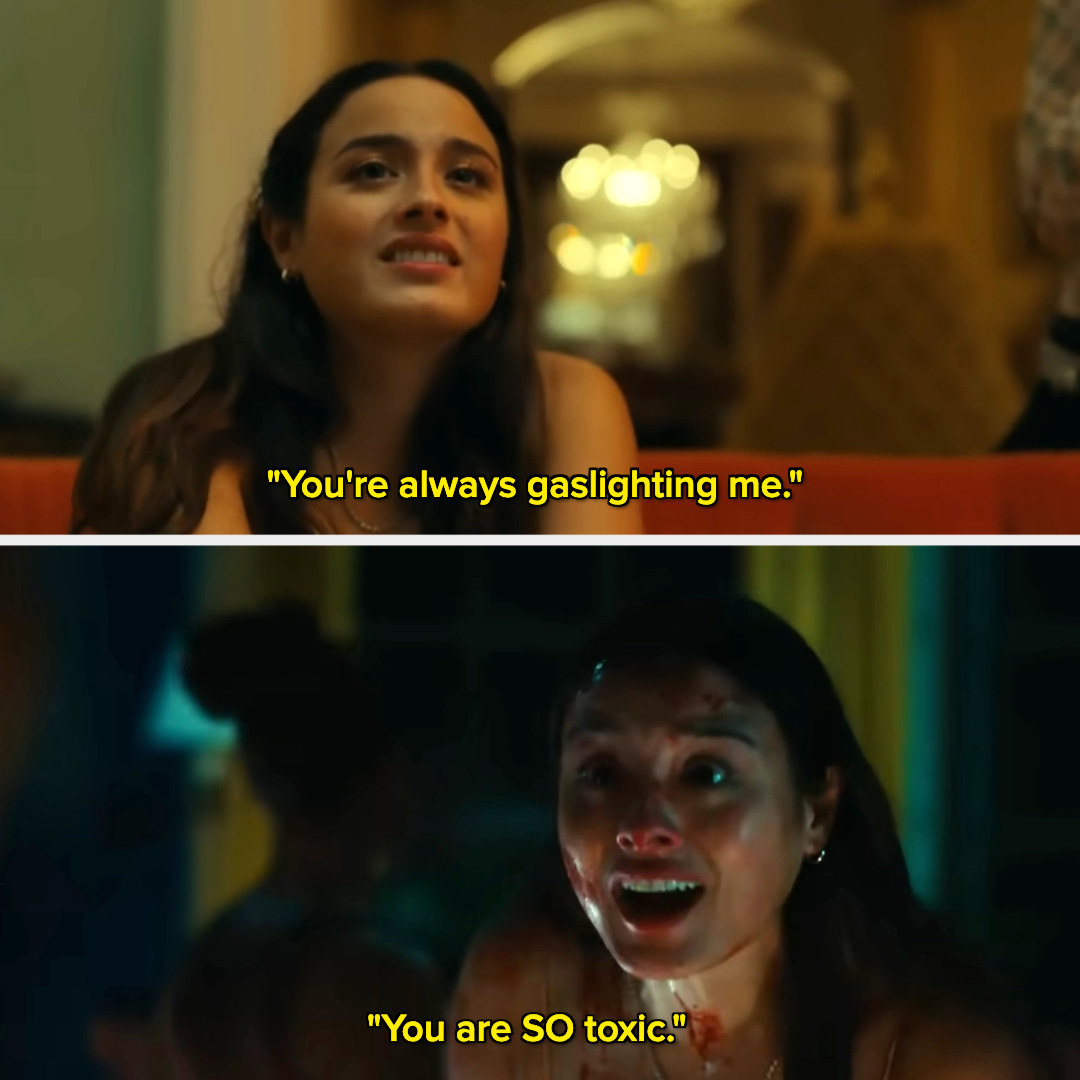 As director Reijn explained, "The film depicts both the toxicity but also the seduction of a friend group. We all live in a world where we're not actually looking at each other or seeing what's going on. The characters in the film, they're not really looking at what's taking place; they're just reacting, and that becomes almost a hysteria. Under pressure, we're much more driven by our primal urges than we would like to think."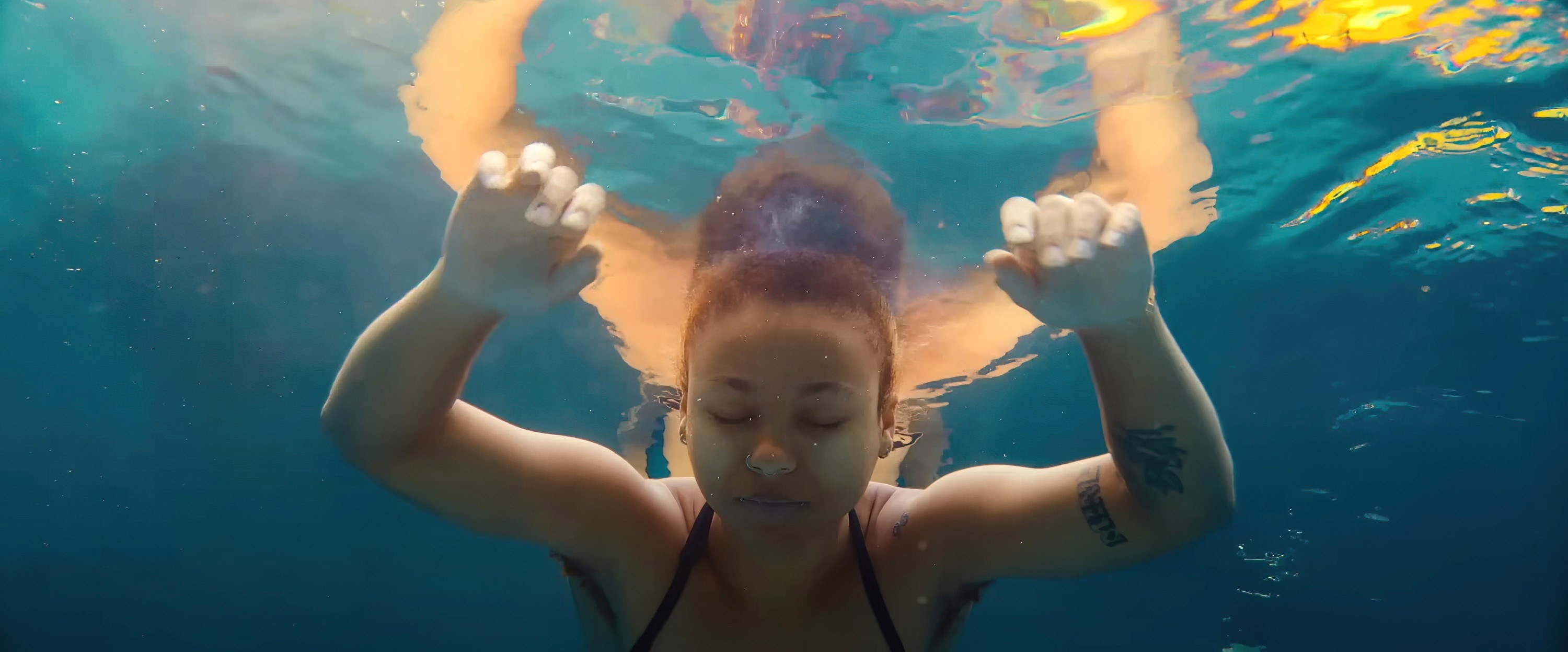 TBH, as an ~older~ millennial, I was fully expecting to be annoyed by the very Gen Z qualities (and dialogue) of the characters. But, to Reijn's credit, there's a pretty clear self-awareness about it all. Sure, trendy things like TikTok dances come into play, but not to a point where you'd be rolling your eyes.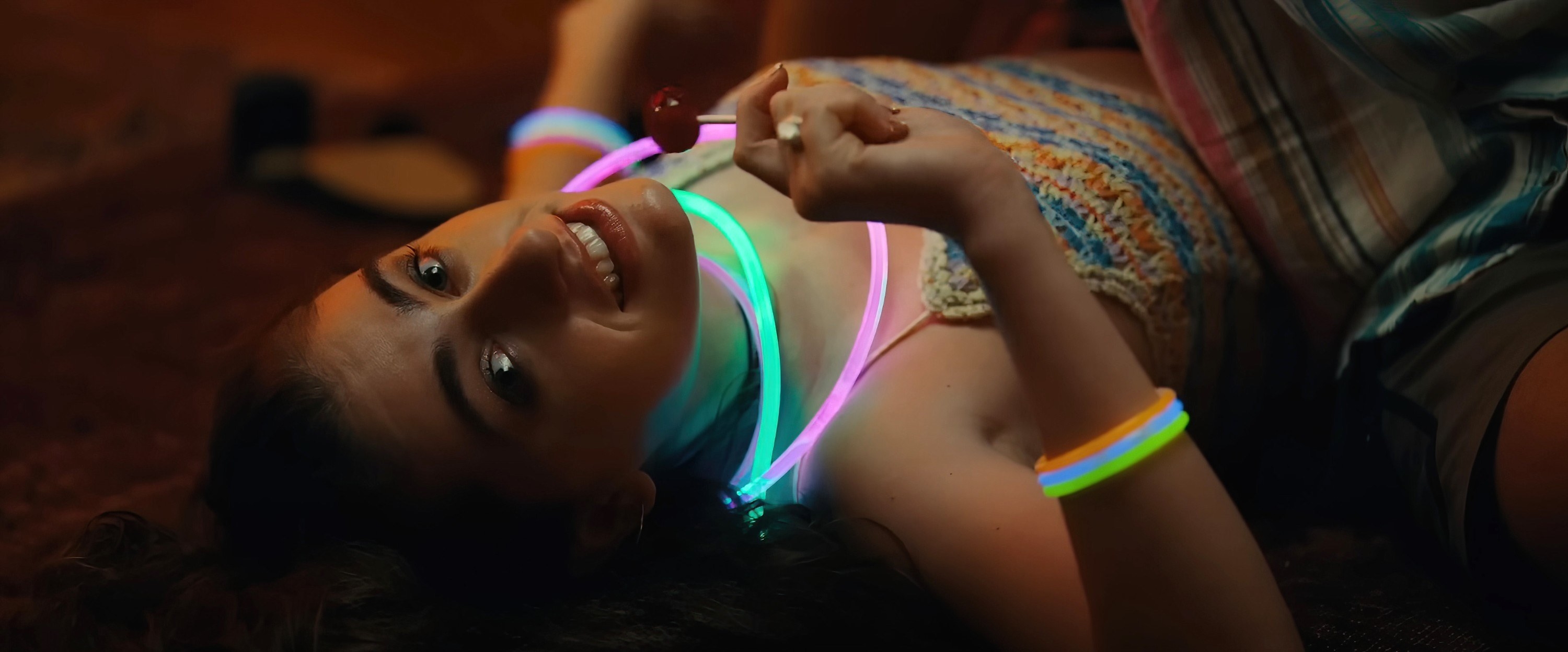 Like all good whodunnit horrors, Bodies Bodies Bodies makes excellent use of its setting. Because, let's be honest, there's nothing quite as classically spooky as a massive, unfamiliar mansion when the power goes out. The filmmakers also experimented in clever ways with colored flashlights, LEDs, iPhones, and glow sticks in order to differentiate between characters, and it all works very well.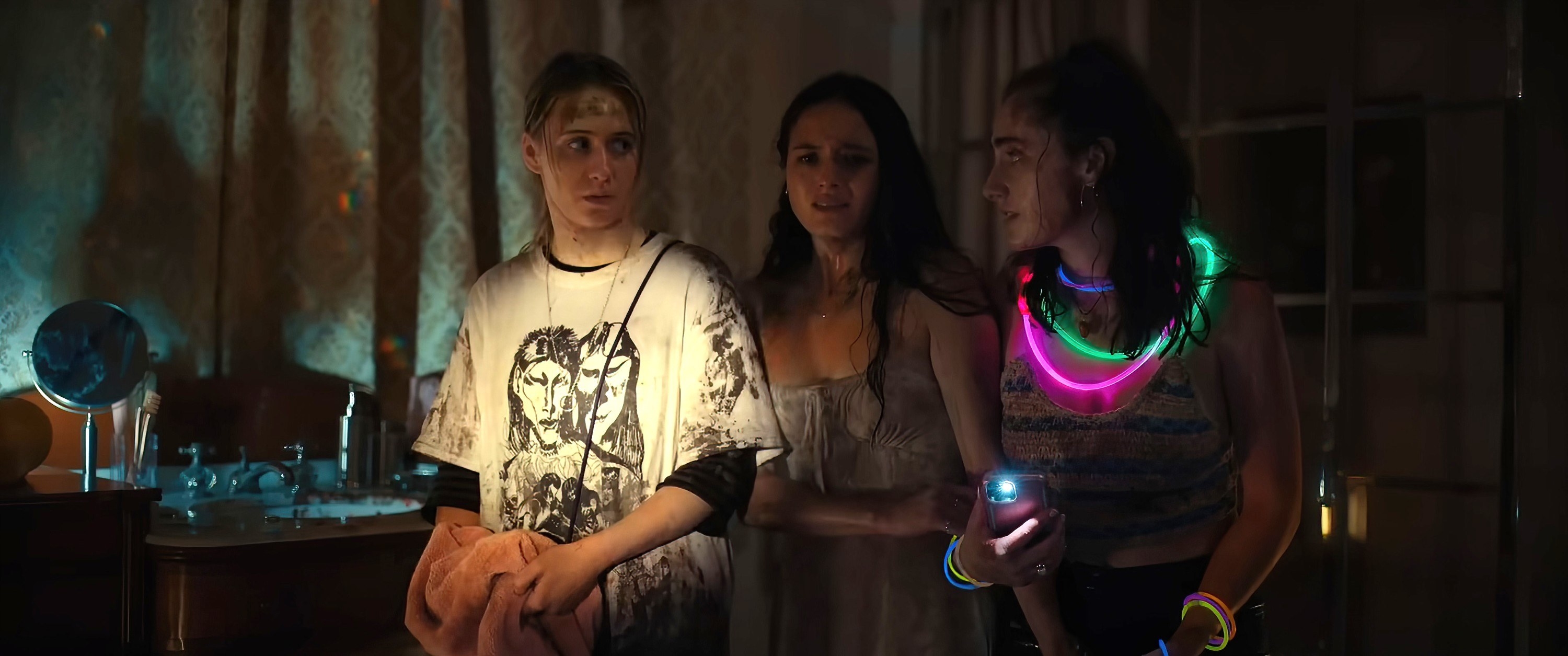 As for the acting, Stenberg makes a strong and compelling lead, and it's fun to see Bakalova stretching her acting skills beyond comedy (as great as she is at that), into something a little more ~serious~. However, if I'm being honest, Rachel Sennott is hilarious as Alice and a total scene stealer throughout the movie.
Overall, the film is a fun ride full of laughs, scares, and a bit of gore. And you'll definitely be guessing right up until the very end how it'll all play out. But the big reveal at the end — one that I guarantee you will not see coming — will have you laughing/screaming, "WOW, that's dumb." (In a good way!)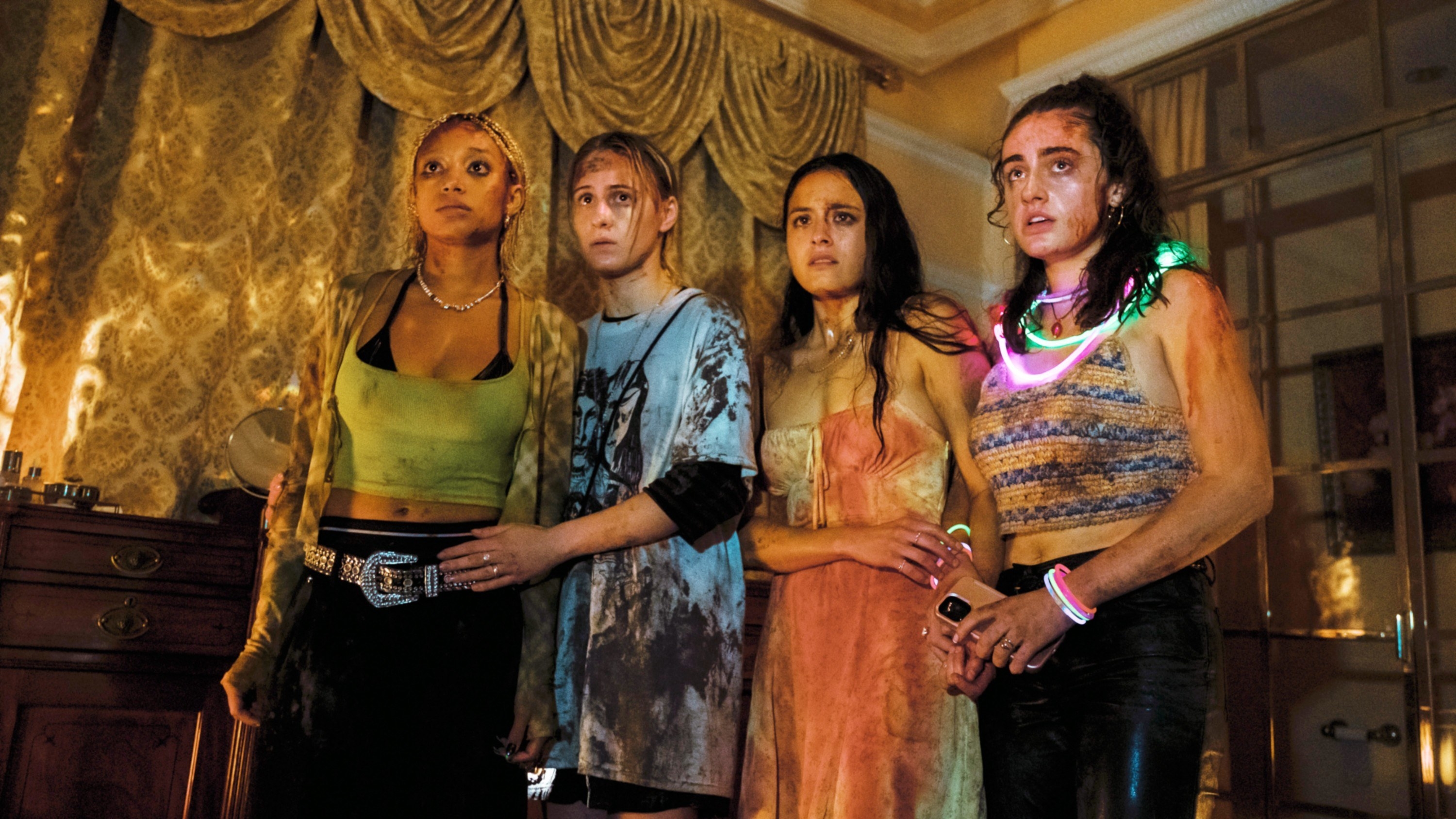 Looking for more recommendations? Check out some of my other reviews from this year: