Hello, friends! With Superbowl LVII right around the corner, it seems fitting that the latest film to ~touch down~ in cinemas is 80 for Brady.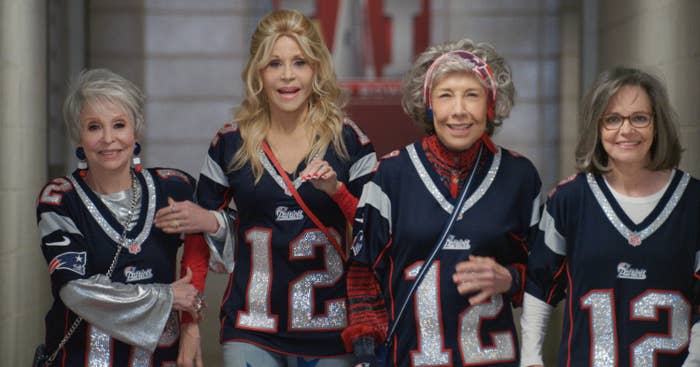 In case you haven't heard of it, 80 for Brady stars iconic actors Lily Tomlin, Jane Fonda, Rita Moreno, and Sally Field and tells the story of four best friends who take a wild bucket list trip to the 2017 Super Bowl (Super Bowl LI, for the record) to see their hero Tom Brady play.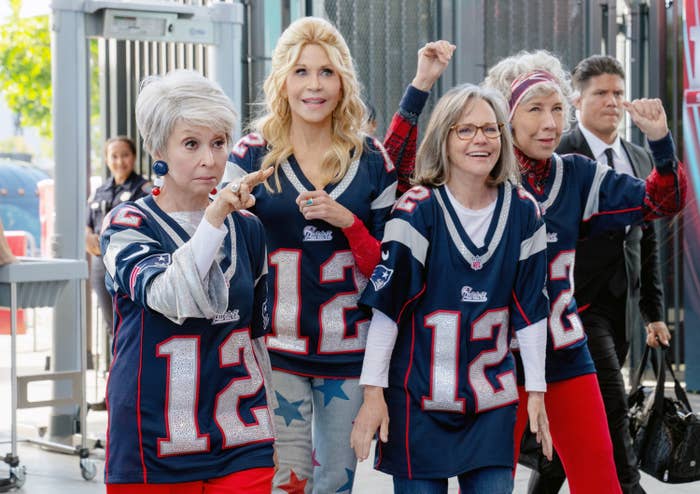 Written by Sarah Haskins and Emily Halpern (best known for the 2019 hit Booksmart), 80 for Brady is a rare major studio film starring leads, particularly women, of a certain age. Although they're over the age of 80 (except for Field, who's the youngest at 76), these icons prove they've still got what it takes to light up the screen — or gridiron, in this case. Oh, and FYI, the film is inspired by a true story, which makes everything like 100x even cuter.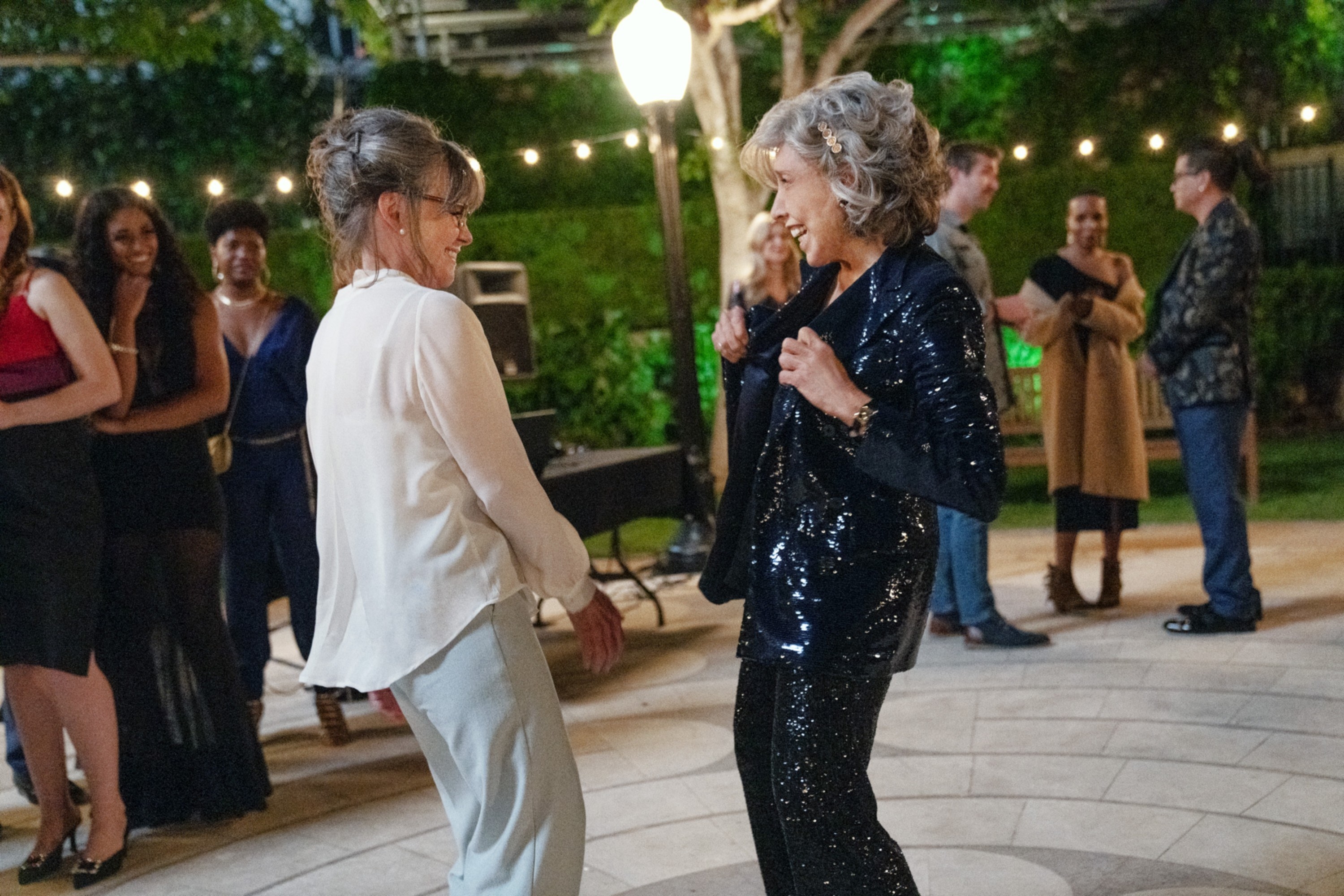 BTW, before we get going here, if you want to know absolutely nothing about the film going into it, skip to the end for the TL;DR. I won't reveal any major spoilers, but obviously, I gotta talk about the film somehow!
For decades-long BFFs Lou (Lily Tomlin), Trish (Jane Fonda), Maura (Rita Moreno), and Betty (Sally Field), the highlight of their week is watching football together — and not just any football game, but specifically their beloved Pats (or the Patriots, for non-fans) and, of course, Tom Brady.
In fact, it's become such a long-running tradition for them that, over the years, they've developed their own superstitions and rituals, like knocking over chip bowls and standing on a ladder. All real casual stuff, LOL.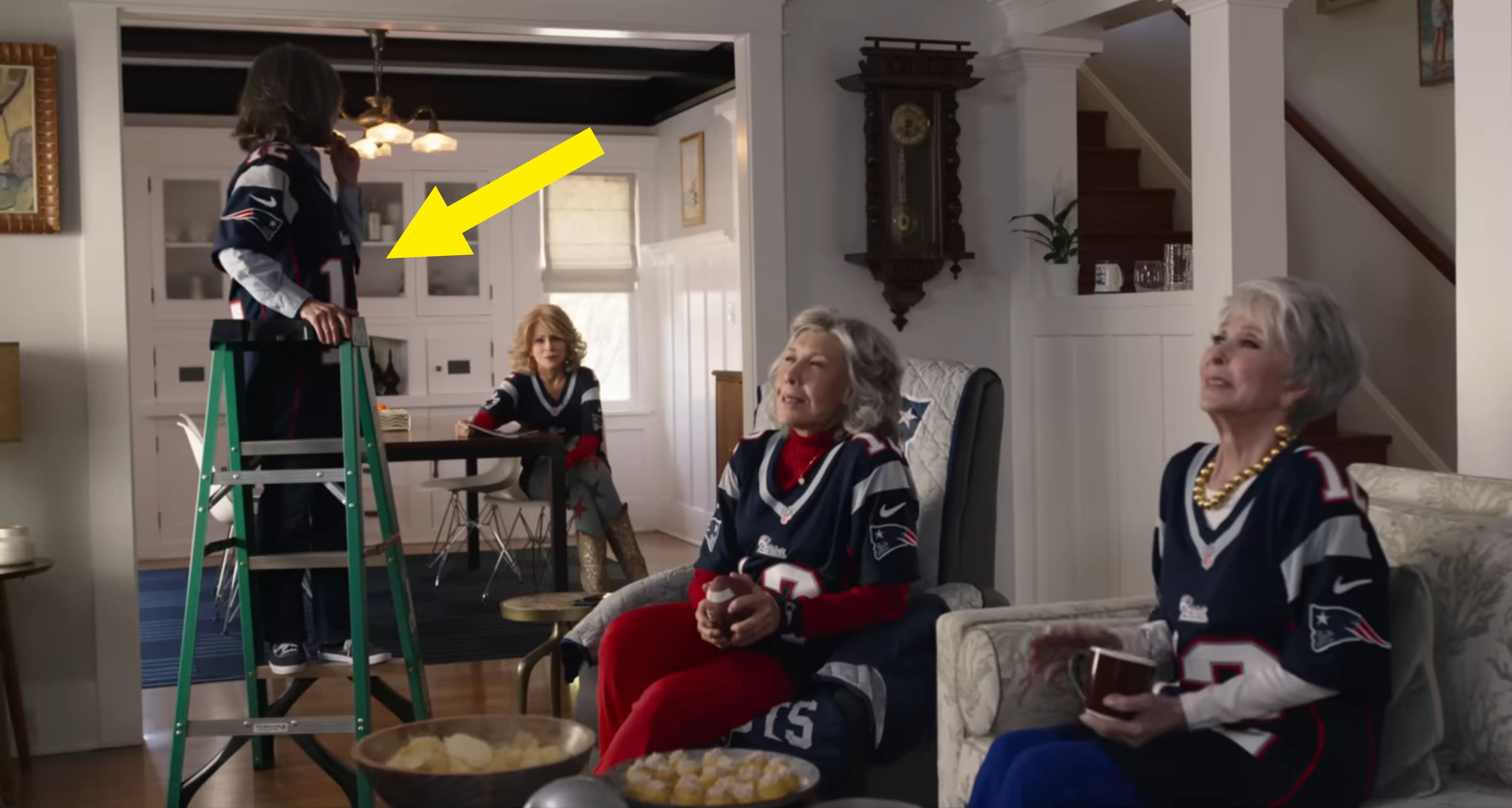 But one Sunday, Lou decides it may be their last chance to go to the Super Bowl to see Tom Brady play IRL...they're not getting any younger, after all!
So, when tickets unexpectedly come their way, the foursome toss caution to the wind and make their way from Boston all the way down to Houston for Super Bowl LI.
But, OBVIOUSLY, the journey can't be THAT easy for our heroes, right?
What unfolds over the next 60-plus minutes is a tailgateworthy buffet of NFL fanatacism, hot wing eating, drug-infused partying, and some highly stressful times for the "80 for Brady" gang and their custom rhinestoned jerseys.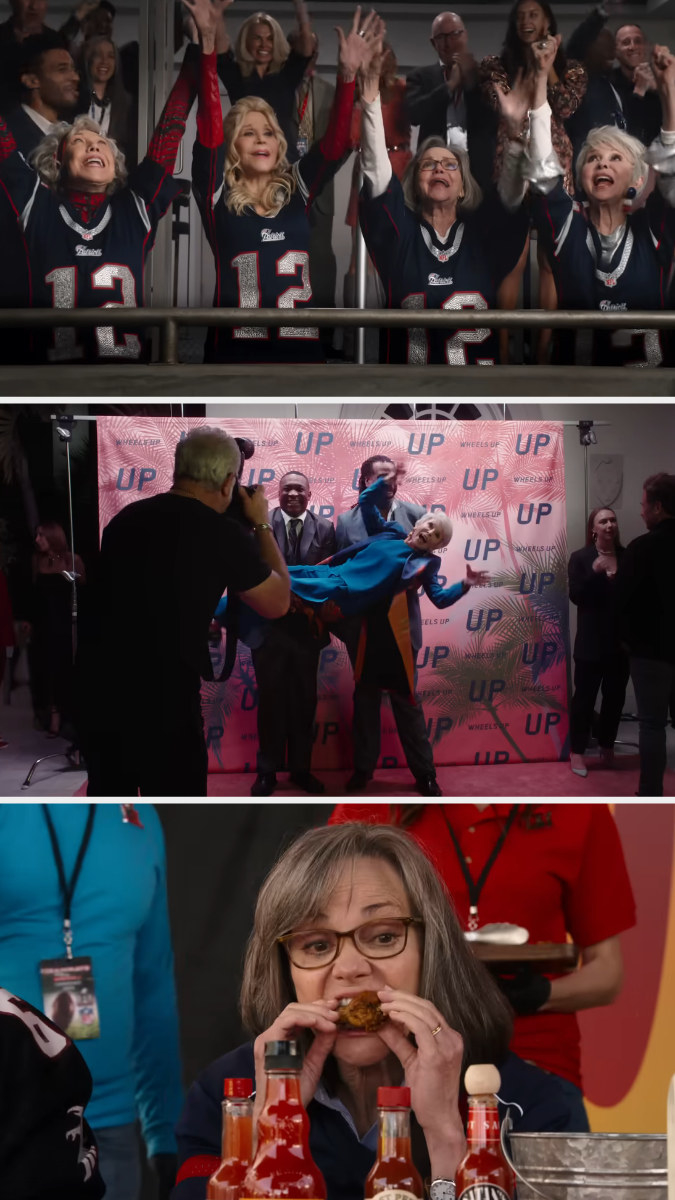 And, of course, there are plenty of entertaining cameos by the main man, Tom Brady, fellow Patriots player Gronk...
...as well as the mayor of "Flavor Town" himself, Guy Fieri, who has a pivotal hand in the ladies' misadventures.
Now, in case you're wondering, no, you don't have to be a fan of (or really even know much about) football to enjoy this movie. This isn't THAT kind of sports movie.
However, if you are a football fan, especially a Patriots one, then you'll appreciate the fact that this film is very purposely set during Super Bowl LI. For those who don't know, Super Bowl LI was famously very dramatic, with some even calling it the "single greatest Super Bowl of all time." (The first quarter was scoreless. In the second, the Falcons leapt out ahead of the Patriots with a 28-3 lead and, well, let's just say that that's when things went haywire.)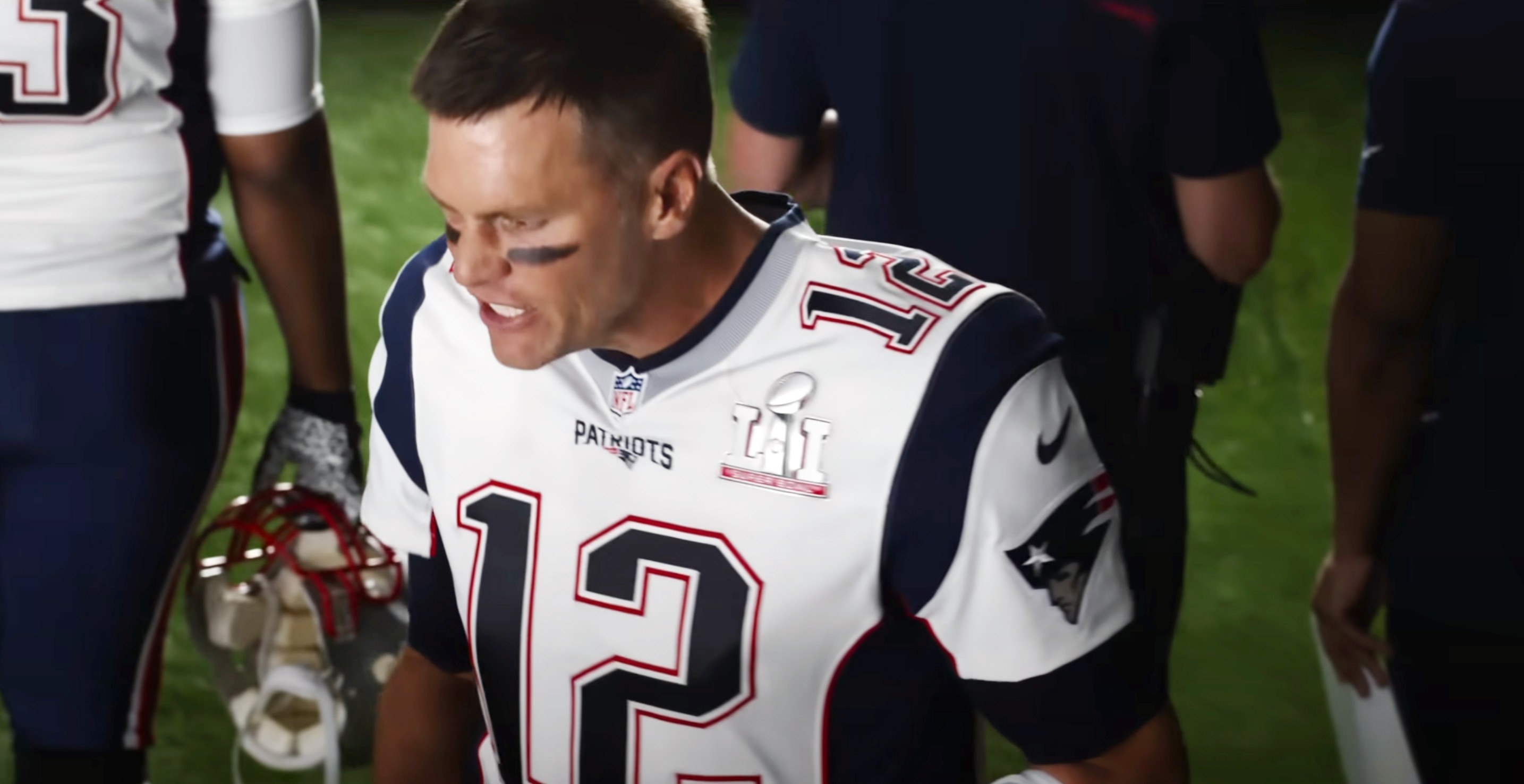 Suffice to say, it's no coincidence that the foursome's drama happens to run parallel with a lot of the drama that goes down out on the field. And, as you can imagine, it all comes to a pretty emotional climax.
Overall, 80 for Brady is a fun, lighthearted jaunt with low stakes. And it makes for an easy-to-digest viewing experience — perfect for its target audience (and even those not in the target audience). And the film is very self-aware — there's no lack of senior jokes, like accidentally swapping blood pressure meds with sleeping pills or withstanding grim reaper hot sauce because of weak taste buds. You get what you signed up for, folks!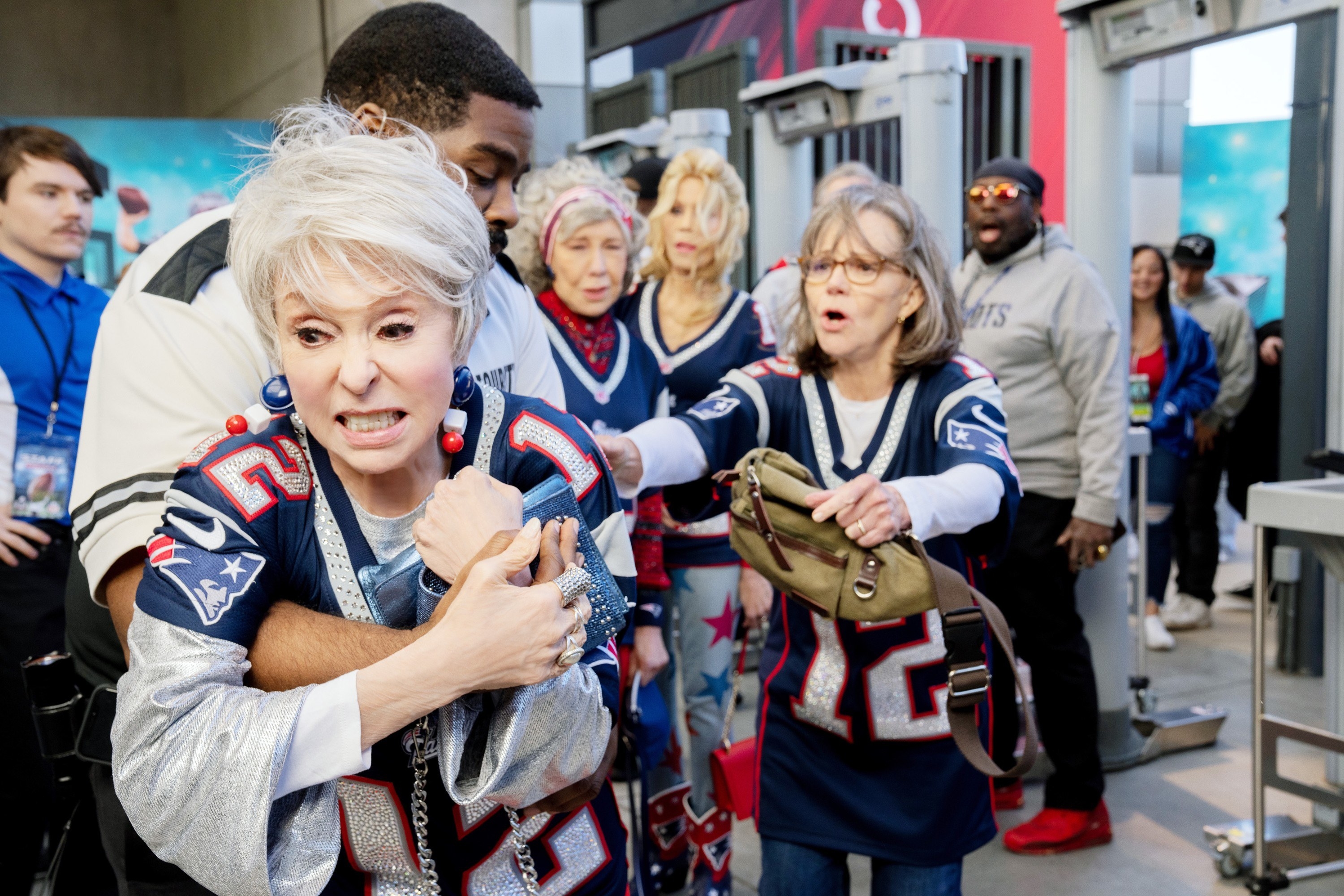 But the true draw is the film's stars. Between them, Tomlin, Fonda, Moreno, and Field have 5 Oscars wins and 12 nominations, so it should come as no surprise that they're fantastic in the movie and prove that you can still do what you love at any age (and still be really good at it, too). Their timing is great, their delivery is hilarious, and if these legends made 100 more movies together, I'd be there every opening day.
TL;DR — Tomlin, Fonda, Moreno, and Field shine from beginning to end in this heartwarming comedy that celebrates female friendship. It's not a particularly deep story, but it's one that everyone and their mom (ESPECIALLY their mom) can enjoy. 7/10 would recommend!