You Should Make These Pulled Pork-Stuffed Sweet Potatoes For A Loaded Dinner
So easy, too!
by
,
Pulled Pork-Stuffed Sweet Potato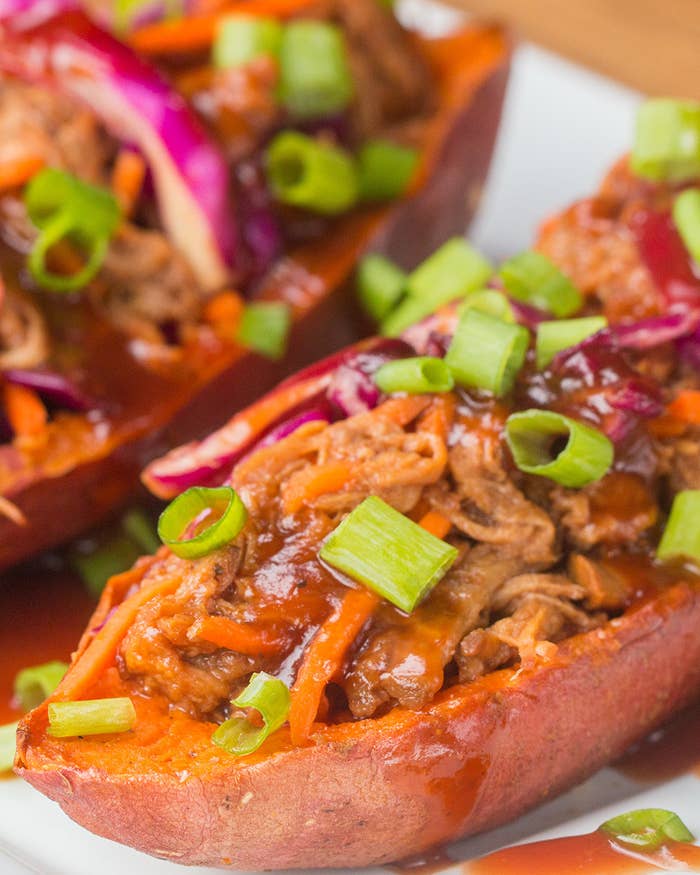 INGREDIENTS
½ yellow onion, sliced
1 pork loin, cut into 2-inch-thick rounds
Salt, to taste
Pepper, to taste
3 cloves garlic, minced
2 cups BBQ sauce, plus more for drizzling
3+ sweet potatoes
Olive oil, to taste
1 cup shredded carrots
½ purple cabbage
Green onion, for garnish
PREPARATION
1. Layer bottom of crock pot with onion and lay pork loin on top. Season with salt, pepper, and garlic. Top with BBQ sauce.
2. Cook on high for 4 hours or low for 8 hours.
3. Preheat oven to 400˚F/200˚C.
4. Using a fork, poke holes down one side of each sweet potato. Microwave for 3-5 minutes, or until softened. Let sweet potatoes cool before handling.
5. Next, cut sweet potatoes in half and carve out the centers with a spoon, leaving a rim around the outside of each sweet potato.
6. Place sweet potatoes on a baking sheet covered in parchment paper, drizzle with olive oil and season with salt and pepper.
7. Bake for 20 minutes.
8. While the sweet potatoes are baking, "pull apart" the pork loin using two forks. Cover and let sit until the sweet potatoes are done.
9. Add shredded carrots and purple cabbage to the shredded pork and combine.
10. Fill sweet potatoes with pork, drizzle with BBQ sauce, and garnish with green onion.
11. Enjoy!