Cilantro Lime Chicken & Veggie Rice Meal Prep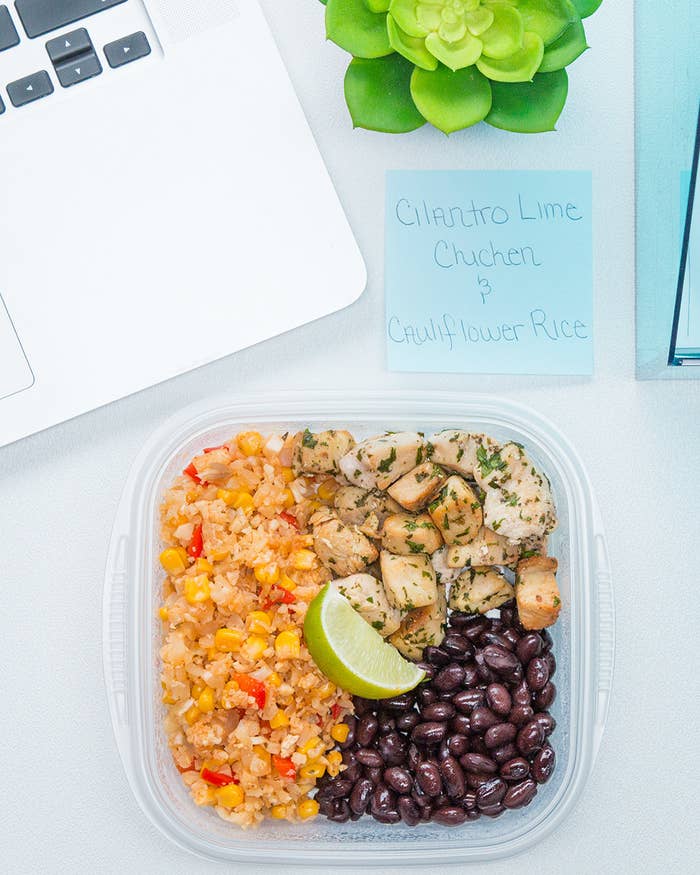 INGREDIENTS
Preferred cooking oil, to taste
1 pound boneless, skinless chicken breast, cubed
Salt, to taste
Pepper, to taste
1 lime, juiced
⅓ cup cilantro, minced
Preferred cooking oil, to taste
1 red bell pepper, diced
½ red onion, diced
2 cloves garlic, minced
1 bag riced cauliflower
1 cup steamed corn
½ teaspoon chili powder, optional
1 can black beans, rinsed and drained, optional
PREPARATION
1. Heat preferred cooking oil in a large skillet over medium-high heat. Add chicken, season with salt and pepper, and cook until cooked through and no longer pink.
2. Add lime juice and cilantro, and stir to combine. Remove chicken from pan, place on a plate, and set aside.
3. Add a little more oil to pan if needed, then add red onion, bell pepper, and garlic. Stir to combine. Allow to cook until onion begins to turn transparent, stirring occasionally.
4. Add riced cauliflower, corn, and chili powder. Cook until cauliflower is soft and remove from heat.
5. Distribute chicken and cauliflower mixture evenly between 4 containers. This meal prep can be refrigerated for up to 4 days.
6. Enjoy!