These Cauliflower Crust Egg Cups Are An Easy Grab-And-Go Breakfast
Getting a dose of veggies in the morning can be a no-brainer!
Cauliflower Crust Egg Cups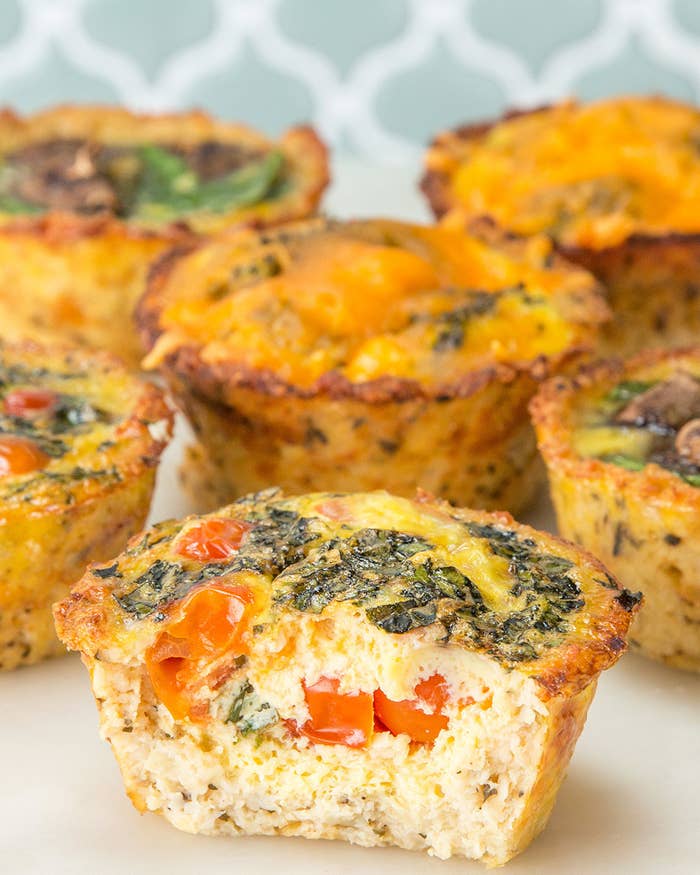 INGREDIENTS
1 medium-large head of cauliflower
1 teaspoon salt
1 tablespoon olive oil
1 teaspoon garlic powder
⅓ cup onion, diced
½ cup parmesan cheese, grated
Salt, to taste
Pepper, to taste
6 eggs, whisked (separate into a batch of 2 and a batch of 4)
Tomato and basil, for garnish
Spinach and mushrooms, for garnish
Broccoli and cheddar, for garnish
PREPARATION
1. Preheat oven to 375°F/200°C.
2. Using a food processor or a cheese grater, grate the cauliflower until fine or "riced."
3. Transfer the riced cauliflower to a large microwave-safe bowl, sprinkle with salt and microwave for 5 minutes. This will steam the cauliflower to help you remove the moisture.
4. Allow cauliflower to cool and transfer into a second bowl lined with a thin towel (cheesecloth and paper towels will also work). Wrap the cauliflower tightly and squeeze out the liquid. You may need to switch towels to ensure as much liquid has been removed as possible.
5. Return the cauliflower to your large bowl and add olive oil, garlic powder, onion, parmesan, salt, pepper, and 2 of the eggs. Combine well.
6. Line a lightly greased muffin tin with the cauliflower mixture, using your fingers to press it firmly into the bottom and sides, creating a crust. Bake for 20-30 minutes, or until the crust turns golden brown.
7. Pour the remaining whisked eggs evenly into the cauliflower cups, then add toppings of your choice. We used tomatoes and basil, spinach and mushrooms, and broccoli and cheddar cheese.
8. Bake an additional 15-20 minutes or until eggs are cooked through.
9. Allow to cool slightly and enjoy!
Would you meal prep with these?