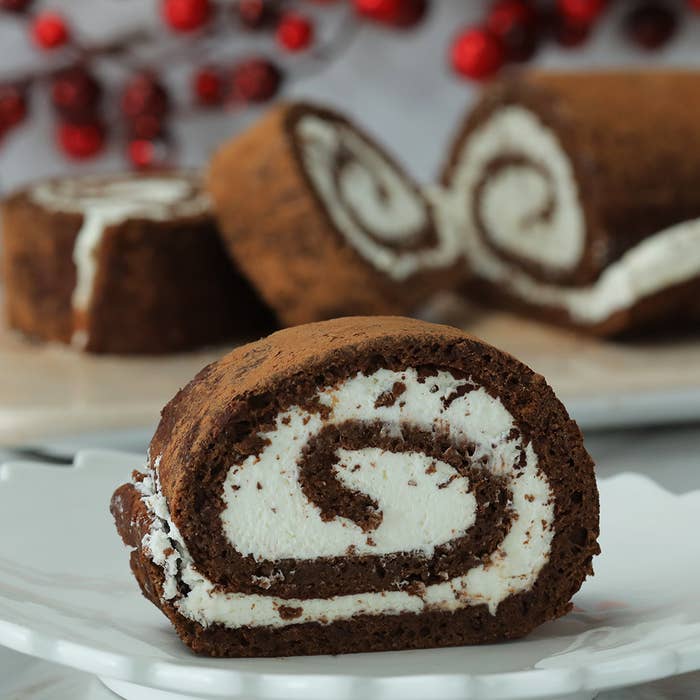 INGREDIENTS:
Batter
4 eggs, separated
3 tablespoons granulated sugar
1⁄2 teaspoon salt
1⁄8 teaspoon cream of tartar
1⁄3 cup packed light brown sugar
1 teaspoon vanilla extract
1 1⁄2 tablespoons water
1⁄4 cup cocoa powder, plus more for dusting 5 tablespoons flour
1 teaspoon cornstarch
1⁄2 teaspoon baking powder
3 (1.55 oz) Crunch® Bars
Filling
2 cups heavy cream
1⁄4 cup powdered sugar
1 teaspoon salt
2 teaspoons peppermint extract
PREPARATION:
1. Preheat oven to 400oF.
2. Break up 2 of the Crunch® Bars into large pieces and add to a food processor. Pulse until candy is broken down into pebbles and no large pieces remain. Set aside.
3. Place the egg whites in a large bowl. Using a hand mixer, beat the whites on high until foamy. Pour in the sugar and continue to whip until soft peaks form. Add in salt and cream of tartar and whip until shiny and stiff peaks have formed. Set aside.
4. In a smaller bowl, beat the egg yolks. Add the brown sugar a spoonful at a time, beating between each addition. Once all the brown sugar has been added, continue to beat until thick. Whisk in the vanilla extract and water. Fold this mixture into the whipped egg whites.
5. Place a sieve over the egg bowl and sift the cocoa powder, flour, cornstarch, and baking powder into the eggs. Fold the dry ingredients in. Add the crushed Crunch® Bars and fold until no more dry streaks remain.
6. Coat a half-size baking sheet with cooking spray. Lay down a piece of parchment and spray again with cooking spray. Sift cocoa powder over surface of parchment. Pour cake batter onto baking sheet and spread evenly using an offset spatula.
7. Bake cake for 7 minutes, or until a toothpick comes out clean. As soon as the cake comes out of the oven, dust the top with cocoa powder. Place a large kitchen towel over the top of the cake, and a large cutting board on top of that. Holding on to the hot tray using the edges of the towel, flip the whole thing over so that the cake falls onto the towel. Place down the cutting board with the towel and cake on top of it.
8. Peel the parchment off the cake and dust again with cocoa powder. Roll up the cake (short end to short end) with the towel inside. Place in the fridge to cool while you make the filling.
9. Filling: Pour heavy cream into a bowl. Whip using a hand mixer until soft peaks form. Add in the powdered sugar, salt, and peppermint extract. Continue whipping until stiff peaks form.
10. Remove cake from fridge and unroll carefully. Evenly spread filling over the cake using an offset spatula. Carefully roll up the cake, short end to short end. Move cake over to a serving tray.
11. Roughly chop the last Crunch® Bar. Slice cake into thick slices and garnish with chopped Crunch® Bar.