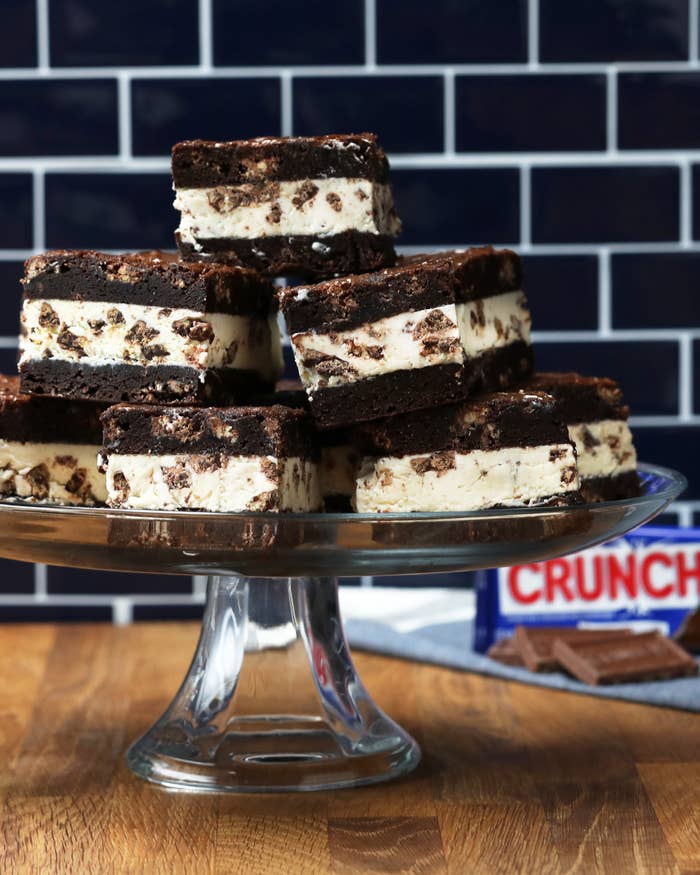 INGREDIENTS:
Ice Cream
2 cups heavy whipping cream
1 14-ounce can sweetened condensed milk
6 1.55-ounce Crunch® bars, roughly chopped
Brownies
2 boxes of your favorite brownie mix
½ cup water
1 cup vegetable oil
4 eggs
6 1.55-ounce Crunch® bars, roughly chopped
PREPARATION:
1. Whip the heavy cream in a large bowl until soft peaks form. Add the sweetened condensed milk and whip again. Fold in 6 of the chopped Crunch® bars. Pour into a parchment-lined 9 x 13-inch pan and freeze overnight.
2. Preheat oven to 350ºF.
3. In a large bowl, whisk together the brownie mix, water, vegetable oil, and eggs. Once fully combined, fold in the other six chopped Crunch® bars.
4. Line two 9 x 13-inch pans with parchment. Pour a thin layer of brownie batter in each pan (there will be a small amount of batter left over). Bake for 20 minutes or until a toothpick inserted into the brownie comes out clean. Remove from oven and let cool for a few minutes. Lift brownie sheets out using the edges of the parchment and place on a cooling rack. Place cooling rack with brownies in the freezer for 20 minutes.
5. Once brownies are very cold, remove the parchment paper. Lift the ice cream out of the pan and remove the parchment paper from the back of it. Layer the ice cream between the brownie sheets and freeze the whole thing for 1–2 hours. Slice into sandwiches and serve!