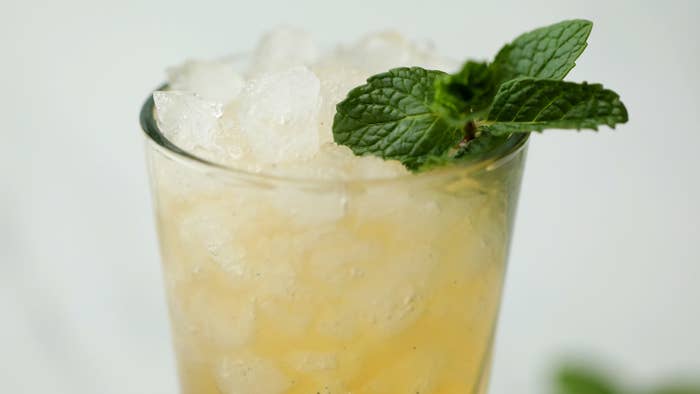 Ingredients
Vanilla Mint Simple Syrup
3 whole vanilla beans
1⁄2 cup water
1⁄2 cup sugar
1⁄3 cup torn mint leaves
Julep
Handful mint leaves
3 ounces Crown Royal Vanilla
1⁄4 cup vanilla mint simple syrup
2 tablespoons lime juice
Mint sprigs, for garnish
Preparation
Vanilla Mint Simple Syrup:
1) Slice vanilla bean down the center and scrape out the black seeds.
2) Add seeds and husks to small sauce pot.
3) Add water, sugar, and torn mint leaves. Bring to a light simmer, whisking occasionally.
4) Let simmer for 10 minutes, then remove from heat and let cool. Strain syrup.
Julep:
5) Place mint leaves in a cocktail shaker. Crush leaves with a muddler.
6) Add Crown Royal Vanilla, simple syrup, lime juice, and a handful of ice cubes. Shake well.
7) Strain into two highball glasses filled with crushed ice. Garnish with mint sprigs.
8) Enjoy!