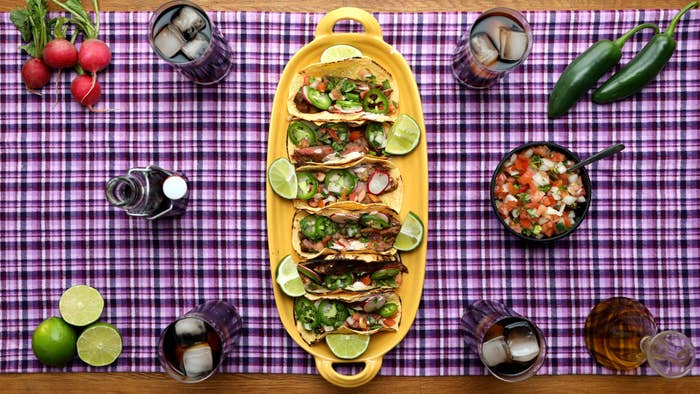 Ingredients
Spicy Sour Cream
1⁄2 cup sour cream Juice of 1 lime
1⁄2 teaspoon kosher salt
1⁄2 teaspoon cayenne
Spicy Steak
2 teaspoons kosher salt
1 teaspoon chipotle power
1⁄2 teaspoon cayenne
1 pound boneless rib eye or sirloin steak
2 teaspoons olive oil
For Serving:
Warm corn tortillas
Thinly sliced radishes
Thinly sliced jalapeño
Pico de gallo
Minced cilantro
Lime wedges
Preparation
1. Spicy sour cream: Whisk together all ingredients until smooth. Set aside.
2. Steak: In a small bowl, stir together salt, chipotle powder, and cayenne. Rub both sides of the steak with olive oil, then evenly coat both sides with the spice rub.
3. Heat an oiled cast-iron pan over high heat. Sear steak on each side for 3–4 minutes or until cooked to desired temperature. Remove from heat and let rest for 10 minutes. Slice steak thinly against the grain.
4. Serving: Swipe each tortilla with spicy sour cream. Add a few slices of steak. Top with radishes, jalapeño, pico de gallo, and cilantro. Serve with lime wedges.