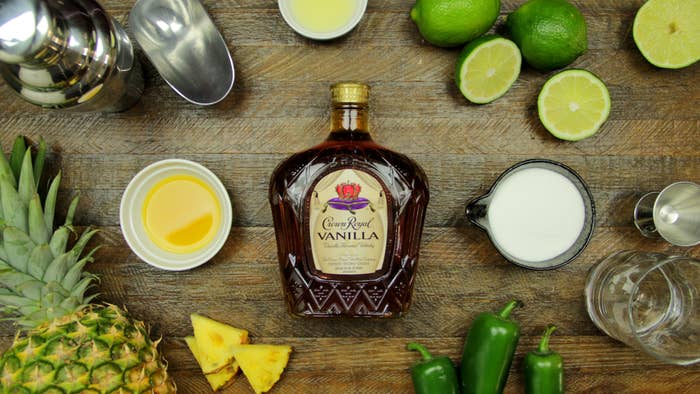 Ingredients
Simple Syrup
1⁄2 cup water
1⁄2 cup sugar
Cocktail
2 ounces Crown Royal Vanilla
1 ounce pineapple juice
1⁄2 ounce simple syrup
3⁄4 ounce lime juice
Pineapple wedge, for garnish
Jalapeño slices, for garnish
Preparation
1. Simple syrup: Combine water and sugar in a pot over medium heat. Bring to a simmer, stirring to dissolve the sugar. Let simmer for 10 minutes. Remove from heat and let cool.
2. Cocktail: Combine Crown Royal Vanilla, pineapple juice, simple syrup, and lime juice in a cocktail shaker with ice. Shake vigorously.
3. Strain into a glass filled with fresh ice. Garnish with a pineapple wedge and a few slices of jalapeño.