Fire up that Crock-Pot and make these ~TASTY~ meatballs for any party, and they are sure to be a magical hit!
Slow Cooker Buffalo Chicken Meatballs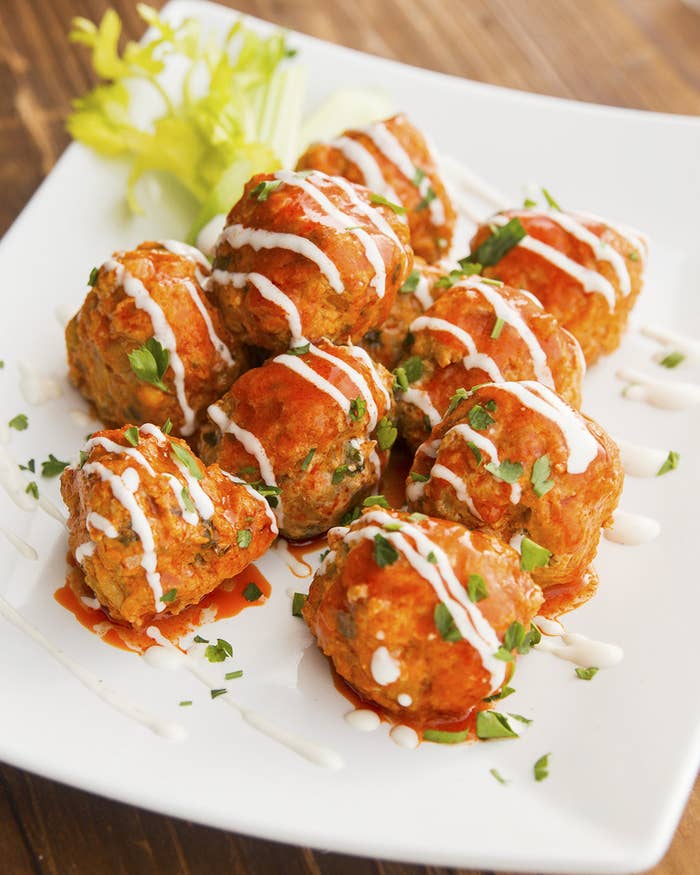 Here's what you will need:
For the sauce:
1/2 stick of butter, cubed
2 cups Louisiana-style hot sauce
For the meatballs:
3 stalks of celery, finely chopped
1/2 a medium white onion, finely chopped
3 cloves of garlic, minced
1/4 cup of finely chopped parsley
2 tsp salt
2 tsp black pepper
1 lb ground pork
1 lb ground chicken
6 oz blue cheese, crumbled
2 eggs
1 cup panko bread crumbs
Directions:
Begin by making the buffalo sauce. Turn your crock pot on to its lowest setting and combine the hot sauce and butter until all the butter is melted.
Meanwhile, in a large bowl, combine the celery, onion, garlic, parsley, salt, black pepper, pork, chicken, blue cheese, eggs, and most of the bread crumbs. Work with your hands to evenly combine all the ingredients. Pinch off a golf ball's worth of the mixture and roll in your hands to form a ball. If the mixture is too soft to hold its shape, add more bread crumbs.
Once all the balls are formed, arrange them in the bottom of your crock pot, turning each one to evenly coat it with the buffalo sauce. Layer the meatballs as necessary, beginning around the perimeter of the pot. Turn your crock pot to high, and cook 1 1/2 - 2 hours.
Serve with ranch, celery, and a sprinkling of parsley.