Helping Dogs Everywhere get PAW-litical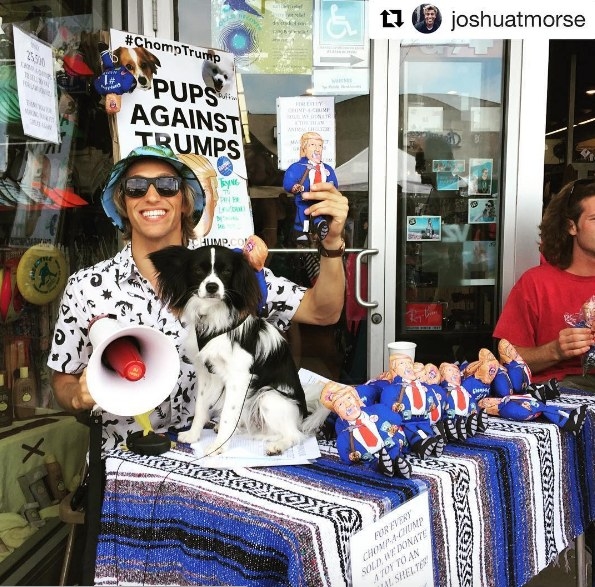 Meet Josh Morse, a local surfer from San Diego, California who also happens to be the founder and creator of Chomp A Chump- America's Greatest Political Parody Squeaking Dog Toy!
Josh came up with the idea for Chomp A Chump after his Australian Shepherd rescue starting barking at the TV when Donald Trump was speaking during one of the Republican debates this past fall. Amused, Josh turned up the volume, and Cody began growling and rag dolling his toy while staring intensely at Trump on the TV! It was that moment when a light bulb went off in Josh's head, and he decided he would make pets great again by allowing them to Chomp on Trump! In honor of Cody and Cooper, his two rescues, Josh decided that for every Chomp A Chump sold, he would donate a toy to an animal shelter!
When designing the Chomp A Chump, Josh wanted to not only make people laugh by accurately portraying Donald's brash and boisterous character, but he also wanted the Chomp to serve as a snapshot of this crazy time in American politics. We are talking future Antiques Roadshow worthy. Bernie, Hillary, Pence and even Putin (Trump's Best Pal) are all referenced in the artwork. Chomp A Chump is a dog toy, collectors item, gag gift, desk ornament, punching bag, hacky sack, or anything you want it to be! Get creative!
Josh hopes Chomp A Chump will provide serious pet and human satisfaction and also serve as a lighthearted way to start a conversation with friends about politics and why it is important to vote! This is Josh's farcical commentary of a political figure.
Chomp a Chump- A great way for letting dogs everywhere express their feelings over the debate last night
Also, can we appreciate this major side eye? #pupsagainsttrump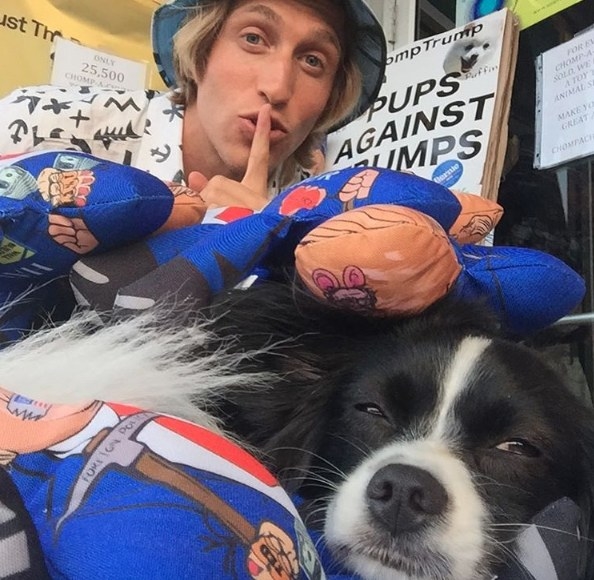 This post was created by a member of BuzzFeed Community, where anyone can post awesome lists and creations.
Learn more
or
post your buzz!