The column's appeal for some was that they saw it as the New York Times itself giving a verdict on the Harper years.
Then there was the fact that Americans Were Publishing Things About Canada. Attention must be paid!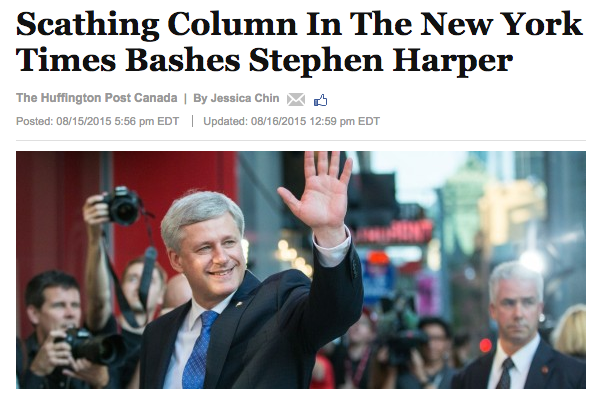 It's like catnip for Canadian pride/insecurity.
Marche's argument was that Harper's current campaign and time as prime minister both reflect a "peculiar hatred for sharing information."
He wrote:
... the nine and half years of Mr. Harper's tenure have seen the slow-motion erosion of that reputation for open, responsible government. His stance has been a know-nothing conservatism, applied broadly and effectively. He has consistently limited the capacity of the public to understand what its government is doing, cloaking himself and his Conservative Party in an entitled secrecy, and the country in ignorance.
Today, another Canadian writer took to an American publication to talk about Harper. Conservative writer David Frum offered a rebuttal of Marche in The Atlantic.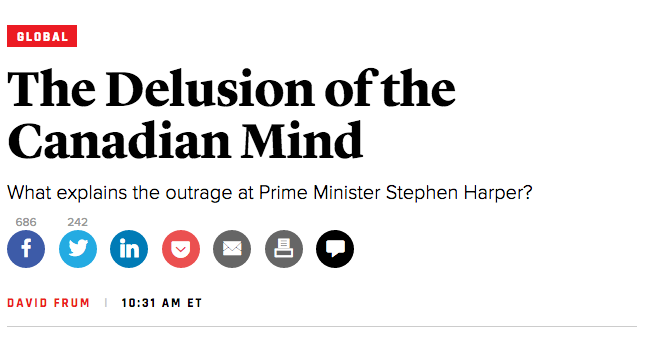 To which Marche replied:
Then Canadian Senator Linda Frum weighed in with praise for her, yes, brother's takedown of Marche's "overwrought screed."
Marche replied that as a senator she is "strictly a burden on the country." OK, so things were getting a little heated.
Senator Frum thought Marche was being hypocritical.
And on it went.
David Frum chided Marche for a lack of "self-control."
Marche didn't think much of that criticism.
Meanwhile, Jeet Heer, a Canadian writer for U.S. magazine the New Republic, saw the exchanges as evidence of the "myth" of Canadian politeness.
My God, what will the Americans think of us now?