1.
The women's 4x100m freestyle relay team realizing they'd won bronze.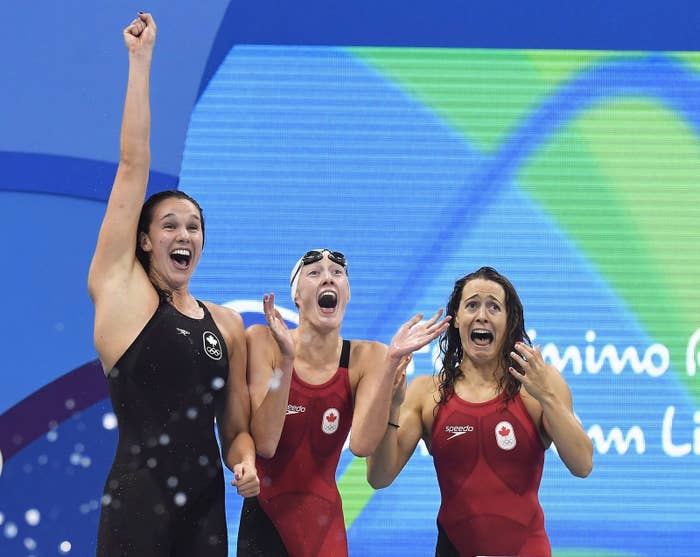 2.
Rosie MacLennan hugging her coach, Dave Ross, after repeating as Olympic champion in women's trampoline gymnastics.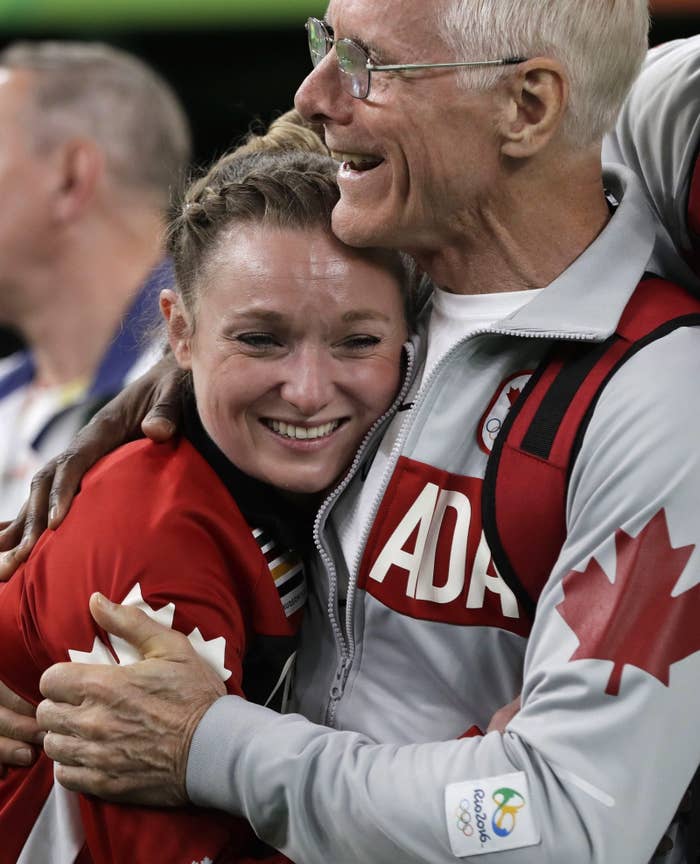 3.
Usain Bolt eyeing Andre De Grasse after he crept up on him in the men's 200m semifinal.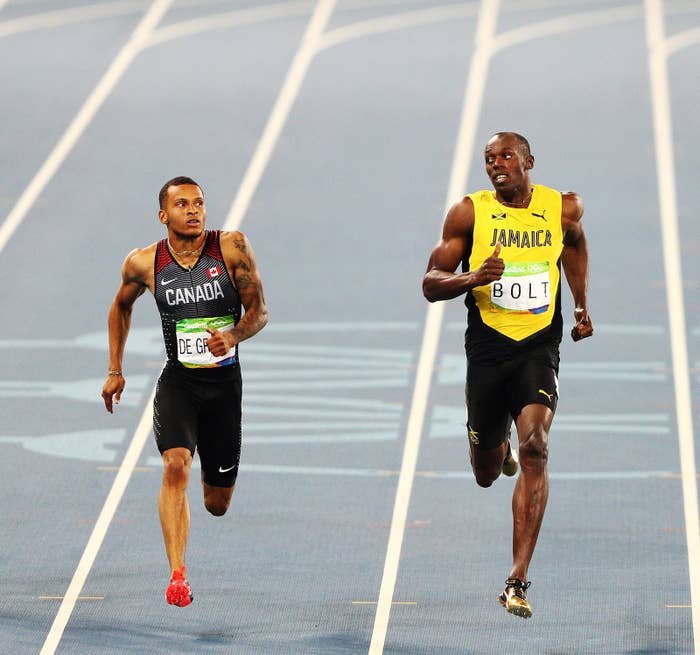 4.
Brianne Theisen Eaton as the last woman standing after winning bronze in women's heptathlon.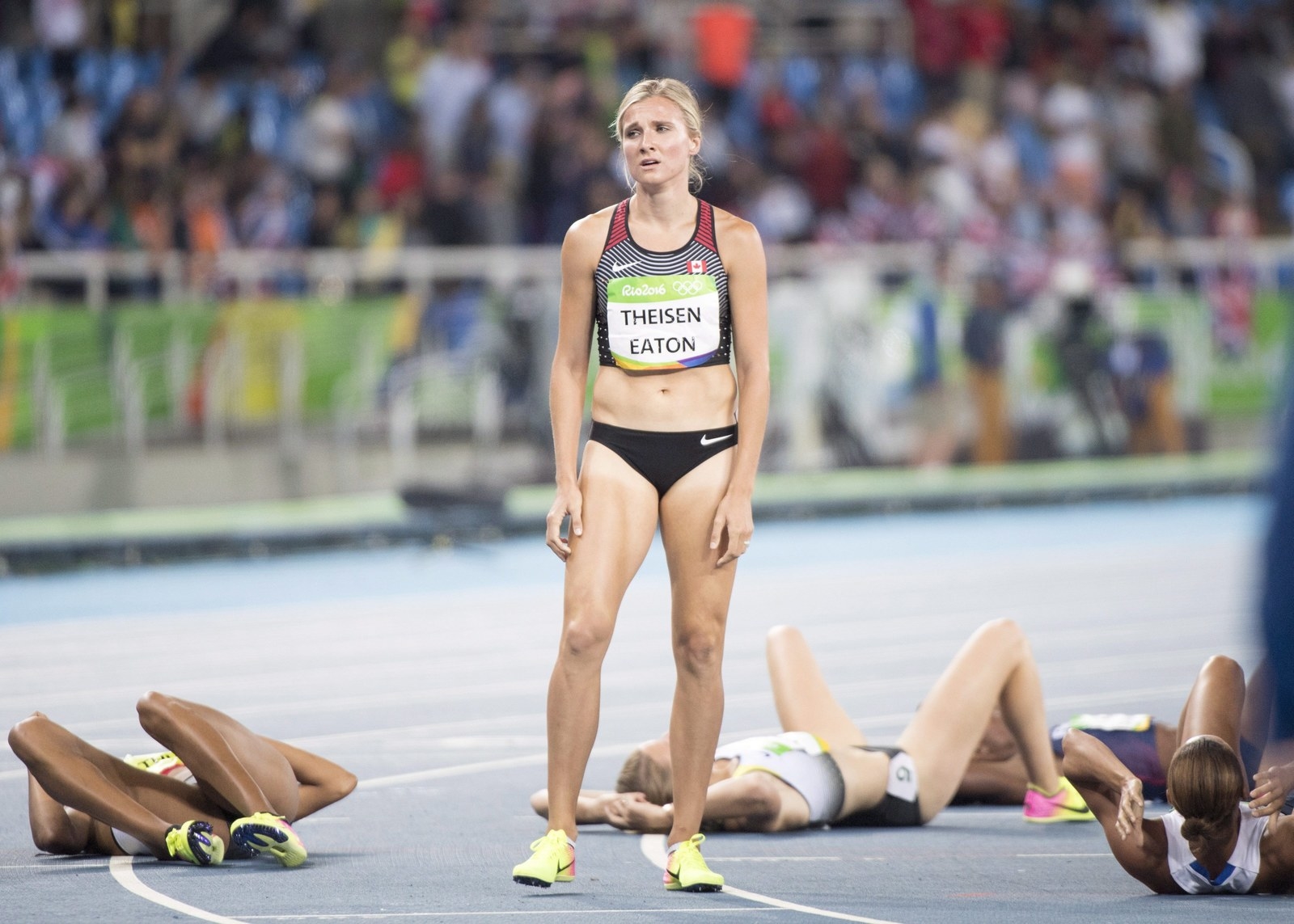 5.
Theisen Eaton embracing husband Ashton Eaton of the United States after he won gold in men's decathlon.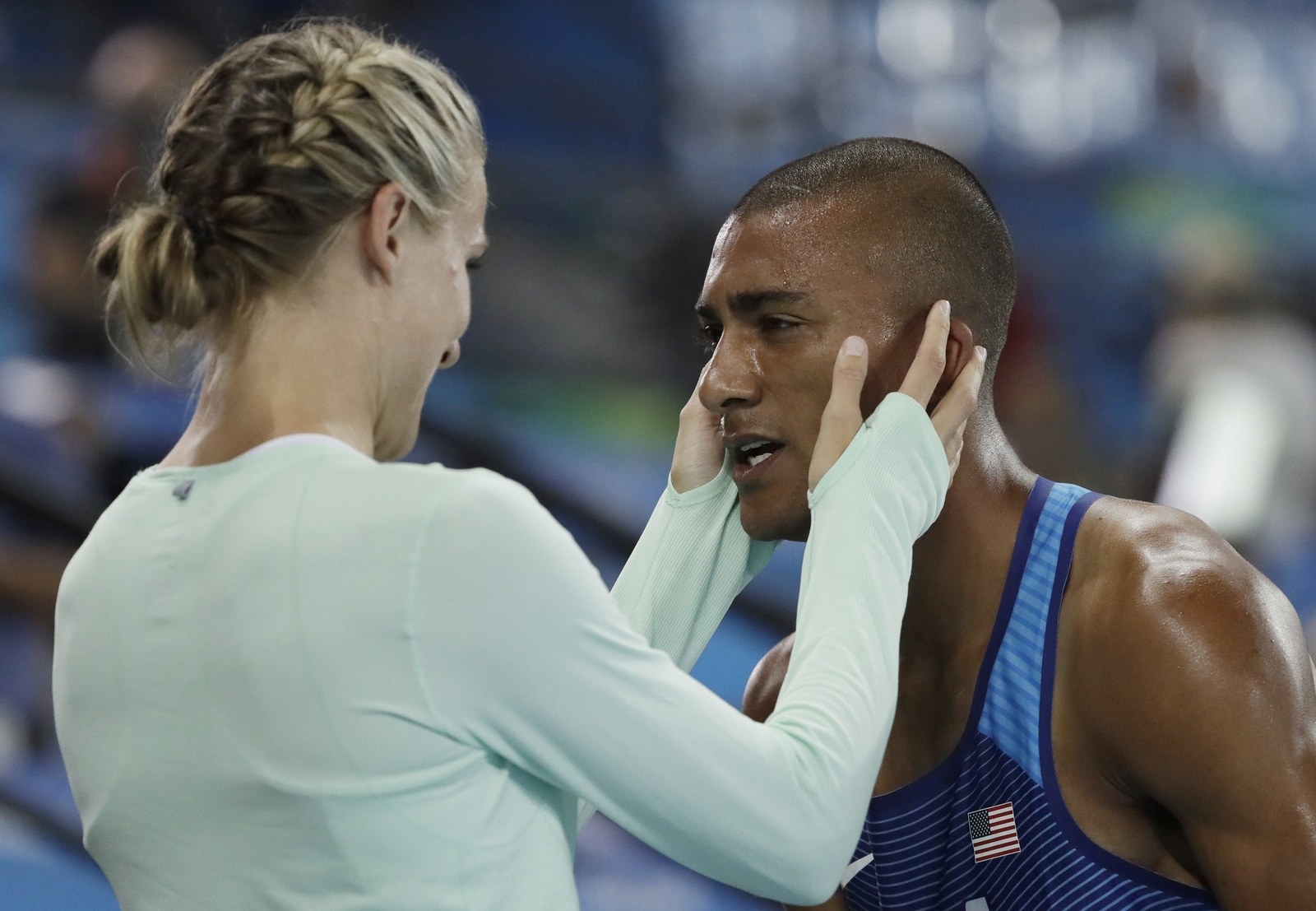 6.
Evan Dunfee collapsing after setting a new Canadian record in the men's 50km race walk.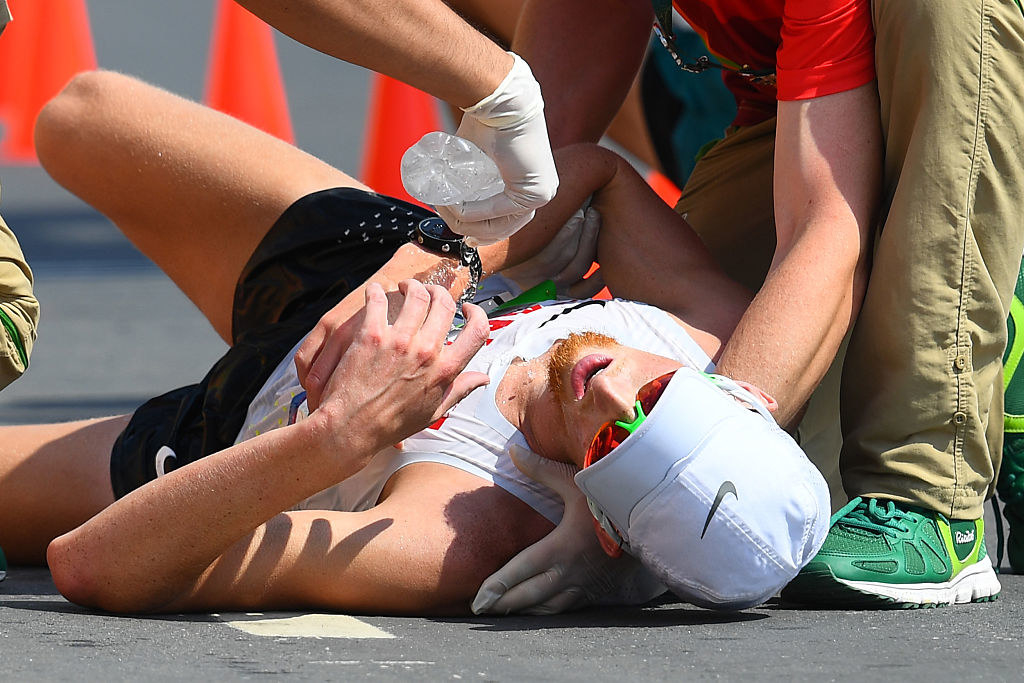 7.
High jumper Derek Drouin's ecstatic reaction to completing the jump that won him gold.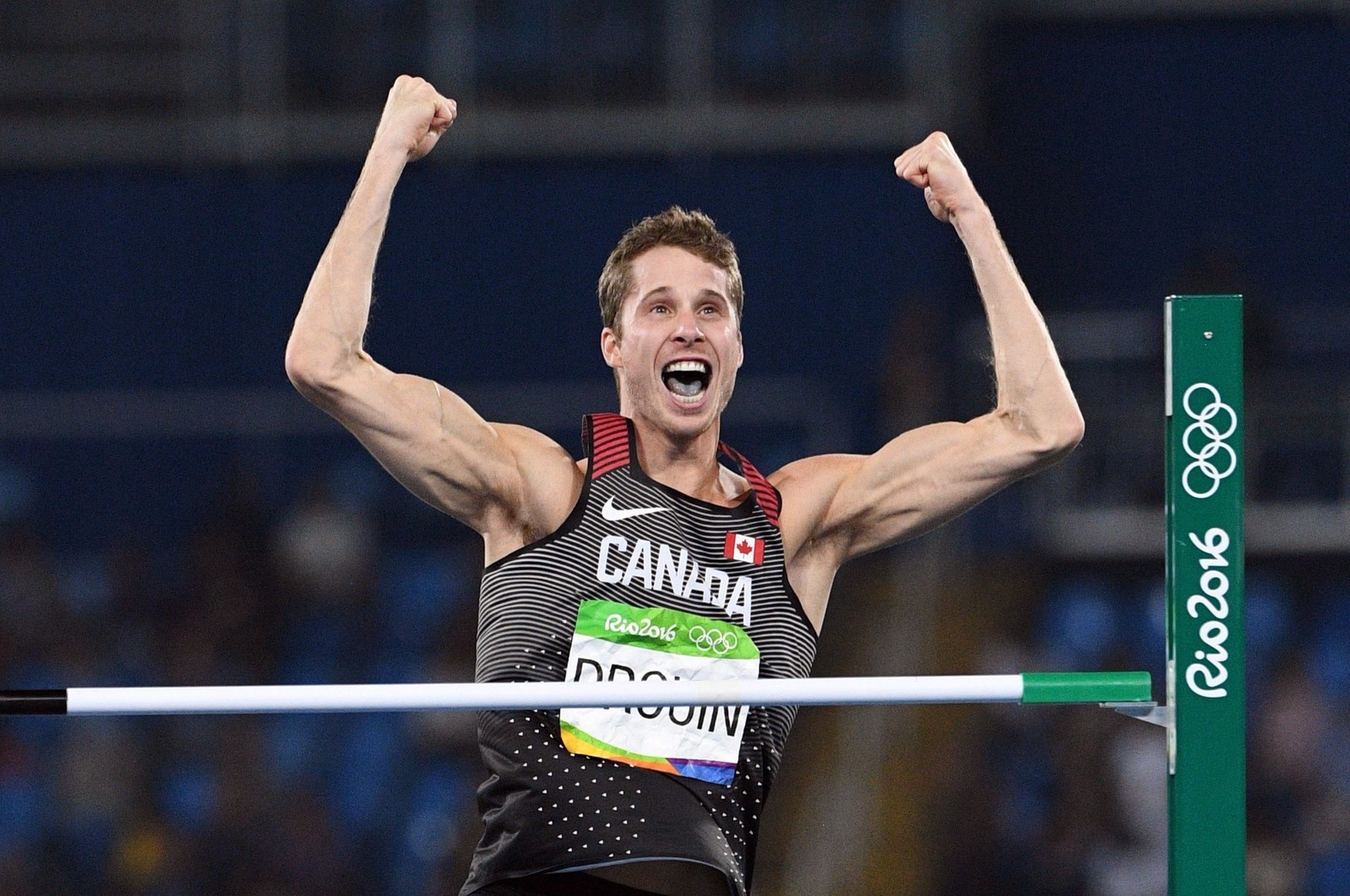 8.
Meaghan Benfeito kissing her bronze medal in women's10m platform diving.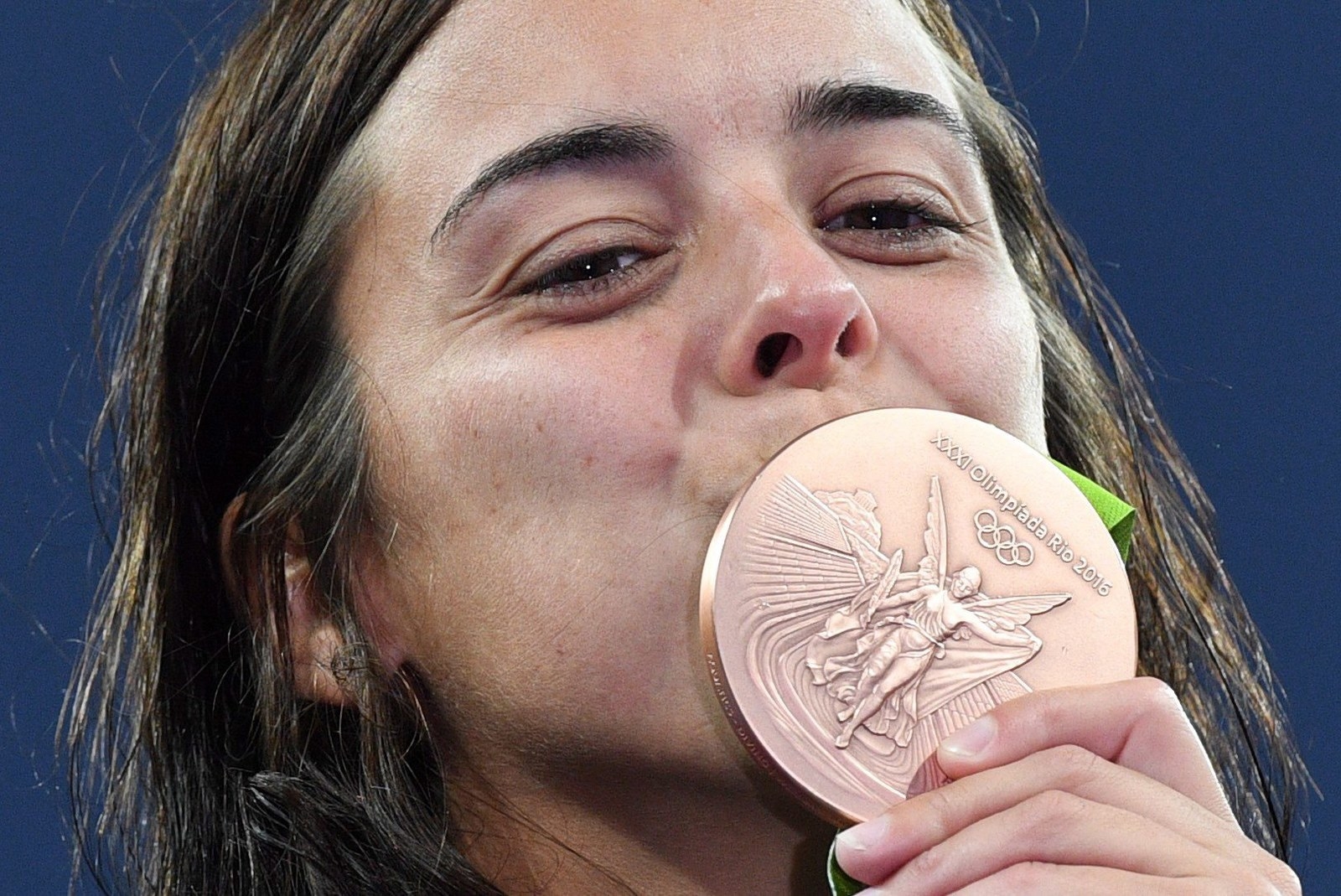 9.
Karen Paquin evading Great Britain tacklers on the way to a bronze medal in women's rugby.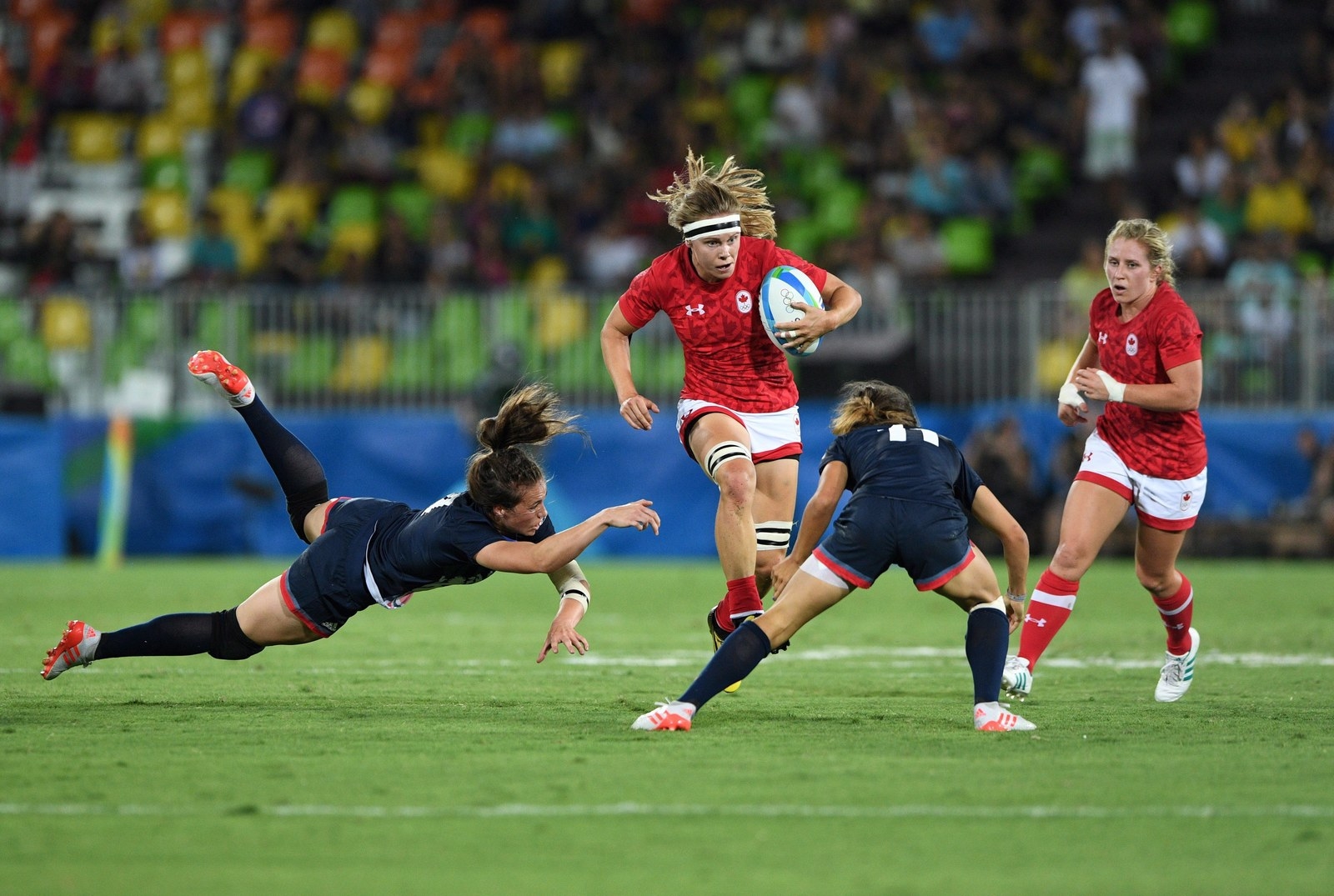 10.
The rubgy sevens women joining hands on the podium.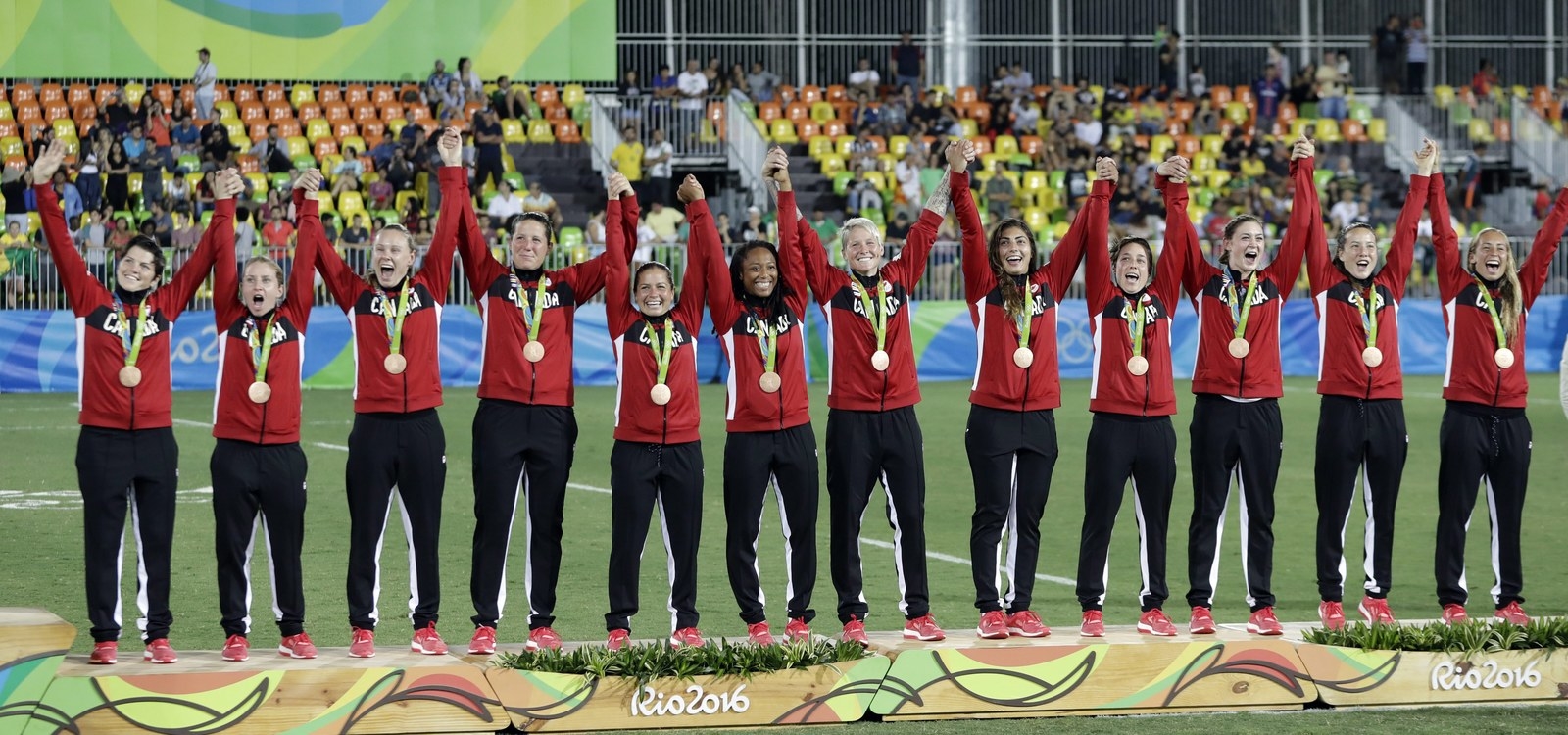 11.
Penny Oleksiak realizing she won gold in the women's 100m freestyle finals.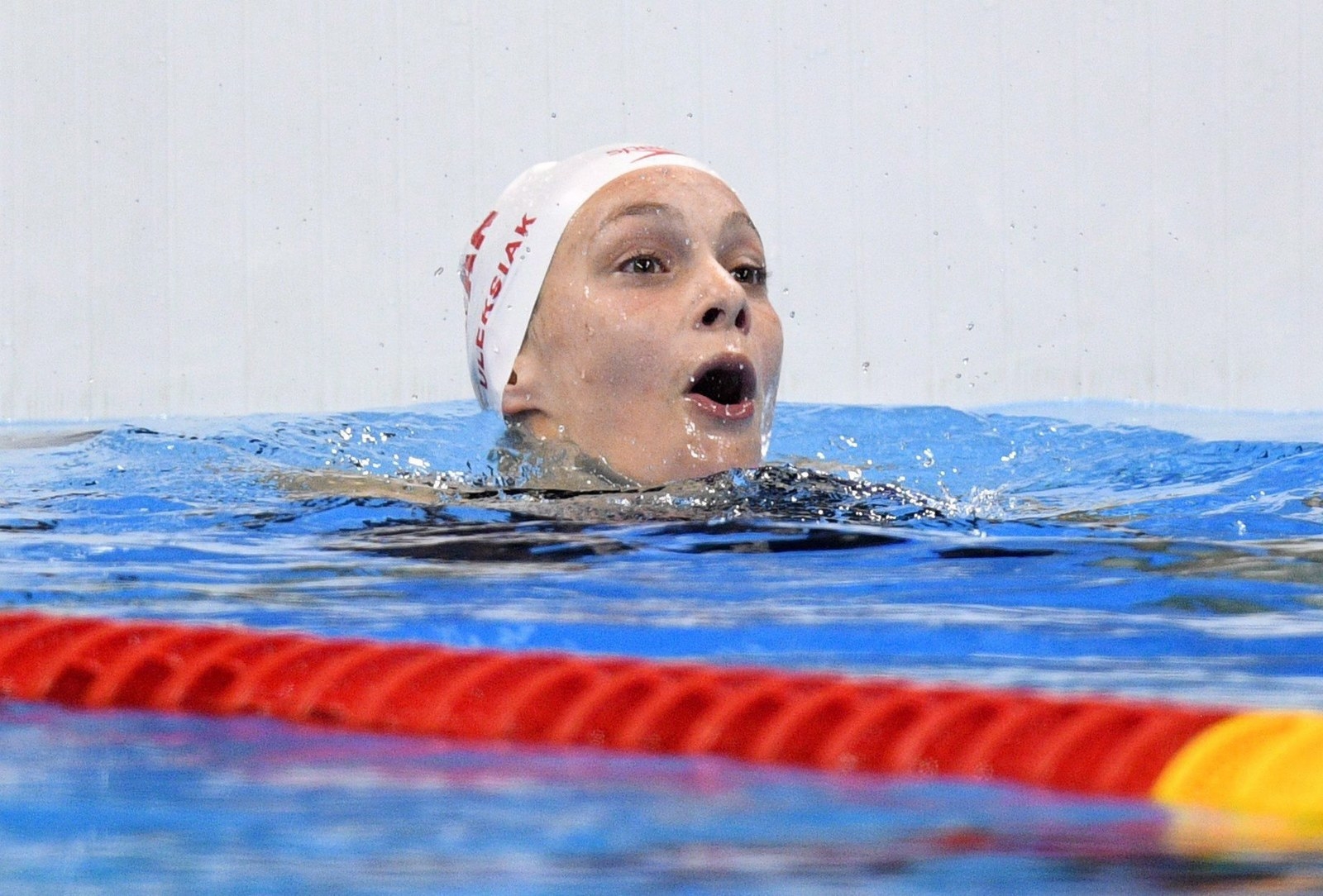 12.
Oleksiak and Simone Manuel of the United States swimming over to hug after seeing they tied for gold.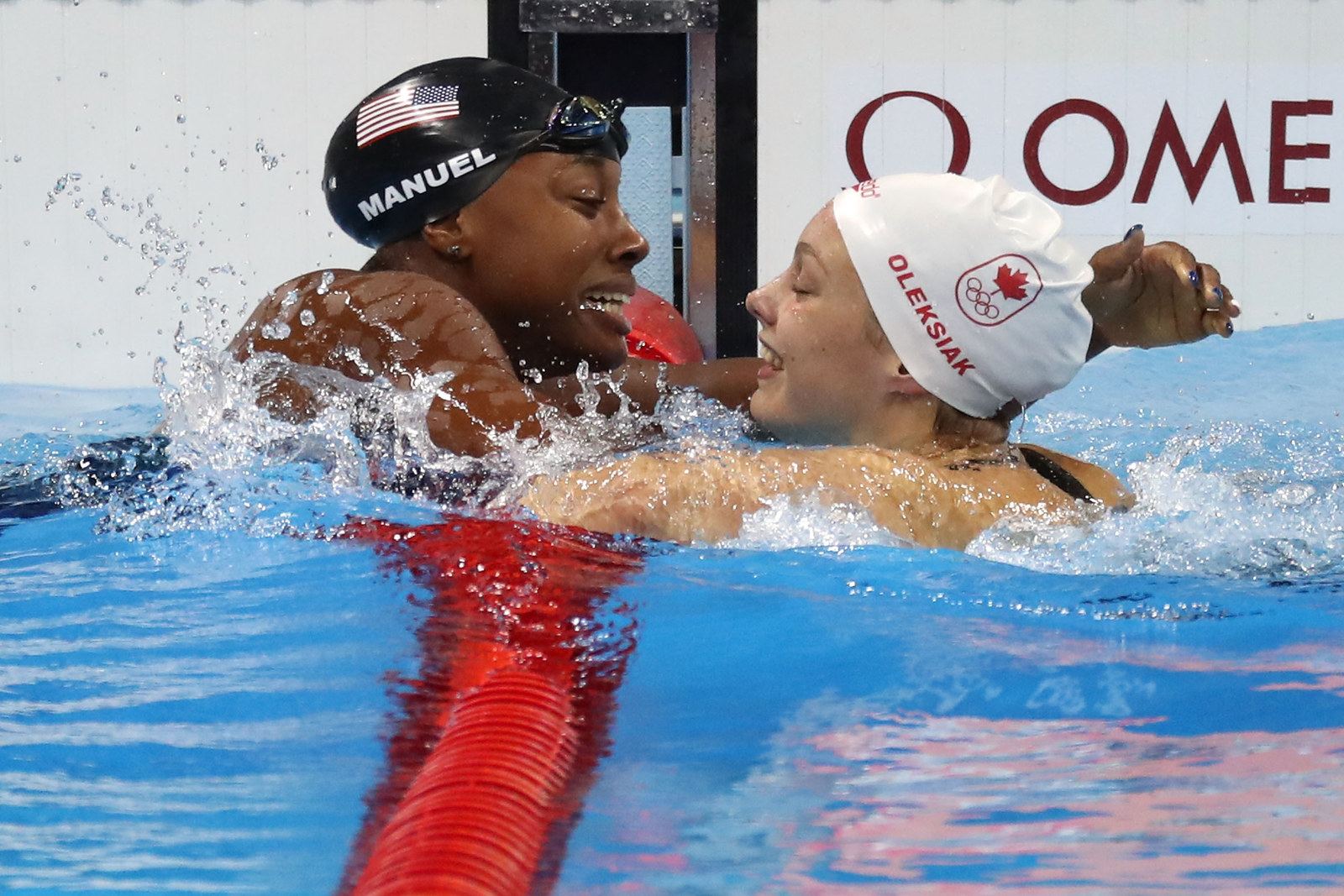 13.
Christine Sinclair celebrating her game-winning goal against Brazil in the bronze medal soccer game.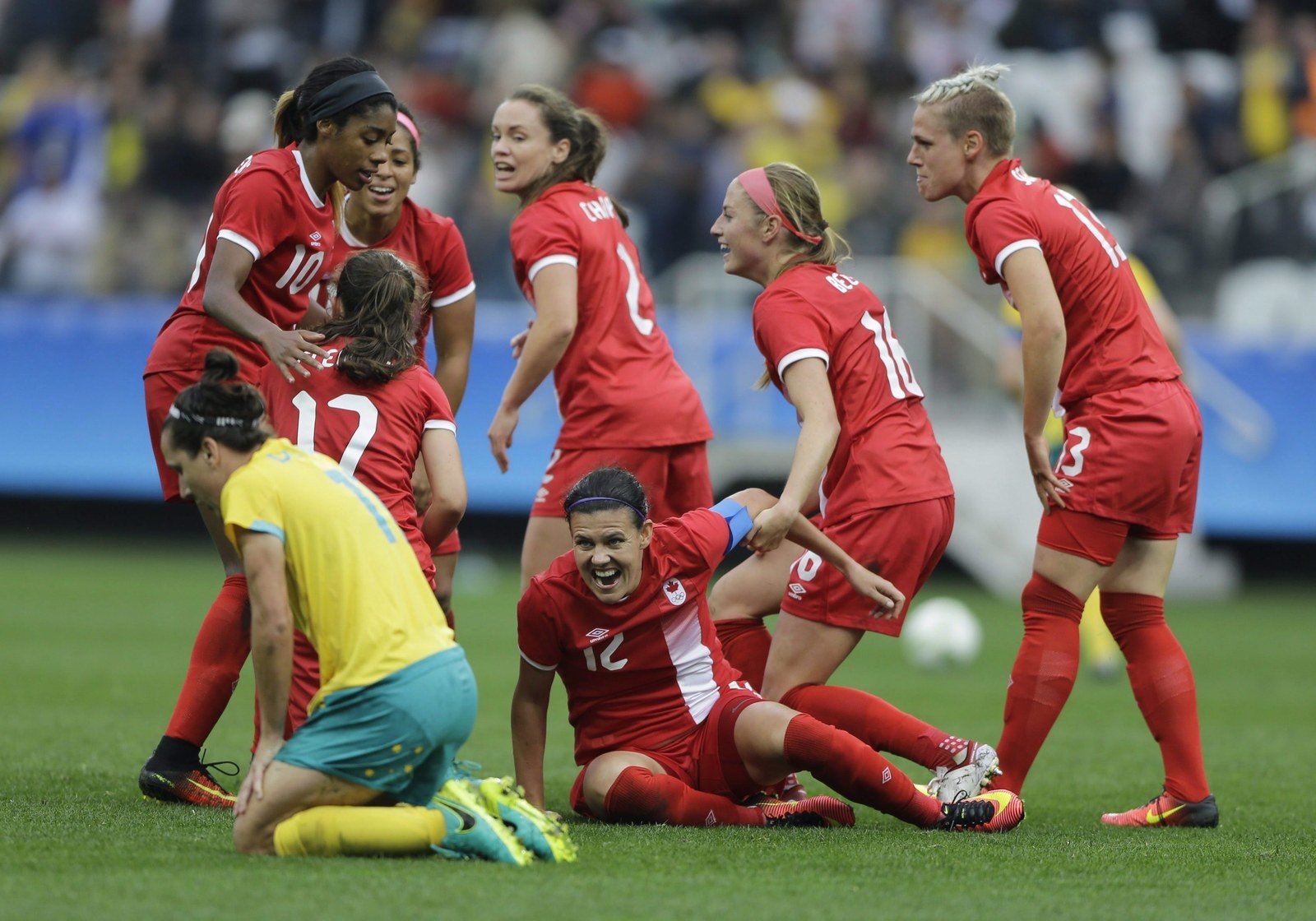 14.
The Canadian women's soccer team receiving their medals.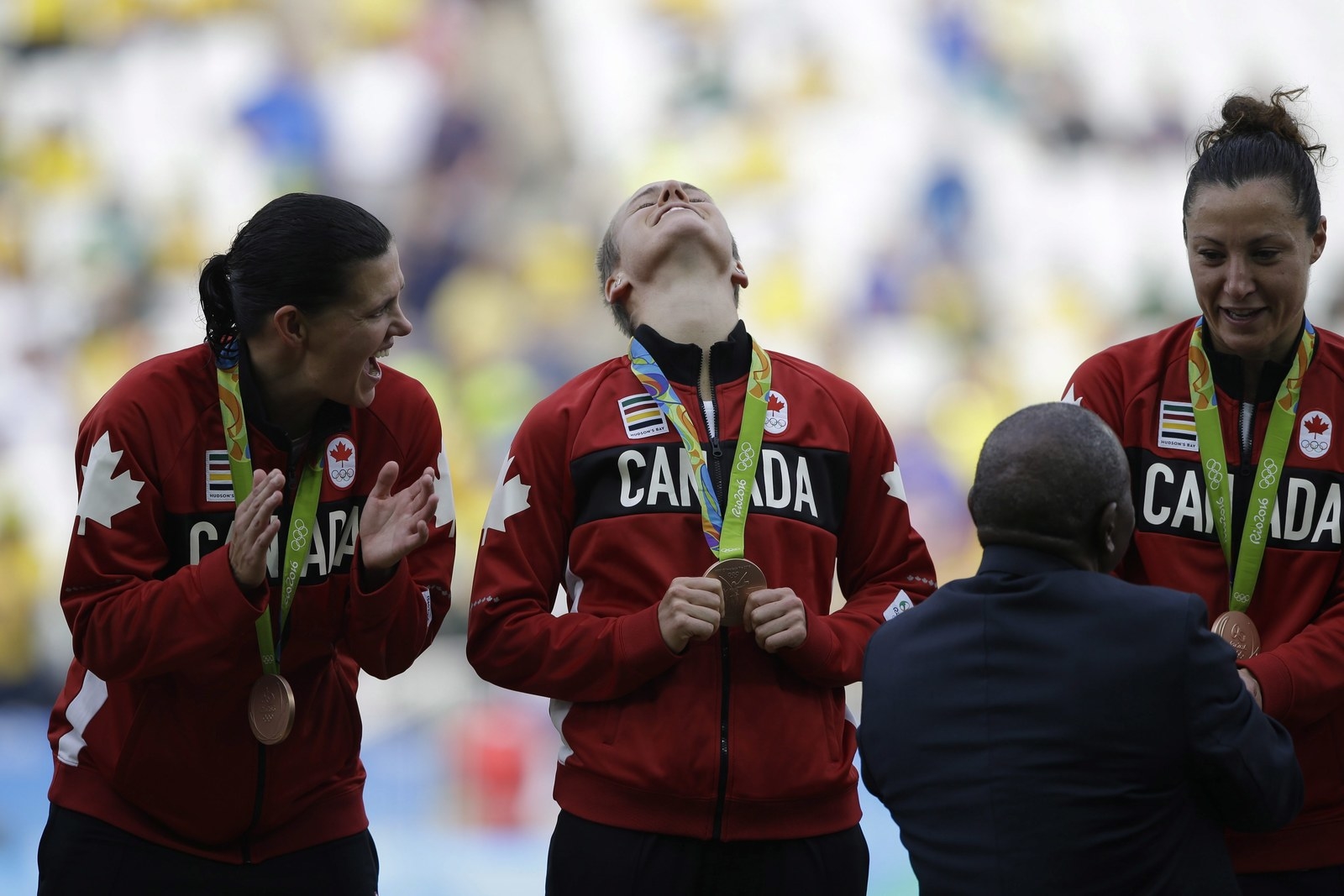 15.
Bronze medallist Damian Warner eyeing the scoreboard after finishing the 1500m race to end a grueling decathlon.
16.
Meaghan Benfeito and Roseline Filion winning bronze in women's synchronized 10m platform diving.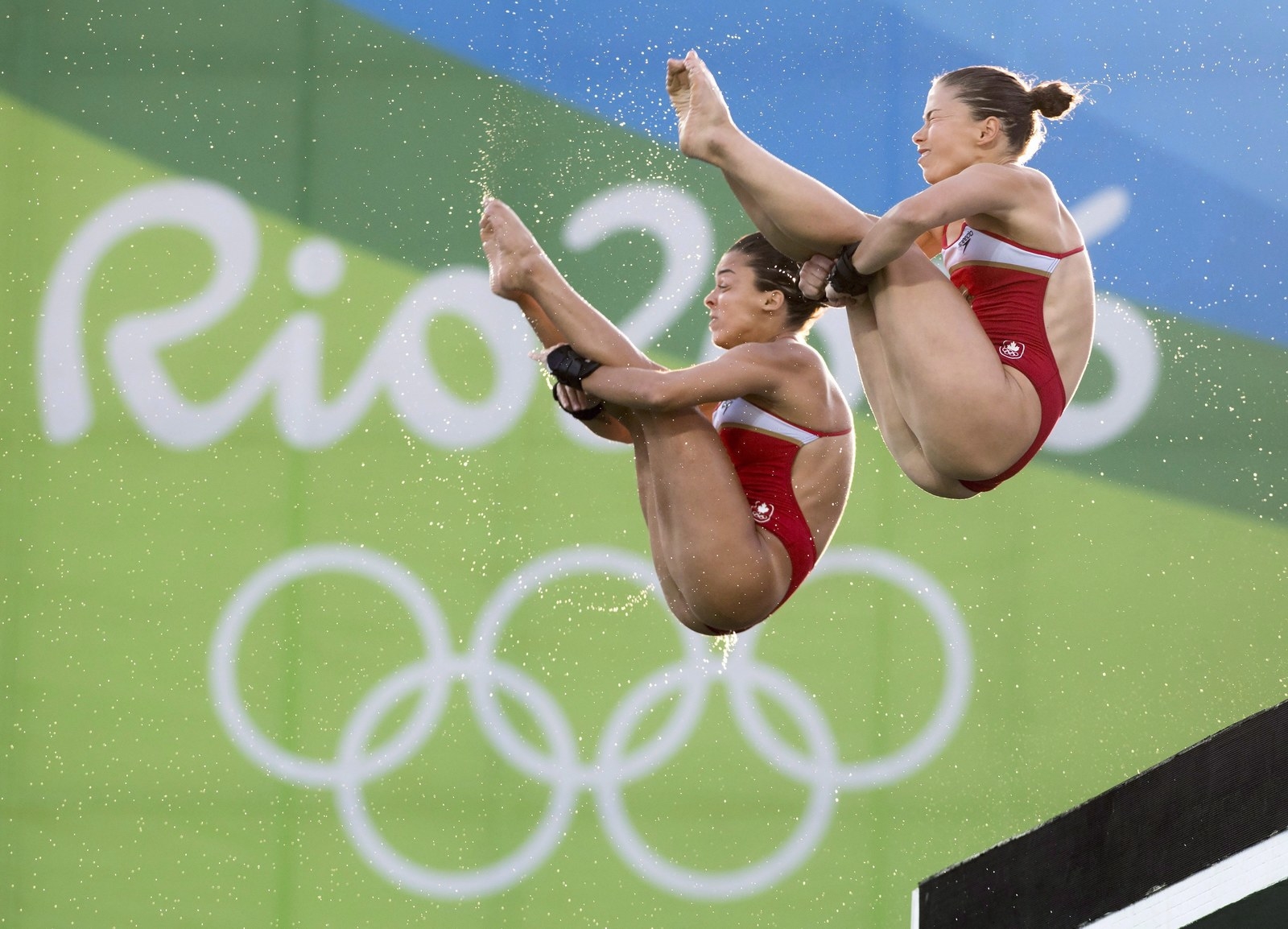 17.
16-year-old Penny Oleksiak holding up her gold, silver, and two bronze medals.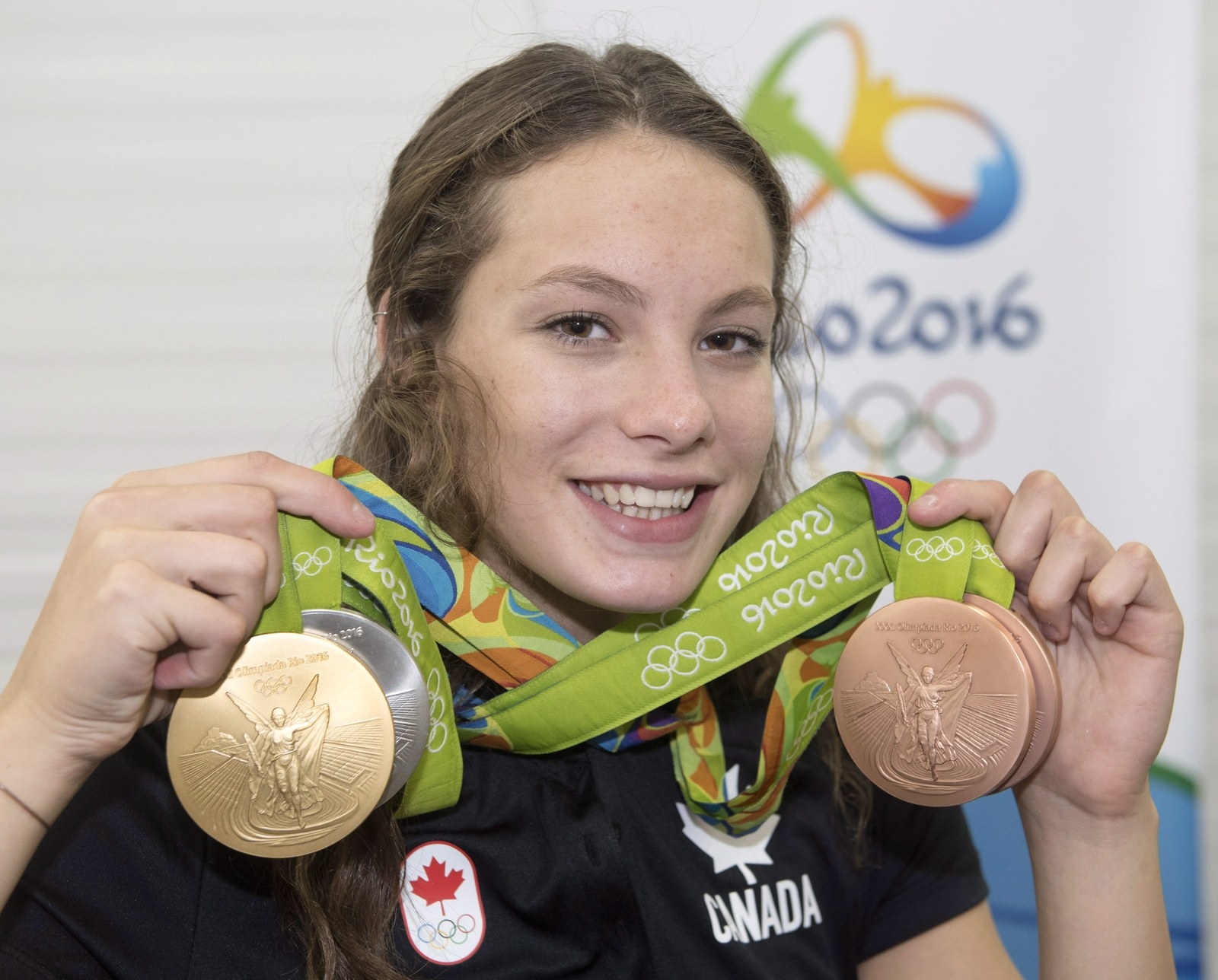 18.
Patricia Obee and Lindsay Jennerich winning silver in women's lightweight double sculls.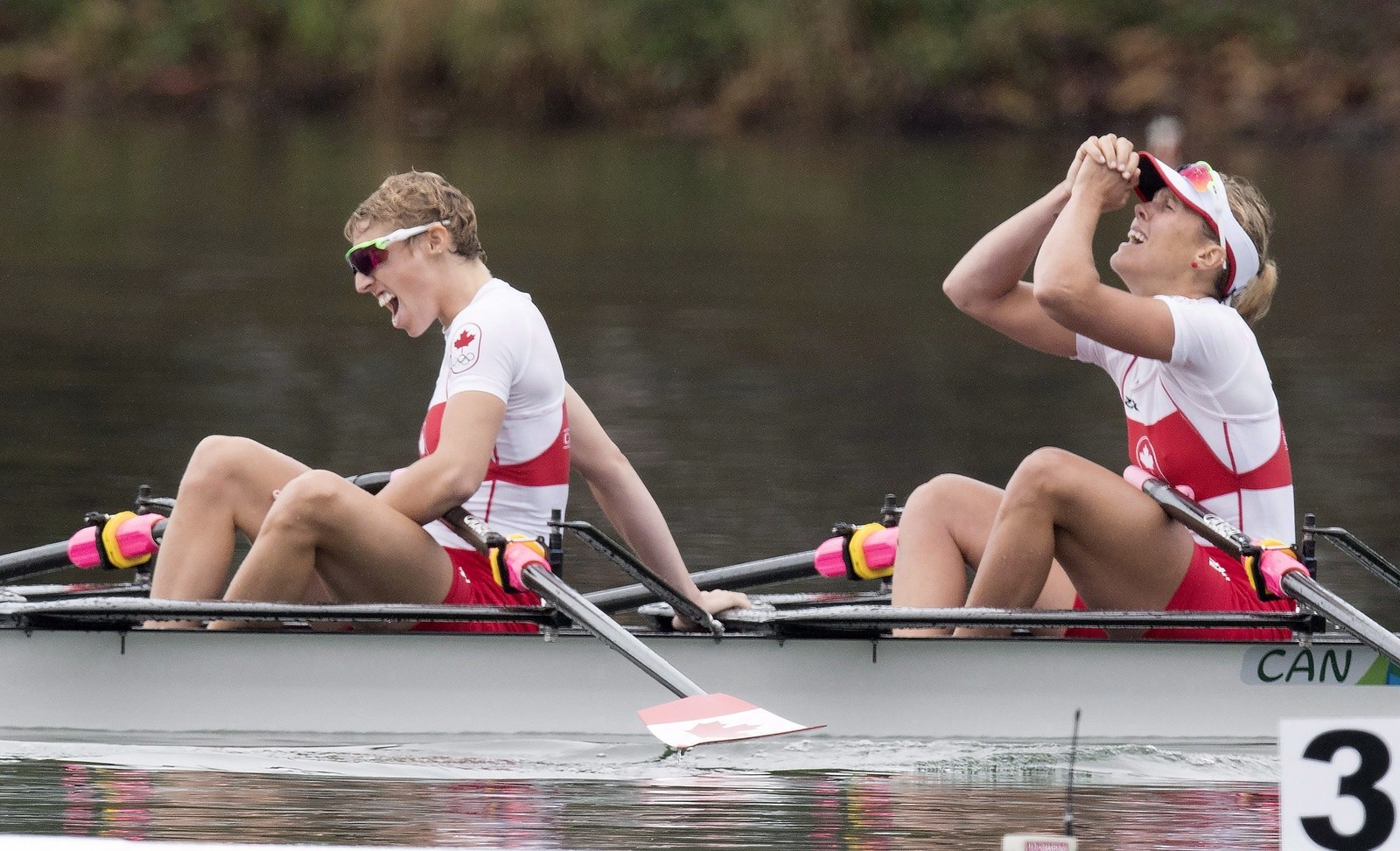 19.
The women's 4 x 200m freestyle relay team celebrating a bronze.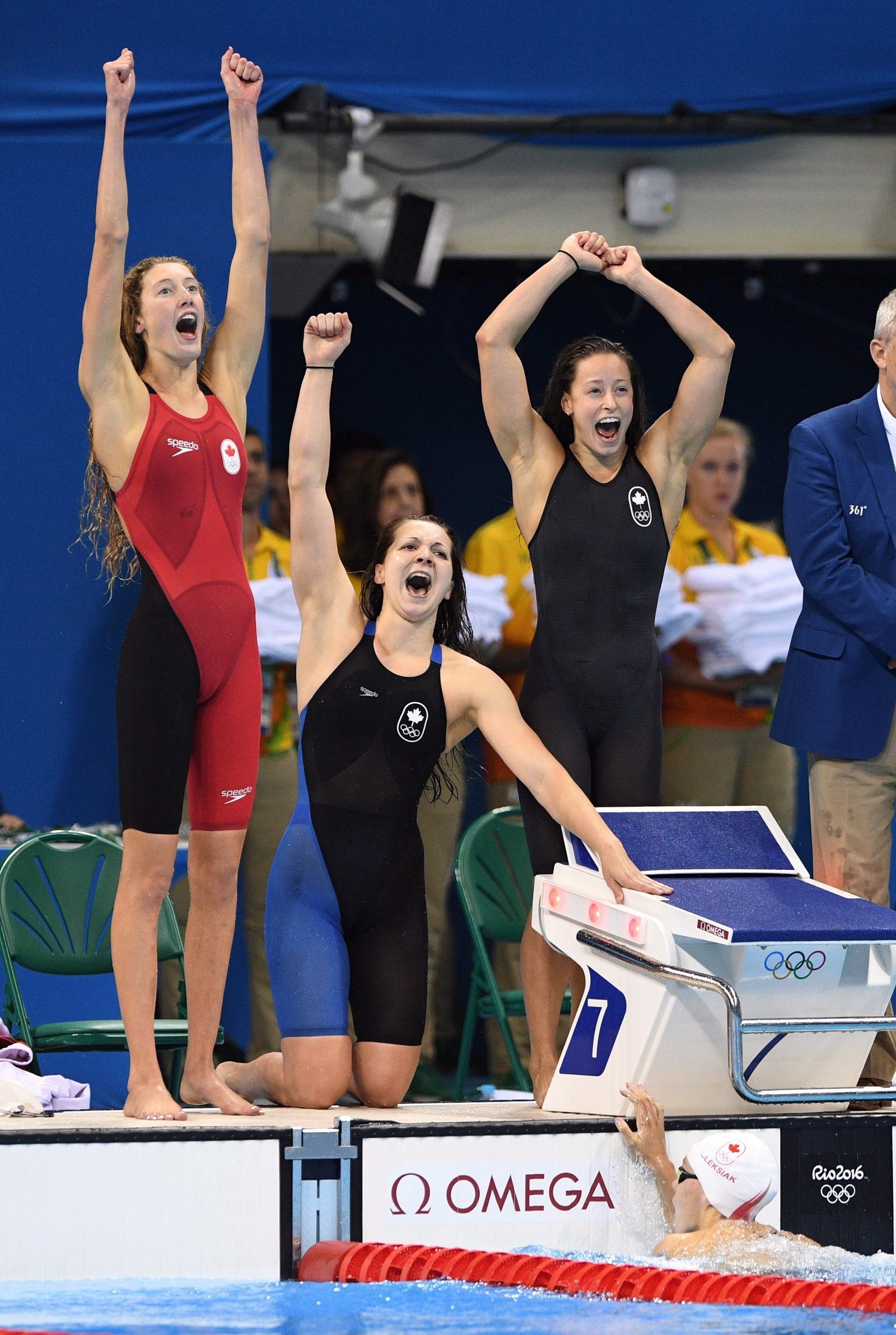 20.
Adam van Koeverden being embraced by Portugal's Fernando Pimenta after Van Koeverden failed to advance to the final in men's kayak single 1000m.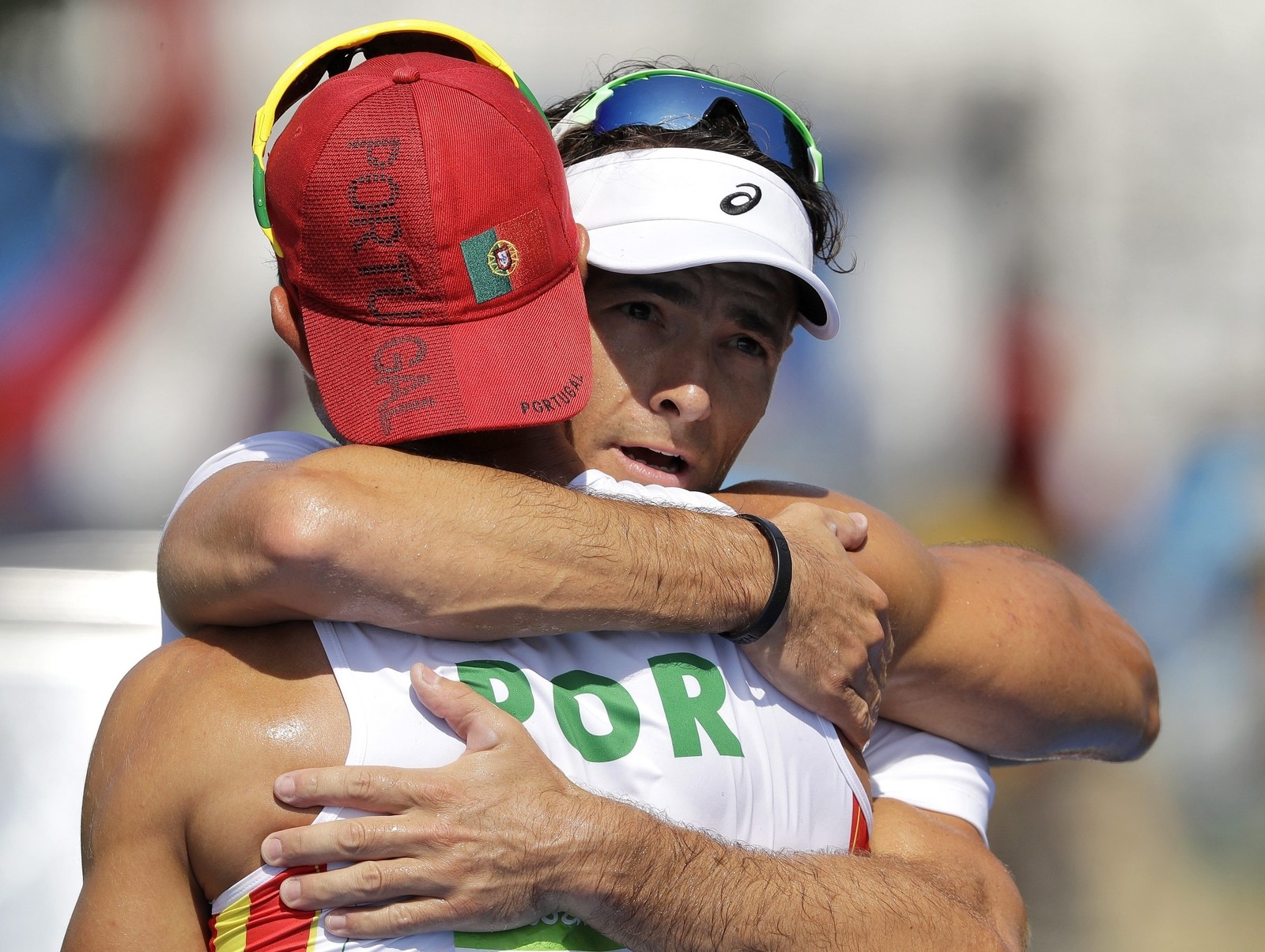 21.
Catharine Pendrel biking past fans and winning bronze in women's mountain bike.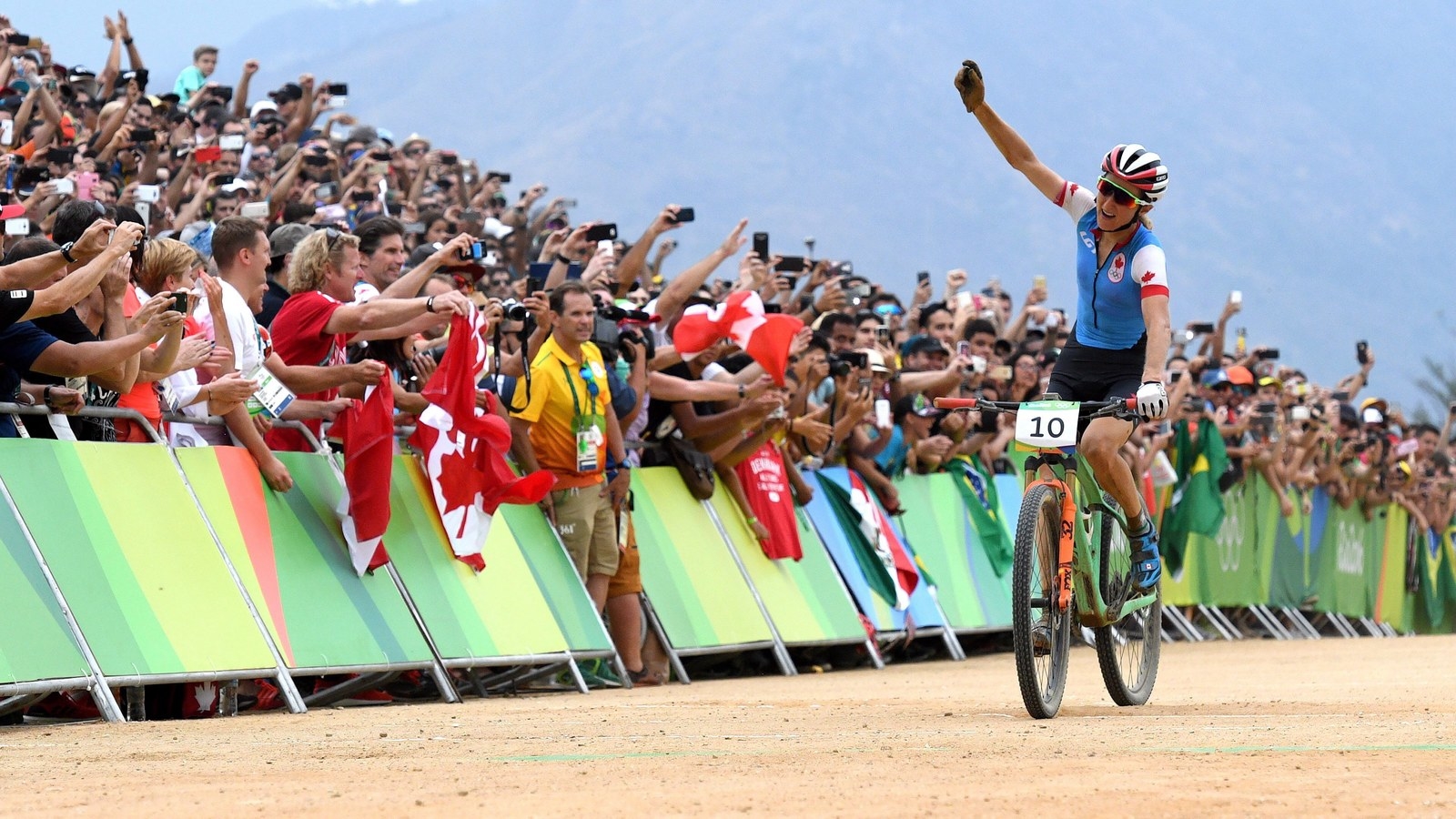 22.
Eric Lamaze tipping his hat to the crowd after winning bronze in equestrian individual jumping.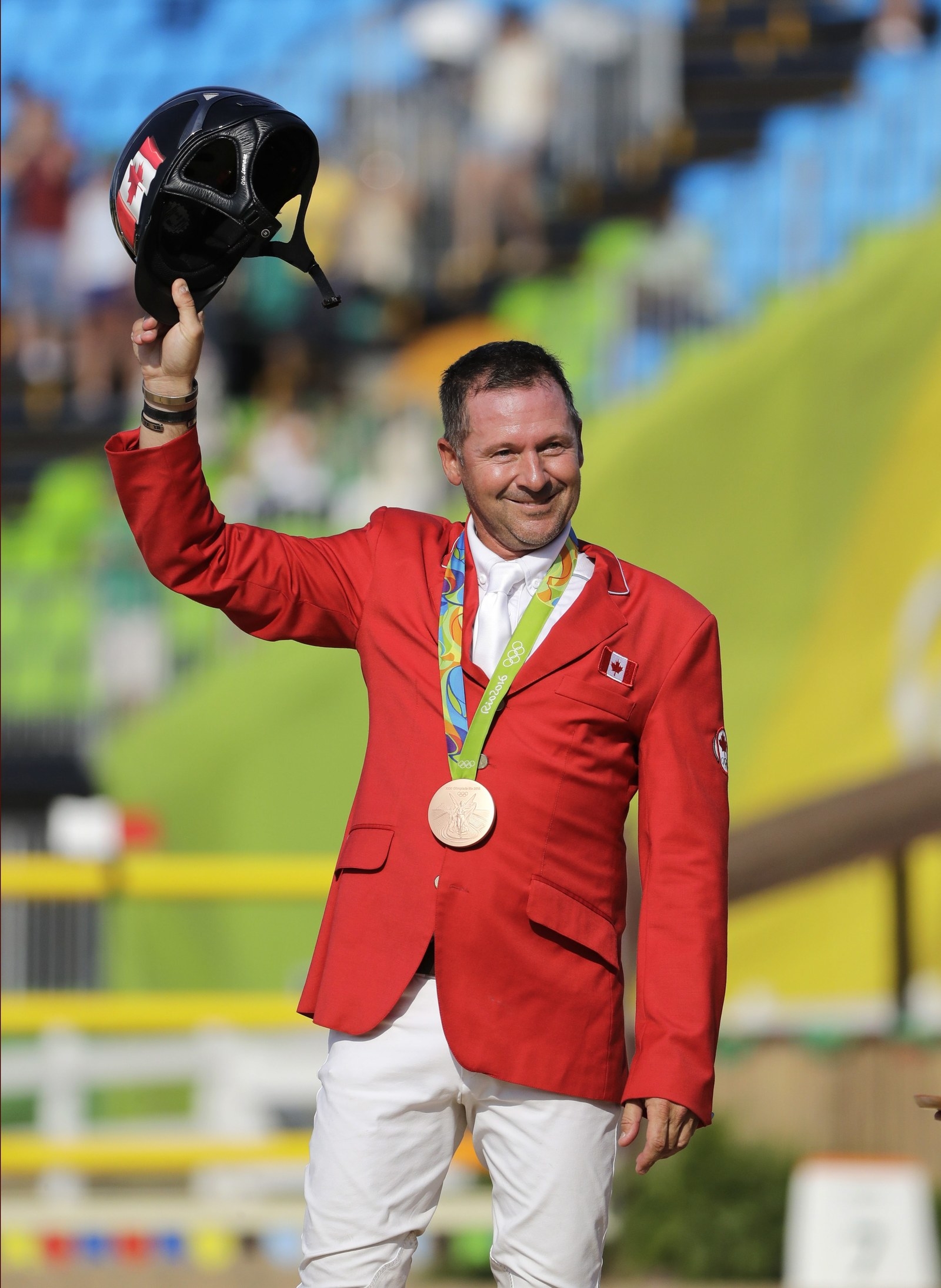 23.
The men's 4x100m relay team after setting a new Canadian record, and winning bronze.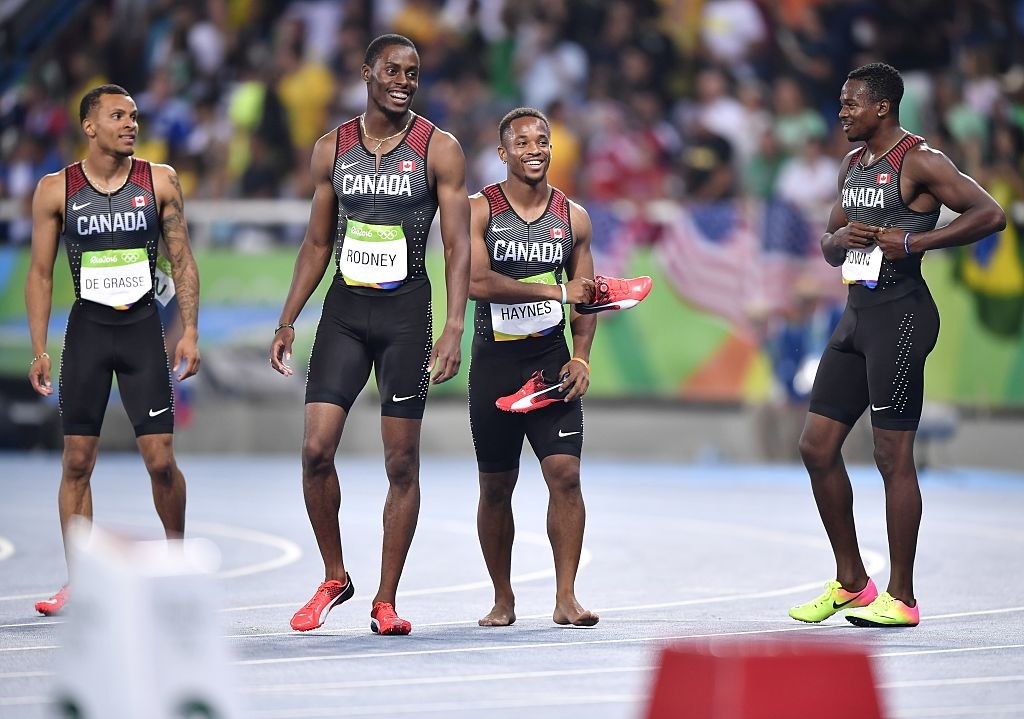 24.
Wrestler Erica Wiebe putting her coach on her shoulders after winning gold in women's 75kg freestyle wrestling.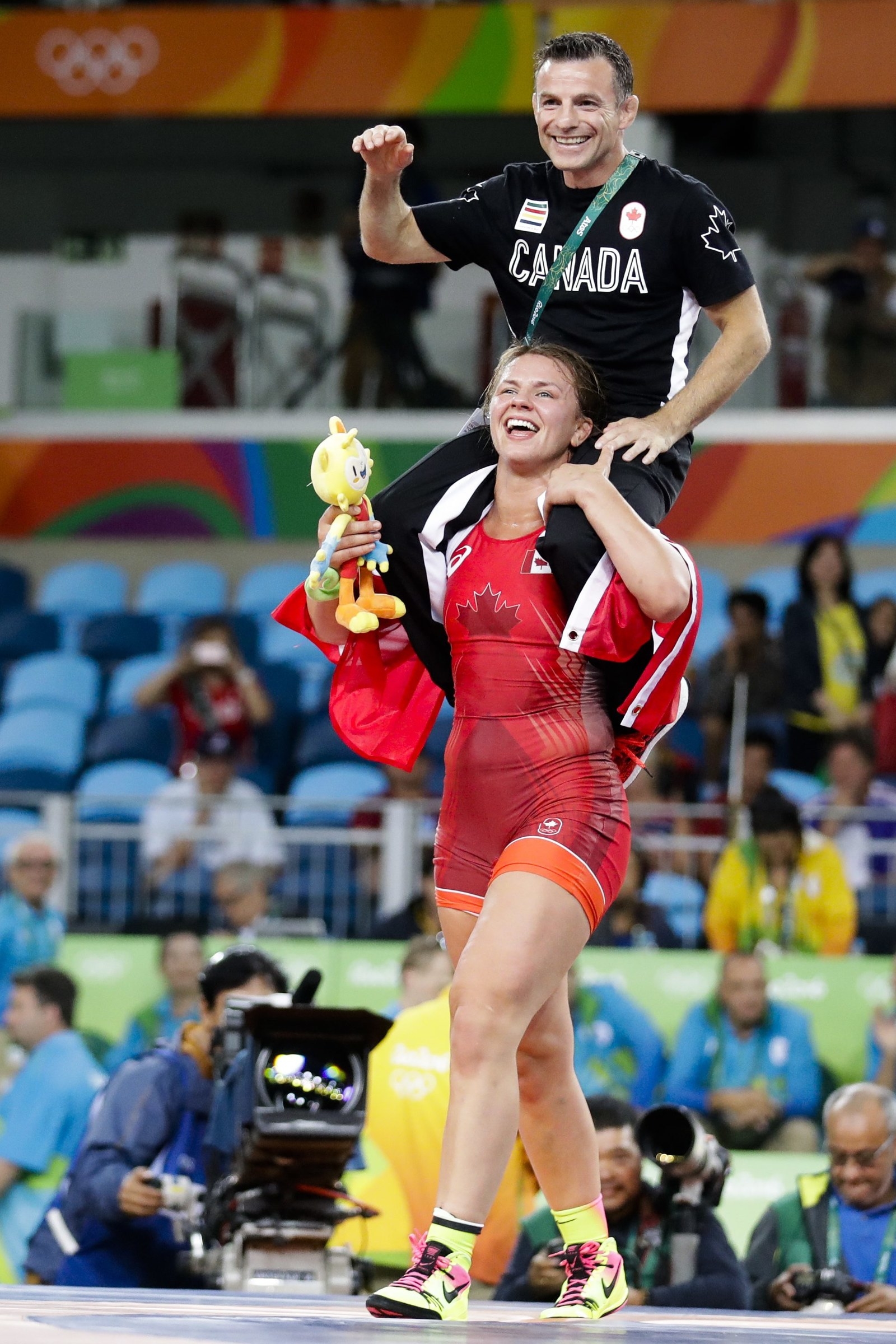 25.
Wiebe flashing a grin with her gold medal.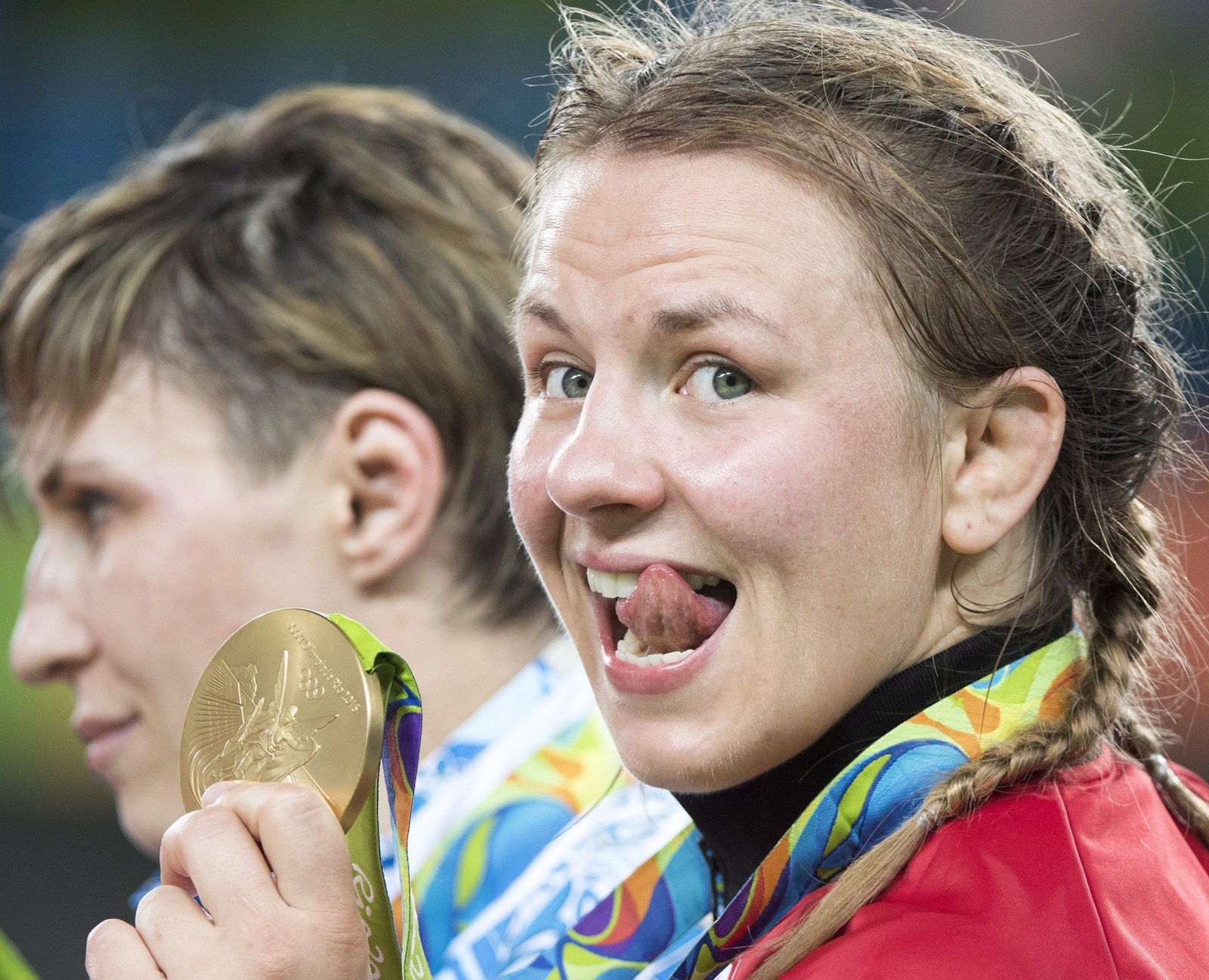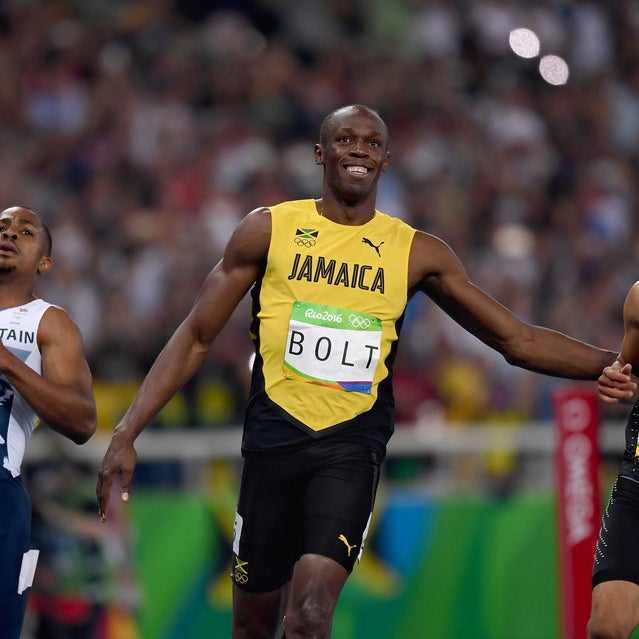 27.
No, really, these guys.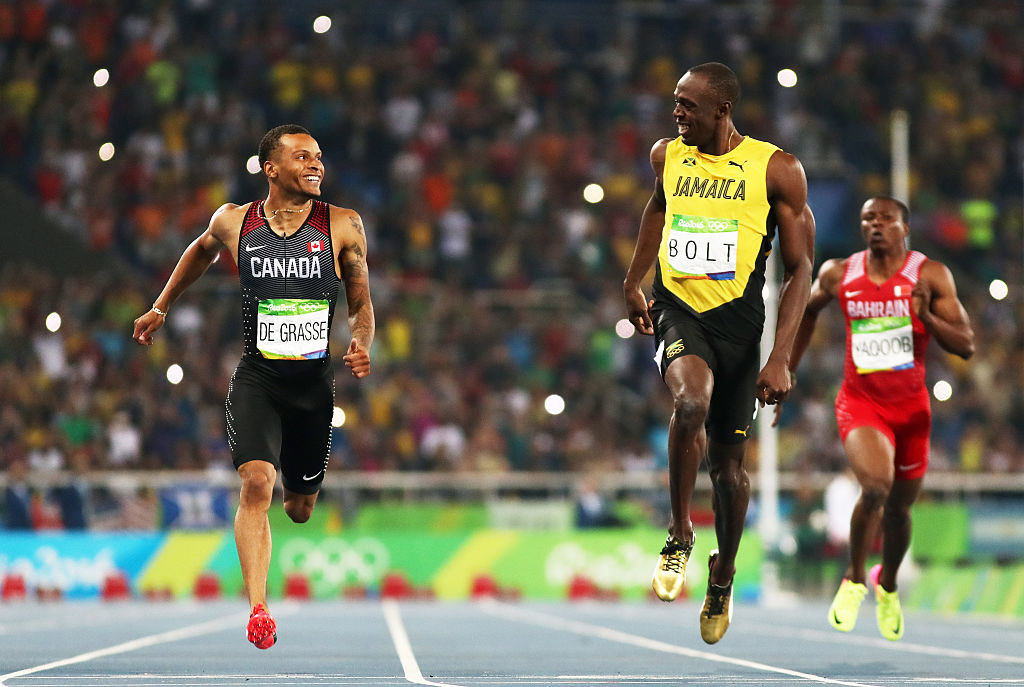 28.
Best. Olympic. Friendship. Ever.